How the eCommerce Supply Chain Works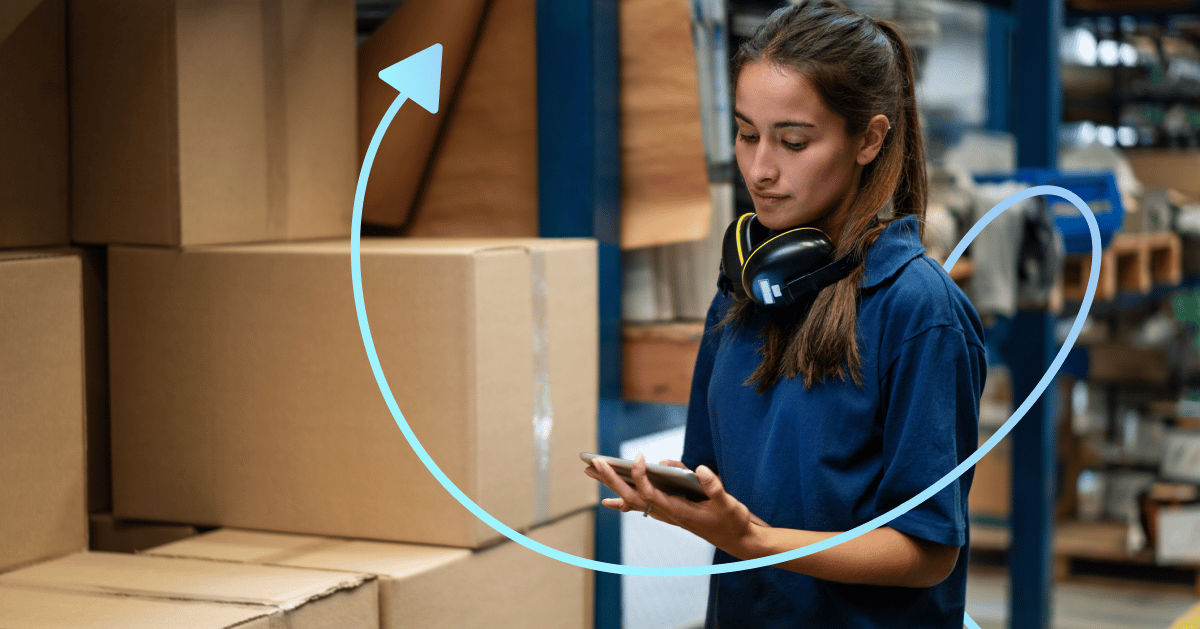 With the eCommerce industry's growth, moving goods from the manufacturer to the customer is no longer "business as usual." Now, more than ever, customers expect lightning-fast yet inexpensive shipping options.
Despite this new customer expectation, though, retailers are faced with the challenge of managing the increased costs that come with speedy and efficient order fulfillment. So, how do you balance the two extremes of maintaining efficiency while reducing costs? The simple answer is supply chain management (SCM).
What is the eCommerce supply chain?
The eCommerce supply chain details the persons and processes involved in the movement of goods and raw materials from manufacturers to consumers. An efficient supply chain guarantees that the right products get to the right place, at the right time, in the right condition.
How COVID-19 changed the eCommerce supply chain
The global pandemic significantly impacted supply chains for business-to-business (B2B) and business-to-consumer (B2C) companies. Consumers rely heavily on online shopping for the safety and convenience it provides. In the same vein, global supply chains have struggled with huge spikes in demand for essential items (e.g., toilet paper and cleaning supplies) and a drop in sales for non-essential items.
Although the adjustment was a significant challenge at the outset of the pandemic, manufacturers, wholesalers, retailers, and other supply chain partners found creative solutions. These days, most companies can, to a large extent, guarantee a steady supply of goods despite the complexity of delivery and shipments. Here are some of the most significant impacts the pandemic has had on eCommerce supply chains worldwide.
Faster delivery speeds
At the height of the global lockdowns, supply chains struggled with longer delivery times fueled by surges in demand and social distancing practices. For example, warehouses couldn't function at peak capacity because of the stringent safety guidelines, making it almost impossible for a reduced labor force to cope with the significant workload increase.
In response to these disruptions, however, more companies have automated and digitized their supply process. This ensures they can keep up with the fast delivery speeds customers have come to expect, which bodes well for the future.
Real-time alerts for delays and delivery updates
Even if the pandemic challenges lead to delayed delivery, customers want to stay up-to-date every step of the way. Managers of eCommerce businesses or third-party logistics (3PL) companies have had to develop more reliable tracking systems to provide customers real-time delivery updates and delay alerts.
Companies involved in last-mile delivery have also invested more in their communication systems to ensure accurate transmission of the necessary information. The improved tracking and communication efficiency directly translates to a better customer experience.
More eCommerce businesses partnering with 3PLs
Another significant impact the pandemic has had on eCommerce supply chains is that self-fulfillment has become less attractive for business owners. A spike in orders and movement restrictions worldwide has made delivering products to buyers more challenging than ever, especially for small-scale business owners.
3PLs already have robust systems that can cope with such problems, so it's no surprise that more eCommerce brands are willing to leverage the third-party providers' superior capabilities to meet customer demands better.
The benefits of an optimized eCommerce supply chain
Optimization involves identifying problem areas in your eCommerce supply chain and implementing solutions to make the process more efficient. For most companies, supply chain optimization is a buzzword that's followed with little to no action.
If you commit to action and take the right steps, your eCommerce company can reap the following benefits from an efficient supply chain:
Faster shipping times
When all processes run efficiently, your customers receive their orders in record time. This sets your company up for rapid growth through word of mouth since your customers will almost always be satisfied with your services.
Cost-effective shipping rates
Optimizing your supply chain at all levels helps you achieve a significant reduction in shipping costs. For example, setting up fulfillment centers in strategic locations shortens shipping routes resulting in reduced shipping time and lower costs.
Fewer or no stockouts
Proper inventory management is at the heart of supply chain management. When you optimize your supply chain, you are more equipped to forecast demand, ensuring you always have the right amount of stock.
Better customer experiences
If your company always stocks the right products and ships on time at a reduced rate, your customers will enjoy a peerless shopping experience. If lessons from eCommerce giants like Zappos, Alibaba, and eBay are anything to go by, a better customer experience directly results in more customers and rapid growth.
Easier returns (reverse logistics)
Returns are inevitable, but it doesn't necessarily spell the end of customers returning to buy from you again. However, if the returns process is overly complicated, customers are likely to never purchase from your brand again. With an optimized supply chain, you can make the returns process easy to prevent churning customers and increase the likelihood they'll come back for more.
Compete with Amazon and enterprise direct-to-consumer (D2C) brands
Amazon's fulfillment services and incredibly optimized supply chain is one of the company's primary competitive advantages. They almost always have the best items in stock and ensure customers' orders are fulfilled in record time. If your company can replicate these qualities, you may be on your way to carving your niche in the eCommerce market.
How to improve your eCommerce supply chain
Optimizing your eCommerce supply chain is not a process that happens overnight. It involves carefully identifying weaknesses in your current supply chain strategies and creative solutions to improve them. Below are some of the top tips for supply chain optimization that virtually all eCommerce businesses can benefit from.
Use multiple fulfillment centers to save on shipping costs
Having fulfillment centers in strategic locations can lead to significant savings on shipping costs while ensuring speedy online order deliveries. For example, Amazon has more than 175 fulfillment centers worldwide, allowing them to serve customers as no other company can. Even if your business currently can't achieve that kind of reach, consider partnering with 3PL companies with a wide fulfillment center footprint to expand your network.
Track inventory in real-time
Automation and digitization should be at the heart of all your supply chain optimization efforts. Suppose you can digitize inventory management. You'll have a clear idea of how much stock you have at any given time, allowing you to fulfill customers' demands on time while reducing your overhead from overstocking slow-moving products.
Use a warehouse management system
Warehouse management systems (WMS) lead to improved operational efficiency. With the right system, you maximize warehouse labor and space while also assisting with inventory management, significantly reducing operating costs across the board.
Partner with a 3PL (if needed)
Many small businesses may find it impossible to implement most of these recommendations while staying within their constrained budget. If this is your company's plight, you'll be glad to know that all hope is not lost.
Partnering with a 3PL company allows you to scale your operations without incurring the costs of setting up the required infrastructure or hiring the necessary personnel. More importantly, you'll work with supply chain management experts that can further streamline your logistics process and other aspects of your eCommerce supply chain.
Find more local suppliers and vendors
When you work with local suppliers and vendors, you significantly reduce the cost of shipping goods to your warehouse. Furthermore, when order management is streamlined, goods arrive faster, and you're better placed to meet customer demands.
Admittedly, this strategy might be difficult to achieve if your vendors are overseas; however, this is not to say that having overseas vendors is a bad idea. If you have distributors that can fulfill your orders on time, at a great price, and with flexible payment terms, don't hesitate to purchase from them.
Conclusion
Traditionally, SCM has always been about streamlining logistics operations; however, increased automation and data availability in the eCommerce space has subtly shifted the focus to demand forecasting and operations planning.
Ultimately, the goal for effective supply chain management will always be to balance demand and supply so sellers spend the least amount possible sending goods to consumers. Examine your current supply process for weaknesses, and strengthen the chain whenever you can to achieve this goal and improve the post-purchase experience.
To improve the post-purchase experience even further, consider using a tool like ManyChat. With ManyChat, merchants can send SMS, email, and Messenger shipping updates and order confirmations to keep customers in the loop with where their products are located.
Get started with ManyChat for your eCommerce store today!
The contents of this blog were independently prepared and are for informational purposes only. The opinions expressed are those of the author and do not necessarily reflect the views of ManyChat or any other party. Individual results may vary.