eCommerce Conversion Rate: By The Numbers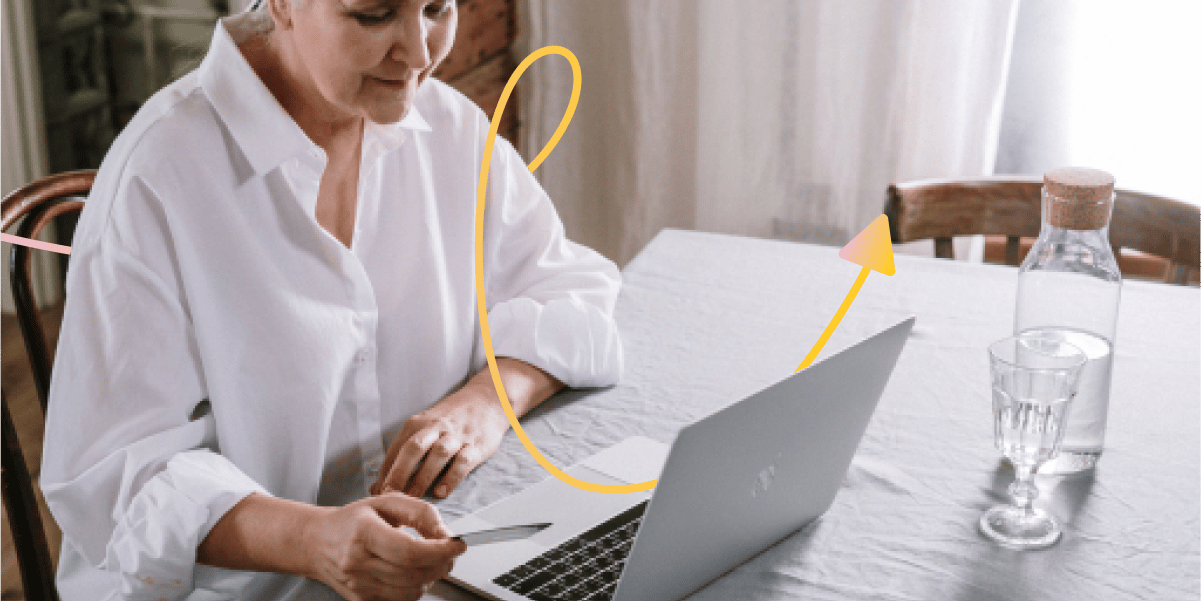 You've got tons of important metrics to keep an eye on for your eCommerce website.
Arguably the most important is your conversion rate—the percentage of people who've converted on your website, versus the number of people who had the opportunity to do so.
For example: If you have 100 website visitors and just two convert, your conversion rate would be 2%. Understanding your conversion rate is important to understand whether you need a better eCommerce marketing strategy or to know if your eCommerce business has a user-friendly website.
Whilst knowing your site's conversion rate is important, you might be struggling to understand whether it's on-par with the competition.
After all, if you're not converting the same number of visitors as they are, it could signal that something is wrong with your site.
In this guide, we'll share the average ecommerce conversion rates for you to compare against. (Plus, there are five not-so-obvious ways to boost your overall conversion rate if it's not up to scratch.)
What is a good conversion rate for eCommerce?
When we think of the term "conversion rate," we usually think of the number of people who've bought a product from our eCommerce site.
However, there are tons of other conversions happening on your website that are important to track—and they don't all relate to purchases. You'll need to identify important benchmarks to better understand eCommerce conversion rate optimization and use that to strengthen your overall CRO marketing strategy.
Let's take a look at some other eCommerce conversion rate benchmarks:
Add to cart
If you have the option for customers to add items to their online cart, keep track of how many people do so with this metric.
An add to cart conversion rate shows how many people add items to their cart compared to how many visit your site overall. A higher conversion rate here means many of your website visitors have an intent to purchase.
According to Montetate, 15.95% of people visiting global websites (and 10.21% of those browsing US-based websites) add an item to their online cart.
Abandoned cart
You can have a high percentage of shoppers adding items to their online cart—but that still doesn't mean they'll buy them.
Your abandoned cart rate shows how many people have added items to their cart and abandoned it without purchasing. A poor website conversion rate here means people are having last-minute concerns and exiting the checkout process.
Don't be surprised if this figure is high. Baymard's research shows 69.57% of all online shopping carts are abandoned.
Purchase conversion rate
The most popular way to calculate eCommerce conversion rates is to look at how many people arrive on your website and purchase in the same session.
Compare how your purchase conversion rate compares to the average of 2.29%, reported by IRPCommerce. This is up from 1.74% the previous year (2019), but it's important to note that this figure depends massively on the industry you're working in.
Some industries can have a higher purchase conversion rate—especially if they're a low-priced item or one that doesn't need much consideration.
But if you're selling an expensive product, or one bought by B2B buyers, you might struggle to match the average purchase conversion rate. People need to put more thought into their purchase; they can't hand over their credit card information right there and then.
Free trial to paying customers
Are you selling a software product? There's another conversion rate you'll need to keep track of: the number of people who use your free trial (or free product) and convert into a paying customer.
You might have hundreds of users on a free trial. But, you can turn them into paying customers with tactics like upselling. This metric tracks how well you're doing that.
MarketingCharts reports the free to paid conversion rate is 66% for B2B businesses, and 56.8% for B2C.
5 ways to boost your eCommerce conversion rate
Regardless of whether you're meeting those eCommerce conversion rate benchmarks or not, boosting your own website conversion rate is a constant work in progress.
The more conversions you get, the more profit you make.
Here are five great conversion rate optimization best practices to help you convert more of the people already visiting your eCommerce store:
1. A/B test your CTA messaging and placement
Chances are, you've already got several calls to action on your eCommerce website. But, do you know how to write a call to action button that will successfully lead customers to check out?
These buttons push people towards completing a goal—any type of conversion we've already discussed.
Tom Mumford, co-founder of Undergrads Moving, explains:
"By having CTA's across your site, you provide multiple different places for customers to convert. This can help prompt customers towards the check out process and can also make completing a transaction simplified and streamlined."
But the real question is: how do you know whether the CTAs you're using are actually doing their job?
A/B testing can help you find out and teach you how to optimize your website to attract customers. By comparing two CTAs with slightly different variables—such as the color, placement, or text copy—you can see which gets a better overall conversion rate.
Put this into practice with your CTA's messaging and placement. Tools like Hotjar and Optimizely can roll out the A/B tests and help you analyze the results to find clear wins.
Does the color blue get 10x more conversions? Does switching the button text from "buy now" to "get mine" triple sales? Does your abandoned cart rate improve by 10% when you move the purchase button from left to right?
You don't know unless you test it.
2. Add risk reversals to intent-heavy pages
On the journey to becoming a potential customer, you need to remove as many barriers as possible. These barriers can stop people in their tracks and put them off purchasing. But without them, they might not even think twice.
It boils down to the fact people might be hesitant to convert if they're unsure it's worth it.
You're able to give them peace of mind knowing that if they made the wrong decision, they can go back. This can be done with various on-site risk reversal features like:
Money-back guarantees
Free return policies
24/7 access to your team to ask questions post-purchase
Research shows that more than 60% of consumers take the time to review a return policy before making a buying decision. Adding one to your website, and making it easy for customers to see whilst they're shopping, is a risk reversal tactic that nudges them towards converting.
3. Use visitor recordings to see where people drop off
We already know that your overall goal is to reduce friction in your buyer's journey. The fewer stumbling blocks in their route to purchase, the more likely they are to convert at each stage of the sales funnel.
The good news? You don't have to guess where these stumbling blocks are. You can use visitor recording software to create videos of how real-life shoppers engage with your website.
For example:
Do they exit a page after hovering their cursor over a specific part of text?
Do they watch a video and leave?
Do they visit a pricing page and head for the door?
Janet Muto of WEVO also adds some simple questions to ask when you're digging through these site visitor recordings:
"What drew visitors to your website? What made users bounce back or leave your page? What do visitors expect to see when they reach your site's landing page?

Learning the answers to these questions can help you create a page that your visitors want to stay on. Not to mention, sites that cater to the needs and expectations of their visitors simply do better."
Granted, scanning these site visitor recordings can take some time—especially if you have a traffic-heavy website. But knowing where people drop off helps you prioritize which pages (and specific elements) need more work.
4. Send retargeted messages
For most eCommerce site owners, the most frustrating metric is their cart abandonment rate. They've done the hard work to get people adding items to their online cart—only for those shoppers to leave without giving their payment information.
But when people leave your online store without converting, they don't need to leave forever.
John Frigo of BestPriceNutrition.com explains:
"I think one of the easiest ways to increase conversion rate is to put an effort towards abandoned art recapture if you're not already doing so. This a cheap if not free and easy way to follow up with those who showed interest in your shop.

Through doing some A/B testing and experimenting you'll also get better insights on why some customers aren't converting and how to improve the customer experience and customer journey."
A great way to retarget those who've abandoned their online cart is to run Facebook advertising campaigns using the Pixel. This code, embedded on your website, collects information about:
A person visiting your online store
Which items they abandoned from their cart
The advertising algorithm matches that to a Facebook profile. That means you can use dynamic ads and product images to show those same products to the exact person who left them.
And, if that wasn't easy enough, you can use ManyChat's Messenger bot to send them a direct message when a user's online cart has been abandoned. You can send a quick message like:
"Hey John Doe! You recently started an order in our store, but it seems you haven't had time to place it yet. Don't forget to checkout now while everything's still in stock!"
This live chat method works for two reasons:
You're personalizing your approach. You're addressing them by name, and engaging them where most brands don't: their Facebook Messenger inbox.
You're giving them a sense of urgency. You're saying "act now before you miss out"—giving them a reason to purchase now, rather than later (when they'll potentially forget again.)
5. Show trust signals and payment options
It's been proven that people won't buy from brands they don't trust.
But luckily, building trust with potential shoppers—and boosting your eCommerce conversion rate—isn't as complex as you might think.
Start by adding several trust signals on your website. This can be in the form of:
Customer testimonials from people like them
5* ratings
Logos of publications you've been featured in
Influencer or celebrity endorsements
Any awards you or your product has won
But even when the shopper trusts you and decides to purchase, your job isn't finished. Another common stumbling block is the customer wanting to know they can pay using their preferred method—one they already trust.
This can be as simple as the Apple Pay, Mastercard, and PayPal logos on your payment information pages.
Here's how that looks for Nike's online cart page:
Those payment signals are a superb way to build trust because you're connecting your new eCommerce brand to one they already know.
Plus, accepting those digital payment methods can be a competitive advantage: research shows that just 29% of online merchants accepted mobile wallets. You could lower your cart abandonment rate by providing that alternative payment method on your eCommerce platform.
Stop suffering with a low conversion rate
As you can see, there are tons of conversion-related metrics you'll need to track for your eCommerce store—ranging from add to carts to purchase conversions.
But if you've compared yours to these benchmarks, don't panic.
Use the five tactics we're mentioned to start boosting conversions on your eCommerce platform. Remember that the ultimate goal is to reduce friction throughout the buying process. That's how you truly maximize conversions and beat the competition.
The contents of this blog were independently prepared and are for informational purposes only. The opinions expressed are those of the author and do not necessarily reflect the views of ManyChat or any other party. Individual results may vary.