Carrie Gottschalk Doubles Client Revenue in 2 Months Using ManyChat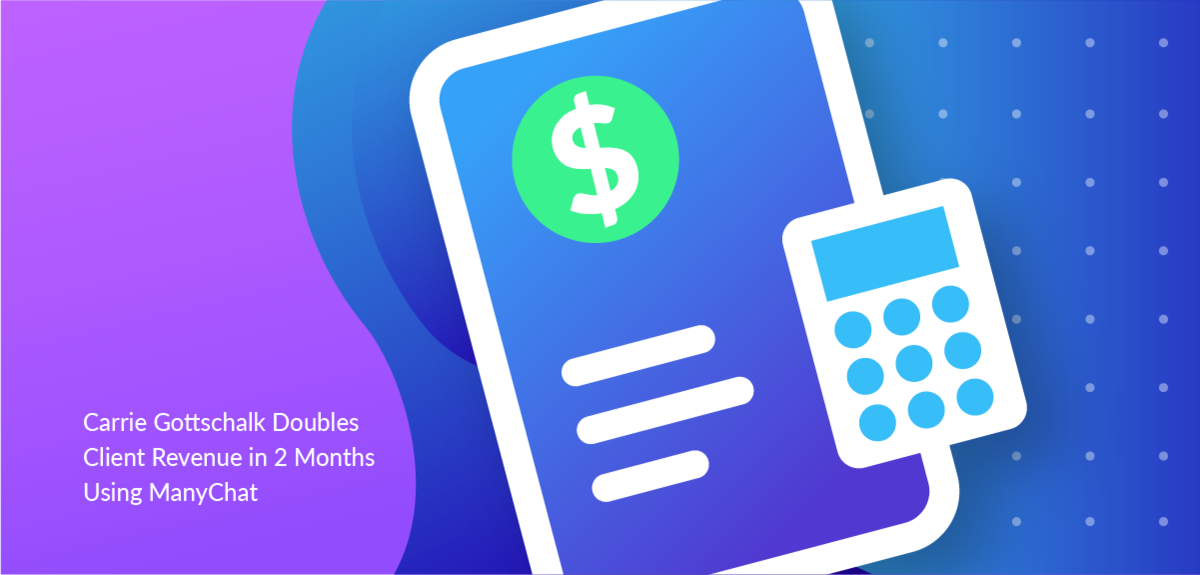 Carrie Gottschalk's client Ryan David, a popular author and online coach, was looking for a way to reach more prospects and gain awareness for his coaching program. He also wanted to drive more prospects to a self-guided learning platform with helpful resources and books.
Traditional lead generation tactics were losing their spark. It was clear that Carrie's ManyChat skills — and the combination of Facebook advertising and a call center — was the perfect fit. In just 2 months, Ryan has increased subscribers by 1,048% and revenue by 155%.
A steady decline in email marketing effectiveness
Before ManyChat, Carrie's coaching client faced many lead generation challenges. Having been in business for 11 years, the company focused entirely on email marketing and landing pages. This approach led to a halt in warm leads coming in, as well as leads going cold in his CRM. The amount of time it took to connect with a lead was proving to be too long, and email marketing was becoming more and more ineffective.
"We were quickly losing prospective clients via email simply because of time. Leads would go cold in the CRM", Carrie says. "Lead follow-up that took place after 60-minutes would have less interest in talking. It was clear that we needed a follow-up process where we spoke with people quickly, as well as get them on the phone as soon as possible".
David offers tiered level support from self-guided client to full-service packages. The goal was to collect lead information, push it to support team, and get people on the phone within 1 hour — and the results were impressive.
Collecting information and converting new leads
Carrie's first step was to create a conversational bot that would help handle leads. Since the goal was to close by phone, the bot linked to both call and live chat options that connected people to support representatives.
Prospects came into the bot from multiple entry points including Live Q + A opt-ins and reminders, Click-to-Messenger ads, and organic videos. All encouraging potential clients to send a message asking for help.
To easily build out different sequences that guided users in the right direction, Carrie used ManyChat's Flow Builder to execute it. It's become one of the most effective tools in her Messenger Marketing kit.
"I tried ChatFuel and MobileMonkey, but didn't find it easy-to-use. With ManyChat's FlowBuilder, I'm able to strategize and think about how to build an audience better. It's flexible and powerful, and is probably one of the most advanced platforms out there"
Because the campaign was tied to a call center, they only ran ads while it was open to ensure people got timely and efficient service. Many of these new conversations happened in real-time. So when users asked for help, a live agent was there to solve their problem, book a call, and convert them into a paid monthly subscriptions.
The marketing channel they always wished for
For Ryan David, the results from working with the Carrie and ManyChat collab have been impressive. In as little as two months, his Messenger bot has helped increase revenue from Facebook by 17%, and total revenue by 155%. This has allowed him to focus more on refining and improving his coaching programs, and less on trying to convert losing leads in his CRM.
Subscriber count has seen explosive growth too, surging over 1,000% percent since executing Carrie's Messenger Marketing strategy.

And to top it all off, Live Q+A has become a popular channel for David's business. Because his ManyChat bot can now send quick and accessible reminders to subscribers, more people are joining his sessions. Reminder read rates hover around 98%, with live opt-in rates averaging at 18%.
Now, 100% of their marketing budget goes to their Messenger bot. Continually feeding a well-designed conversational funnel, and helping David grow his business both sustainably and profitably.
Results rundown
155% increase in total revenue
1,047% increase in subscribers
18% Live Q&A opt-in rates
Want to grow your subscriber list and drive more revenue? Create your free ManyChat account and build your bot today.
The contents of this blog were independently prepared and are for informational purposes only. The opinions expressed are those of the author and do not necessarily reflect the views of ManyChat or any other party. Individual results may vary.