Attraction Marketing: 5 Tips to Attract More Qualified Leads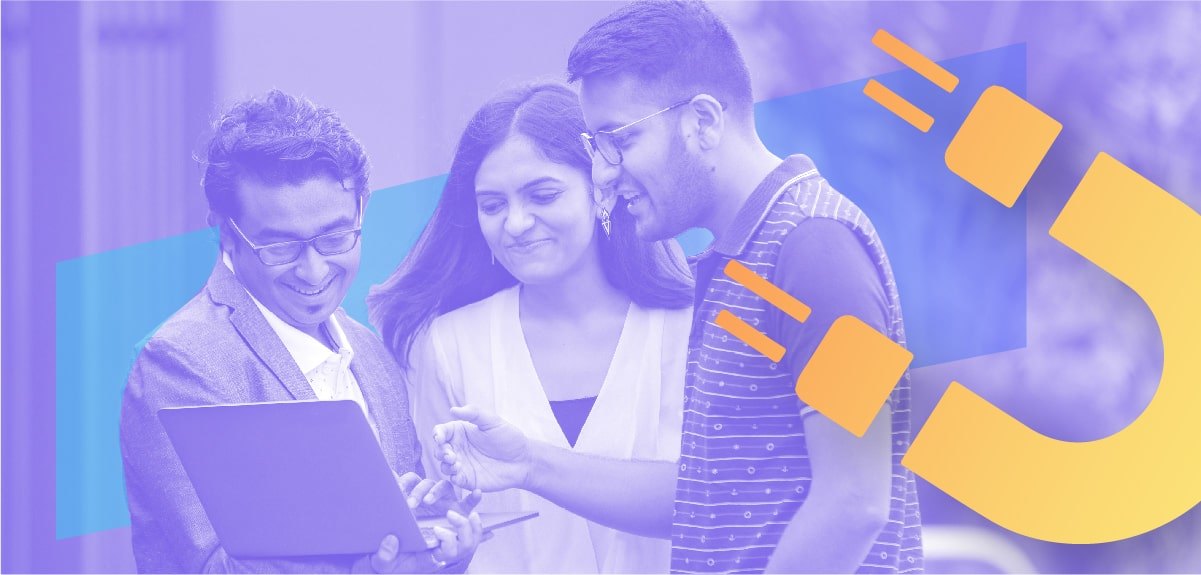 In far too many businesses today, inbound marketing is the biggest challenge. Even the largest companies or self-proclaimed marketing experts can struggle to drive warm leads and traffic to their website.
And, unfortunately, the best way to attract leads changes over time. An attraction marketing formula that worked three years ago may not work at all today. People change. They stop using certain social media platforms. They rally onto another. And your brand loses out if you're not up to date.
That's where attraction marketing comes in.
For small businesses and network marketing companies, showing people how your product or service improved your own life is key to successful attraction marketing. It's personal, valuable, and can help you build trust and market your brand more effectively.
Table of contents:
What is attraction marketing?
Attraction marketing is a marketing strategy that involves drawing people to your brand product or service by showing how it improved your life. This happens by understanding your ideal customers' problems, and providing free and valuable content to help solve them. It can relate to any type of business including eCommerce, professional services, network marketing, and online coaching.
Examples of brands using attraction marketing
Neil Patel
Serial online entrepreneur author and expert marketer Neil Patel is a great example of how using attraction marketing can be a huge success. He provides valuable content across numerous marketing channels including blog, YouTube channel, podcasts, social media, and SEO tools to the world, for free. Neil is a legend in the search engine optimization and affiliate marketing world and for good reason — he produces quality results for his admittedly impressive clientele.
The endless free content on his site brings in a constant supply of leads. His approach to marketing is authentic and personable. Readers can come and learn exactly how he built his brand by teaching them the same marketing techniques.
His approach is why he's become one of the top digital marketing influencers today, and continues to make content a top priority, instead of always pushing a hard sell.
Rachel Ray
Rachel Ray is a big brand in today's culinary world. Do you know how she got there?
Rachel Ray originally worked as a chef and food buyer in a gourmet grocery store. She noticed her clientele didn't like cooking all too much, so as a way to generate leads and interest, she started putting on cooking classes for consumers, which in turn, led to more sales.

The cooking classes inspired "30 Minute Meals," which became a primetime tv show, best-selling book, and more. Rachel Ray is a great example for using attraction marketing strategies because her story is relatable and inspiring.
As quoted:
"I'm not a chef. I haven't created any new technique in the kitchen. I'm not a rocket scientist. I think I'm good at writing accessible, fun, and affordable meals for the average American family. That's what I think I'm good at."
Her books and television sets continue to teach people how to become their better selves both in the kitchen and in life.
What does this mean for you? Tell a (real) story of how you or other people in your company reached their goals. If you want to attract new leads, inspire hope in prospects by creating rich, engaging conversations during your interactions with them.
Lauren Tickner
Lauren Tickner is an online coach, speaker, and Founder of Impact School, a popular business podcast. Her goal is to help entrepreneurs build profitable online coaching businesses so they can live free and fulfilling lives.

Her attraction marketing model works in four phases:
Attract continual leads from her empowering social media platforms and podcast.
Create a relationship with those leads using her ManyChat bot to start conversations and engage with people.
Generate income by offering online training and coaching services.
Retain clients by providing real-time support that solve their problems.
The Queen of Automation
Emma Hammond, also known as the Queen of Automation, is a business leadership mentor and marketing strategist. She's an online marketing expert who uses the power of attraction to make direct sales, streamline her sales pitch process, and grow her UK-based Messenger Marketing agency.
Her advice for marketers:
"When marketing themselves online many people forget about the power of building an emotional connection with their audience. People feel connected to and are naturally attracted to others they feel that share the same values, when they see you share stories and information they resonate with it forms a strong emotional connection.

Most buying decisions are influenced by emotion, the sooner you can build that emotional connection with your audience the quicker you can turn them into loyal customers.

One of the best ways to do this is by sharing your story. It takes courage to be vulnerable and share your struggles. The most important thing to understand about attraction marketing though is to always share from a place of wanting to inspire others.

Share once you have got through those struggles not whilst you are still in a place of struggling. Explain how a certain situation:
Made you feel
Helped you achieve a goal
The steps you took to get through it or resolve the issue
Brought you where you are now
Learn how to share your story the right way, use it to inspire others and then when it is time to sell you will be in a much stronger position."
Become an attraction marketing expert today with ManyChat. It's free to get started.
5 tips to run a successful attraction marketing campaign
Whether you're a small ecommerce business or a network marketer, these five tips will help you get more leads by using attraction marketing.

1. Know your audience
Learning everything about your target audience is the first step to getting started with attraction marketing.

Who will find your brand appealing? And who do you want to work with? Know their gender, age, and the channels they are likely using right now.
Beyond that, what are their challenges, their desires, and their personalities? In order to market to your ideal client, you'll need to understand them beyond where they live and how old they are. And create an opportunity for them to learn from your branding message.
Successful network marketers and influencers don't try to target just anyone. They locate their niche and tailor their story to start the right conversations in the right places.
To narrow down your ideal customer, create a mock client profile. Imagine your dream client and act as though you're talking to them.
2. Choose one channel
Choose a network that makes sense for your target audience right now. Is it Instagram? Facebook? Or maybe LinkedIn?

The wildly popular podcaster and business coach, Jenna Kutcher, is an expert at finding channels that work for her. In fact, most of her coaching is now about helping her clients find the best channel for them.

Since Kutcher's target audience is millennial females who want to start a business, leveraging Instagram made sense for her.

Instagram worked for her because her ideal clients were active on it, and she was easy to find.

It also worked for her because it was a platform they felt comfortable using. Plus, it invites plenty of engagement from people in the form of likes, comments, and tags.

3. Tell a story, and back it up with statistics
For people to connect with your business, you should tell an authentic story. The majority of people prefer ads that have a clear narrative.

For online coaches, this could be a story about how they became successful. Or for network marketers, how and why the product they're selling improved their lives.

Sharing first-hand experiences build trust between you and your potential customers. And lead generation is all about building trust.

4. Offer your first solution
After drawing people in with an engaging, conversational story, hit them with an offer that they can't refuse.

Abby Ashley founded her successful business The Virtual Savvy, and keeps it growing, by offering free information in her posts.
You use Click-to-Messenger ads by ManyChat to create personalized and engaging experience right from the start. It gives you so many opportunities to create reach, engaging interactions with potential customers. Starting with your intro offer is a great way to create conversations that draw prospects deeper into the funnel, and hopefully close the deal.

Maybe your first solution is a free consultation, or a sample of the product you're selling. No matter what, it should be irresistible to your audience and leave them wanting more from your business in the future.

5. Engage with your audience
Now that you've attracted the right audience with an engaging story and an awesome freebie, it's time to work on keeping them around.

Solidify your success with attraction marketing by consistently engaging with people. Reply to Facebook comments. Participate in relevant Linkedin forums where you've established a reputation. Engage in whichever ways make the most sense for your business.

Remember, your new customers and clients were attracted to a person and a story, not a business. Keeping conversations with them alive will help keep their interest in your company alive.

Chat Marketing is a great way to follow up and spark new conversations with your audience. As you get new followers on social media, invite them to an SMS and Messenger subscriber list. You can send quizzes, tips and tricks, offers, and check-ins to build closer ties with your audience.
Attraction Marketing FAQs
What is the Attraction Marketing Formula?
The Attraction Marketing Formula is a marketing strategy and course created by Ferny Ceballos. It's goal is to help mlm networkers build a brand and set up an Attraction Marketing system that can grow lead generation and sales.
What is the Attraction Marketing System?
The Attraction Marketing system is a mlm prospecting strategy focused on creating value and building intrigue for like-minded people so you attract customers and make money.
How do you do attraction marketing on Facebook?
One of the most effective strategies for attraction marketing on Facebook is showing like-minded people what they are "missing out on" on social media. A Facebook Messenger bot can help a network marketer attract customers and grow sales faster.
What is a network marketing business?
Network marketing, aka mlm, is a marketing strategy that depends on a network of sellers to grow a business. It involves three basic types of proven strategies to make money: lead generation, prospecting, and creating and management.
Become an attraction marketing expert
Once you give these five tips a go, you'll easily be able to rinse and repeat. As long as you keep your offers enticing and your conversations interesting, attraction marketing will continue to bring leads to your business.
Attract new customers and drive sales with ManyChat's Chat Marketing platform. It's free to get started.
The contents of this blog were independently prepared and are for informational purposes only. The opinions expressed are those of the author and do not necessarily reflect the views of ManyChat or any other party. Individual results may vary.