Chatbots for Online Coaches: 10 Experts Share Their Best Tips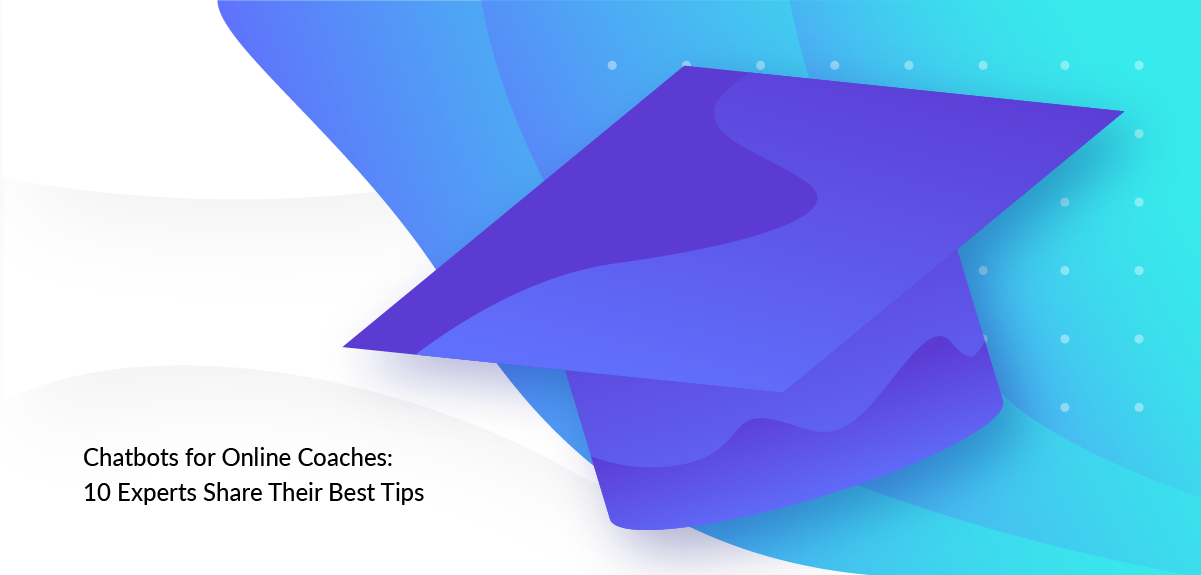 If you struggle with maximizing your chatbot for your online coaching business, you're not alone.

From selling online courses, memberships, and digital downloads — the headache that comes with marketing yourself every day is real. But you're passionate, and want to help others transform their lives or businesses just like you did yours.

Sound like you? Then we're off to a good start.

The coaching industry has blown past $1B a year, with over 50,000 coaches. Which means promoting yourself and engaging with prospects is more critical now than ever before.

This 1-to-1 marketing style is the lifeline of your business. It's one of the best ways to show people who you are and what your coaching is all about. It connects with prospects and generates leads for your business. Without it, you have no business.

So if you want to grow an audience ready to hear what you have to say — you're in the right place.

We asked 10 expert online coaches what their best tips are for maximizing your chatbot. So whether you want more eyes on your content, or want to build stronger relationships at scale — here's what they had to say.
8 Ways to Improve Your Online Coaching Chatbot
1. Create your own automated conversion funnel
Want to cut the time and effort it takes to get from prospect to client? Of course you do.

Considering 96% of visitors on your Page aren't ready to buy, anything you can do to minimize your time trying to convert leads is valuable time spent elsewhere on your business.

Companies who properly nurture leads see a 450% increase in qualified prospects. And in turn, see 50% more sales at a 33% lower cost. You can now supercharge that with chatbot automation.

Let's start with a simple funnel you can set up today. Your goal is to focus on one pain your audience has, and solve it. Then, build out your sequences around these four stages.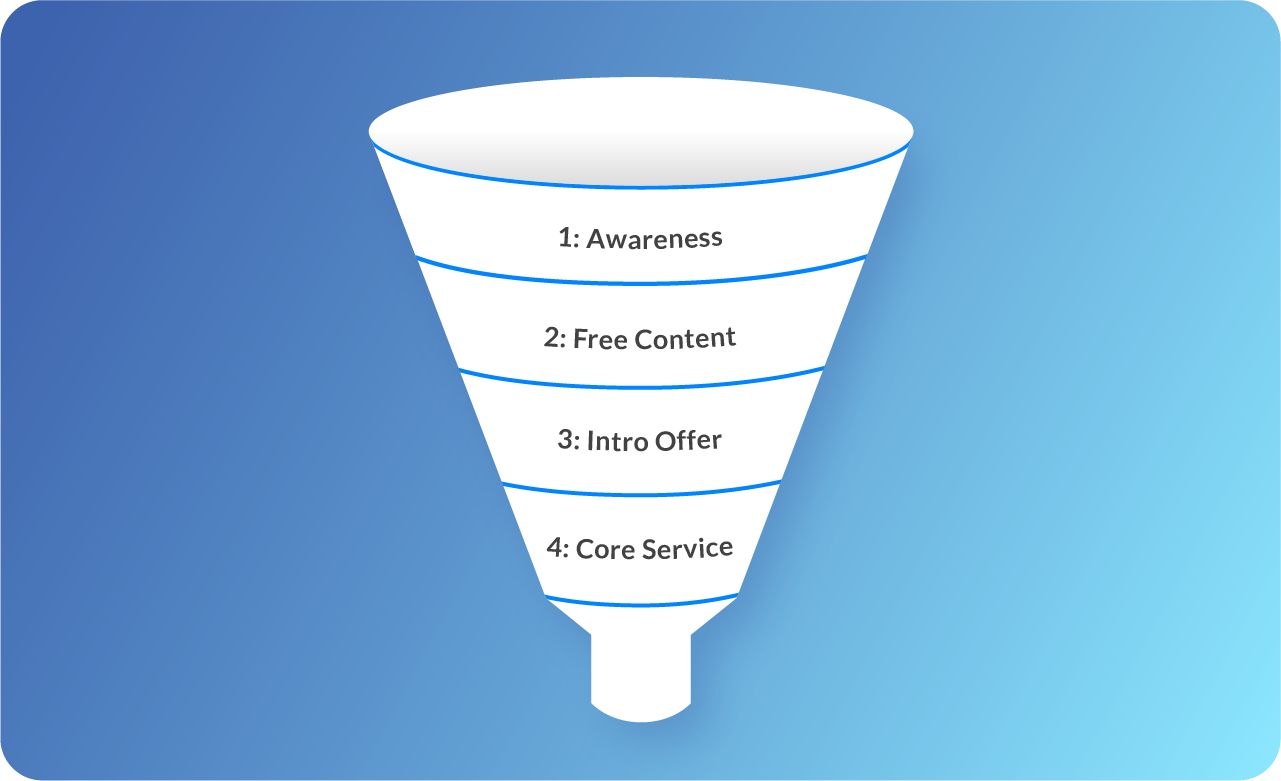 Build awareness. You want to get the word out about your business. This can be done in two ways: cold traffic from FB ads or warm traffic from content. Once you have the traffic, you want to find out more about your prospects. Different types of content you can create is blog posts, social media posts, videos, infographics, podcasts, etc.
Offer a free gift or lead magnet. This needs to be specific, easy to access, and easy to understand. Checklists, cheat sheets, targeted videos, etc. — anything that gives your audience a quick win to a big problem.
Suggest intro offer, or one-time offer. A discounted, no-brainer solution to the same problem you talk about in your lead magnet. Consulting calls, digital courses, discounted trials, audits are key here. Remember, making the first sale improves the chances of a repeat sale.
Sell core services. Everything leads to selling your signature program. The total and complete transformation package. Struggling to figure out your core service? Some popular examples are: 1:1 mentoring, online masterclass, live event, certification programs, membership community, and more.
Many coaches will only talk to customers in two situations:
Selling something
Resolve a problem
… Which is pretty bad for business. You give up any chance of developing a relationship and risk losing them as a client. This is a big reason why automation fails for most businesses.

If prospects are early in the funnel (awareness), don't bombard them with sales messages. Give them an offer that inspires them to take action. Take small steps. Once prospects interact with your bot, download your content, checks out your intro offer. Then, only then, should you attempt to sell your products and services.

According to Aaron Fletcher of The Fletcher Method, you want to do three things throughout your chatbot funnel:

Add cross-platform capture to each step of your process. The customer journey goes back and forth across many different channels. Include your Messenger bot link in your emails, social posts, YouTube channel, website. Drive people to your bot and let it do the work.
Retarget prospects in Messenger. When you create coaching offer follow-ups, build a sequence for each stage of your prospects' journey. For example, did they opt-in but not check out your videos? Follow-up with a reason to do so. Did they watch your videos and not buy your services? Follow-up with a feedback request or question about their struggles.
Focus on mini-commitments instead of sales. Don't be pushy and sell right away — remember, 97% of people not ready to buy just yet. Start with a free offer, then a webinar opt-in, your intro offer, then the big core offer. Little steps build trust and confidence between you and prospects, and can go a long way in making repeat sales down the road.
Marc Papp adds to this:

"The biggest mistake online coaches make is selling and pitching most of the time. From lead generation, nurturing, data gathering and selling my products and services — my ManyChat bot is simply doing 70% of the work. My Messenger Marketing approach "The Value Bomb System" is what I use to provide value to prospects 90% of the time, and the remaining 10% is not even selling — just soft pitching."
Sue Prentice, Founder of Beyond Points, add a unique touch to their funnel:
A mapped out strategy is key. We believe that it's important to launch with well set up touch points and utilize those across your channels so you can build your subscribers.We use our own agency bot at events and meetings as a business card to put our money where our mouth is, a personalized introduction that is memorable and so we truly remember who we met.
From conversational ads to building awareness, sending follow-ups and offering discounts — you can get it all done right in Messenger. And best of all … it's automated.

For more on funnels, see how online coach Jason Swenk created a $250,000 chatbot funnel — without spending a dime on ads.
2. Give 'em an irresistible lead magnet
A lead magnet is a free offer that online coaches offer prospects in exchange for their information. They usually come in the form of a downloadable piece of content, such as free reports, checklists, videos, and more. Which type you go with depends on how your prospects use content.

People won't hand you their information on a silver spoon. So as an online coach, it's your job to give them a good reason to subscribe, give an email, phone number, whatever. Lead magnets work for one simple reason — people don't see the downside to free stuff.

Marc Papp, an online marketing consultant and coach, weighs in on this:

I run Facebook Ads using Messages objective + ManyChat Keyword and funnel my leads by providing them a really irresistible lead magnet (6 free videos on Facebook and Messenger marketing)
Why is this a good lead magnet for Marc? Because it brings value to his prospects by helping them solve a specific problem.

Online coaches are also consultants and thought leaders — everything you say is seen and analyzed by potential clients. Use your industry experience to back what you say by sharing specific use cases, conflicts, or issues. It helps create a bigger picture for prospects and will influence their decision on whether they'll invest in you or not.

Curious what'll make a good lead magnet for your coaching business? Success comes from these 5 simple ingredients below.

Resolve an actual problem – your lead magnet needs to solve something your audience struggles with. Don't make one up for them.
Make it easy to win – People don't want your promised results in 10 months. They want something quick they can win with. Make it easy for them to achieve their goal.
Easy to digest – Free tools, checklists, quizzes, videos, etc. Your lead magnet should not overwhelm prospects. If it's killing you to make it, it'll kill them to read it.
Deliver right away – Chatbots make it easy to deliver content to people instantly. People don't want to wait around for an email to get their free gift.
Show your expertise – Your lead magnet should demonstrate your knowledge on the given topic. You'll convert more leads into students this way.
3. Do more than just auto-reply
One big mistake online coaches make with their chatbots is simply … not using it enough. Chatbots open up a two-sided conversation between you and your prospects.

Carrie Gottschalk from Bot Heroes, a company who works with everyone from small coaching businesses to TEDx, speaks to this:

They [online coaches] are too market-y, have too many call to actions, and try to use them more as direct response over nurturing and engaging. For my clients, chatbots build lead lists, nurture those relationships, and then lead to product and service sales. My clients are seeing 5x ROAS min.
The more conversational you get, the more you connect with your own leads.

Aris Tsormpas from PrimeCEOs, a marketing agency for online coaches, told us how online coaches mess up their sequences:

Online coaches make the mistake of overwhelming subscribers with offers and sales. It misses the real reason they do coaching. Giving people value will get you the sales. Maybe not immediately, but it will. So focus on that instead.
It's not just about casting a huge net and seeing what you can catch. Conversational marketing, Messenger marketing, Chatbot marketing, whatever you want to call it — they all can build relationships and grow your coaching business with little human interaction.

The challenge is to experiment with different tactics to see what works best. Muhammad Alim Munen, Founder of Alim Academy, feels the same:

The ManyChat Growth tool has helped me give away more eBooks to prospects. I now proactively manage customer relationships and sales. Most online coaches don't make full use of their chatbots, and leave money on the table.
You know your services and products better than anyone else. This puts you in a unique position to create valuable sequences that offer advice and suggestions to help prospects get more from your offer.

Services like ManyChat have simple sequences you can quickly set up on your own. The good news is that there are also many templates available, or you can play around with your bot and create something tailored to your audience.

See how you can build specific flows below:
4. Use emojis sparingly in your messaging
So yes, it's true, 92% of online consumers use emojis. Emoji's are fun and expressive, and they give your brand a personality. But there is a line you need to draw in order not come off as overdoing it, or like you belong to the subreddit r/fellowkids.

Given that 58% of consumers feel brands overuse emojis, you want to make sure there's a balance in your messaging. Using emojis at the right place, at the right time, with the right crowd is the best approach for emoji marketing in your chatbot.

Falcon.io puts it in perspective like this:

"Imagine searching for funeral services, only to be met with a crying emoji. Picture searching for financial aid, only to see companies tweeting pictures of money bags."
Odds are, you're not selling a coaching service for funerary homes. But think about why a prospect comes to your Page. Consider their age, state of mind, what emojis they use daily, etc.

Markus Grubenman, an Organizational Management Coach, learned the hard way, he mentions that "emojis depend on your audience. For me, it was essential to check what kind of emojis my audience uses."

For him, long text and too many emojis were missing the mark with his people, so he needed to rethink his emoji strategy.

To figure out what emojis to use in your chatbot sequences, look at like this:

Does your audience even use emojis? If you sell a more personal coaching service, an emoji or two might be good. If you sell online coaching to executives, maybe not so much.
The amount of emojis you should use. Chatbots are all about context and personalization. Is the first impression you want your audience to remember you by this?
Will this emoji offend anyone? Different emojis mean different things to different people in different countries. For example, the Victory sign emoji means peace in the U.S., and "up yours" in the UK.
Does this emoji confuse my message? Simple is the language of everyone. Not emojis. If your message is confusing because of your emojis, then don't use them.
All in all, if your niche calls for emojis, do some research on what emojis your audience uses. Start with a few and use them consistently throughout your sequences.

By using emojis correctly, you can maximize engagement with prospects, and make your brand relatable. But too much and your authority could go south pretty quick.
5. Get more eyes on your content, faster
If you've been building your coaching brand, you've likely had your hits and misses. It's a crowded space and takes a lot of care and attention to stand out.

Even worse, you're competing against other coaches in your industry. So continually relying on what you've done will put you behind the pact.

Have you been offering an eBook for 12 months? Has Sally Competitor A started doing a podcast for her subscribers?

Find what they are doing, pick it apart, and make it better.
For example, the article above did pretty well. Knowing that it's a popular topic, instead of writing a blog post about 30 things you need to know in your 30's, you can do a short video for 6 Life Lessons You Can Use Today To [Insert Problem Here].

Or for online business and entrepreneur coaches …
High shares, specialty niche. Seven Business Coaching Tips for New Entrepreneurs sounds like a great candidate for a checklist you revamp into your own words, and offer as a checklist for your subscribers.
Then promote it through your chatbot.

You can also add pre-recorded videos in chat, and give a virtual tour of your company like business coach Meirav Leshem Gonen. So she can provide a more personalized and friendly service to her clients.

Regardless, even coaching businesses that are budget-constrained can easily create content that helps increase qualified leads and generate more sales on autopilot.
6. Bridge the gap between your website and Facebook Page
Here's a tip you may have overlooked.

Make your prospects feel comfortable from start to finish.

It's simple, and it works. No one wants to get bounced around the internet just to book an appointment with you, or even download your free stuff.

You want to make sure your prospects have the best experience possible, and this involves a simple 4 step formula.

Use their name when starting the conversation
Talk to them like a person
Answer their questions quickly
Give them something they won't find elsewhere
Marc Papp shares a detailed approach to how he grows his pipeline on autopilot, while keeping his leads happy and engaged. He says:

I run Facebook Ads using Messages objective + ManyChat Keyword and funnel my leads by providing them an irresistible lead magnet
Once they are in, they have 3 options: Watch my videos, learn more about my coaching program, learn more about my consulting servicesThey can access this info via menu, welcome message, default reply.
When someone becomes a new subscriber, they receive my best performing broadcasts that I convert into a sequence to further nurture my lead and build a relationship. I also gather relevant info about the lead by asking them important questions and saving their answer on a google sheet for quick reference
I send a broadcast every other day to provide more value to my audience and promote my business at the same time.
To keep everything relevant, you want to let prospects do everything in Messenger — from downloading content to gathering information, and even booking an appointment.

You can see how that works in this BotBlocks (a ManyChat partner) + Calendly plug-in.

That way you stay fresh in their minds, and show that you value their time and energy.
7. Use a quiz to find out more information about your audience
Everyone wants a deeper understanding of who they are and why. It's the reason why quizzes have been an internet hit since before dial-up.

Steven Myers, a Professor of Psychology at Roosevelt University in Chicago, explains why people find quizzes so irresistible. "You could introspect and think about yourself, however, that has its limits," he says. "When we take these self-assessments, it gives us another mirror inward."

As an online coach in any niche, isn't your goal to create a process that builds trust? And helps you transform your clients' lives or business at scale?

Steven Page, VP of Digital Strategy at Giant Partners, a company who helps online coaches grow their customer lists with chatbots, adds:

Use your chatbot as a quiz or calculator to get the most engagement and information from your prospects. It's not only a cost-effective way to use your ad dollars to generate leads, but it helps you find out more about your audience.
To create a good quiz, let's go through some best practices so you can turn into a lead generation machine.

Determine what you want to learn about your prospect. Do you want to learn about their aspirations? Struggles? If they like tea or coffee? Ask about their preferences and behaviors, so you can get a better grip on who they are. Think about what information you need to learn for you to serve them best.
Keep it short and sweet. We're not filling out a medical form here. Try to keep your audience for 2 or 3 minutes on your quiz. Any longer and they may feel overwhelmed or bothered.
Write questions like you speak. Remember how we talked about keeping users comfortable and at ease? Well, here it is again. Ask questions like you're having a coffee with your best friend on a Saturday morning. Inject your personality into each question, and don't be afraid to make a prospect laugh.
Tell them what you want them to do next. Is there a download? Or specific video they should watch based on their answers? What's the next step and will they get there?
Always say thank you. A random person from the internet just gave you some personal info. Show you value them by saying "thank you."
If you need some inspiration, or want to see a pro life coach chatbot live, swing over to Tony Robbins quizzes and assessments.

Then, head over to our "How To" for creating your first ManyChat quiz. So you too can automate lead generation, build trust, and sell more services.
8. Turn email subscribers into ManyChat subscribers
Building relationships through email is hard. Open rates continue to decline as people flock to messaging apps. Today's average CTR hovers around 5%, give or take.

It's not that email isn't profitable anymore. It's that Messenger delivers better results across key success metrics for engagement.

Moving people over from email is one of several key approaches for Sue Prentice's agency. She says that "getting email subscribers onto the platform in order to truly know, like and attract more like them."

The whole purpose of this tactic is to make engaging with prospects easier for you. You'll be able to get more eyes on your messages, open up two-way conversations, and quickly move more people from prospect to client.
Now it's your turn
Do you use a chatbot for your online coaching business? If yes — we obviously back you up here. It's a great tool to promote your services at scale.

Whether you're prospecting, lead nurturing or selling, these chatbot tips for life coaches will help you get more from your chatbot.

The contents of this blog were independently prepared and are for informational purposes only. The opinions expressed are those of the author and do not necessarily reflect the views of ManyChat or any other party. Individual results may vary.