How Much Does it Cost to Market on Instagram? (+ 4 Tips to Maximize Your Spend)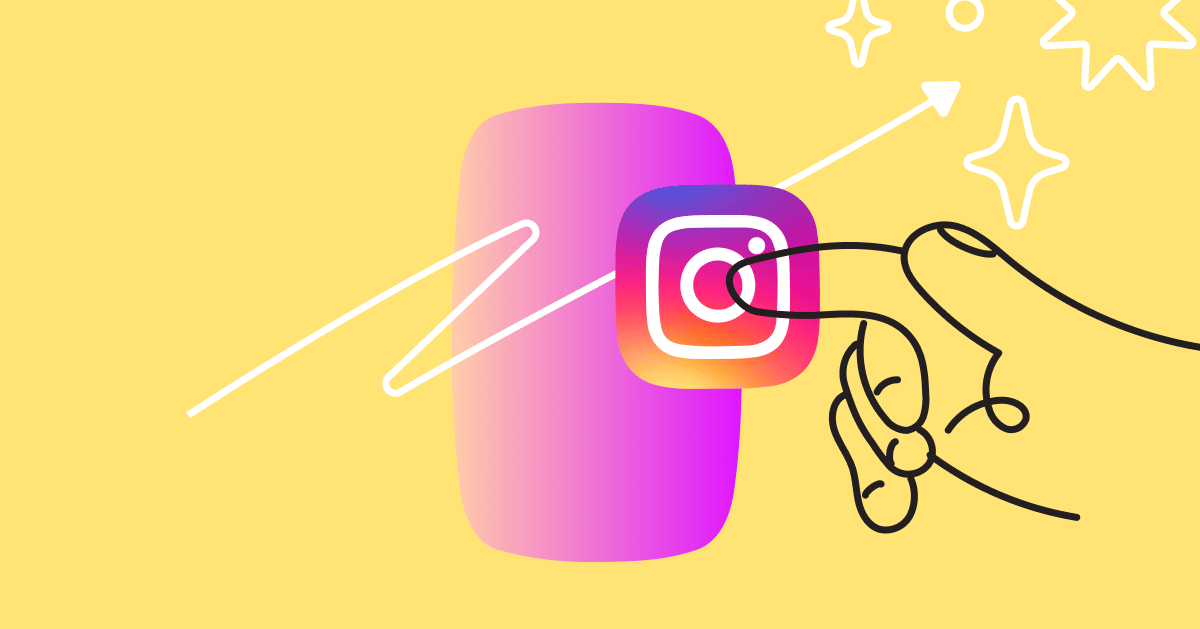 By 2023, Instagram will have a projected 1.2 billion users. And since 90% of Instagram users follow at least one business, there is massive potential for your business to get in front of a huge global audience.
But with 200 million business accounts on the platform, the competition to stand out is fierce. While it's tempting to pour all of your budget into ads—because surely it means you'll get your content in front of more people?—don't underestimate the power of a well-thought-out organic campaign.
While every business will have a unique approach for spending their budget on Instagram marketing, knowing how much ads cost, what you can expect to budget for organic efforts, and how to make your money work harder will help your marketing efforts in the long run.
Table of contents:
How much do ads cost on Instagram?
Instagram will generate a predicted $33.25 billion in ad revenue in 2022. Its ads are having a moment, and more and more businesses want to get in on the action.
But before you dive into Instagram ads, it's important to understand their pricing structure and which one might suit your business best.
Instagram ad costs depend on the pricing model you select. When setting up your Instagram ad campaign, you can choose between two pricing structures:
Cost-per-click (CPC): Instagram charges you every time someone clicks on your ad.
Cost-per-mille (CPM): Instagram bills you for every thousand impressions.
Studies by Socialbakers suggest that the average CPC for Instagram depends on the ad's placement. For feed posts, the CPC is around $.60. CPC for Instagram Stories is cheaper, around $.40-.50.
CPM for feed posts is usually around $1.70; Story ad costs are around the $1-1.15 mark.
Usually, CPM ends up being more expensive because Instagram bills you when someone views your ad. Because viewing is a passive act, it is likely to happen more frequently than someone actively clicking on an ad.
CPC is an advantageouis pricing structure if you'd prefer to pay only when a user actually clicks on your ad.
Remember that these costs are just average numbers. Many other factors (including your industry and its competitiveness) can influence Instagram ad costs. Your final ad costs may be higher or lower than the numbers above.
How much to budget towards organic Instagram content
While Instagram ad costs can be reasonably cut and dried, it can be more challenging to predict how much to budget for organic Instagram content.
Given the competitive nature of Instagram content, you might feel like you need to run a huge multi-national campaign with a six-figure monthly social media marketing budget to stand out. Luckily, this isn't the case.
Your decion to handle social media marketing in-house or outsource it to a agency will likely determine how much you spend on organic Instagram content.
That said, it's worth noting that the industry average spend ranges from around $200-$350 a day. For monthly costs, the industry average is around $4,000-$7,000––which is more than the average daily costs scaled up. These figures are ballpark numbers, so don't worry if you're on a tighter budget.
Your budget for organic Instagram content will depend on what kind of strategy you choose to follow. Are you going to focus on educating your audience with engaging tutorials that require video production? Or would your followers respond better to relatable memes?
Determining what content will resonate best with your audience will help you hone in on an organic strategy and devise a realistic budget.
Despite a popular misconception that organic content is "free," there are costs involved (usually production-related). Here are the key components of what you can expect to spend on organic Instagram content:
Audience research
Before you launch any social media marketing campaign, it makes sense to dig into what your audience hopes to see published on your account. How can you educate, delight, inform, or entertain your followers?
Asking yourself and your team these questions will set the wheels in motion for an engaging marketing campaign.
Don't stop there though. Dive into the data side of things and use audience research tools to help you understand what your audience wants to see. The best part is that these tools are generally free.
Instagram Insights. If you already have a business Instagram account, you can tap into its free native analytics tool. It provide substantial details about your audience demographics and the times of day they're most active. Free
Typeform. Conduct your own market research by sending out a few simple questions to your followers or subscribers using Typeform. You could send the link out in your newsletter or post the link on your social media channels. Free
Images and graphics
Since Instagram is an exclusively image and video social media sharing platform, it makes sense to put effort into the visual side of things.
But again, there's no reason to blow your budget on a professional studio all in one go.
Unsplash. Need some high-quality images? Unsplash has a huge library of free high-resolution shots of just about everything. Free
Desgyner. Instead of template-style graphics, design from scratch with Desgyner. $4.95/month.
Canva. If you'd rather create some templated graphics, Canva has a vast selection. It's easy to start from scratch or choose from their library. Free.
Social media management tools
To keep your organic content on schedule and save you time in the long run, it's worth investing in basic social media management tools. That way you can schedule all of your social posts for the week, month, or quarter in advance so you don't need to remember to hit publish every day at 5 pm.
Later. Organize all of your Instagram posts on a grid-style calendar so you know what's going out when. From $8/month.
Hootsuite. Schedule unlimited Instagram posts from the central dashboard. From $49/month.
Analytics
Analyzing what's going well and what needs improvement is a key part of successful organic Instagram marketing. Note: If you don't want to spend any more budget at this point, you could just stick to Instagram's free analytics and your social media management platforms' built-in analytics.
But digging a bit deeper could help you uncover more relevant data to help fine-tune your content.
Sprout Social. Along with its popular social media scheduler, SproutSocial offers in-depth analytics tools that show you data like individual hashtag performance and geotagged locations. From $89/month.
Iconosquare. View graphs on metrics like engagement rates, impressions, and reach history, as well as follower evolution. From $59/month.
As you know, Instagram itself is free, and many of the tools used to create organic content for the platform are free or have lower-priced subscription plans. If you're just starting out or want to boost your organic strategy, there's no need to fork over a huge budget every month.
If you run your organic marketing campaigns in-house and spend your money wisely on a few key tools, you can stretch a limited budget pretty far.
Top 4 tips for maximizing your Instagram marketing spend
Here are our top four tips for getting the most out of your budget.
Instagram Automation
If you're looking to ramp up your Instagram content efforts and boost your engagement without burning through your budget on human labor, automation could be a great next step.
Instead manually answering FAQs, qualifying leads, or driving product sales, use ManyChat to automate these tasks. You'll save hours of your social media team's time and be able to focus your efforts on the creative side of your campaigns.
For instance, ManyChat's Flow Builder lets you build personalized conversations in a flowchart based interface. You can create different conversation branches based on a user's response to your Automation, like when they give you an email address or ask a specific FAQ.
Use ManyChat's Conversation Starters to manage DM requests. When followers message your Instagram profile for the first time, you can choose to have up to four clickable buttons appear to initiate a conversation with them.
You can also engage with your followers with ManyChat's Story Mentions Trigger. This feature enables you to automatically respond to everyone who mentions your account in a Story.
Read more: How Candace Junée Increased Leads by 118% With Instagram Automation
Spend your budget on the most time-consuming or difficult tasks
If you have a limited marketing budget (like most businesses), it makes sense to spend it on the areas where you feel you need the most help. Maybe you're not a wordsmith, or you struggle to take aesthetically pleasing product photos.
Wherever you or your team fall short in skills or experience, consider outsourcing those tasks to a professional or invest in software or tools to help you get the job done.
For example, if editing videos isn't your thing, you could outsource that to a freelance professional. Or if creating attractive visual Stories is a challenge, you could invest in a few templates to spruce up your content.
Repurpose your content
Repurposing your content from other marketing campaigns is a great way to maximize your overall marketing budget. Instead of creating every new post from scratch, think about how you can take copy from blog posts, ebooks, images from marketing graphics, and your site to create a feed that ties in with your wider marketing efforts.
If you produce podcasts, include some sound bites in your feed and Stories; if you create video content, try crafting some teasers to get people interested in watching it.
When you plan your wider content strategy around a few key pieces, it's much easier to budget for the original and then create a few supporting pieces around it.
Be consistent and create content in batches
Content batching is when you plan all of your upcoming posts in one batch. Instead of worrying about what to post every day, you'll already have a planned piece of content ready to publish.
Creating your content in batches will also help you stay consistent. And consistency is critcal for boosting your engagement.––Your followers want to see you publish regularly, otherwise they might lose interest and not come back
When you plan all your content in one go, you'll save time and be able publish better quality assets.
Get more out of your Instagram marketing campaigns and lower your costs
Building a highly engaging Instagram marketing campaign shouldn't necessitate a six-figure budget.
While it's easy to blow your budget on ads because you're unsure how to create an impactful organic campaign, it needn't be that way. When you plan your Instagram marketing efforts properly and allocate spend on a few key areas, you'll find that your money goes much further.
Remember, it takes time along with some trial and error to create an effective Instagram marketing campaign that your target audience will love.
Grow your Instagram following and make sales with Instagram Automation by ManyChat. Start free today.
The contents of this blog were independently prepared and are for informational purposes only. The opinions expressed are those of the author and do not necessarily reflect the views of ManyChat or any other party. Individual results may vary.