Conversations 2019 Agency Awards Recap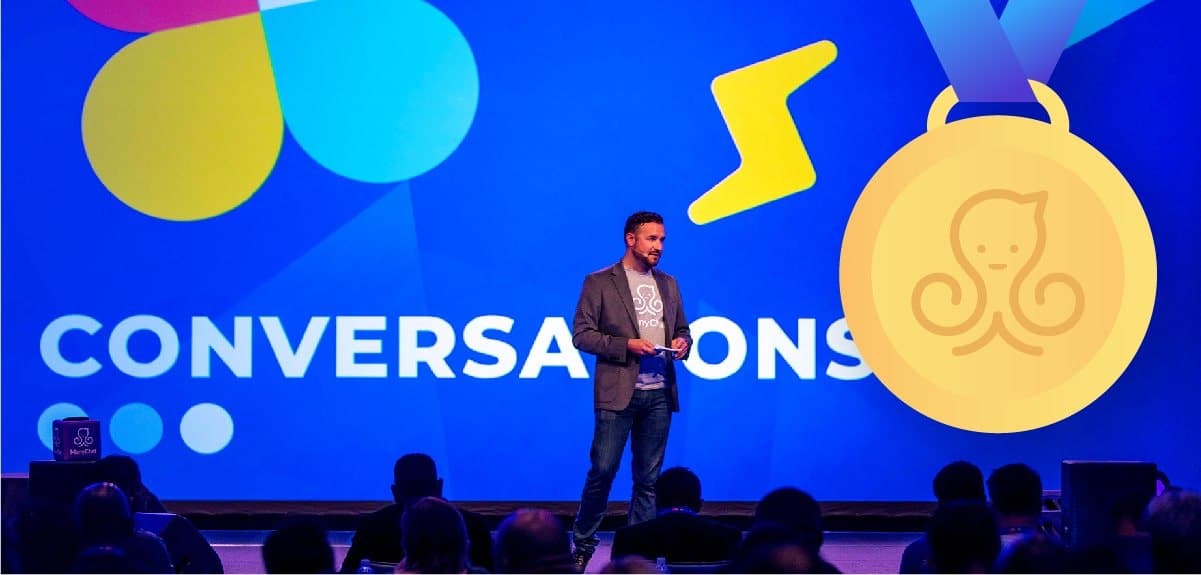 Without our wonderful agency partners, building successful bots on behalf of our customers, training others on how to become Messenger Marketing experts, or promoting us in the market, ManyChat wouldn't exist. Your passion, creativity, and innovative flows have taken ManyChat to the next level.
Because there are so many unique uses and inspiring case studies, we wanted to honor the achievements of our users. During Conversations 2019, we held our first-ever Agency Awards which recognized those people for all of their hard work and innovation. With so many submissions, it was incredible to see all the cutting-edge applications. In total, we handed out six awards and had numerous honorable mentions.
The Emerging Agency Award
The Emerging Agency award honored new agencies who joined ManyChat within the last year. We looked at a combination of Pro bots, successful Pro bots, overall accounts, and professional appearance to determine the recipient for this award.
Emerging Agency 2019 Winner: Angela Allan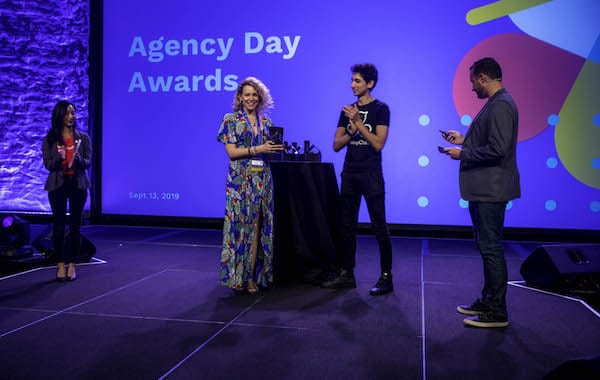 Read more: How Angela Allan Became ManyChat's Emerging Agency Award Winner
Honorable mentions for Emerging Agency: Bridge Sentinel, Adam Chambers, and TECBU
The Most Engaging Bot
The Most Engaging Bot is a big deal coming from ManyChat. It shows expertise in the field of bot building and demonstrates the ability to drive meaningful conversations to a large number of subscribers.
Most Engaging Bot 2019 Winner: Attention Grabbing Media for their work on the Dr. Eric Berg bot.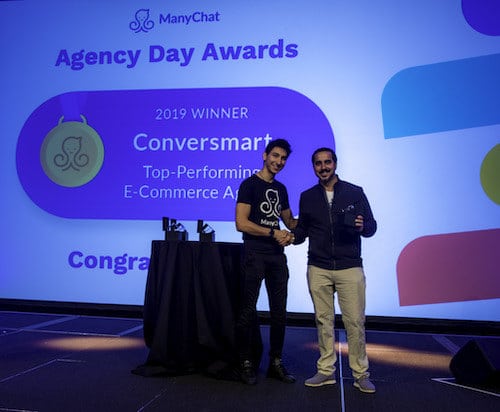 Read more: How Manuel Suarez Built Conversations 2019's "Most Engaging Bot"
AGM had nearly 1.5 million subscribers, 40+ sequences, 500+ widgets, 400+ tags, 400+ keywords, and over 150 thousand Monthly Active Conversations.
Honorable mentions for Most Engaging Bot: The Jay Shetty bot by CleverChatbot, the Clever Investor – Real Estate Investing Bot by BotBuilders, the Goldco bot by Advertisement, and the Beard Club bot by Conversmart.
Top Performing E-Commerce Agency Award
E-commerce is one of our fastest-growing segments and includes a strong field of agencies that are specifically focused on driving conversions in the field.
The Top Performing E-commerce Agency award recognizes the talent that serves a large number of Pro bots, successful bots, and engaging bots in the field of E-Commerce. It also shows the ability to grow an agency that meets the demands of successful and recognizable E-Commerce companies.
Top Performing E-Commerce Agency 2019 Winner: Conver-Smart for The Beard Club and Tuft and Needle.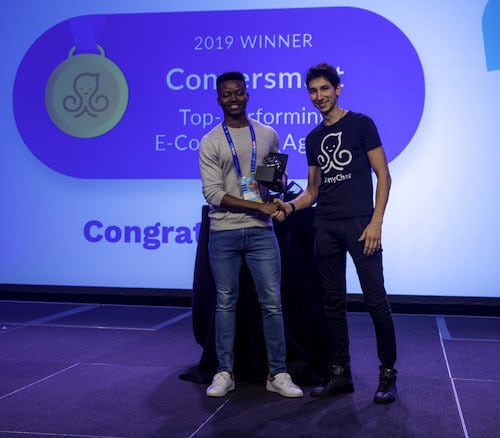 Read More: How The Beard Club Gained 30,000 Subscribers in 4 Weeks With Conversmart and ManyChat
Honorable mentions for Top Performing E-Commerce Agency: Carrie Gottschalk and Loop Agency
Top Performing Local Business Agency Award
Local businesses are at the heart of ManyChat's mission, so it's no surprise that we have a lot of high-performing agencies in this space.
The Top Performing Local Business award demonstrates the ability to grow an agency as an entrepreneur while serving other entrepreneurs at the same time.
It's a delicate balance between marketing, sales, and customer support, all while catering to ManyChat's mission to help small businesses create meaningful conversations with their customers.
Top Performing Local Business Agency Award 2019 Winner: Misfit Media
Read More: Creating a Scalable Messenger Marketing Agency: Misfit Media
Honorable mentions for Top Performing Local Business Agency: ROI Experts, Local Marketing Pro, and Superstar Bots.
The Many Award
The Many Award goes out to the agency that serves SMBs across a wide range of verticals and use cases. It demonstrates platform expertise and technological advancement on behalf of our agency partners and customers, with deep knowledge of how to drive results for the many users of ManyChat.
The Many Award 2019 Winner: Orca Marketology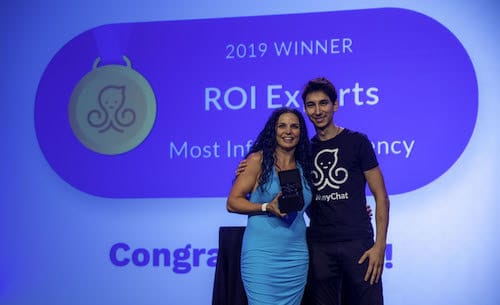 Read More: The Story Behind Award-Winning Chat-Marketing Agency Orca Marketology
Honorable mentions for The Many Award: The Bot Shop Epic 180, Advertisement, and Automated Dreams.
The Most Influential Agency Award
The Most Influential Agency exemplifies overall excellence when it comes to running a successful agency that elevates not only ManyChat but also the Messenger Marketing space.
Our Most Influential Agency was not only one of our first agencies in the program and has established a recognizable brand, but also trains other agencies on how to be successful with their SMB clients.
Volunteering time and effort to support clients and agencies alike, this agency has the most Pro and Successful Pro accounts of any ManyChat agency.
It's important to note that there are some very impressive honorable mentions on this list and that we evaluated all aspects of the agency program to pick this year's winner.
The Most Influential Agency 2019 Winner: ROI Experts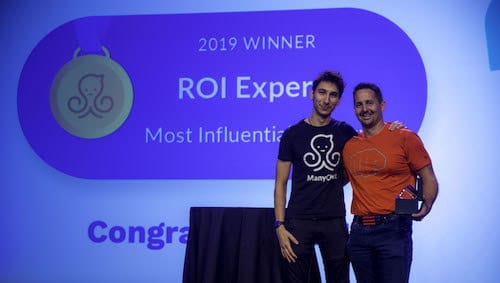 Read More: Q&A with Matt Plapp: How to Run an Agency
Honorable mentions for The Most Influential Agency: Attention Grabbing Media, Prepared Performer, and Orca Marketology
Thank you to everyone who submitted to this year's Agency Awards. We are excited to see all the innovative ways agencies use ManyChat to work with their clients.
Learn more about Conversations 2019 Agency Day.
The contents of this blog were independently prepared and are for informational purposes only. The opinions expressed are those of the author and do not necessarily reflect the views of ManyChat or any other party. Individual results may vary.