[Case Study] How Angela Allan Became ManyChat's Emerging Agency Award Winner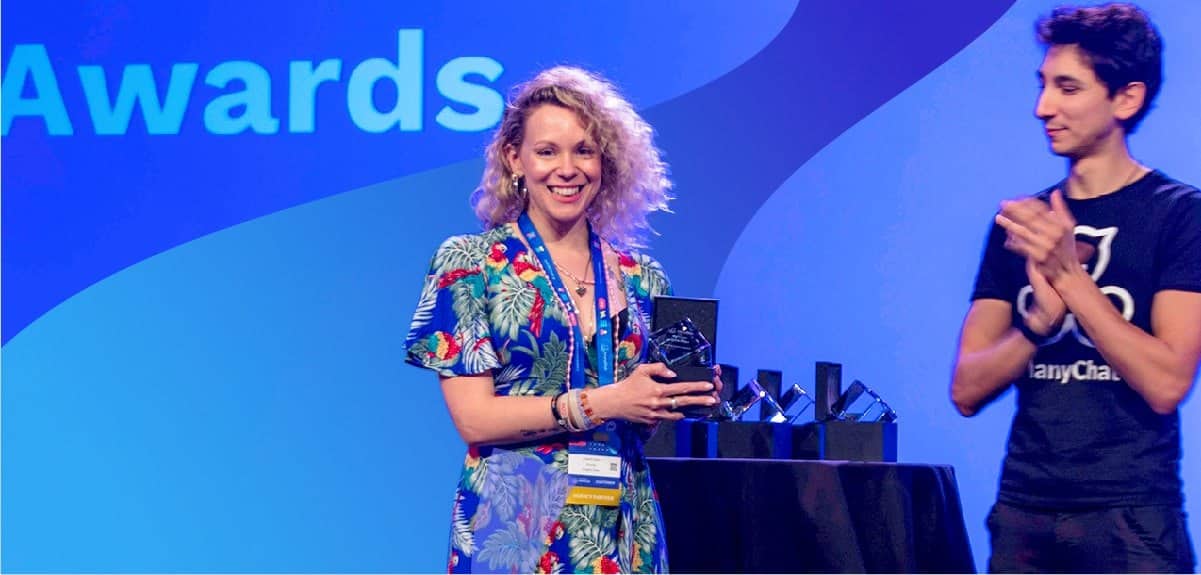 Agency Partner and Chat Marketing Pro Angela Allan had a tremendous year. In May 2018, she began offering Messenger bot services via ManyChat. Then, just 11 months later, she received ManyChat's Emerging Agency award at Conversations 2019.

But Angela wasn't always a bot-building extraordinaire. In a past life, she was a journalist for Rolling Stone and a copywriter for big ad agencies, working with the likes of Coca-Cola, Sydney Opera House, American Express, The Voice Australia, and Ford Australia. Her writing experience resulted in her landing a double-page spread for an Australian Penthouse Magazine — but, as Angela explains, not the kind you're thinking of — it was on celebrities including actor Jay Mewes from Jay & Silent Bob and Aussie musician Tex Perkins.

Angela says that the years of commercial writing were great, but what she "loved was everything to do with helping businesses". It was her sweet spot, and prepared her for the journey into Chat Marketing. She explains:

"Everything I did was helping businesses communicate better and talk to their ideal customers. When I saw that Chat Marketing was starting to become popular, and it wasn't a fly-by-night thing, I thought it was a great avenue for businesses to work conversations into their overall strategy. And good conversations require good copy."

In under one year, Angela quickly scaled to become a six-figure agency with massive growth potential. We caught up with Angela after Conversations 2019 where she spoke about the ins and outs of agency life, how she uses ManyChat to implement chat strategies for her clients, and a few tips you can apply today to boost your agency's brand awareness and revenue.
Why ManyChat?
In an ideal world, Angela would put GIFs in everything. While this indirectly influenced her decision to partner with ManyChat, she also loves the Chat Marketing platform for a few other reasons:
ManyChat's simple user interface allows Angela to rollout complex campaigns with ease. For example, she can see entire bot flows visually and build strategic conversations that support her marketing efforts.
Native media integrations like videos and GIFS allows Angela the ability to engage with clients and customers in a fun and friendly way. It allows her to share everything from mini-courses to how-to videos, and create interactive experiences that boost conversions.
ManyChat conditions feature enables Angela to better segment audiences and send relevant messages to the right people at the right time based on their actions.
How Angela Allan Became ManyChat's Emerging Agency Award Winner
Angela's breakthrough into Messenger bots is similar to other ManyChat Agency Partners. They run Facebook ads to landing pages, they use email automation for leads, and overall, their businesses are profitable — but then they come across Messenger Marketing.
Angela was introduced to the channel two and a half years ago through an online tutorial from Cat Howell's FATC Academy with Rutger Thole, aka, the King of Bots. "I knew [Messenger Marketing] was going to be huge. I took screenshots, wrote down everything about bots, and then I started building them," she says. "It started from learning, and since my agency was around copy and marketing, Messenger bots made sense as an extension of my business."
Before this, running the traditional Facebook ads to a landing page to retargeting was becoming more expensive and time-consuming. She says, "Setting up ads and building landing pages, check-out pages, and email sequences — and then writing the copy for all that was taking up time I could spend working on growing my agency." The results weren't matching the effort, she adds: "We were paying up to $40 for a conversion before running Facebook ads connected to Messenger." But overall, it was really ManyChat's native media integrations and automation features that helped her believe in the software.
Angela also says that these automation features simply, "made sense coming from an email marketing background." Tags, segmentation, and automated flows allowed Angela to adapt to the Chat Marketing platform quick, and truly make an impact on her client's marketing campaigns.
Her years as a copywriter helps her put things in perspective. With each client, she aims to make the bot sound like their brand. Sometimes this is a personal brand, like Matthew Hussey, or Ben, the owner of Hot Dog Carts, who's known as the "hot dog vending guru". For example, she can use words like "howdy" and use expressive emojis, replicating the interaction of sitting face to face with the industry leader.
With personal brands such as Matthew Hussey, a dating expert with over 4 million followers and 40,000 ManyChat subscribers, she used the bot to recreate his dating advice and expertise from his appearance on Australian reality TV show "The Single Wives" inside Messenger. This ability to align the bot's tone of voice with a human helps create a more engaging and authentic experience for users.
Angela also mentions how creating the entire funnel inside ManyChat has been a game-changer. Now, she can even send emails and SMS right from the platform, which she says is"so much easier when you're not building a landing page on top of building your funnels." But nothing beats the ManyChat community for sharing ideas, skills, and tattoos (yes, she has a ManyChat tattoo) with industry leaders such as Ezra Firestone and Mackensie Liberman to keep the Chat Marketing spirit alive.
Angela's three big tips for growing a Chat Marketing agency
Spend time creating a great process. If you put good systems and templates in place, your new team members can follow them clearly without a hitch. This makes scaling much easier and keeps everyone on the same page.
"Your team doesn't need to be as gung-ho about your business as you are and work 24/7 (as some of us agency owners do when starting out). But they need to share your passion, belief, and vision so together you can create the best work possible and take care of your clients to get them results.
Continue to invest in your learning. Angela points a lot of her success to consistent self-education. It's what helps her stay ahead of the trends and be innovative.
"Always be a student. I've had people come to me giving me a lead, but then saying, 'I want to learn from you as you build this bot so the cost will be less to my client.' To which I say, 'If you want to start your own agency, go and do the work yourself and gain the necessary skills – complete online courses, consume videos on it, attend the Conversations conference.' Make that investment in your career if you are serious about it."
Be passionate about your work. Passion is the driving force that keeps you motivated, even during the tough times. Angela explains:
"You can't go in with a half-baked idea that you are going to make money right away. Business doesn't work that way. You have to want to play the long game. I'm passionate about helping business owners, so for me, the investment in Chat Marketing led me to offer another way to help business owners win, because when they succeed, I succeed."
Want to grow your marketing agency? Apply for the ManyChat Agency Partner Program and get 20% revenue sharing, priority support, access to our private Agency Community, and more