4 Reasons To Attend Instagram Summit 2022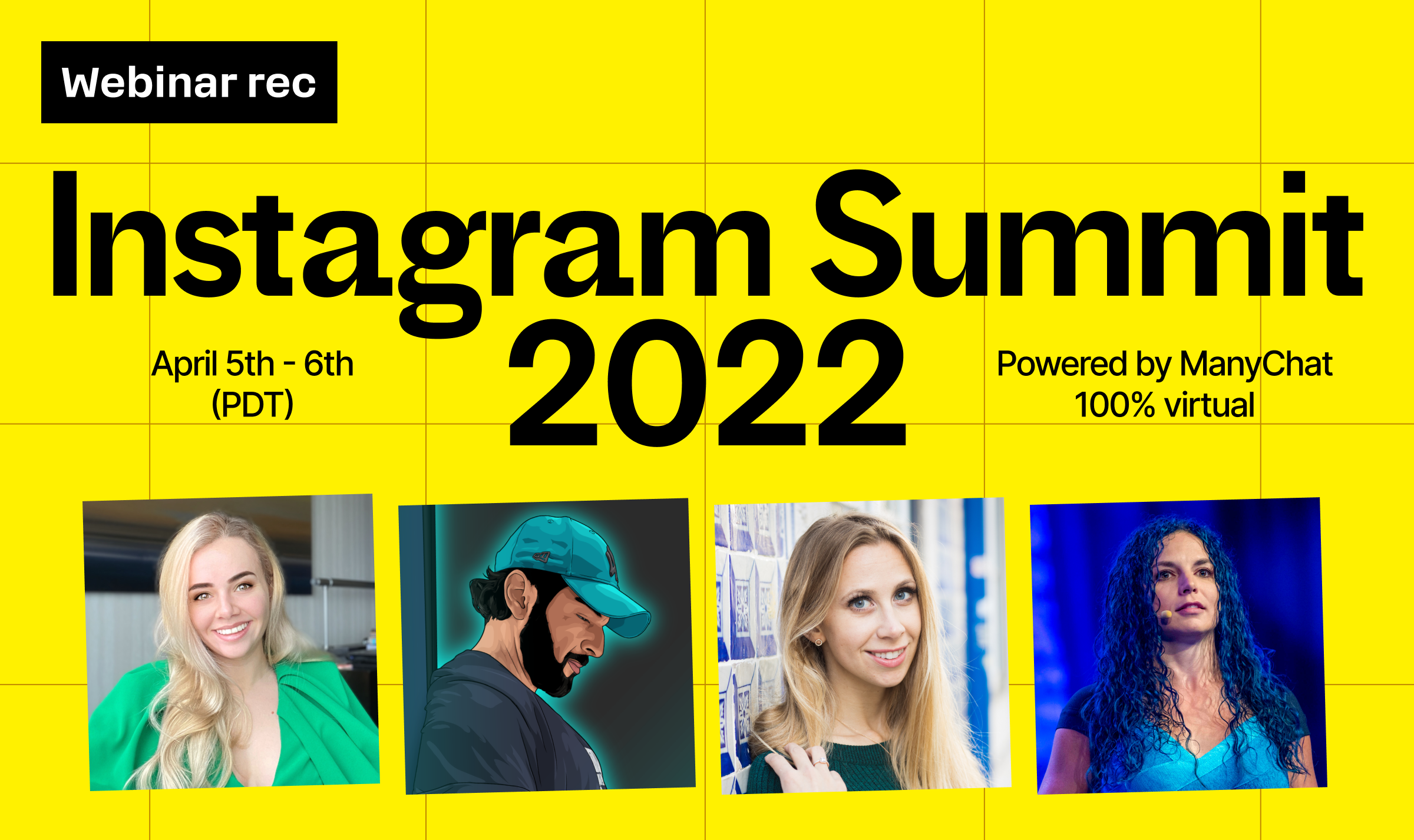 ---
Just before the official launch of Instagram DM Automation in 2021, Manychat hosted the first ever Instagram Summit. Over 8,000 people registered for this event to learn more about how to use Instagram Automation for their business. 🙌
And after popular demand - we're doing it again!
So, we're giving you a sneak peek of what to expect at Instagram Summit (happening on April 5th - 6th 2022) with a series of quick, fireside conversations with four of our expert speakers throughout March.
You can watch these pre-event sessions below. We'll add each session as it becomes available, as well as some helpful articles to help you get the most out of Instagram DM Automation.
Then on April 1st (no, we're not joking!), we have a FREE webinar where you (and others from our 100K+ member community) can have your Instagram flows reviewed by our featured speakers! All you have to do 👇
Takeaways
A preview of the 4 most-wanted topics at Instagram Summit, presented by our speakers

3 reasons why our speakers recommend you get a Power Pass

Free Instagram Automation templates you can use TODAY
Increasing Sales Through Instagram Direct Messages (DMs)
WHAT YOU WILL LEARN AT THE SUMMIT:
Using Instagram DM Automation by Manychat and your CRM to triple your sales!
How To Stop Chasing Customers
WHAT YOU WILL LEARN AT THE SUMMIT:
Get the shortcuts to building a steadfast community on Instagram so you can stop chasing customers.
Instagram Store Automation
WHAT YOU WILL LEARN AT THE SUMMIT:
Get the traffic tactics you need to hook in more ideal buyers, and how 4 hours of work can generate MORE revenue each month.
Using Instagram Automation For Lead Qualification
WHAT YOU WILL LEARN AT THE SUMMIT:
Learn how to build engaging and entertaining quizzes and games for brand awareness and lead generation.
Free Templates
As promised, here are three FREE templates you can use to get started with Manychat. You'll need to upgrade to Manychat Pro to use these templates, but don't worry! If you are new to Manychat and sign up for our Instagram Summit, we'll send you a promo code to get 30 days of Manychat PRO for FREE!
Capture Lead Information: This ready-to-use template is great for collecting new and existing customer emails and phone numbers. Start using Instagram as a lead generation tool.

Grow Followers: This ready-to-go template starts with a keyword and will help you grow followers. Provide users with a discount code who successfully follows your Instagram account.

Run Interactive Campaigns: This plug-and-play template replicates the Wheel of Fortune experience. Gamify your marketing campaigns in a unique way and provide users with a promotion code. Never run a boring promotion again!
Additional Materials
Want to continue the conversation? Join our Facebook group of 100,000+ members (and counting) here!
Try Manychat for free
Transform more conversations into sales, leads, and conversions today
Get Started