How Victory Points Social Turned $5k Ad Spend Into $127k in Launch Sales in 5 Days Using Manychat How would you like to turn $5,000 ad spend into a whopping $127,380 in revenue for your coaching program? 🤯
Tracey Matney, chat advertising strategist at Victory Points Social, has the proven system to help coaches, content creators, and entrepreneurs generate more enrollments while keeping ad costs low, drive participation rates, and prime students to purchase high-ticket items.
All it takes is a solid coaching program, this framework, and Manychat.
Overview
Victory Points Social helped Shopify expert Jen Ritchie of Scale on Shopify, launch her high-ticket online coaching program.
To generate quality leads, Jen runs a five-day challenge called Scale on Shopify Bootcamp each quarter as a conversion tool to generate more enrollments for her high-ticket program, SOS eCommerce Academy.
With a $5,000 ad budget, Tracey and her team at Victory Points Social were able to generate more than $127,000 in revenue in just five days using Clicks-to-Messenger ads and Manychat.
Here's how.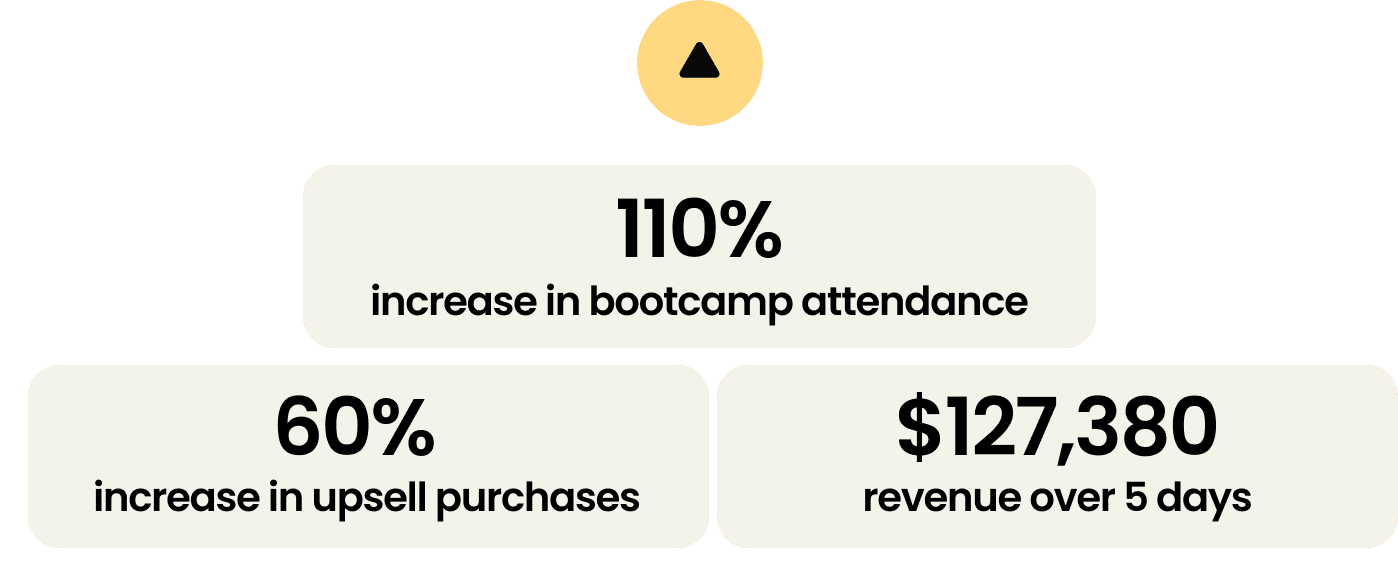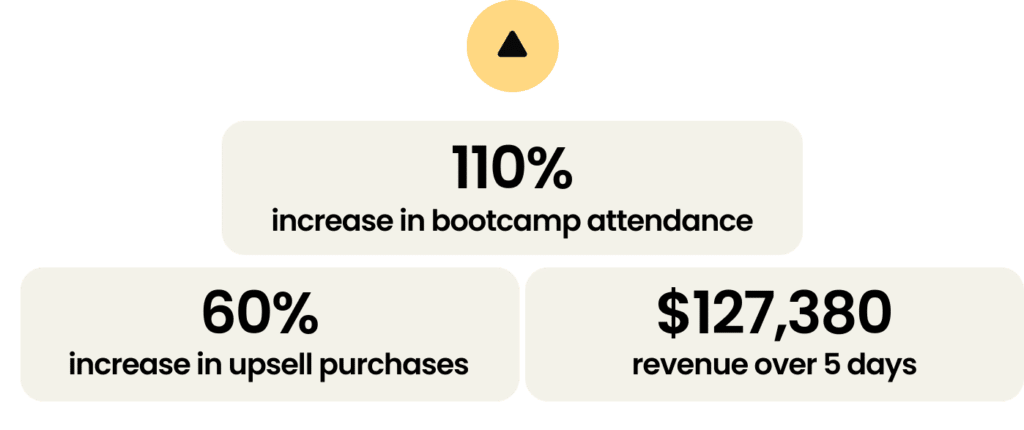 The challenge
Jen was worried about running Facebook ads and generating zero ROI.
Victory Points Social knew Clicks-to-Messenger ads generally have a lower cost per acquisition, so they decided to test selling a $27 seat to the five-day Shopify challenge via Messenger ads.
Ultimately, they decided to run Messenger ads and conversion ads and test which would perform best.
"Jen also wanted a high daily show-up rate to help nurture leads on their path to purchase," Tracey adds.
"When she had run this challenge in the past, people would drop off or not show up because they got busy or lacked motivation."
The solution? Building a Messenger concierge, Betty Bot, to boost attendance and engagement for the challenge.

"How many challenges have you done where you have to search through piles of your emails to find the challenge workbook? Betty Bot makes it super easy," Tracey adds.
Coupled with the agency's exclusive Challenge Victory System, Betty Bot would also drive attendance rate and engagement in Jen's Facebook group.
The goals
Victory Points Social identified Betty Bot's goals in partnership with Jen. Those goals included increasing the number of bootcamp participants, getting more of those participants to show up and engage, and driving an upsell to Jen's high-ticket program, SOS eCommerce Academy.
On the flip side, Victory Points Social was also tasked with reducing the time spent fielding questions and sending out reminders – two time-consuming requirements of coaching programs.
"By using Betty Bot, Jen and her team didn't need to be answering hundreds of questions about replays and workbooks," adds Tracey.
"Instead, they were able to focus on delivering great value to participants and preparing the high-ticket program."
The strategy: Betty Bot and the Challenge Victory System
To accomplish the first goal, Victory Points Social ran a variety of engaging Click-to-Messenger ads to promote the $27 five-day bootcamp.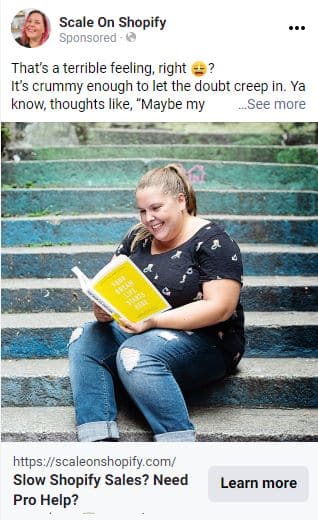 This brought in 215 participants – nearly 100 more than the previous bootcamp.
Upon signing up, participants were introduced to Betty Bot, who would deliver lesson materials, like workbooks, lesson reminders, and replays.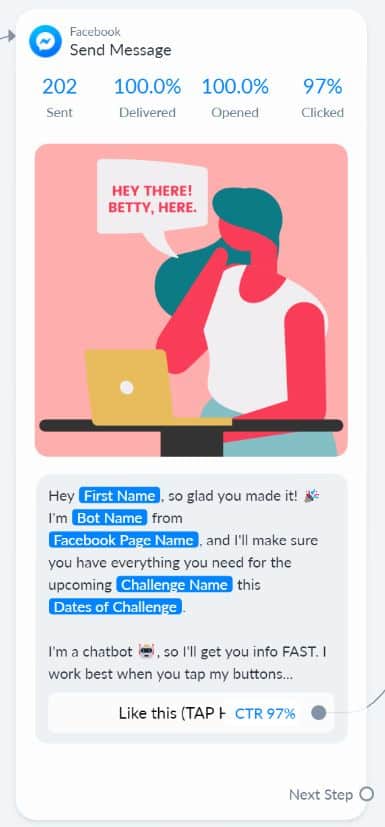 On day one, Betty Bot asked participants to opt-in to be notified when it was time to join Jen live in the Facebook group.
During the Bootcamp, Jen shared unique secret keywords in her Facebook group for students to send to Betty Bot.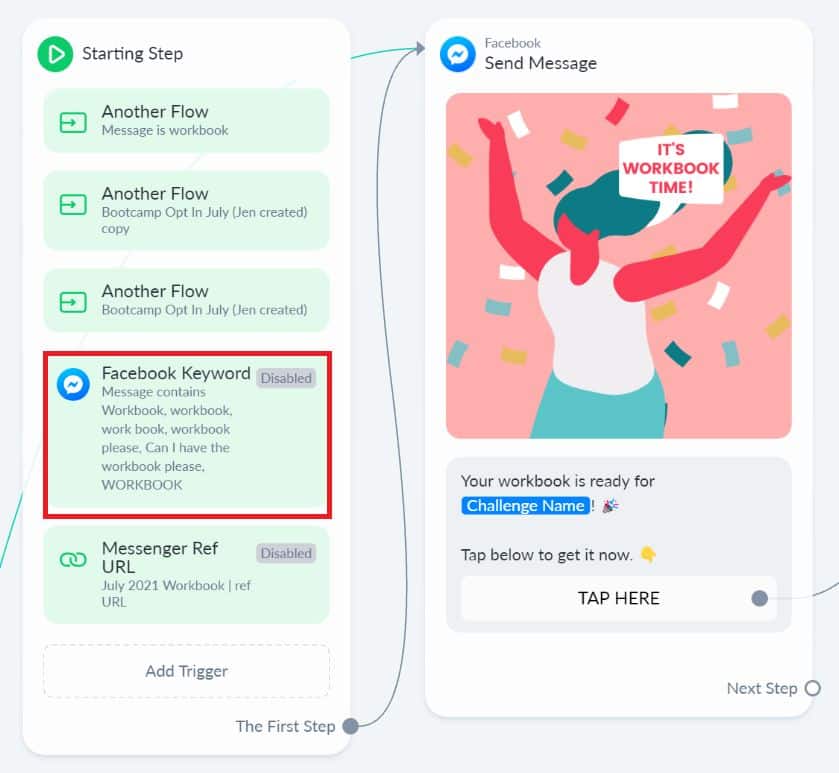 Participants would need to watch the entire training to receive the keywords. Those keywords would then trigger the daily takeaway and their homework assignment via Betty Bot.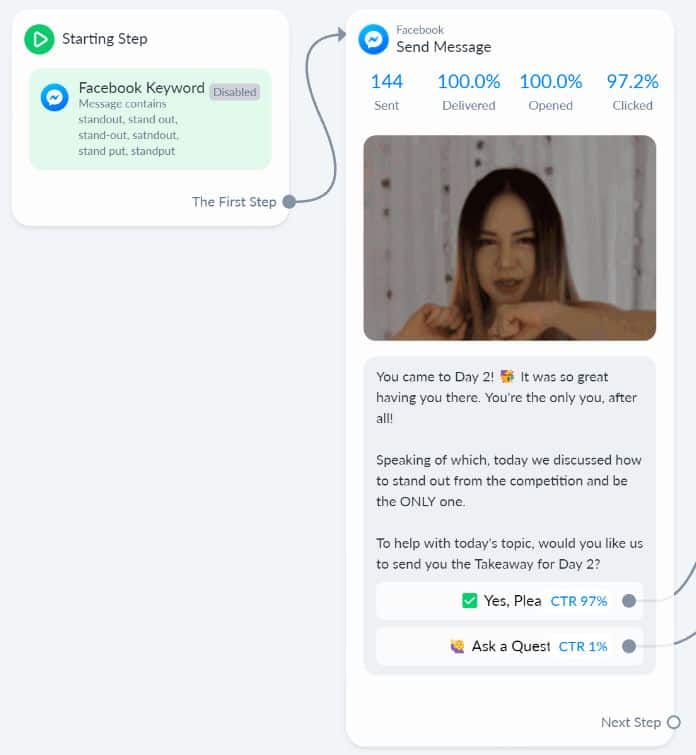 Victory Points Social understood that no one likes doing homework, so daily giveaways – like a VIP upgrade or a one-on-one consult call with Jen – were used as incentives for participants to complete their assignments.

"All of that adds up to boosted engagement… and more engagement equals better
results," says Tracey.
Due to Facebook's 24-hour rule, Victory Points Social couldn't send Manychat messages outside the 24-hour window unless participants interact with Betty Bot.
The daily takeaways also kept the 24-hour window open in order to send the next day's reminder.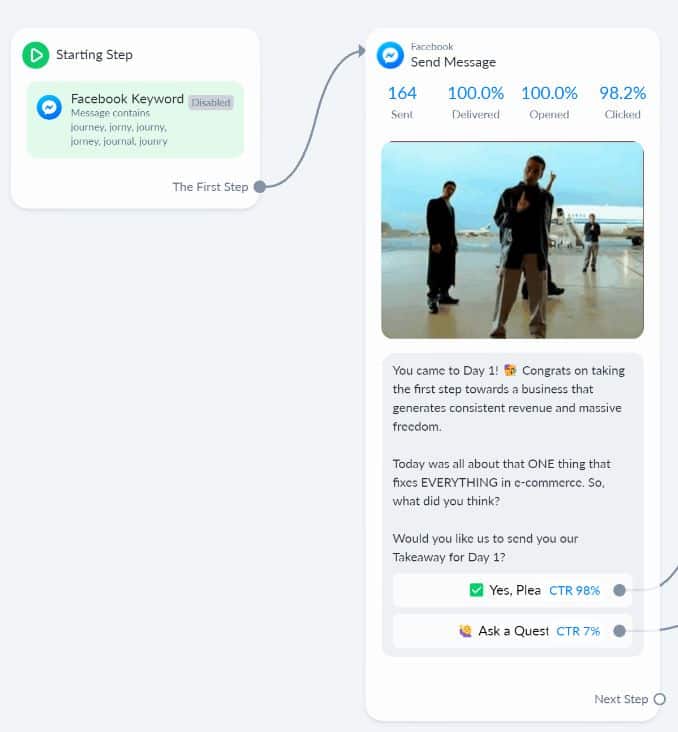 "When Facebook introduced the 24-hour rule in 2019, a lot of marketers gave up using chatbots because they couldn't spam their audiences," says Tracey.
"But we figured out how to keep that window open, keep people engaged and excited, thus driving sales. Now, with Recurring Notifications, we can get explicit permission to message them outside of the window."

Betty Bot offered upsell options, including a $197 website audit, and Jen's $3,588 SOS eCommerce Academy.
This time around, 32 people signed up for the academy, an increase from 20 the previous bootcamp.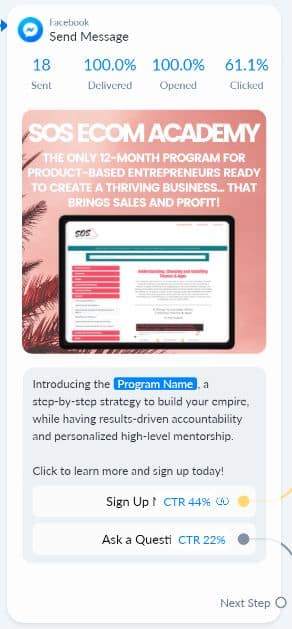 On day four, Betty Bot sent active participants a "temperature check" to gauge how they were feeling.
This helped Victory Points Social understand if participants were completing the bootcamp material – and which participants were primed to purchase the SOS eCommerce Academy.

After the end of the challenge, Betty Bot continued to assist participants and remind them about the SOS eCommerce Academy.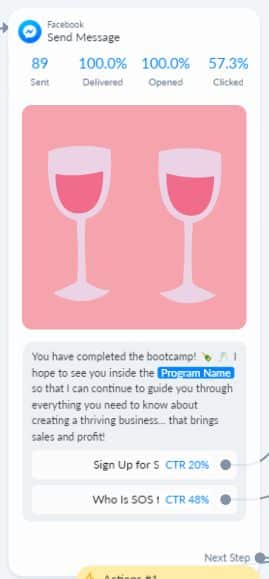 So, from a $5,000 ad spend, Victory Points Social generated a 25% average show-up rate each day, and achieved more than $127,000 in launch sales.
The results
Now that Jen has a large list, Victory Points Social can broadcast to them and run retargeting ads to get much lower cost per acquisition and higher engagement.
"Basically, Betty helped facilitate a one-on-one relationship with each participant without requiring Jen and her team to have 215 personal conversations," says Tracey.
Here are the results: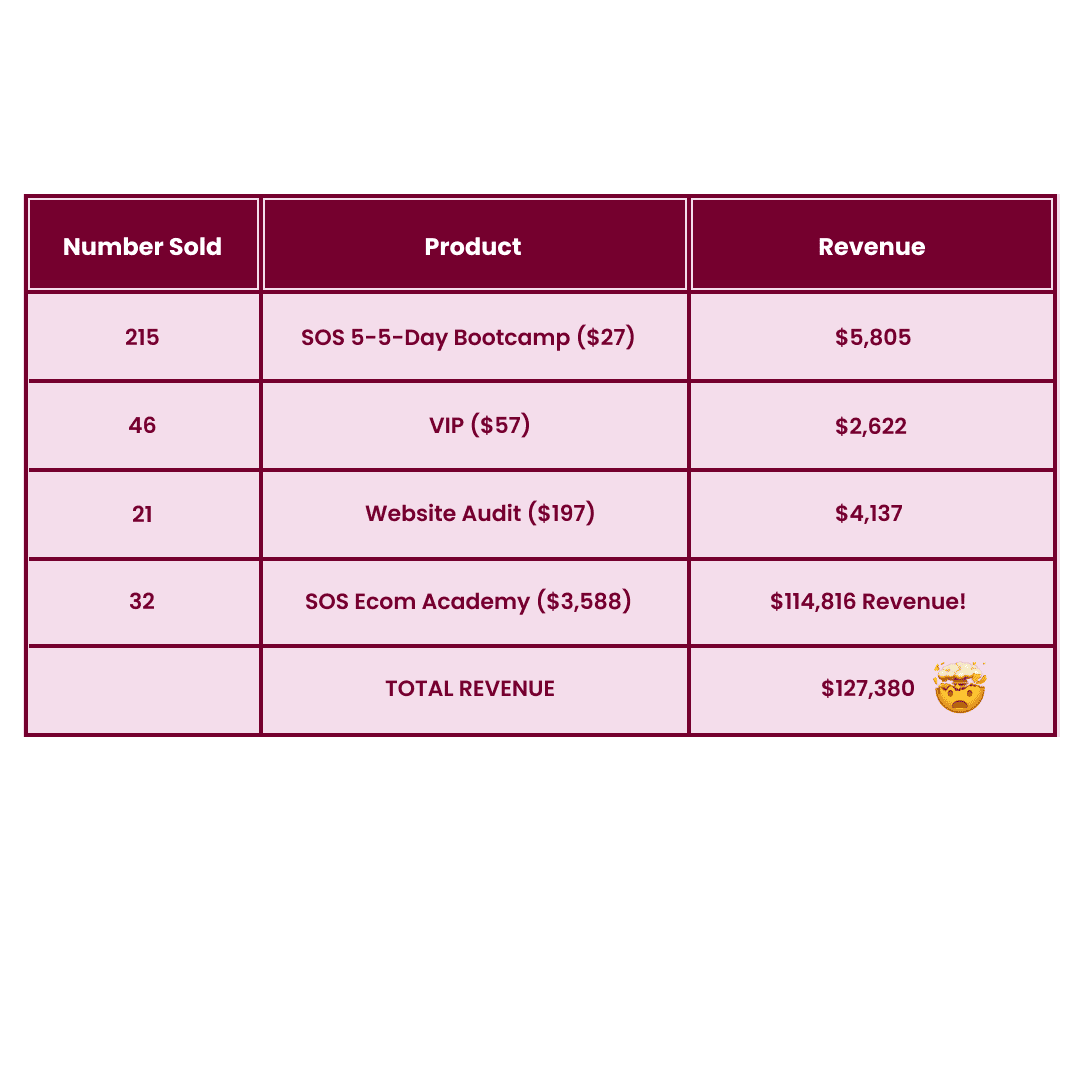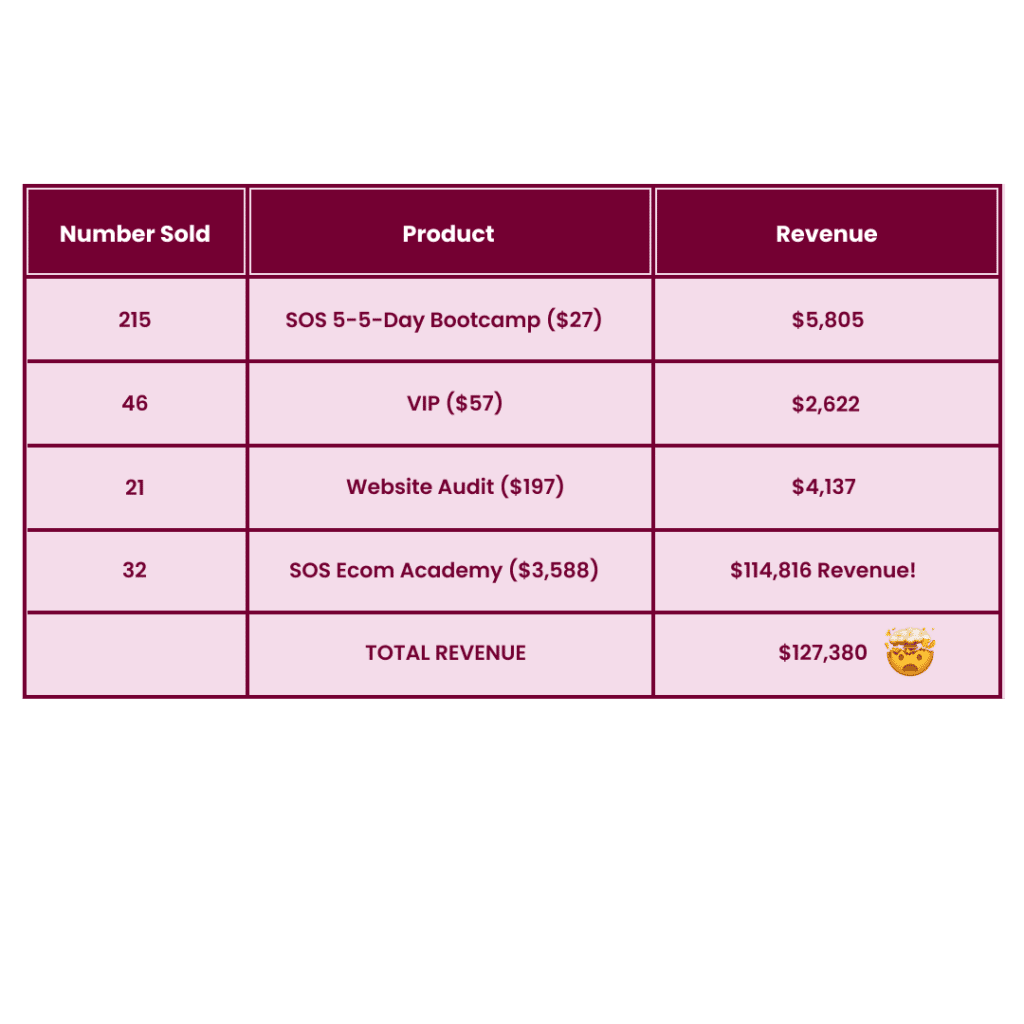 Key takeaways
If you're looking for game-changing ways to boost your launch sales, then take note of these three important things:
Get creative with ways to engage your participants to keep the 24-hour window open. Of course, this can now be achieved with Recurring Notifications.
Ensure upsells are part of your Messenger strategy. Nurturing leads on the path to purchase using Messenger can help increase sales for high-ticket items!
Have meaningful and personalized conversations with your participants. Including things like a "temperature check" to gauge how they are feeling, and as an indicator of how likely they are to invest in your high-ticket program.
By sticking to a strategy and utilizing Manychat, Victory Points Social was able to increase revenue and bootcamp participation, as well as automate customer service FAQs so Jen could focus on running her business.
The contents of this blog were independently prepared and are for informational purposes only. The opinions expressed are those of the author and do not necessarily reflect the views of ManyChat or any other party. Individual results may vary.