7 Common Social Media Marketing Mistakes Businesses Make (And How To Stop Making Them)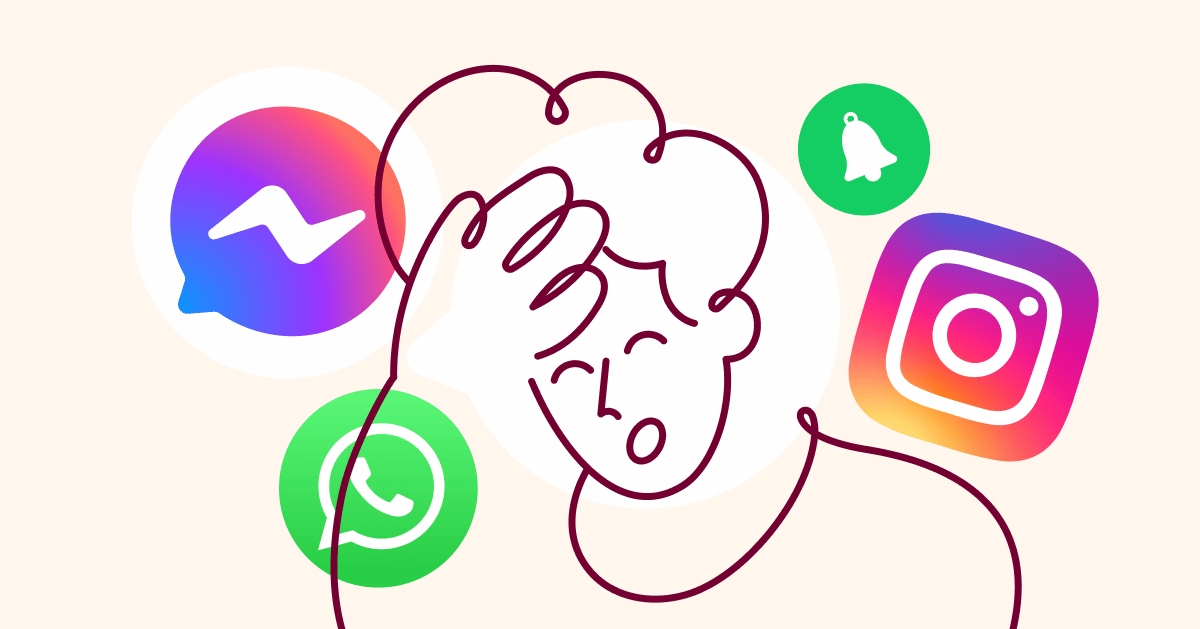 If your social media marketing results aren't up to par, chances are you're probably making some costly social media mistakes.
Make too many social media mistakes and you risk eroding your brand and missing out on sales. Fixing them can help you maximize the ROI from all the effort you're putting into increasing brand awareness on platforms like Instagram.
The good news? We've outlined some of the biggest mistakes brands run into when cultivating an audience, selling online, or growing their reach on social media channels.
Even better, we also share how you can stop making them for good with actionable solutions. Here's a quick rundown:
Not responding to customer DMs right away
Not acknowledging Story mentions
Not responding to comments
Posting inconsistently
Lacking a strategy
Not paying attention to analytics
Not humanizing your brand
Not responding to customer DMs right away
It's no secret that customers value a great customer experience, and part of delighting them is being responsive. The faster you can respond to DMs, the more satisfied customers will be with your brand's support. This sounds great in theory, but it can be hard to find the time sort through and respond to every single customer DM that comes in.
But take heart; there's a solution. You can use tools like ManyChat (which offers Instagram Automation features) to get back to customers faster and more effeciently than ever. Ecommerce and influencer brands can take advantage of tools like Flow Builder or Keyword-triggered Automations to answer customer inquiries as they come in.
For example, Flow Builder lets you create personalized interactions with its flowchart framework. You can build different conversation roadmaps that steer customers down various paths depending on the answers they provide. Once you create your first personalized conversation, you can use it to automatically interact with customers in a way that will make them feel like they're chatting with a human.
Not acknowledging Story mentions
DMs are important to reply to, but so are Story mentions! Don't ignore the Instagram ecosystem's many features—they are a terrific way to continue to stay in touch with your customers. However, this doesn't mean you have to monitor for Story mentions around the clock.
ManyChat lets you set up Story mention triggers so that you're aware of every mention and have a chance to interact with with the person who made it! With the Flow Builder tool, it's easy to set up a trigger for every Story "@" that mentions your brand.
Even if all you want to do is send a short "thank you for mentioning us!" message, ManyChat enables you to configure an automated process that will result in ongoing engagement with customers.
Not responding to comments
Not responding to comments is a pretty obvious brand-building no-no, yet many brands still don't take the time to do it. (Whether it's because they don't have the time to monitor comments or it's not a priority is hard to tell.)
Regardless, interacting in the comments section with your audience is a solid way to build brand rapport—especially if you're dealing with negative comments. Try using ManyChat's Comments Growth Tool to save time. Here's a visual on how to set it up and learn more about it.
Posting inconsistently
Consistency is the bedrock of all online marketing growth, and it's no different on a social media platform like Instagram.
The social media platform recently surpassed the 1.3 billion user mark, giving brands access to an enormous audience. While this huge user base is a major advantage, it also means more and more businesses are clamoring to get the attention of that audience.
Posting content inconsistently hurts your chances of getting in front of potential customers with shopping intent, and allows your competition to get a leg up.
Consider that 59% of US adults use Instagram daily. If you want your brand to remain top of mind, posting regularly is critical. Use automation tools to help you stay on a posting schedule if you don't have the time to do it manually.
Lacking a strategy
Approaching social media growth without a strategy is like trying to dig a hole without a shovel—it's hard, too time-consuming, and there is clearly a better way.
Even if you're newbie, you can start out on the right foot by learning what it takes to successfully market on Instagram. Next, look into capturing and optimizing high-qualifying leads as the cornerstone of your marketing strategy.
As you capture and nurture more leads, you can incorporate Automation to help you streamline and scale your processes. ManyChat bots are designed to help you acheive both those goals with the precision necessary to create positive customer interactions.
Not paying attention to analytics
Don't ignore your social analytics; they're there for a reason. Take advantage of them to gain insights about your target audience and learn about the demographics of users interacting with your content. As you dig into your analytics, you might be surprised at what the data reveals.
Instagram's analytics let you:
Track profile visits
Track content interactions
Acquire insight into how your audience interacts with posts
See where your post showed up in the Instagram feed
Track follower growth
Track engagement rates
Analytics inform strategy, and strategy fuels brand growth. Use them together and you're bound to see your campaigns improve and capture more consumer attention. Why guess what your customers want when you can leverage clear data to make better decisions?
Not humanizing your brand
Humans want to speak to other humans. Consumers feel more loyal to a brand when they're able to see the people—like the CEO—behind it. Plus, about 70% of consumers report feeling more connected to a brand when they interact with the people who are part of it.
Better yet, over half of consumers tend to spend more with a brand if they feel an affinity with it. The closer consumers feel to a brand, the more they prefer it over its competitors.
This can only mean one thing: The humanity you put into your brand can be one of your biggest assets. However, the real magic happens when you add a human touch to your interactions and use automation to execute it at scale.
Humanize your brand (without devoting substantial time to manual responses) by creating personalized automated conversation starters and replies. Have your sequences run in the background and adjust them as your brand evolves.
If you put effort into catering to the needs of your customers, you'll cultivate long-term brand loyalty. And thanks to ManyChat's varied Automation features, it's possible to do this at scale.
Avoid these common mistakes with ManyChat
Avoiding these common social media mistakes starts with creating a strategy that establishes your account as a solid brand. Small businesses and entrepreneurs alike can access new customers by engaging with them online.
This means executing a social media marketing strategy that prioritizes customer needs and cultivates ongoing conversations.
The good news is that you don't have to spend a lot of time on social media management when you have marketing tools like ManyChat in your corner. Start working on a social media strategy today (or revise your current one) to catch any mistakes you might be overlooking. It's one of the best ways to ensure your marketing efforts result in the best possible ROI.
Grow your Instagram following and make sales with Instagram Automation by ManyChat. Start free today.
The contents of this blog were independently prepared and are for informational purposes only. The opinions expressed are those of the author and do not necessarily reflect the views of ManyChat or any other party. Individual results may vary.