Facebook Marketing Strategy: Organic, Paid, & Messenger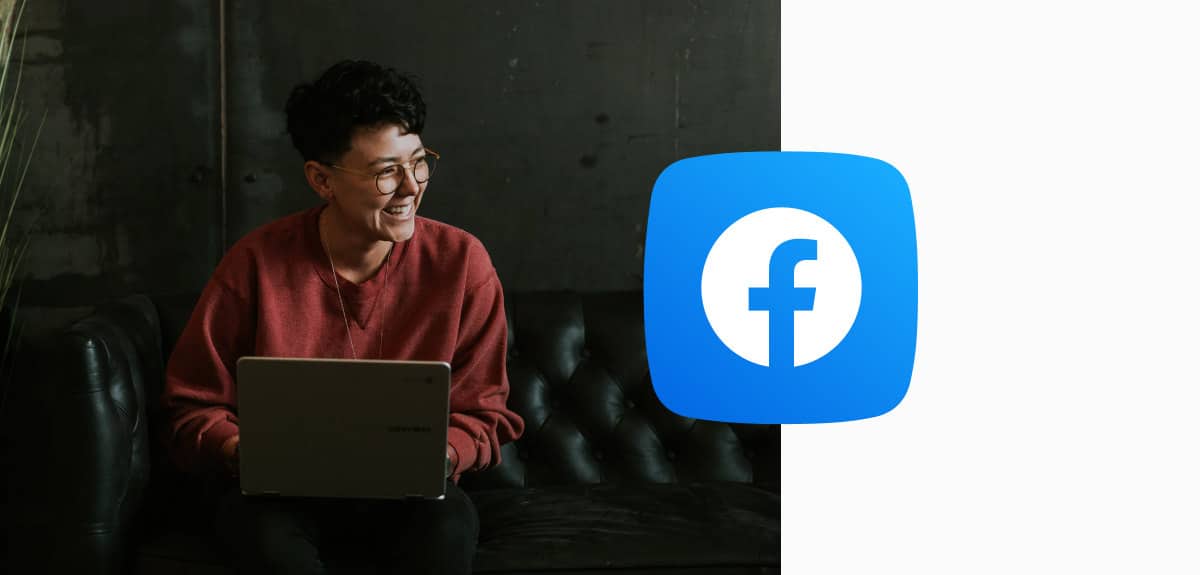 This isn't the first time you've heard this, and it won't be the last time. You've got to have a presence on Facebook to tap into potential customers and beat your competitors. Social media marketing is here to stay. With Facebook owning Instagram and Whatsapp, the network of social media channels owned by Facebook is worth investing in.
Facebook is the number one social network used by marketers with the highest return on investment, according to Hubspot. There are over 2.38 billion monthly active Facebook users on the platform, which makes it the most popular social media platform used by consumers as well.
When it comes to connecting with potential customers, social media has become the main hub for finding new products. In 2018, 78% of US consumers made purchases through discoveries on Facebook. And out of 57% of consumers who say that social media influences their shopping, 44% say Facebook is the most influential. And publishers stand to gain because it's a great way to promote all types of content in front of a wide audience.
If you're not reaching your target audience on Facebook, don't worry. This guide will show you how to create an organic program that gets engagement, run profitable Facebook ads, and how you can use Messenger marketing to get the most from your Facebook marketing strategy.
Organic
There are over 90 million small businesses using Facebook. Many of them benefit from free tools like Facebook Business Pages, Messenger, and groups. While organic reach is becoming hard to achieve, you can still leverage Facebook to reach your audience without paying.
If you want to build an organic Facebook marketing strategy, focus on these four key ways to engage and build your audience.
1. Turn Facebook comments into Messenger conversations
If you're struggling to respond to comments on your posts, or you want to start a conversation with Facebook leads, using a Facebook Comments Growth Tool is a good way to go, especially as your fan base grows.
The Facebook Comment Growth Tool is one of the most used tools in ManyChat. It's a simple yet powerful way for those who leverage Chat Marketing to get new subscribers.
All you have to do is connect this growth tool to a Facebook post, and when someone comments on the Facebook post, they get a message from your Messenger bot.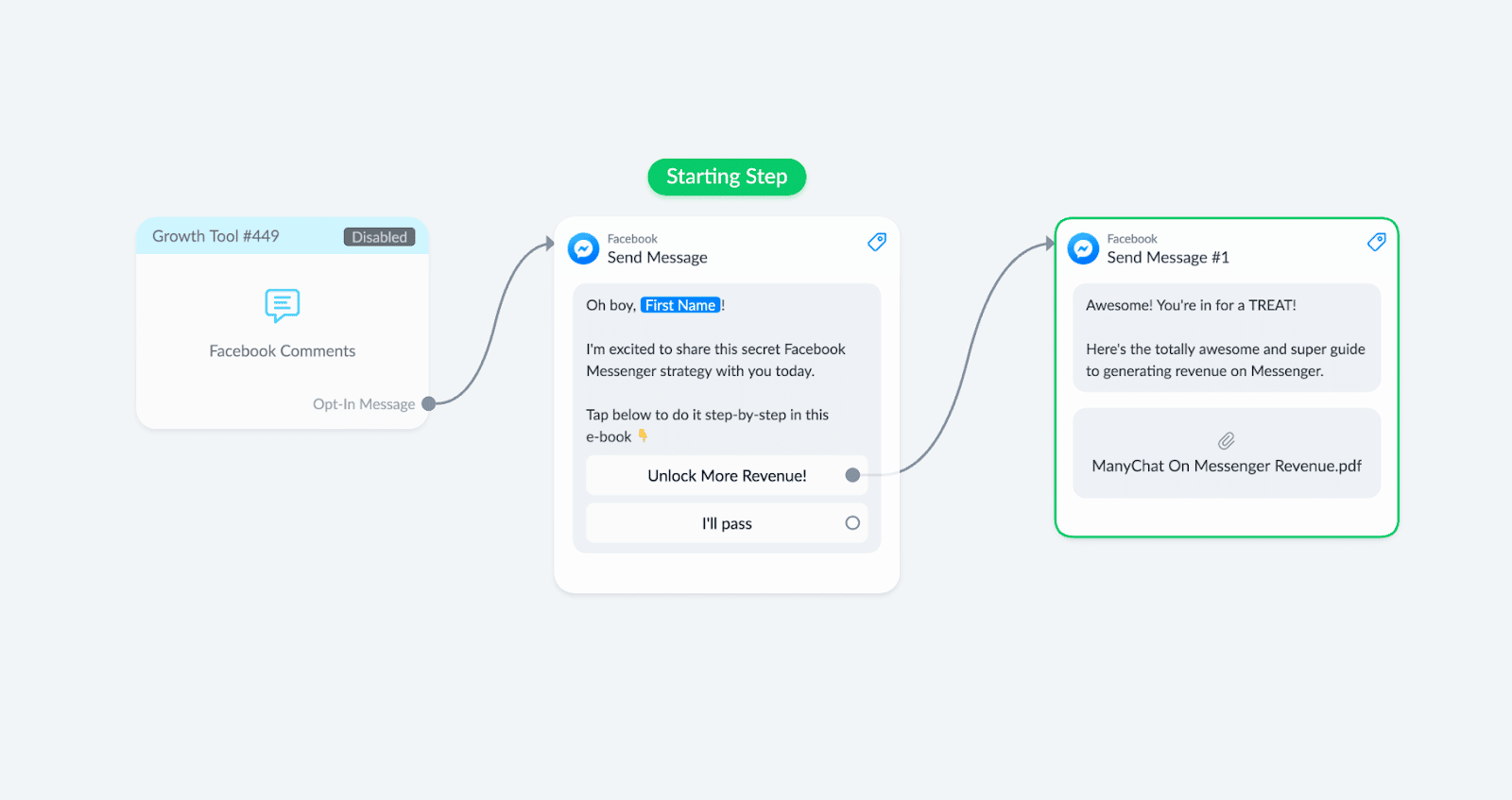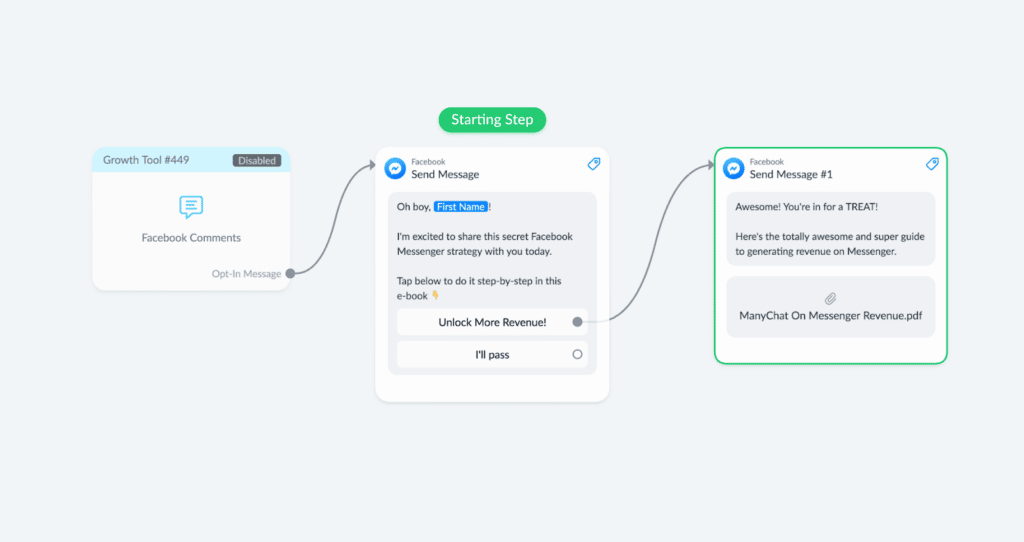 If they respond to your message, they'll be added to your Messenger contact list. You can enter them into an automated bot flow for lead nurturing, or follow-up in live chat if they have a more immediate need.
For more on how to use this tool, check out Eight Actionable Things You Can Do With ManyChat's Comment Growth Tool.
2. Put on a weekly Facebook Live show
Facebook Live's get a lot of attention because 80% of people would rather watch live video from a brand versus read a blog or a social media post. They let you live stream events and performances on Facebook which viewers can watch from a phone, computer or connected TV. Utilizing this video marketing strategy is a vital component in reaching your target audience. Resulting in more reactions, shares, comments, and other interactive features enable you to engage with your audience.
There are several ways you can use Facebook Live: 
Do a live product or service demo. Live demos can educate shoppers about your product and build trust between them and your business.
Live Q & A. Question and answer sessions are a simple way to connect with your audience. You can talk about topics related to your business or your audience's interest and help establish yourself as an expert in your industry.
Promote content. A spontaneous live stream can be an effective way to promote a new YouTube view or blog post to your audience. Make sure you provide a little more information on your content to encourage viewers to switch social platforms and check it out.
Create live training or webinars. Use Facebook live to offer valuable webinars and training sessions to your audience. You can also use this as an opportunity to generate leads by attaching a Facebook Comments Growth Tool and getting new subscribers.
Launch a Flash Sale. Give your best followers a special perk by launching a Facebook Live Flash Sale. Set up the launch so that only users on Facebook who join the live stream can get the deal and it only lasts for a limited time.
Facebook Live opens up a handful of doors for your Facebook advertising strategy, especially when you tie in paid advertising and Messenger. For a full walkthrough on how to run a Facebook Live marketing campaign, check out How One Facebook Live Turned Into $90,000 in Sales.
3. Create a community using Facebook Groups
Over 1.4 billion people use Facebook Groups. With only 10 million groups on Facebook, there are still plenty of niches a business can create a Facebook Group to interact with fans. A good Facebook Group can provide value and community for your customers, helping you build a relationship with them without paying for ads.
Take the ManyChat Community for an example.
The invite-only community is a place where Chat Marketers can come to share marketing strategies, discover new use cases, and ask questions about the Chat Marketing platform.
Between April 2019 to 2020, the community has seen over 21,000 posts from members and grew from 74,000 members to 85,000+ in just one year.
Paid Facebook advertising
Advertising on Facebook isn't slowing down. In fact, total ad revenue for the social media platform is expected to reach $39.4 billion by 2021, according to Statista.
Facebook's made it simple to run profitable ads from click-to-Messenger to Facebook video ads. So, if you're wondering how to advertise on Facebook, there is a variety of options available to you. With just a few clicks, you can run ads through Facebook, Instagram, Audience Network, and Messenger. You can target a wide demographic or make your targeting niche and focused. By creating one marketing campaign, you can reach your target audience on their favorite apps and websites with a potentially high ROI. With audience insight tools, Facebook makes it easy to see what audiences are engaging with your brand and buying from you.
1. Run click-to-Messenger ads
If you want an effective way to lower Facebook ad costs, run click-to-Messenger ads through ManyChat. Click-to-Messenger ads can help reach new shoppers through the different custom audiences you build.
Some examples of high-value audiences you can send ads to are:
A Custom Audience of people who've viewed products, but didn't add anything to their cart.
A Lookalike Audience based on your current subscribers and people who've recently bought something from your store.
A Custom Audience based on people who added products to their cart, then abandoned the purchase.
Messenger ads are an engaging way to send discounts and deals and let customers choose the journey on their own. Use the following click-to-Messenger ad template and start making sales with today. The template is based on The Pearl Source case study, where the online jewelry retailer sold over $64,000 in additional revenue over a six week period.
Check out the flow via this link. Then download it as a template for your own click-to-Messenger ads. Don't forget to check out these tips on how to write the best Facebook ad copy to increase your ads conversion rate.
2. Send retargeting ads
Sometimes shoppers may not be ready to buy from your store. They may stop responding to your promos or go cold on your Facebook Messenger contact list. One way to help get them back into your store is through retargeting ads.
Retargeting ads come in a few forms, but for Facebook digital marketing you can focus on two types:
Use Facebook dynamic ads
Facebook dynamic ads show each shopper the most relevant products across Facebook, Instagram, Audience Network, or Messenger, based on the actions they've taken on your site, app, or elsewhere on the internet.
To set up a dynamic Facebook ad campaign, you have to load your product catalog once. Once you set it up, the ads will continue to run and find the right audience for each product. They also update pricing and availability automatically.
Send sponsored messages
Facebook sponsored messages are messages you pay to send to anyone who has messaged your bot or spoke with you through Live Chat. You can send sponsored messages to subscribers outside the 24-hours when your message doesn't fit into a Message tag.
For example, if you want to get rid of dead stock or send a pre-order sale to your list, you can use a Sponsored Message. In the flow you attach to your message, you can include the pre-order sale plus create a carousel of products to encourage people to shop.
Take Blenders Eyewear for example. The sunglasses retailer wanted to sell products cost-efficiently by reaching an engaged audience using sponsored messages.
Blenders Eyewear sent these paid Facebook messages to people who looked on their online store, but had abandoned their cart. They used "Learn More" and "Shop Now" call-to-action buttons and an image of cool sunglasses with the company brand.
The ads delivered in Messenger ran for 48 hours and produced the following metrics:
7.5X lower cost per action.
7.5X increase in return on ad spend.
10.6X higher click-through rate.
40% increase in sales.
Since you have to pay to send sponsored messages, you want to make sure you get the most value from them. Read The Brief Guide to Facebook Sponsored Messages to learn more.
Drive more leads and sales from Facebook with ManyChat. It's free to get started.
Messenger
Messenger Marketing is the process of getting people interested in your products or services using Facebook Messenger or other messaging apps. The goal is to grow your business by getting more leads and customers through more conversations.
A Messenger Marketing strategy can help your businesses connect with customers and help them take actions that are meaningful for your business, such as downloading a lead magnet, browsing your catalog, and even purchasing right inside Messenger.
With over 3 billion mobile messaging app users expected by 2022, you probably won't get far without adopting a Messenger strategy. Consider one or all of the tactics below to master Messenger Marketing.
1. Offer Live Chat
Live Chat in Messenger helps close the gap between the in-store experience and online shopping. You can offer help, strike up a conversation, and get to know the person behind the screen, building a relationship that could result in a sale.
Setting up a Live Chat for your website and Facebook Page is easy. Two objectives to keep in mind are: one, offer the visitor help from a real human; and two, notify administrators when they ask a question so a live human can respond.
One way to combine paid advertising and Messenger is combining LiveChat and Click-to-Messenger ads. For example, The Pearl Source, an online jewelry retailer, included an "Ask Expert" button in their holiday paid campaign flow to help answer potential buyers questions and encourage a sale.
When you use the Human Agent Message Tag, you have seven days to respond to subscribers versus 24 hours in Messenger. You also can combine Live Chat with texting to continually re-engage customers on both channels.
For more tips on how to use ManyChat Live Chat, we recommend checking out. How to Sell Using ManyChat SMS Live Chat and [Video] How to Use ManyChat Live Chat.
If you want to set up this tool, refer to How to Add Customer Growth Chat Tool.
2. Abandoned cart messages
Cart abandonment is a pain for anyone who sells online. In industries such as fashion or retail, average shopping cart abandonment rates can be as high as 72.8%. Imagine how your local grocery store would manage if, for every 100 shoppers, 72 of them dropped their carts and walked out the door without buying anything. They wouldn't be in business for too long.
Chat Marketing platforms like ManyChat give you a chance to recapture these lost sales in Messenger, as well as SMS and email. One neat Messenger-only trick is that you can add a gallery to products that shoppers leave behind.
With higher open and click-through rates in Messenger, a customer is more likely to see and act on your message — which in turn, can lead to more sales for your store.
3. Re-engage with customers
Once you get new subscribers from your Facebook lead generation efforts, you can use Messenger to continually engage with them over time. Some ways you can go about this is:
Message tags, which let you interact with subscribers outside the 24-hour messaging window. You can set up a post-purchase sequence that keeps customers informed about their purchases.
One-time notifications, which lets you send messages to subscribers beyond 24 hours as long as they give you permission. Say an item goes out of stock and a customer wants you to remind them when it's back. They can agree to you sending them a message in Messenger informing them when the product is available.
Smart delays, which are timed messages you can send within the 24-hour messaging window. For instance, if someone clicks an ad for a coupon offer in Messenger but doesn't redeem it, you can send a reminder in the platform automatically at the 22 or 23 hour mark.
For more in-depth tactics, check out 10 Ways to Re-Engage Customers with ManyChat.
4. Use a Messenger Ref URL
The Messenger Ref URL caters to any marketer who wants to build an audience. It's a simple link you can add anywhere: social media profiles, marketing emails, presentations, guest posts. Anywhere you want to drive traffic to your Messenger channel from, you can use a Ref URL.
For more on how to get started with this effective growth tool, check out 6 Easy Ways to Get Your First ManyChat Subscribers.
Combining the power of organic, paid and Messenger
For many companies, the road to successful Facebook Marketing requires a continuous and strategic lifecycle. These are high-impact touchpoints throughout the shopping experience and can make a significant change in how your Facebook marketing strategy plays out.
To help drive sales, find different channels to communicate with shoppers and get them on to your subscriber lists.
Let's say, for example, you sell rollerblades online and want to invest money into your Facebook marketing efforts. Your focus is to build an online presence, grow your subscriber list, and generate sales. A successful path to success using organic, paid, and Messenger on Facebook could look like this:
Run click-to-Messenger ads based on demographic and interests targeting. Test a few different variations of ads to increase brand awareness and surface products. When a user clicks through and interacts, they are automatically on your Messenger contact list.
Build a subscriber list on Messenger, email, and SMS to continue the conversation and build relationships.
Send different content types including coupons, 7-day challenges, videos, podcasts, and helpful content that helps solve your subscribers' problems. Use a lead score to identify subscribers who are ready to buy.
Start a customer loyalty program where members get exclusive deals and promos.
Identify your best customers through conversion tracking.
Build lookalike and custom audiences based on your own data to improve Facebook ad targeting and start the cycle again.
The above system is a good start because it feeds into itself. The more subscribers you get, the more insight you'll get into who your best customers are, and the better you can use that information to target ads and improve your return on ad spend.
You also can add in other tactics such as remarketing and building a community to help boost your Facebook marketing strategy and drive more sales, depending on your needs and capacity as a business owner.
Creating the best Facebook Marketing Strategy for your business
Facebook will be one of your best friends through your digital marketing journey. You can reach new customers easily, scale relationship building, and sell products right inside the Messenger platform. Armed with these tips above, you are well on your way to creating an organic, paid, and Messenger business strategy that'll kick-off growth and drive sales.
Boost your Facebook Marketing strategy today with ManyChat. It's free to get started.
O conteúdo deste blog foi preparado de forma independente e destina-se apenas a fins informativos. As opiniões expressas são de responsabilidade do autor e não refletem necessariamente a posição do ManyChat ou de qualquer outra parte. Os resultados individuais podem variar.