How to Prep Your Content Calendar for the Holidays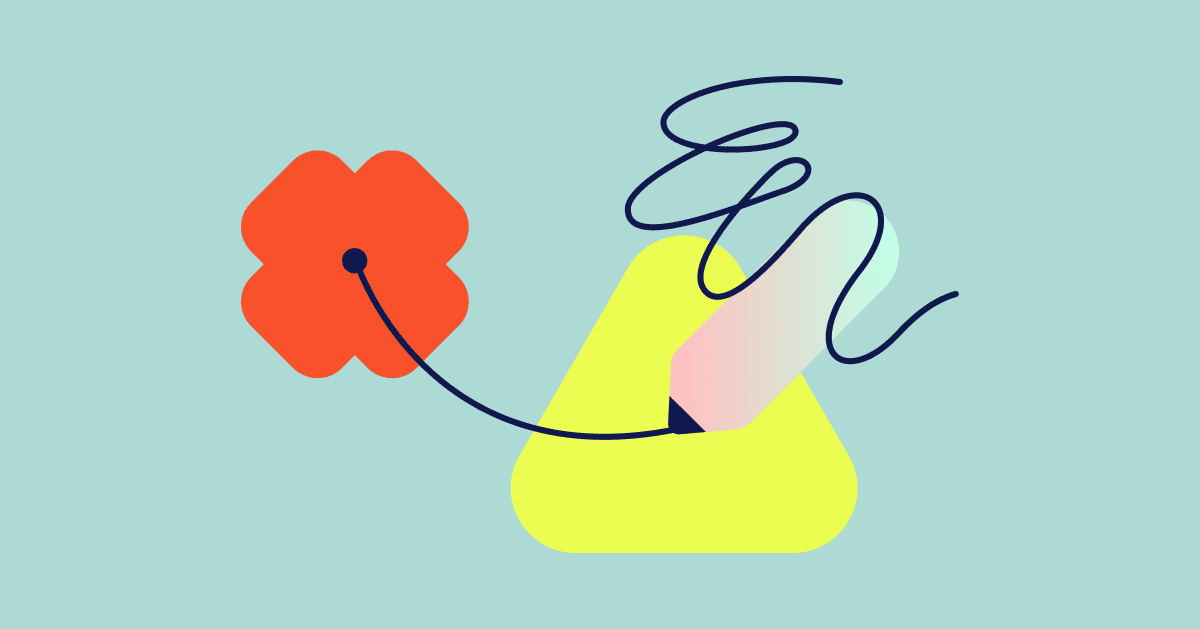 Now's the perfect time to start planning your holiday content. In 2020, 60% of consumers were ready to begin holiday shopping before November, though the pandemic likely influenced this number. Before 2020, 75% of consumers made holiday shopping plans between October and November. As we head into fall, prepping your content calendar now for the end-of-the-year is the right way to go.
Planning your holiday-related content now means you'll be prepared, have more time to fine-tune ads and content, and be able to focus on other things during the busy season (hello, Black Friday and Cyber Monday!). Your first step? Identify your goals.
Define your goals for the season
What do you want to accomplish this holiday season? Start by taking a look at what you did last year. Audit your previous holiday campaigns—is there room for improvement? What items is your target audience looking for this year? These insights will help ensure your goals are more customer-focused while getting as many sales as possible from holiday shoppers.
Once you outline your holiday marketing goals, determine your key performance indicators (KPIs). These are measurable metrics that offer perspective on how actions contribute to a goal, such as the number of purchases made using a specific promo code. KPIs can help you make sense of collected data by turning it into meaningful insights you can use to assess success.
Determine where you'll publish content
Next, consider all of the channels you're currently publishing and if you need holiday-related content in those same areas. Here are the channels you should consider for your holiday marketing campaign:
Social media: These channels include Instagram, Facebook, TikTok, Twitter, Pinterest, and Snapchat. Try marketing tactics such as offering customer service (e.g., answering customer questions), ads, or sponsored posts.
Email marketing: A successful email marketing strategy can transform potential or new shoppers into loyal customers while nurturing existing ones. Get the most from your email list by continually adding to it and leveraging segmentation for the most significant impact on your revenue.
Website/eCommerce store: Your website needs to present content that caters to customers wherever they are in their buyer journey. They'll be looking for specific information and content types depending on what stage of the sales funnel they're in.
Blogs: Blog articles are an excellent content choice for offering suggestions for resolving problems during the initial stage of the buyer journey. Content like how-tos, gift guides, and tips can be influential in positioning your brand as an authority on a topic.
Paid ads: Paid ad campaigns could include Google Shopping ads and pay-per-click, as well as paid promotion on TikTok, Twitter, Snapchat, Pinterest, and Amazon.
Of course, the channel(s) you prefer depends on your business and its needs. Perhaps you only need to create an editorial calendar or a social media calendar for the holiday season.
Nail down the types of content you need
You'll need appropriate content for each channel. Some content may need to be unique to the platform (such as a video made specifically for Instagram Reels), while you might be able to use other assets across multiple channels.
Here are some content ideas for each channel:
Instagram
With Instagram, visual content is key. (Think photos and videos, including Reels, IGTV, or Instagram Live.) You can also post memes, screenshots, text graphics, inspirational messages, or educational content.
Twitter
Tweets must be 280 characters or fewer, but you can include photos, gifs, links, and videos to elicit engagement.
Facebook
Several different types of content work well here, including video clips, images, and links with commentary.
Pinterest
For this social media platform, you will need great vertically-oriented graphics to grab users' attention. It's also important to stick to educational, inspirational, and informative content.
Email
Email subscribers are already tapped into your business on some level, so the holiday shopping season is the perfect reason to reach out. Try exclusive offers, a preview sale, or end-of-year content.
Website/eCommerce store
The focus on your eCommerce store should less about content pieces and more about curating sections of the site for easy holiday shopping. Consider creating holiday-specific sections, such as "stocking stuffers" or "gifts for coworkers" to help your audience find what they need. You could also organize gifts by price point, best-sellers, or staff picks.
Blogs
You can get creative here with top-of-the-funnel blog post content such as gift guides and roundups, holiday party ideas, and end-of-year recaps. 
For all of these content types, it's also important to understand the intent of each post. For example, are you trying to raise brand awareness with a blog post? Are you hoping to drive signups with an Instagram post? When you understand the intent of the content, you can be clear about your CTA.
For example, if your intent is to drive signups, then your CTA would likely be: "Sign up today!" This is where you can also use automation to engage viewers, provide follow-up, and store contact information.
Commit to a frequency
Once you've got some specific content ideas, it's time to nail down how often you plan to publish content. The channel influences this as well. For example, you're probably going to post on social media more frequently than you'll be publishing blog posts.
For each channel, determine how frequently you'll post and what percentage of that content will be holiday-related versus standard business content you post throughout the year.
Start planning backward
You've got your channels, content ideas, and frequency, so now it's time to start assigning dates to the ideas. Start with the holidays themselves, such as Thanksgiving or Christmas, and then work backward with specific content pieces. This way, you can make sure you publish all of your Thanksgiving and Black Friday content before Christmas and New Year's sales promotions.
Consider advertising
If you're planning to run holiday ads this year, now's time to work on them to submit them for early approval.
Waiting until the last minute means possibly waiting longer than usual for your ads to be approved. You don't want to sacrifice precious holiday shopping time because you procrastinated on a campaign. If an ad gets rejected, you'll still need time to get it right and resubmit it. So don't delay!
You should also save extra room in your advertising budget for holiday campaign ads. Since the holiday season is such a popular time for shopping, pay-per-click (PPC) ads are more expensive across platforms, including social media and search engines.
For example, in the UK, CPM for Instagram ads increased from $3.08 to $5.53 (180%) around last year's holiday season. Competition during the holidays is stiff, and companies are willing to pay more if it means getting customers to convert.
If your holiday campaign includes a giveaway or a contest, use Instagram DM Automation by ManyChat to get users into your sales funnel when they enter the giveaway. One way you can do this with automation is by encouraging your Instagram followers to comment on a post. They'll automatically get a DM confirming they're entered into the contest, and that will put them into your flow for additional follow-up.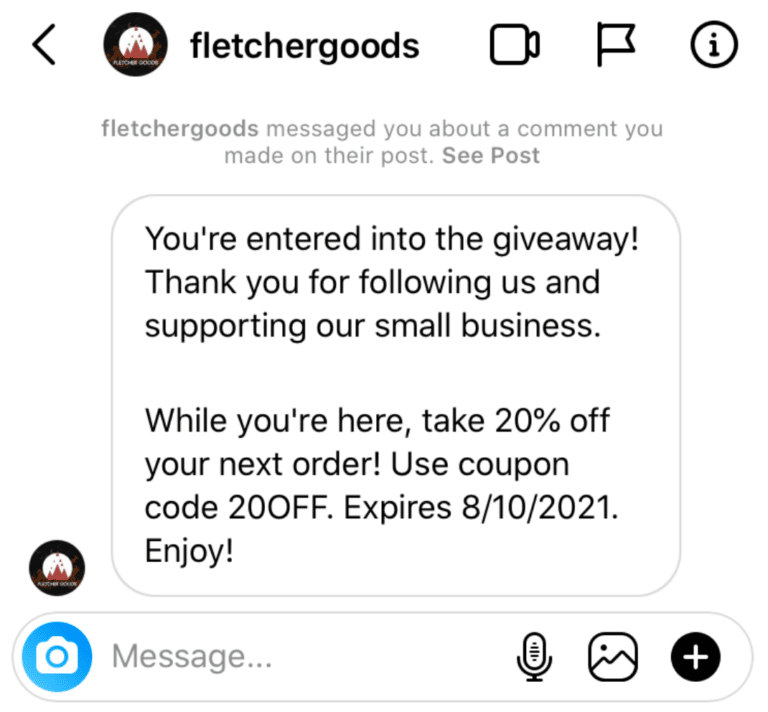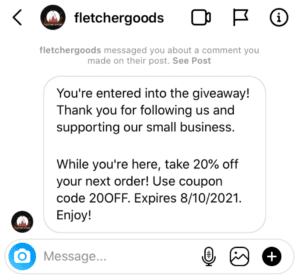 Once they're in your flow, you can offer them an exclusive coupon or send them additional content.
Build or fill your calendar 
The action of assigning dates to content pieces begins to create a calendar. If you don't already have a pre-existing tool for your calendar—such as Google Calendar, a spreadsheet, or a project management software—it's a good time to find one.
You can decide how much detail you want to include in your calendar. You can put the content idea, the writer or creator, the editor, publish date, corresponding elements such as photo or video, etc. You should include as much or as little information as you feel necessary to be helpful for your team.
Once your holiday calendar is complete, it's time to share it with your team! Then, you can start processes for content creation.
Prepping your holiday content calendar does require some work up front, but it allows you to have a solid content strategy during a busy time of year.
Ready to try Instagram DM Automation by ManyChat?
The contents of this blog were independently prepared and are for informational purposes only. The opinions expressed are those of the author and do not necessarily reflect the views of ManyChat or any other party. Individual results may vary.