[NEW] ManyChat Chatbot Templates: Install Pre-built Solutions, Share Strategies, and Save Time With Just a Few Clicks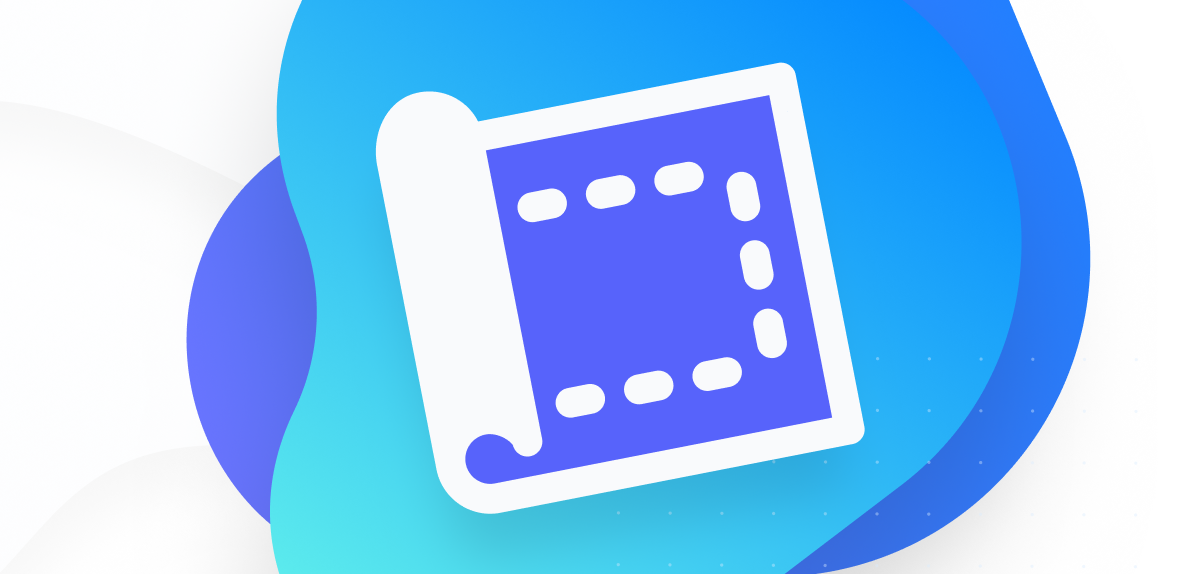 ManyChat Templates for your chatbots have arrived!
Now you can…
Share your ideas, strategies, and bot setups with just a clicks
Install pre-built solutions in your accounts in just a few moments
Sound speedy, easy, and like a great way to start having even more successful experience with chatbots?
Good, that's the idea!
Cloning your entire bot and Flow Sharing are useful features when you need to transfer content, but imagine you want to share your whole bot with a client, a friend, or community of bot builders and include everything you have — Tags, Custom User Fields, and Actions.
It's all done with Templates!
Accessing Your ManyChat Templates
Want to put these to use now?
Open your ManyChat dashboard and click 'Templates' along the left panel, like so: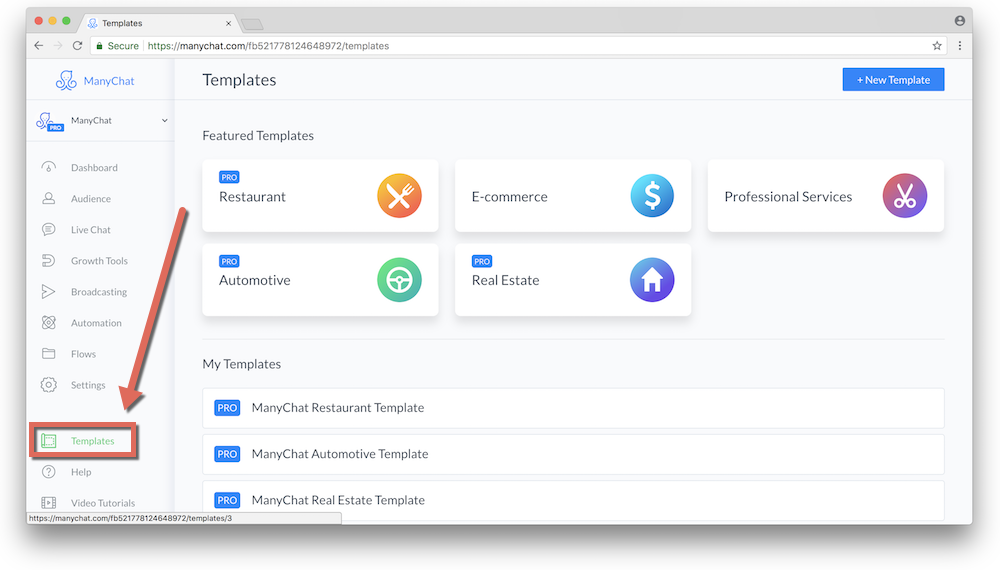 (Note: You'll notice some of these in our example feature the PRO designation. That's because if you add any Pro elements to your template, or exceed the free limit for other elements, then your template becomes PRO. It can be installed only on pages with Pro subscription. After you add elements, the system will automatically display the subscription type. If you've been waiting to upgrade your ManyChat account to Pro, now is the time to do it!)
You'll see in your dashboard your pre-loaded Templates built by ManyChat, and below it a section for your personal creations you've made, or ones you've imported from others!
As you go through the process of creating a Template, you'll choose your page, your elements, and add descriptions of your Template to make sure you always know what you're using and that anyone adding the Template to their account knows what they're about to get as well.
Installing Your ManyChat Templates
Once you've created the Template you want to deploy, you're ready to install!
Click the best chatbot Template you want to install, and you should see this page — we chose the Restaurant Template for this example.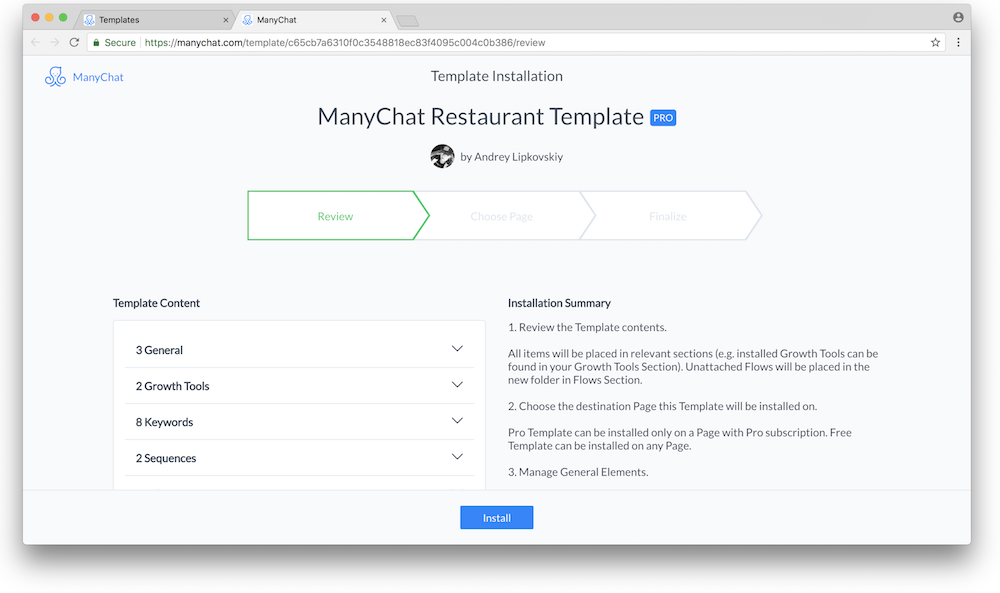 From there, you'll have a live Template in moments. You'll choose your page to deploy it on, manage the elements you want to include, and deploy!
Check out this video for a step-by-step breakdown of installation if you need more assistance:
We know the ability to share strategies and ideas through bots have been long-desired, and we're so excited we can finally open this up to everyone. Have a bot Template and strategy you'd love to share with our community? Leave a comment below with your email address and we may feature you to our entire community!
ManyChat Templates Resources
We could all use a little help sometimes :)! Check out these resources for creating and installing new bots, and for strategizing new bots you'd like to deploy.
Want full access to every ManyChat template? Upgrade to Pro today.
The contents of this blog were independently prepared and are for informational purposes only. The opinions expressed are those of the author and do not necessarily reflect the views of ManyChat or any other party. Individual results may vary.