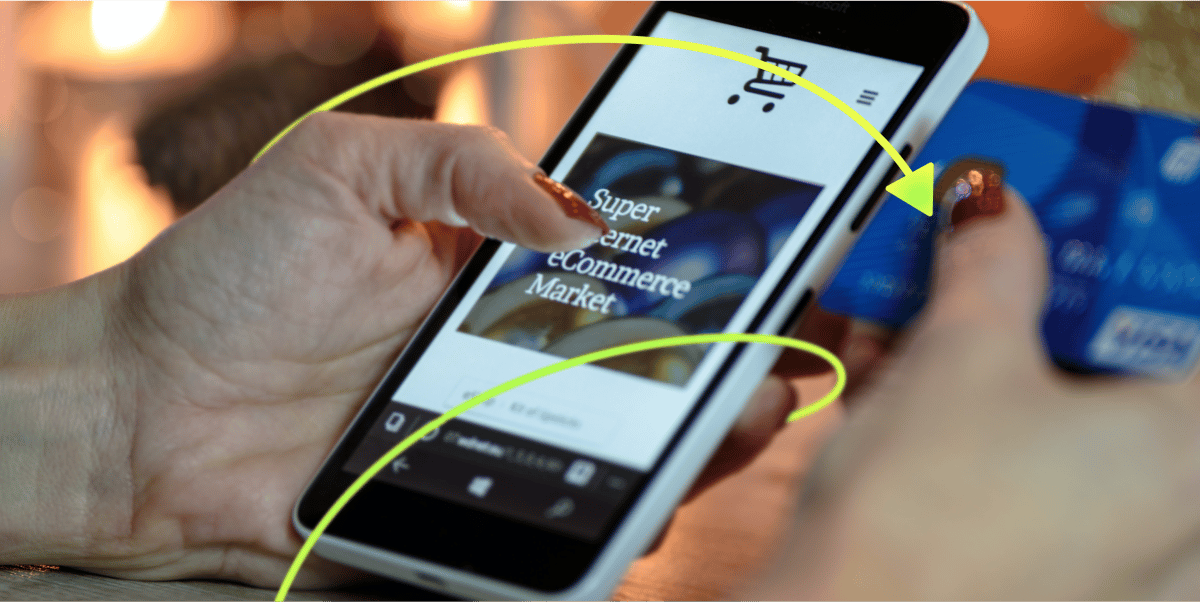 We don't leave the house without our phones. For better or worse, our mobile phones have become a necessary staple in our everyday lives. They hold our important reminders, grocery lists, news headlines, social lives, and shopping carts of things we plan to buy on our lunch break.
The same is true for our customers. They rely on mobile browsers and apps to fill in the gaps with information, easy shopping solutions, and overall convenience. Customers' phones are always nearby and beaming with the possibility for those of us in eCommerce. We know that customers rely on their phones as much as we rely on ours, but we still ask,
"Exactly how important is mobile in eCommerce?"
Stats can answer that better than anyone. The numbers say that mobile eCommerce is quickly becoming an absolute necessity in SMS marketing.
About 49% of people shop on their mobile phones. 
After seeing a relevant ad, 91% of smartphone owners make or plan to make a purchase.
Positive brand experience on mobile will make 89% of people more likely to recommend a brand.
Mobile commerce strategies are essential to the longevity of a business. It's important to realize that although the percentages of users are massive and within reach, they're not guaranteed.
As a matter of fact, customers are deterred from your business when they can't access the product they're looking for, if they have to deal with a difficult checkout process, or if your business simply appears to be unhelpful and not approachable.
Forty-six percent of people would not purchase from a brand again if they had an interruptive mobile experience.
Google has found that if a mobile web page takes longer than 3 seconds to load, 53% of users will leave that page.
It's easy to agree that mobile in eCommerce is not just the wave of the future. It's incredibly relevant now and very much needed for any business wishing to be sustainable.
With competition being a huge factor to consider in mobile commerce, many businesses don't know how to start while others simply don't understand how important mobile eCommerce really is.
How important is mobile in eCommerce?
As we mentioned, mobile eCommerce isn't just a trend but is becoming the norm for customers and for businesses alike. There are a few commonly asked questions surrounding mobile in eCommerce that we're going to knock out before we move on and help you create an effective strategy.
What is the difference between eCommerce and mobile commerce?
The direct answer is fairly simple. Ecommerce (electronic commerce) is where customers shop on the internet. MCommerce (mobile commerce) is a subset of eCommerce is where a mobile shopper browses from their mobile device using a wifi connection or data from their phone service provider. With mobile surpassing traditional online shopping from a desktop, it's important that eCommerce business owners look to embrace mobile marketing strategies for their business.
What percentage of eCommerce is mobile?
By 2021, mobile eCommerce sales are expected to account for 54% of total eCommerce sales. That's a baffling percentage! We shouldn't be surprised, though since many of us are looking at our phones a large portion of the day. The incoming promotional emails, text campaigns, and social links to purchase make mobile shopping effortless.
Why is mobile commerce important?
Mobile commerce meets your customer where they are–literally. Even those without access to a wifi connection can still shop on a mobile website using data or hotspots. The statistics show that most transactions are done via a mobile device. That means that your business may be missing out on major revenue if there is not a mobile eCommerce strategy in place.
5 components of an excellent mobile strategy
Think back on a positive experience that you had shopping from your smartphone. You may be able to recall one, but many of us shop from mobile so often that no particular transaction stands out.
Negative experiences tend to stand out more–the checkout process was complicated, the page wouldn't load, inventory was slim, etc. Not every eCommerce shopping experience is the same and it's important to create a strategy around excellence rather than ticking boxes.
Here are five sure ways to shine:
1. Make your website mobile-friendly
We all know the frustrations that come with a website that isn't mobile-friendly. You click through from social to the website and the page isn't aligned, products are hard to see, and descriptions are cut off on the edges. Many businesses have jumped on board and make their websites mobile-friendly these days, but not all have optimized their websites in this way.
Because approximately 54% of customers shop using their mobile phones, it's more important than ever to make sure that sites are mobile-ready. When homepages are cut off, filtering products is difficult, and checkout processes aren't mobile-friendly then frustrated customers leave the site and they most likely won't come back. A mobile-friendly site is also essential for shareability reasons.
Make sure that your mobile website is making shopping smarter and not harder for customers.
2. Ensure convenient transactions
Customers rely on the transaction process to be seamless with any eCommerce platform. Expectations are high with mobile eCommerce as well. Having a mobile website that is up to speed is only half of the battle.
Optimize the customer experience by giving them multiple ways to pay on the go. Some of the most popular ways to pay are:
ApplePay
PayPal One-Touch
Visa Checkout
Amazon Pay
Mobile wallets are a favorable payment option for customers. The downfall with wallets is that they are not available in some locations which can make it difficult for customers to pay using that option.
Popular mobile wallets are:
Apple Pay
Google Pay
Amazon Pay
Samsung Pay
PayPal
3. Create an app
If your eCommerce business has the budget and longevity to create a mobile application then don't hesitate! Of course app development and prototyping take an enormous amount of time, but in-app shopping is becoming the preference of most online shoppers.
Actually, mobile eCommerce has become more popular because of apps. Major retailers began the trend, but now even boutiques and smaller eCommerce are taking advantage of the app benefits. 
Think of the last time you made an in-app purchase. Apps make mobile shopping easier for customers and also allow them to store their favorite-ed items, manage auto-ship, and have early access to sales. Apps also make it easier for customers to give product reviews which directly benefits the future of your business.
Customers can easily share products with social via apps and seek out customer service. Creating an app may just be what takes your business to the next level.
4. Get chatty with chatbots/SMS/Messenger
We may have mentioned it before, but chatbots can revolutionize an eCommerce platform. They can be programmed to be a concierge to your mobile site, advise customers of promotions, answer commonly asked questions, and give product tips to customers. Implementing an opt-in for automated text messages is also a great addition to the chatbot.
Customers can be alerted of deals, low inventory, and be given survey links to help your business grow. There are plenty of Messenger and SMS marketing examples to get you started.
5. Be flexible
See a strategy that you implemented and isn't working? Change it. Is your shopping app not getting enough traction? Then boost your mobile eCommerce strategy with intense promotion on social or paid ads. Customer feedback may be that you offer a lot of payment options, but not the one that they use regularly.
Take time to reevaluate which mobile payment options are being utilized most and which are barely used at all. There is always room for improvement when it comes to mobile eCommerce.
The great news is that your business can put in the research and hard work to create something even better.
Key Takeaways
Mobile eCommerce is how most of your customers will discover and shop with your business. Having a mobile site that is user-friendly is essential in having those customers return. Create mobile payment options that are clear and accessible to customers.
There are multiple ways to pay and it will take some time to gauge what your customer base prefers. If your business has the goal and the means to develop a mobile application then ensure that the app is equipped with the same payment options and ease of the mobile website.
Implementing a chatbot and taking advantage of SMS and Messenger helps to nurture customer engagement and can provide great customer service.
Mobile commerce needs to be a focal point of your business. An excellent mobile eCommerce strategy is the bridge between your business and over half of your customers.
Ready to take your business to the next level?