Mobile Marketing: The Future of Marketing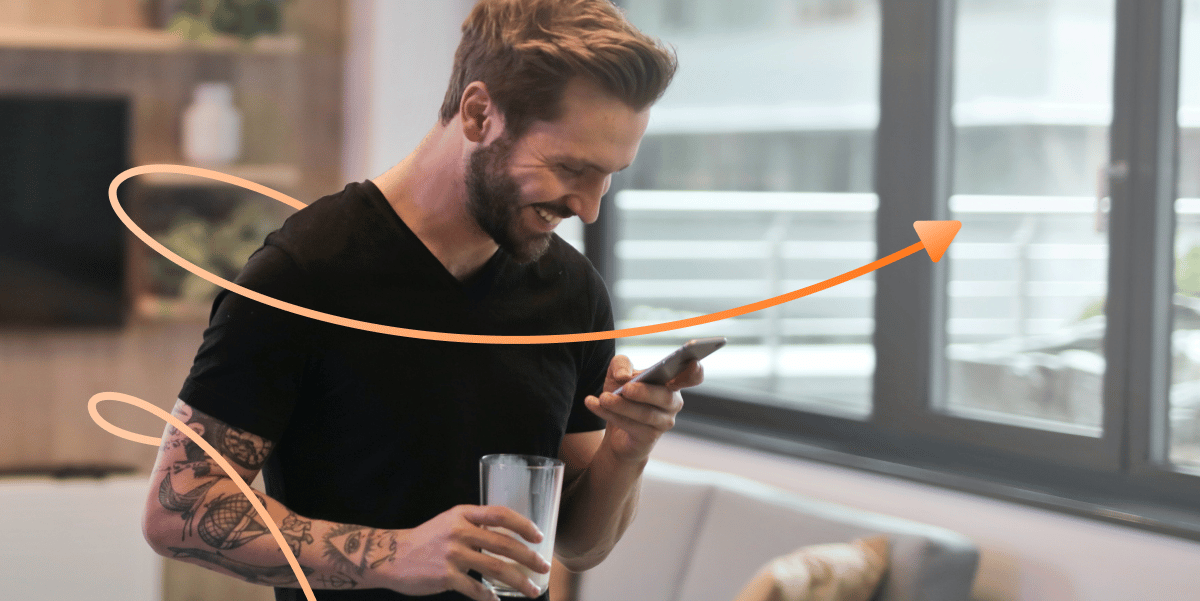 Mobile marketing may be the future (if not the present) of marketing, but what is mobile marketing?
Mobile marketing is a broad term used to describe the different ways companies can reach their customers via smartphones. It's a part of a larger omnichannel digital marketing strategy, optimized for mobile use.
Your business needs a mobile marketing strategy. It's necessary to connect with customers because mobile commerce is more competitive now than ever before. With multi-billion dollar corporations producing two-day shipping and unfathomable amounts of customers, smaller businesses need several SMS marketing strategies in place. Mobile marketing plays a huge role in reaching customers that aren't reaching out to you.
If your business isn't marketing on a mobile-friendly level then you're not giving your business the tools it needs to compete in the wider market. With the majority of customers shopping on mobile, your business needs to be user-friendly on mobile devices. To optimize your digital marketing efforts, those strategies need to be widespread to mobile device users that are shopping, reading, and sharing on the go.
Implementing a mobile marketing strategy isn't complicated. We're going to walk you through the steps your business can take to run a successful mobile marketing campaign .
Why Mobile Marketing Works
We have said that most of your customers shop using their mobile device. With that being said, we think it's important to put some mobile marketing statistics to that statement. Let's let the numbers talk for a second.
Those numbers are indicators of two things: the rise in mobile shopping (or m-commerce) and the need for every eCommerce business to design a mobile marketing strategy. Mobile marketing works because smartphone users are commonly getting all of their information, completing daily tasks, and making various purchases from their phones. Customers crave convenience, quick answers, and reliability.
A successful mobile marketing strategy ticks all the boxes. When there is a need then it's vital that your marketing strategy can meet the consumer's needs where they are–which is mostly on mobile.
Types Of Mobile Marketing
Mobile marketing is the overarching term for how to cater to customers on their mobile devices, but there are specific types of mobile marketing that your team can implement.
Mobile Apps- Creating and implementing an app as part of your mobile marketing strategy will give your business the chance to show up for existing customers. One helpful feature of an app is that your customers can get push notifications from your business regarding sales, product releases, and shipping notifications. Having an app also gives your business the ideal mobile platform for implementing a customer loyalty program. Customers can open the app to redeem points or refer friends and family for future discounts.
SEO – Search Engine Optimization should always be part of your mobile marketing strategy. SEO allows customers that aren't even looking for your business to find your business on search similarities alone. If you're not comfortable with your SEO knowledge, it's well worth the time to study up.
Pay-Per-Click – Your business deserves to be seen. Creating a Pay-Per-Click (PPC) strategy will help you accomplish that. Even though customers are veering away from "desktop shopping", doesn't mean that they're not using search engines to find products. As a matter of fact, on Google alone, there are 3.5 billion searches per day and 1.2 trillion searches per year worldwide. (Again, this just reinforces the need for a strong SEO strategy). With PPC, your business bids on ranks with search engines. If your business and niche itself are incredibly competitive then implementing PPC in your mobile marketing strategy is the way to go.
SMS Marketing – Having the option for customers to opt into text alerts is a great way to increase traffic to your site. Since customers are never far from their phones, SMS marketing is worth investing in. But what exactly is SMS marketing? Mobile device users can receive automated text messages with promo codes, links to surveys, or information about an upcoming sale. Running a text campaign as a part of your SMS Marketing strategy will provide an opportunity for your business to see a rise in click-through rates and hopefully, conversion.
Creating A Mobile Marketing Strategy
Your business may not know which mobile strategy to start first. Before you kick-off a new strategy, clean up shop with what you already have. Here are a few tips:
Make sure your website is mobile-friendly. Test your site across tablets and phones to ensure that design is transferable from a desktop to a mobile phone. Double-check the navigation from product to cart and the checkout process. Are the fields large enough for customers to input information? Are credit cards and other payment options easy to see? Customers may be slipping through the cracks if your website doesn't translate on mobile.
Keep copy simple. Smartphone users will not read lengthy copy on a phone screen. Font tends to be much smaller on mobile. Make headlines short and simple. Content should be created around simplicity and getting straight to the point. Is your content easily read on a mobile device? Test it out.
Reassess your branding. Bold colors and large fonts may be part of your brand. You don't have to change that for a mobile marketing campaign. What you do need to consider is how your brand translates on mobile. Not only should design fit within the screen, but it should also be attention-grabbing and engaging. With people on the go and shopping in a hurry, your brand needs to stand out with your own personal touch.
6 Steps to a mobile marketing strategy
It's time to jump in and go over how you draft and implement your mobile strategy. These steps will most likely look familiar to your traditional digital marketing strategy.
Create buyer personas
Set goals.
Optimize for your location
Experiment with new strategies
Establish KPIs
Monitor your metrics
Mobile marketing trends in 2020
This year, there have been companies that have perfectly utilized the trends of 2020. Think of ways that your business can implement a strategy that is flexible with what's trending. Keeping up with trends may seem intimidating, but if you've done the work behind the scenes then your mobile marketing strategy can be adaptable while keeping your target audience in mind. Here are some mobile marketing trends that are proof that you can be current and still be on brand.
TikTok
TikTok exploded on the scene giving users the opportunity to share fun video content. Influencers weren't far behind which is what helped TikTok gain even more popularity. This marketing channel is great for businesses since they can show a bit of brand personality and seek out those personas that they had set as their target audience.
TikTok still has a very low cost-per-view. That means you can experiment on this marketing channel by being more entertaining and fun and less focused on sales.
Shoppable Ads
Businesses have taken notice in the past by implementing trends into their digital marketing strategies (think of the "ice bucket challenge", etc.). In 2020, shoppable ads have moved to the next level by promoting their products on non-traditional platforms, TikTok being one of them. Businesses took advantage of the popularity of Fortnite in 2019 by creating shoppable ads within the game.
The rule of thumb with shoppable ads is that they're relevant to the users of the mobile platform. Fortnite shoppable ads were run by Grubhub, Wendy's, and Burger King which reached the target audience perfectly. Gamers were able to buy food for delivery while being able to stay engaged with the game.
Video and Animation
Landing page videos and animation are a wise choice on desktop, but are they a success on mobile? As it turns out, there are a few ways that video can help your marketing strategy. Videos and animation help engage the consumer and keep them on your website for longer. It gives your business the chance to share its story, model the product, or thank customers for shopping.
There is more than one way to implement video and animation in your mobile marketing strategy. GIFs are great to send in your SMS marketing campaign. A "thank you" video after checkout adds a personalized touch.
Key Takeaways
Mobile marketing isn't just the way of the future–it's presently outperforming other dated marketing strategies. The chance to jump in with a mobile marketing strategy is now. Your customers are avidly shopping, researching, reading, and working on their phones. It only makes sense that your business meets them there.
Before you sit down with your team to create a strategy for your mobile campaign, ensure that your processes in place are ready and set to go. Is your website easy to navigate, readable, and overall mobile-friendly? Are your customers able to checkout easily on a mobile device? Keeping up to date with the current marketing trends is important as well as making sure you notice mobile advertising guidelines as they change.
Do you have a mobile marketing strategy in place? What has worked well for your team?
The contents of this blog were independently prepared and are for informational purposes only. The opinions expressed are those of the author and do not necessarily reflect the views of ManyChat or any other party. Individual results may vary.