6 Mistakes You're Making in International Marketing and How to Fix Them
Tapping into the global economy is exciting. For many business owners and marketers, it's allowed them to expand into new markets that wasn't even possible a decade ago. But selling your products and services in new markets can be difficult if you don't understand the ins and outs of international marketing.

What is International Marketing?
International marketing is all about identifying opportunities across national borders. This takes a lot of work—you're dealing with new competitors, new customer preferences, and perhaps even new languages. The better you understand your target market, the more successful your efforts will be.
Appealing to a global audience comes with a whole new set of challenges. Language detection, cultural preferences, time zones — it can take a ton of research and preparation for businesses to find success overseas. The good news: In today's digital marketing space, you can attract, engage, and sell to customers from all over the world with relative ease.

There are many examples of international marketing gone wrong, even by big brands. We've put together a list of common international marketing mistakes and how to fix them, so you can make better decisions when marketing in other countries.
1. Not detecting language.
For international marketing to work, you should speak to customers in their native language. A common mistake that marketers make is focusing primarily on English-speaking consumers. It's the difference between delighting a customer and constantly losing sales.

To successfully market overseas, you need a way to tailor communication based on a user's native language. Messenger bots can detect the language of a potential customer and translate your bot flows based on their profile settings and geographic location.

If you are entering a new market that speaks two or more languages, you can set up a "choose your own language" condition. Users can then decide on how they want to interact with your bot. Here's how:
Set a condition for "non-English speaker" to start your flow.
Route users through a "choose your language" adventure.
Capture the language in your bot.
Create new conditions that automatically detect new language.
The simple act of detecting language is a great way to make sure your conversations are personalized and relevant.

2. Ignoring content translation.
As your audience grows from a couple of locals to hundreds of global buyers, your content will grow too. That said, 73% of global readers prefer websites in their native language. If yours is only in English, you're missing out on a big chunk of the market (and potential revenue). Luckily there are many ways to translate your content and make it accessible for readers in their own language.

To find out what languages you should start with, head into Google Analytics. Under the Audience tab click Geo. Then click Language to see the top languages of your current readers.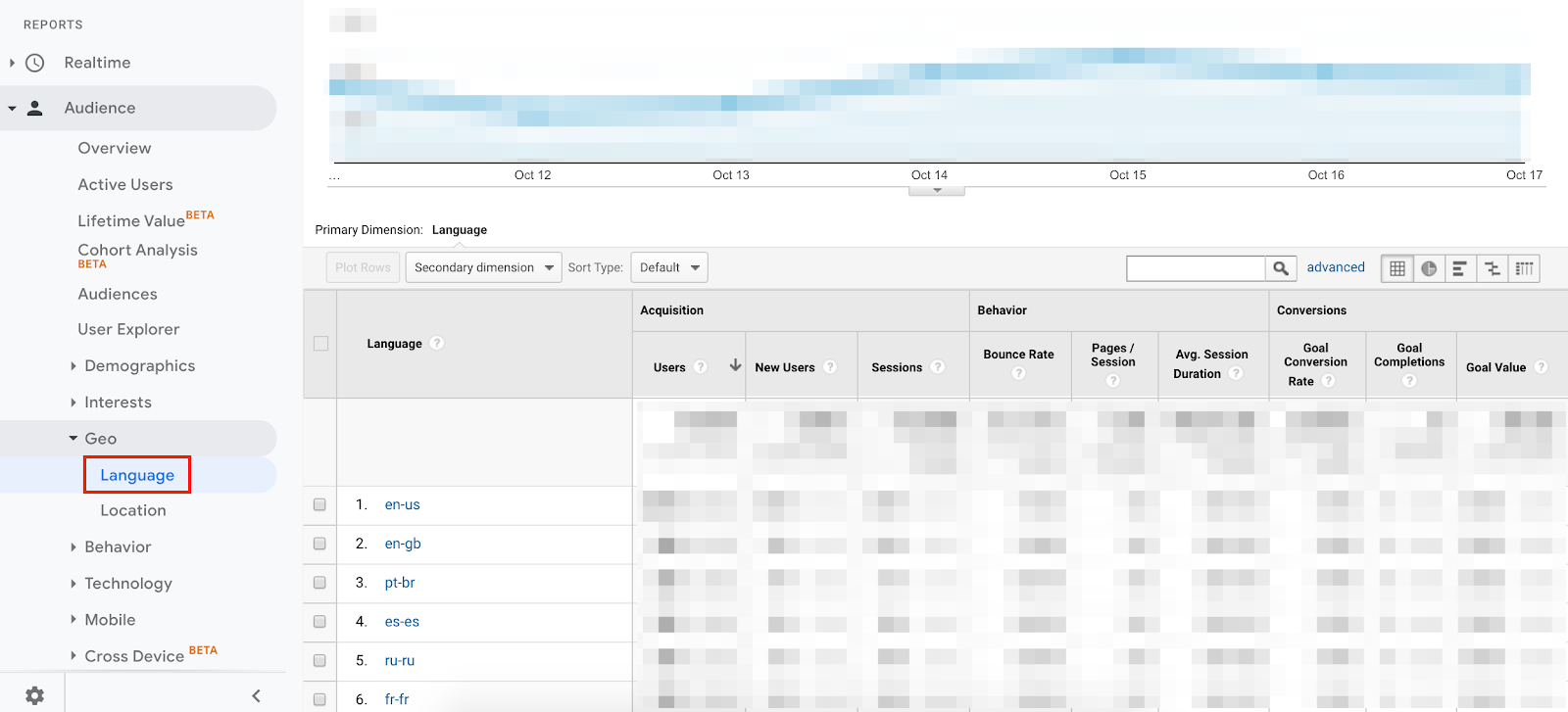 Neil Patel, the world's leading online marketer, increased website traffic by 47% by making content available in multiple languages. Localized content helps readers better understand your message, in a language they know, and can drive the success of your international marketing campaign.
3. Disregarding cultural preferences and terminology.
Powerful localization strategies share one thing in common: They speak to customers' cultural values and beliefs. That is, they tailor messaging so that it isn't offensive or confusing, explain how the product works in context, and how it aligns with cultural factors.

If marketers work in a box, lack cultural knowledge, and are only motivated to make a sale, your international marketing campaign will never succeed. For instance, when Pepsi entered the Chinese market with its slogan "Pepsi Brings You Back to Life," the results were grim. The company didn't realize that the direct translation meant "Pepsi Brings Your Ancestors Back from the Grave." In a country where traditional religion revolves around a ritual celebration of ancestors, Pepsi missed the mark.

As marketers, it's your responsibility to understand customers and close the cultural gaps between them and your company.
4. Not taking local time zones into consideration.
Many of your potential customers may be in different time zones — and as you grow, there will always be a fire to put out. Having customer support in place around the clock is an important feature, but only if you do it in a way that is fast and empathetic.

If you fall into the trap of hiring rep after rep, your company will take a hit to its bottom line. Even outsourcing customer service can be expensive. Instead, you can employ a Messenger bot to respond to questions when customers need it, wherever they need it. If the bot cannot answer properly, you can always tell them you'll get back to them as soon as possible. The key is to focus on speed and empathy, alongside helping your customers win no matter where they live.
5. Exploring new communication channels.
One of the biggest ongoing challenges is finding the best marketing channels for your business. In their home country, marketers generally focus on what they know is historically best: Facebook, Instagram, Messenger, LinkedIn. There are a few powerful channels, and everything works out.

But as you expand into the global market, different channels begin to come into play. It becomes harder to know what your customer wants and how they buy.

As a marketer, it's your job to figure out how people communicate in different countries. For example, in China, people use WeChat to do everything: messaging, online shopping, transferring money, booking taxis, making reservations, and more. In Mexico, you send voice notes and PDF's to your real estate agent via WhatsApp. You want to have a good understanding of how different (and similar) these channels are, so you can better connect with the people who use them every day.
6. Targeting the same keywords.
For marketers, the international search engine–optimization process seems simple and seamless. If you want to sell low-cost flights to an Italian market, it makes sense to target the search phrase 'voli a basso prezzo'. However, literal translations may render keywords ineffective. Locals can use synonyms, abbreviations, acronyms, or alternative terms to search for the same thing.

In the above case, the keyword you actually want to target is "voli low cost" or "low cost voli". It's a hybrid term used by Italian searchers. To find localized keywords, you can use Google Trends to explore regional interests and keywords. Or, employ an SEO tool like Ahrefs or SEMRush to find country-specific keywords, volume, and even competition.
Take your international marketing to the next level
At the end of the day, your international campaigns should focus on two things: personalization and meaningful conversations. It's a priority most marketers miss out when speaking to diverse and global buyers. Whether you're selling to an audience in Egypt or Southeast Asia, it's important to avoid these six mistakes.

When executed properly, your team will have a better understanding of its audience, and provide more relevant messaging that moves people closer to the sale.
Are you an agency taking your services overseas? Apply for the ManyChat Agency Partner Program for 20% revenue share, priority Messenger bot support, private Agency community, and more.
The contents of this blog were independently prepared and are for informational purposes only. The opinions expressed are those of the author and do not necessarily reflect the views of ManyChat or any other party. Individual results may vary.