How to Write Email Marketing Subject Lines That Increase Open Rate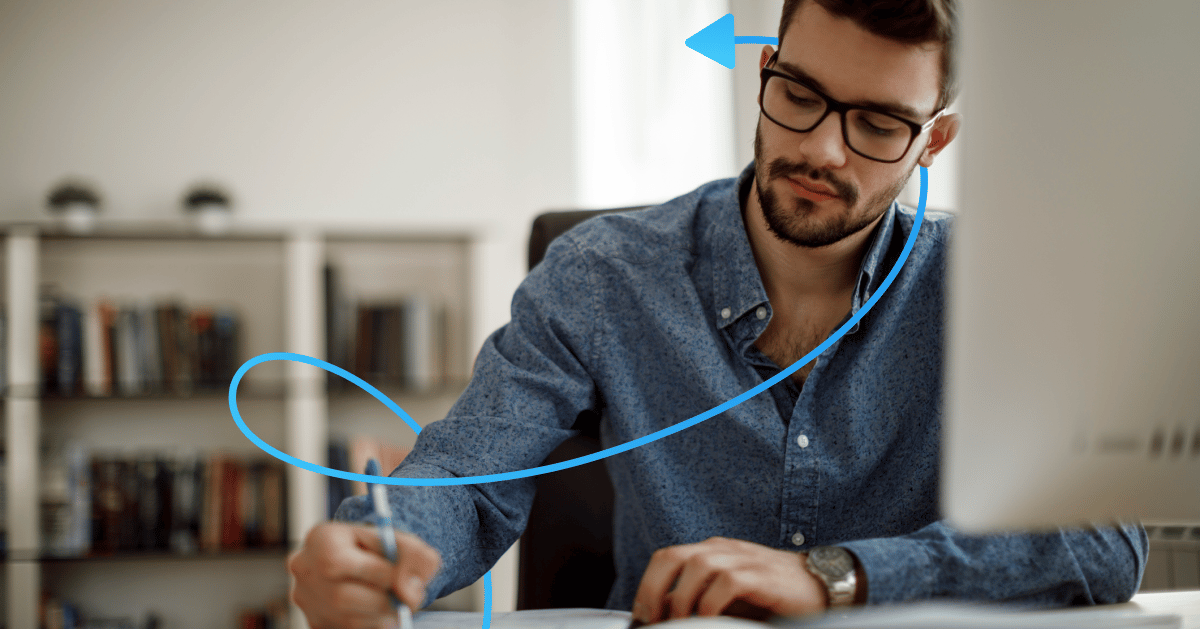 Unopened emails mean that your messages aren't getting read — and every ignored email is a missed opportunity for a meaningful connection.
That's why one of the valuable marketing metrics to optimize is your open rate. Is your subject line compelling enough to pique your recipient's interest? Here are 6 tips to help you establish that initial connection and spark.
1. Optimize email send timing
SuperOffice, in an analysis of 99,000 sent marketing emails, found that 23% of emails get opened within an hour after delivery. After 24 hours, the chance of an email being opened drops to under 1%.
For this reason, you'll want to pay attention to the time of day (and day of the week) that you're scheduling your email sends. To offer guidance, ManyChat has written about the best time to send an email by aggregating stats and perspectives from multiple email marketing software providers. Some important tips include:
Understanding what daily life looks like for geographic segments — especially with regards to the pandemic, natural disasters, and regional conflict

Communicating the right "in the moment" information based on your recipient's needs

Sending an email at a time when your reader is likely to paying attention — during work hours, for instance
Remember that your audiences are human beings with lives beyond the screen. The key to a high open rate is to deliver the right message at the right time.
2. Choose words carefully
Did you know that iPhones will cut off a subject line over 32 characters?
If your email subject lines are too long, your messages risk getting lost. That's why it's important to put the most meaningful words of your subject line first. Even better, practice getting your key point across in fewer words.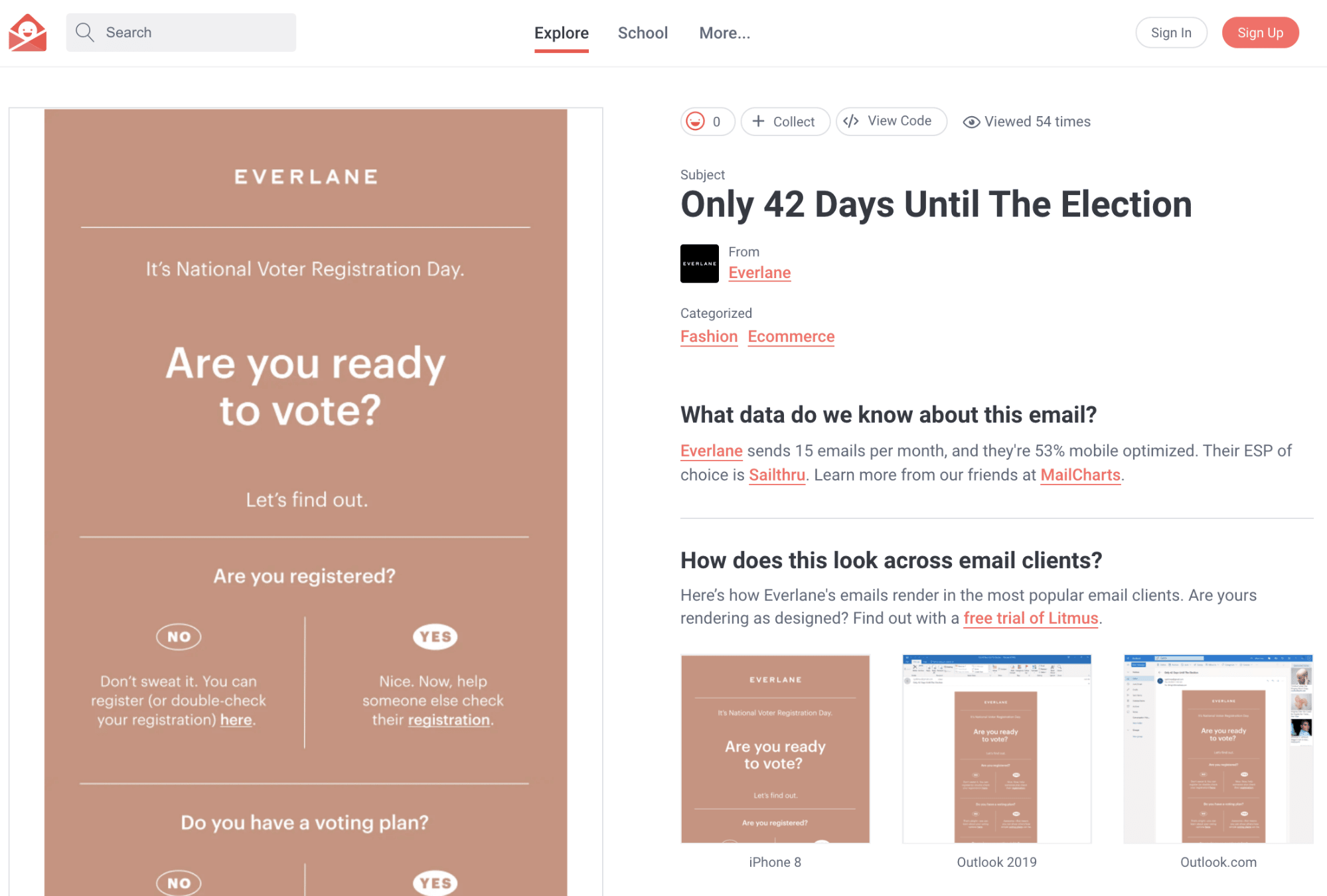 As an example, take a look at the following email from Everlane, which creates a sense of urgency with carefully designed language.

The phrase, "only 42 days until the election" is 31 characters long, which means that the subject line is iPhone friendly. Think about other ways that the Everlane team may have phrased this language:
There are only 42 days until the election

Heads up: there are only 42 days until the election

Get ready for the election that is only 42 days away
Each of these subject lines creates a different audience experience — with varying likelihoods of whether someone is ready to read the entire message. By moving keywords to the front of the email subject line, Everlane communicates its point in a more condensed manner.
If you're struggling to write short-form copy, one way to navigate through potential roadblocks is to simply practice. Try writing your subject line in a few different ways. You can iterate your way to more condensed language.
3. Test out emoji
As humans, we are highly visual creatures.
So you may not be surprised to learn that emoji in your subject lines can help you boost open rates. One study from Experian found that email subject lines with an emoji increased open rates by 56%, compared to text-only subject lines.
But keep in mind that emojis aren't for everyone. Not every internet user is a digital native. For instance, when one digital marketing agency (Yellowball) tried using emoji in their subject lines, their open rates dropped 2% below their average.
There are no shortcuts to succeeding with emoji. You need to test your approach. Success with emoji will depend on your unique audience.
4. Personalize the reader experience
In a survey that Campaign Monitor ran, 74% of marketers say targeted personalization increases customer engagement, and they see an average increase of 20% in sales when creating personalized experiences.
Personalization doesn't need to be overly complex. Campaign Monitor recommends taking the following simple steps:
Make sure the email is address "from" a real human

Consider using a recipient's first name in the subject line — using the recipient's first name in the subject line can increase open rates by 26%

Mention an offer that the recipient will value (a freebie, for instance)

Reference a topic that may be of interest
Effective personalization begins with building audience segments that make sense. Take a look at the groups that exist in your CRM. What interests do these audiences have in common? What's happening in their lives? This perspective will help you create communications that audiences will value.
5. Be direct and descriptive
These days, audiences have limited time. So don't waste it.
While some copy may "sound catchy," it may be off-brand for the current economic and public health climate. MailChimp, in an analysis of its customer base, has found that the most effective email subject lines are clear and direct rather than "markety." So make sure that your email subject lines communicate relevant information that encourages people to keep reading.
As an example, take a look at the following email campaign from Peloton.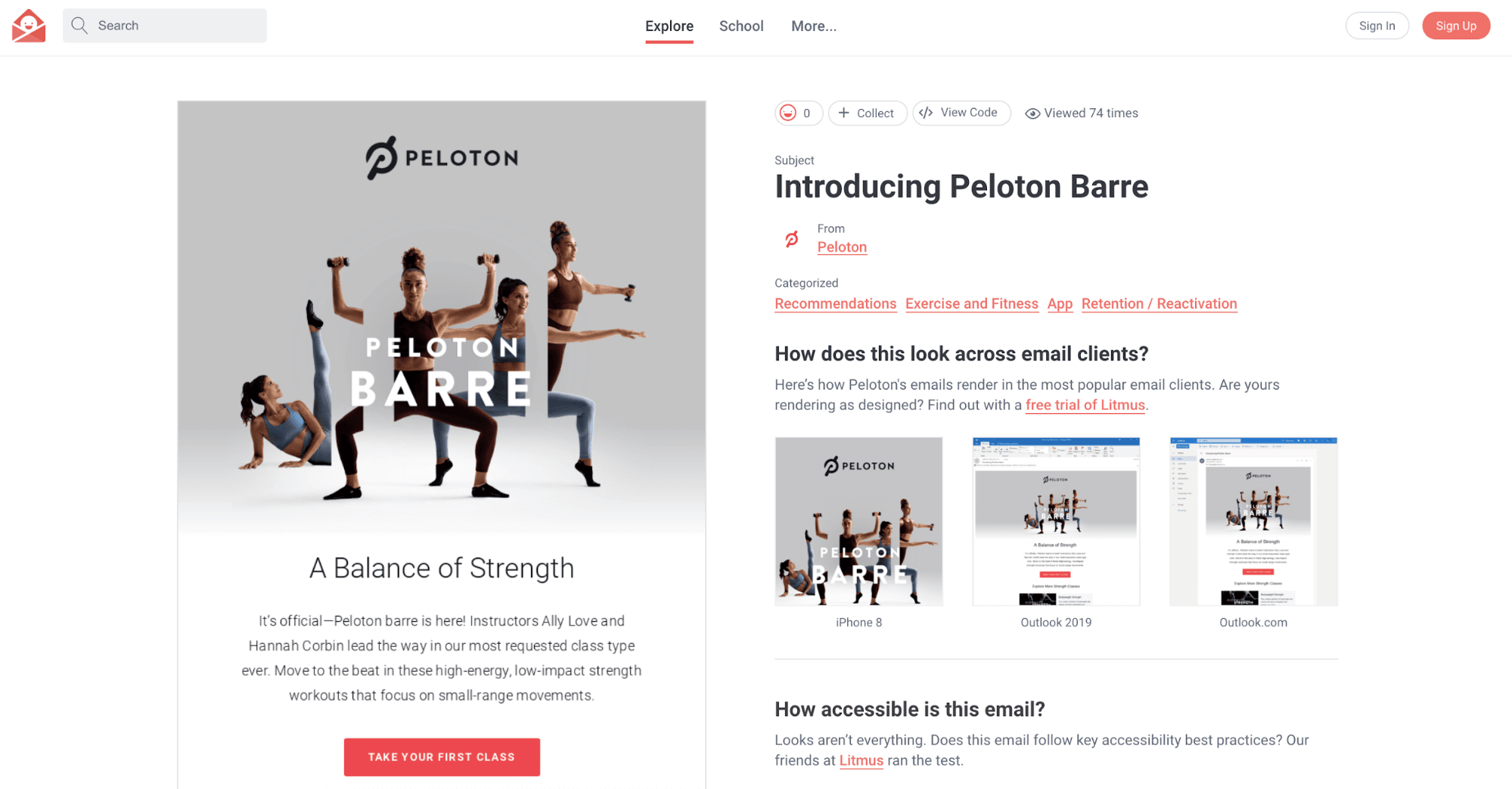 6. Interview your customers
Qualitative insights are valuable for making quantitative judgment calls. Customer conversations are valuable for sparking ideas and building empathy with your audience. What are people interested in reading about? What topics are catching their eye?
One way to navigate the challenge of coming up with engaging subject lines is to source ideas from the recipients who you are trying to reach. Discover patterns to inform your creative strategy.
Amazing creative concepts provide the foundation for subject lines that increase open rates.
Be thoughtful
Try to take on the perspective of someone who's in your customer segment. What's it like to experience the world from the vantage point of that individual? What messages will someone find valuable?
There's a fine line between a well-architected campaign and spam. It doesn't matter if your marketing team likes the idea. Ultimately, you need to cater to your audiences. Their time is valuable. So make every brand touchpoint count — including your email subject lines. Show consideration for your audience's needs and interests.
Level up your brand communications with a chatbot. Sign up for a free trial with ManyChat.

The contents of this blog were independently prepared and are for informational purposes only. The opinions expressed are those of the author and do not necessarily reflect the views of ManyChat or any other party. Individual results may vary.