The Best Time to Send an Email and How to Build Stronger Bonds with Your Audience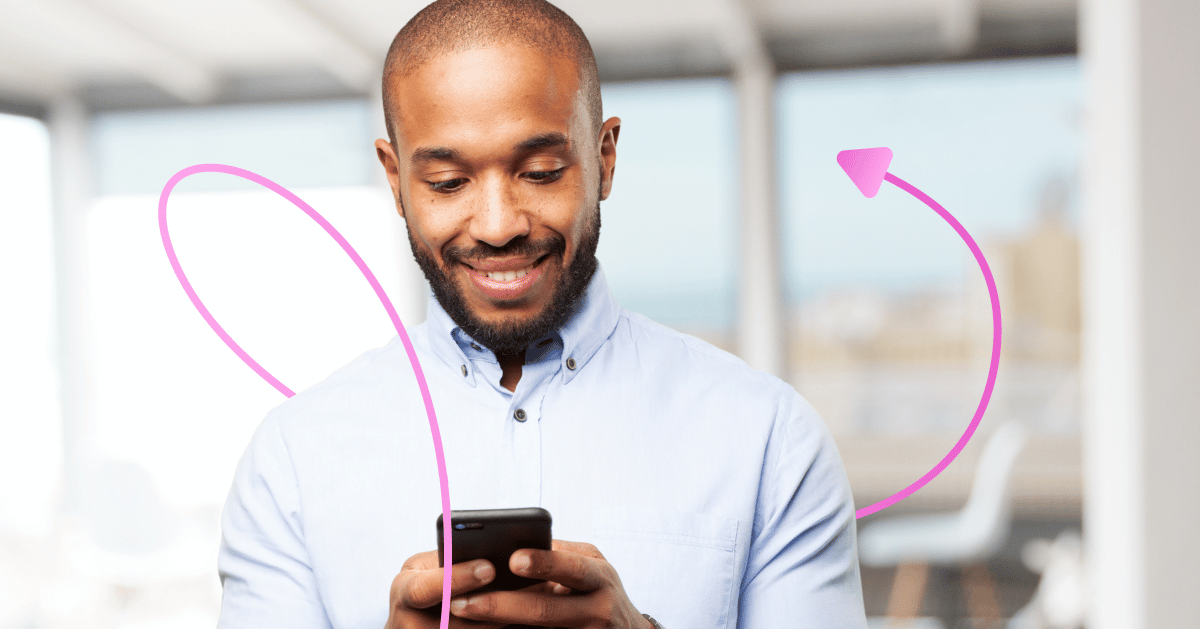 As the world navigates it's new normal, one of the biggest challenges that you may face as a marketer is understanding the needs of your target audience. The COVID-19 pandemic has forced people around the world to adapt to new ways of life; and while 2020 is about adjusting to change, 2021 and beyond will be about discovering and building new routines, especially around the way that we engage with screens. 
For this reason, your email marketing strategy requires careful thought, consideration, and planning. Right now, humans are struggling with a phenomenon called allostatic load — cognitive fatigue caused by constant screen exposure for work, homeschooling, and communicating with friends. Our human eyes and minds are not accustomed to the increased number of hours that we're spending on our screens, so people may be more likely to miss communications, particularly promotional emails, from brands.
Optimizing your emails for success means knowing the best time to send an email so people will care and want to read it. Empathy is crucial for a successful outreach strategy. So let's explore this idea in greater depth in order to translate high-level concepts into executable tactics.
Your goal: Send emails that matter to your audience
If you've found your way to this resource, you're likely looking for a way to cut through the digital noise and establish a direct connection to your readers: to shorten the distance between your marketing key performance indicators (KPIs), your recipient or subscriber, and the inbox that you're trying to reach.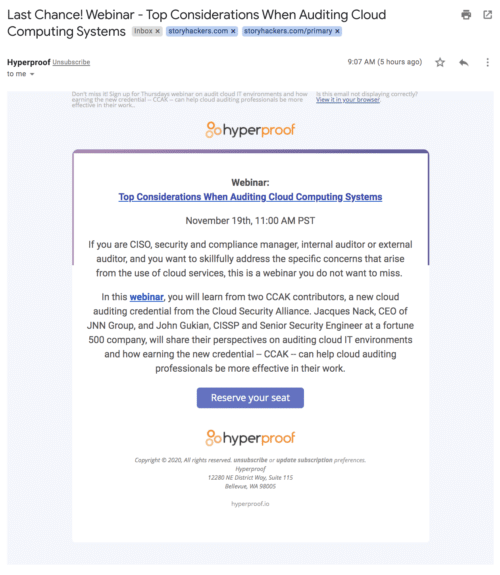 In this article, we've compiled a landscape assessment to help you improve metrics such as campaign open and click-through rates, as well as target audience engagement. The goal is to equip you with evergreen information, best practices, and data to help you make the best, momentary judgment calls — whether you're deciding on a subject line or figuring out what copy to write for promotional emails — and to come away with a deeper understanding on how to send emails that your target audience will find valuable, engaging, and insightful.
But before we explore the best time to send an email, let's explore what makes the inbox such a powerful platform for communication.
Why marketing emails are timeless
When it comes to reaching your target audience, there is a range of marketing options available. From multiple social media platforms to paid advertising across hundreds (or maybe thousands) of media networks, you may be wondering how much focus to devote to promotional emails in the first place. What's important to remember is that email is often the most direct way to reaching your audiences. This channel is about keeping in touch, first and foremost.
Beyond your KPIs: the bigger picture
The power of email is that it is, in the words of the 2019 eMarketer report, a "permission channel." What that means in non-marketing jargon is that your subscriber is choosing to receive communication from your brand.
Compare this purposeful action to a social media feed where someone might be casually scrolling and seeing an advertisement in passing: It may take multiple impressions, over a lengthy timespan, for someone in your target audience to become an active subscriber to communications from your brand.
Not to mention, email is ubiquitous. What we mean by that is that a lot of people rely on an inbox to connect with the world. In 2019, eMarketer found that email remains the top digital activity compared to using search engines, watching digital videos, and using social media.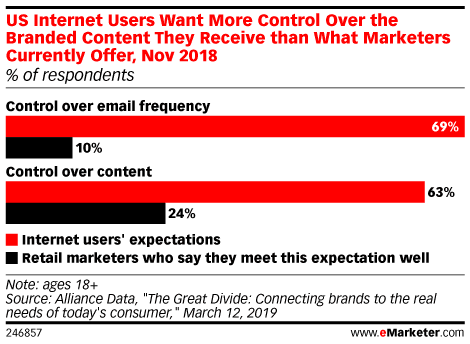 As a point of comparison, nine in 10 U.S. Internet users send emails, while about seven in 10 use social networks, and six in 10 use Facebook.
Keeping up with technology
Email isn't just ubiquitous, it's also evolving with the rest of the digital world into the future.
"Smartphones have made [email] a mobile marketing channel, and advances in marketing technology adoption have made more sophisticated programs possible, with email often central to a cross-channel strategy," explained eMarketer.
With this in mind — and knowing that when you send emails your communication is likely to reach an actual human — we'll explore the best time to send an email, and how you can incorporate this data into a multidimensional, multifaceted marketing campaign that will bring value to your recipient's everyday life.
Moreover, we'll explore how this value translates into meaningful results for your business such as your campaign open rate, click-through rate, and click rate towards a transactional path.
The best time to send an email
So, when is the best time to send an email? Right off the bat, we'll tell you that there isn't exactly a clear-cut answer to this question. The "best" time is all relative and based entirely on your reach, who your recipient is, how you segment your target audience, and what your campaign objectives are.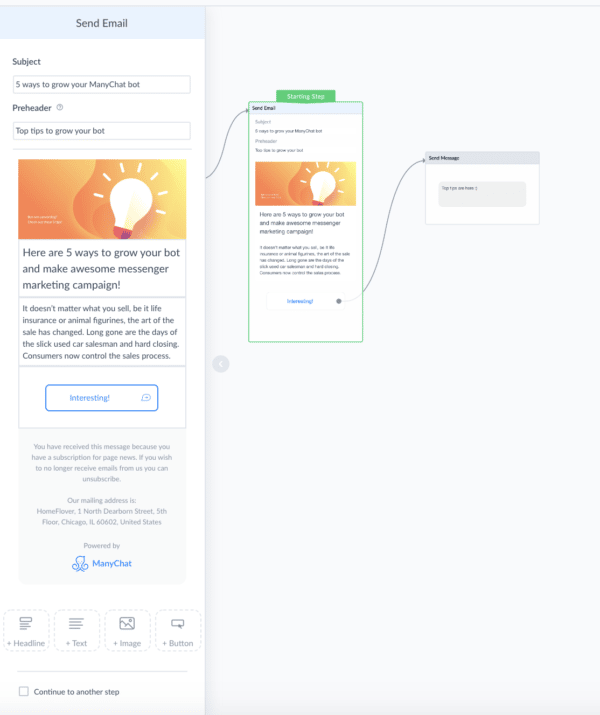 Understanding the context
As your business, subscriber base, and target audience grow, your marketing strategy will become more complex. Let's say, for instance, that your customer base starts to grow and you start to build audiences around the world. When you send an email, you'll want to pay attention to local cultural trends and patterns.
With this in mind, the intent of the following information is to offer guidance rather than definitive rules for how to structure your marketing campaign strategy. Along the way, you'll want to test the performance of your outreach with respect to your click rate, subject line, open rate, and other metrics that matter to your goals as a marketer.
Email marketing benchmark data
This quantitative picture comes from data that we've assembled from different email marketing companies.
Keep in mind that each of these services has its own technology, which influences delivery rates and other technical aspects. Your marketing strategy will benefit from its own experimentation and validation process.
The world is a multifaceted and complex place with different seasons, natural disasters, breaking news, and other real-life influences that affect how information is received. Your best resource is your own dataset.
Trend 1: The best time to send an email varies by country
In 2019, Litmus analyzed billions of email open rates by time of day, examining different regions around the world.

They found that in the United States, the most popular time for email is in the morning, with 21% of all opens happening in the morning between 9 a.m. and noon on desktop. On mobile devices, however, email open rates remained steady from 8 a.m. until 10 p.m.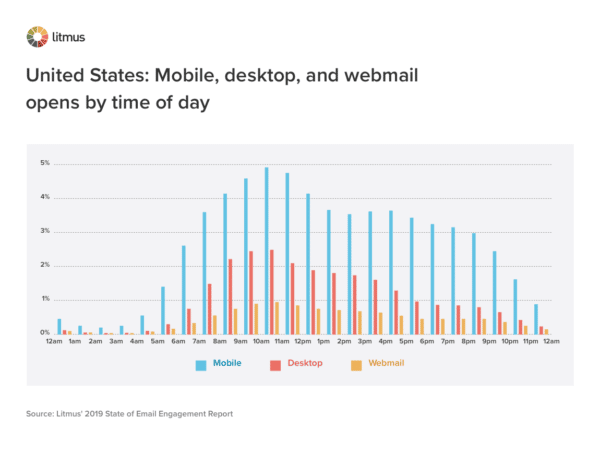 In Canada, the most popular time for opening an email was in the morning around 10 and 11 a.m., across all devices and reading environments.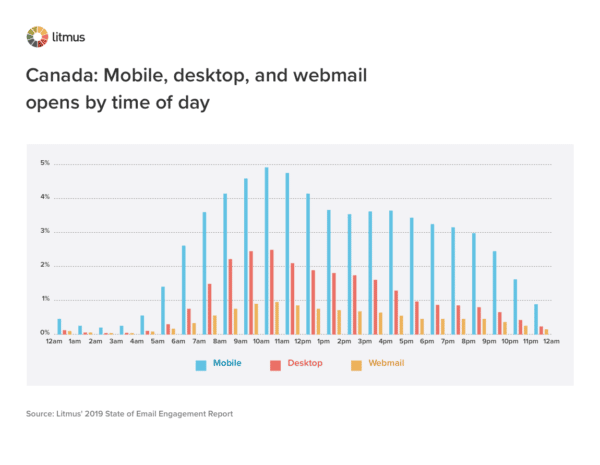 In the United Kingdom, the most popular time to open an email on a desktop was in the late afternoon around 4 and 5 p.m. Meanwhile, mobile opens peaked at 6 p.m.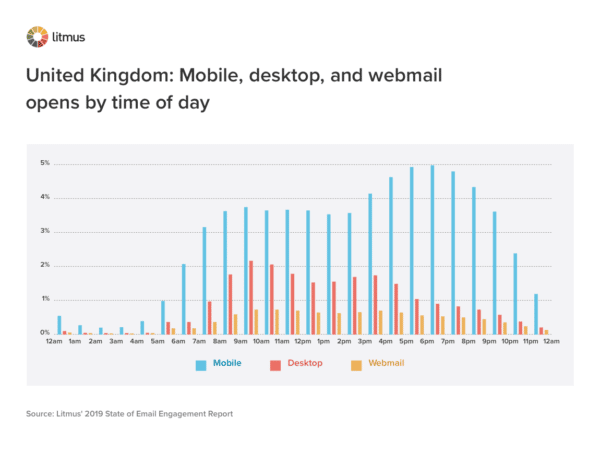 Germany, Spain, Australia, and New Zealand followed similar patterns as the United States, with individuals most likely to open emails in the morning.
Trend 2: The highest open rates happen on Tuesday
Campaign Monitor recently conducted an analysis of 30 billion email sends from its SMTP server globally between January and December 2019, sampling from 171 countries.
The company found that Tuesdays had the highest open rates at 18.3%, on average, but that this same day was also likely to see the highest unsubscribe rates — perhaps because people tend to be more engaged with their inboxes.
Keep in mind, however, that this perspective is only a small piece of your company's marketing return on investment (ROI) puzzle. The days with the highest click-through rates, according to Campaign Monitor, were Sunday, Monday, Tuesday, Thursday, and Friday at (2.6%). The trend makes sense, given that people may be more likely to engage with emails during workdays rather than while unplugged on a Saturday.
In its analysis, Campaign Monitor has also addressed a statistical best practice to examine the nuances behind averages. Computationally, an "average" is a high-level metric that standardizes possible quantitative outcomes into a big picture. Beyond this surface-level perspective, if you look deeper you'll find trends, in addition to outliers, that are exceptions to the rule.
For instance, Campaign Monitor segmented its dataset by industry and found the substantial variation to the trend of Tuesday having the best average open rate. For companies in the automotive and aerospace industries, the best day is Wednesday. For consumer packaged goods companies, the best day is Sunday.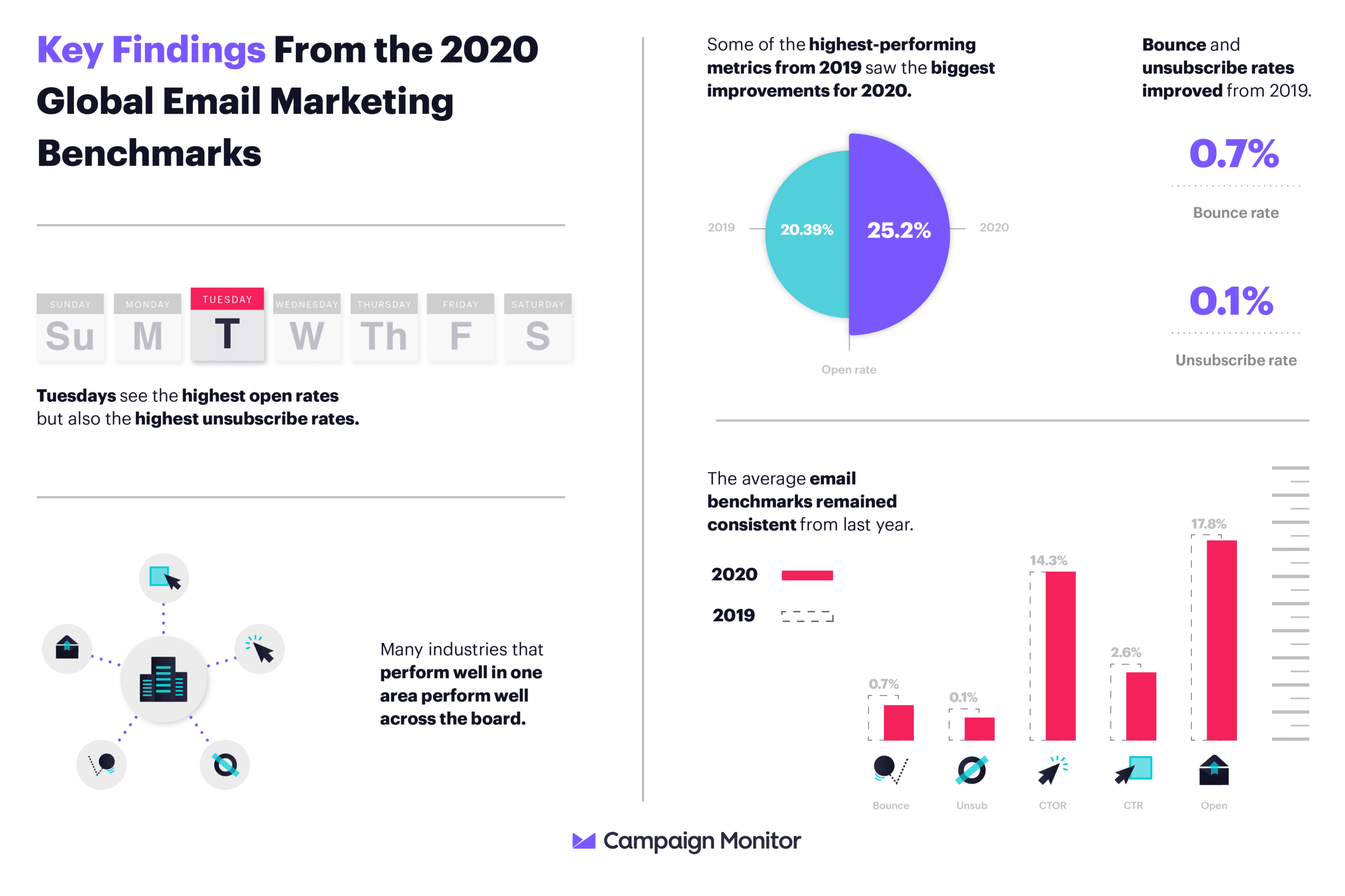 If you're interested in seeing more nuances amongst industries, browse the report. Spend time comparing metrics beyond open rates, such as click-through and click rates, relative to opens.
Read more: 7 Benefits of Email Marketing That Impact Your Bottom Line
Trend 3: Email engagement is higher when you understand your recipients' interests and passions
Keep in mind that the way we define "time" is in the eye of the beholder. In addition to thinking about "time of day," you can also think of this in terms of event proximity.
For instance, the first event that a marketer experiences with a potential customer could be an interaction on a webpage. Then, that potential customer may fill out a form on a website. Over a period of several weeks, months, or years, that individual may demonstrate digital and real-world interactions that paint a "personality" picture.
In this way, time becomes a function of the customer journey, with every new interaction offering new insight into what was previously known. Qualitatively speaking, this type of thinking is similar to Bayesian statistics, in which knowledge becomes more certain based on additional information inputs.
Data from the marketing industry substantiates the hypothesis that email performs better after we gain more knowledge about our audiences.
According to the Content Marketing Institute, 31% of B2B marketers say that email newsletters are the best way to nurture leads. In 2018, MailChimp released data that the most opened emails related to hobbies, with a 27.35% open rate.
With this perspective, brands can develop emails that align (time-wise, with how recipients progress through customer journeys.
Connecting the dots
With the details that we've shared above, what comes next?
Now, it's time to put your critical thinking skills to work. It may make sense to condense the tips that we've shared above into the following key points:
Email is a powerful, ubiquitous, direct, and timeless way to reach audiences.

As people experience screen fatigue, you have a responsibility to develop clear, compelling, and engaging messaging.

People are likely to engage with emails earlier in the week and earlier in the day when their minds are more likely to be rested and their eyes are fresh.

Even with the rule of thumb above, based on data from email marketing providers, there's still plenty of nuance to these averages. Expect to conduct a process of testing with regards to your unique business model and audience.

When you think about "time," look beyond the day of the week and the time of the day. Think about the customer journey more holistically and longitudinally over time.
As you determine what the best time to send an email is for your business, you need to balance strategy and tactics. At the strategic level, adopt a process of testing, listening, and learning. That means running experiments before moving full steam ahead with a campaign, and continuously integrating new data from your audience into your email outreach programs.
Let's say, for instance, that your business specializes in selling fuzzy socks. As you expand your marketing efforts, you may be attracting audiences from multiple acquisition channels from social media to email marketing and even paid search advertising. Maybe you've decided to create a chatbot to keep up with customer conversations.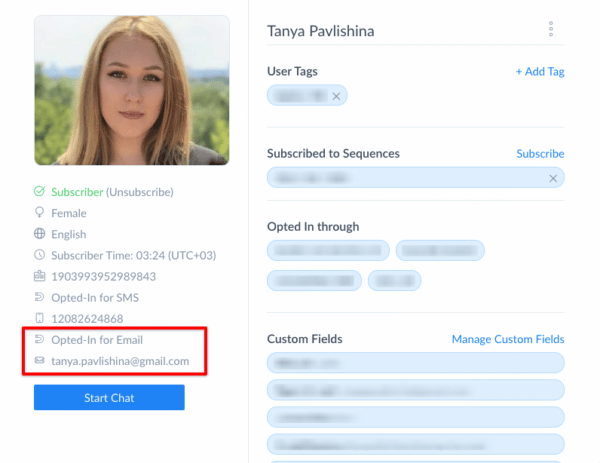 Over time you may have built an email list after running a blog devoted to the fuzzy socks economy — after all, who wouldn't want to read about this amazing product?
You may decide to segment your email list based on new subscribers, paying customers, audience members that have engaged with your brand, and subscribers for whom you've collected conversational data. Maybe you've even targeted some of these audiences with social ads using Facebook Custom Audiences.
Build your lists. Experiment with messaging based on your best-educated guesses from industry benchmark data. Send out emails to a tiny segment of your readers. Optimize.
Here are a few resources from ManyChat to guide you along your journey:
Final Thoughts
We've reached an era of marketing where we are all redefining best practices. While the rules of the past can help guide us into the future, we still need to embrace a process of listening and learning.
Fortunately, email marketing platforms have been around for a while and have extensive datasets in the tens of billions to help us dig deeper into the questions that we all must explore as leaders in business.

That's just the beginning. It's up to us to figure out the rest.
If you're looking to build an email outreach strategy that integrates with your social marketing channels, check out ManyChat.
The contents of this blog were independently prepared and are for informational purposes only. The opinions expressed are those of the author and do not necessarily reflect the views of ManyChat or any other party. Individual results may vary.