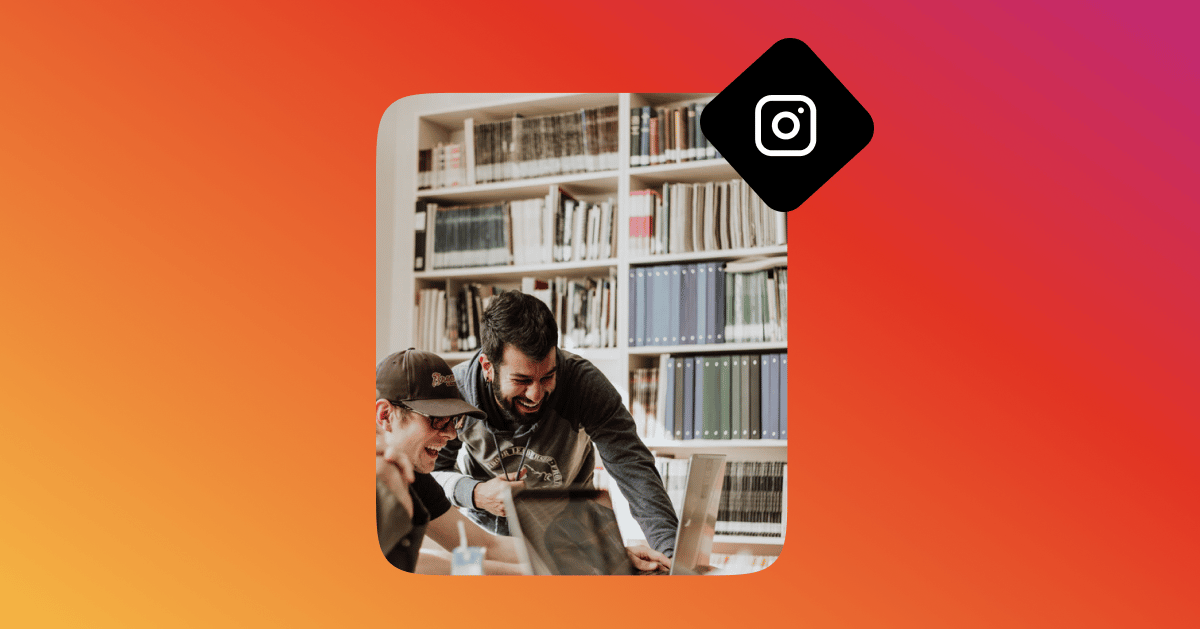 It's that time of year—back-to-school season is here!
This year should herald a return to normalcy as students of all ages head to in-person classes after 12+ months of online and remote learning.
Now is the time for brands to launch back-to-school campaigns to capitalize on new spending habits. According to Morning Consult, 47% of consumers spend more online now than they did before the pandemic. In this article, we're going to focus on Instagram (IG) tactics since that's where approximately one billion monthly active users hang out.
Let's look at the top ways to prepare your Instagram account for the 2021 back-to-school season:
Be aware of the current back-to-school trends
Start by knowing what's cool for back-to-school this year.
Shopping directly from social media platforms has become more popular this year, likely because we've all been avoiding stores and shopping from home for so long.
To take advantage of this trend, you should link to products directly from your Instagram account via shoppable posts and Stories. These look very similar to standard posts and Stories, but they have a small shopping bag icon. When a user clicks on the post, more information pops up about the product, such as its name and price.
Story ads are another in-app way to promote your products to your target audience. These ads display when a user is already viewing Stories from the people and brands they follow and can be photos or videos that include a swipe up link.
Having a swipe up link means the viewer doesn't have to click out of the Story to view additional content. (IG doesn't allow links in content, except for swipe up links.) Without a swipe up link, the viewer would have to take extra steps, such as visiting the brand's profile to click its bio link.
More people are comfortable shopping online now, but in-person shopping is also returning, so expect more multichannel sales. Buying online and picking up in-person (BOPIS) will also be a standard option this season.
A forecast from Mastercard predicts consumer spending will be up nearly 7% from 2019 and 6% higher from mid-July to September of this year compared to 2020.
The same forecast shows apparel garnering the most attention, with a 78% increase in year-over-year sales. This comes as no surprise considering in-person classes will be back in session instead of distance learning (i.e., denim is back!).
What does this mean for you? Boutiques and clothing brands can gear up for the first-day-of-school outfits and class photos—both are perfect opportunities for Instagram selfies. And don't forget about accessories, including lunch boxes, backpacks, and face coverings.
Use your Instagram account to show followers what they need this school year: new, stylish, and comfortable pieces.
Start advertising now
When should you start advertising to get a piece of the back-to-school splurge? ASAP. Many parents and students receive their school supply lists by the end of August, so it's a good idea to have a marketing plan in place by then.
Utilize Instagram's sponsored post option or try a sponsored Instagram Story to reach a larger audience. You can also experiment with ads within IGTV, carousel posts, and videos.
Planning your Instagram ads and budget
Instagram bases its advertising costs on four factors: time of year, ad format, ad placement, and targeting. Small businesses should not be intimidated by Instagram advertising because regardless of the individual cost per click, you control the budget by setting a cap from the beginning. Even a small budget can help you reach more users!
Choose an ad format that makes sense for your goals, products, and audience, and look to previous successes to inform your strategy. For example, if videos don't typically perform well on your feed, don't go with a video ad.
Starting now, run ads with a back-to-school theme until mid-September, analyzing your results to optimize future iterations.
Top tips for successful Instagram advertising campaigns
If you're new to Instagram advertising, don't worry, we've got you covered. Read on to learn some great tips that will up your IG game.
Promote relevant products
If there was ever a year to get creative with back-to-school product recommendations, this is it. A typical pre-pandemic back-to-school supply list may have included notebooks, pens, and shareable snacks. However, this is 2021; things have changed.
This year, expect to see school supplies related to COVID prevention such as hand sanitizer, sanitizing wipes, masks, products for cleaning electronics, and any item that's usually shared in a classroom (from staplers to laptops).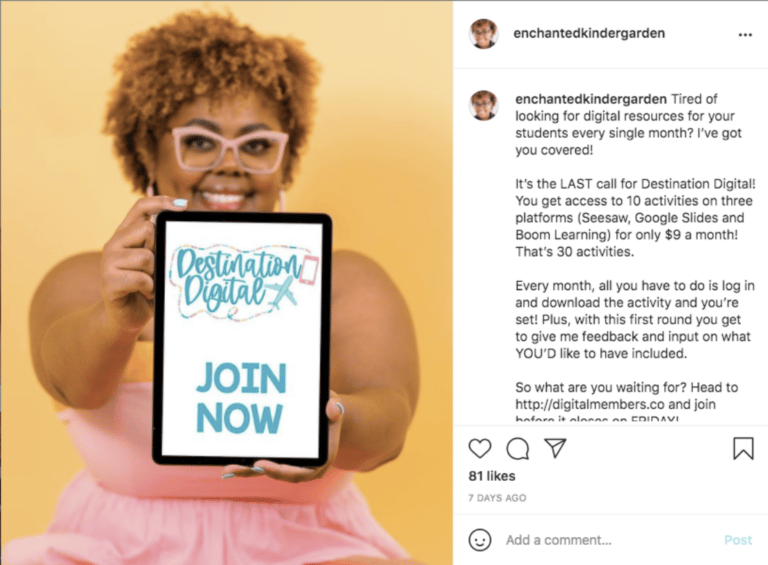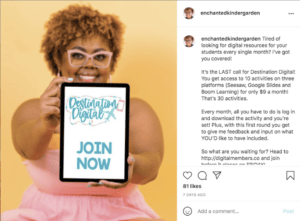 Take a look at how Instagram account @Enchantedkindergarden has planned her strategy around relevant products. She's been promoting her distance learning tools all summer via Instagram posts and IGTV.
Consider relevancy when you're deciding what products to showcase on your Instagram account. Here are some ideas for product categories to highlight during the back-to-school season:
Health and wellness
Pandemic or not, back-to-school often means the spread of germs. Any product related to personal health and wellness is great to promote this time of year. Some items may include vitamins, supplements, workout equipment, on-the-go lunch options, hydration-related products, essential oils, and a range of over-the-counter medicines.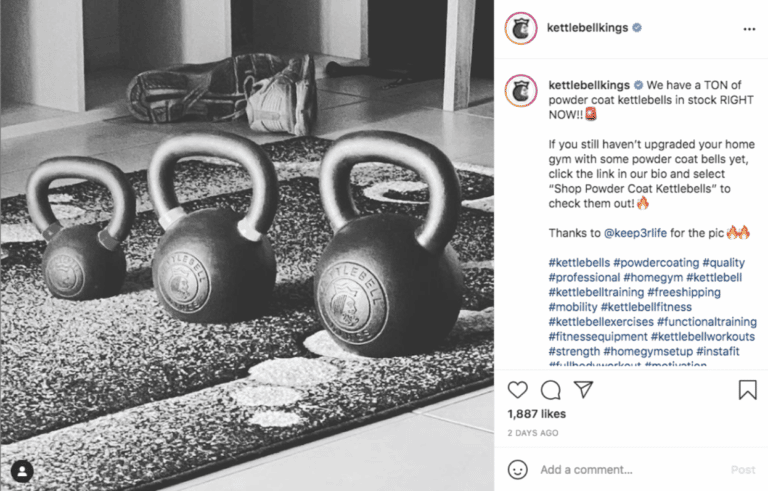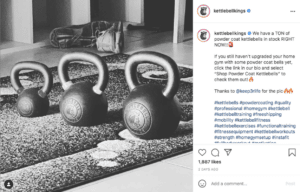 @Kettlebellkings shares at-home fitness equipment regularly by way of shoppable posts.
Stress relief and better sleep
Adjusting to a new schedule and possibly a new type of environment can easily lead to increased stress and diminished sleep quality. Now's the time to showcase products that help followers with rest and relaxation. These could be meditation-related items, supplements, pajamas, bedsheets, and bath products.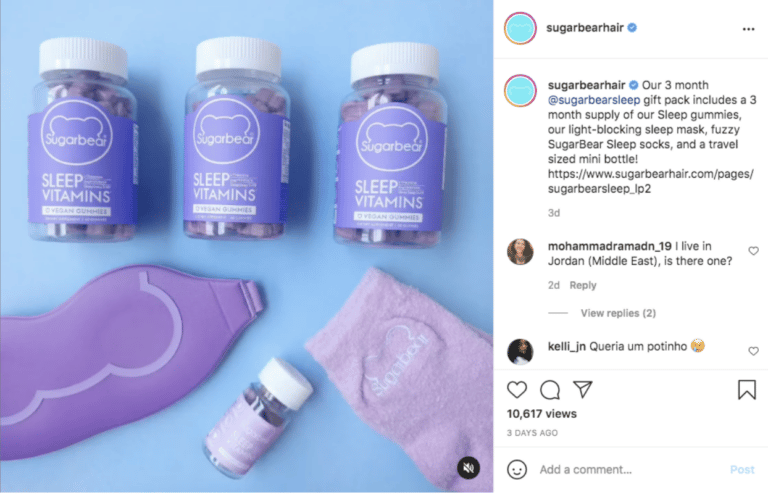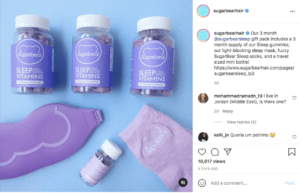 Sugar Bear Hair—a vitamins and supplements company—has been promoting its Sleep Gift Pack via Instagram Reels and static feed photos.
Cleaning and sanitizing aids
Spring cleaning is a tradition, but this fall season ushers in a genuine need to clean. Highlight products related to home and office cleaning, personal sanitizing aids, and tools for cleaning electronics of all types.
Time management and organization
Bring on the planners, checklists, watches, and time management apps! Readjusting to in-person life means juggling new schedules and tasks that Covid temporarily suspended.
Fashion and style
More traditional back-to-school styles will be coming to a closet near you (stretch pants' prime-time use is over!). Showcase outfits, accessories, and personal care items because everyone will want to look their best in real life.
Electronics
According to Deloitte's 2021 Back-to-School Survey, 31% of parents plan to purchase computers and hardware (versus 22% in 2020), and 37% plan to buy electronic gadgets (versus 24% in 2020). Get in front of these parents so they purchase from you, not your competition!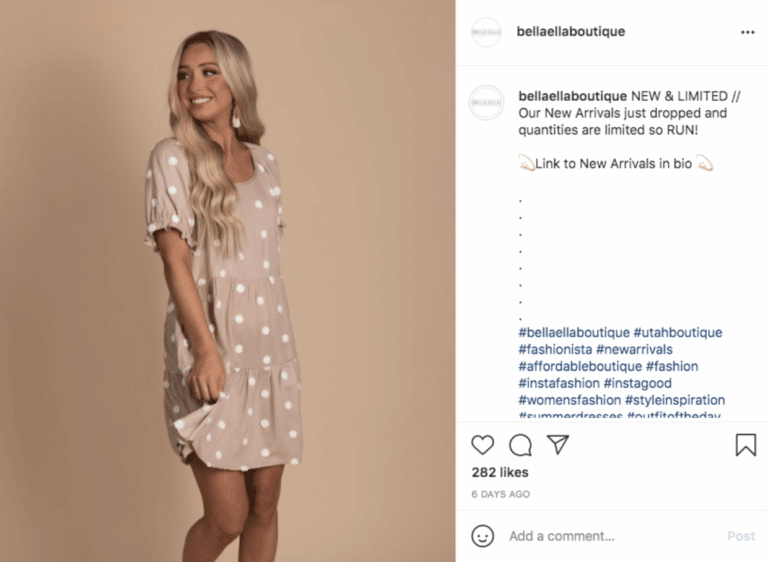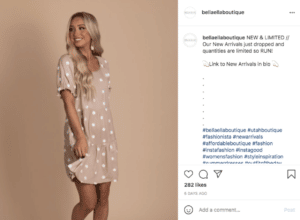 Partner with influencers
Working with an influencer for the back-to-school season can help your brand stand out on Instagram. The key is finding one who will resonate with your followers and make sense for the products you're selling this season.
Here are some things to keep in mind when working with an influencer:
Look for someone who can offer a first-hand, personal experience with your products
Go for influencers who share a mix of organic and paid content (not just ads) and disclose sponsorships
Choose authenticity over popularity—influencers who've built trust with their followers are more likely to generate conversions
Know your goals for any partnership—whether it's brand awareness or sales—and choose an influencer who will help you achieve those goals
Keep your budget in mind, too. Some influencers charge $1,000-$5,000+ per sponsored post, and you want the partnership to be worth it for everyone involved.
Run promotions and contests
Consumers are looking for deals, coupons, and bundled products. According to Deloitte, 51% of customers search for sales or discounts, while 45% want competitive pricing.
If applicable, bundle related products to create a one-and-done shopping experience that also offers price savings.
You can also offer promotions such as free shipping or a discount when choosing BOPIS.
Giveaways are always appreciated, too. Have followers engage with your brand on Instagram to enter the giveaway by following your account, liking a post, leaving a comment, or tagging a friend. Freebies are an excellent way to spread the word about your brand and boost account engagement.
Conclusion
Whether you're promoting more traditional back-to-school supplies or offering some creative options, now is the time to kick off your Instagram marketing efforts.
Know what your target audience is shopping for this year, and do what you can to offer discounts or bundled items. If it makes sense for your brand, work with a trusted influencer to spread the word.
Because this back-to-school season is unlike any that has come before, experts predict consumers will spend more money on supplies. Some items will simply cost more (thank you, pandemic-induced inflation), and some students may just need a longer list of stuff. Regardless, you can use IG to ensure consumers add items from your eCommerce store to their carts this season, not your competitors'.
Improve your Instagram marketing with ManyChat. Start free today.
The contents of this blog were independently prepared and are for informational purposes only. The opinions expressed are those of the author and do not necessarily reflect the views of ManyChat or any other party. Individual results may vary.