How to Get Started with Instagram DM Automation (4 Automations You Need) 🤩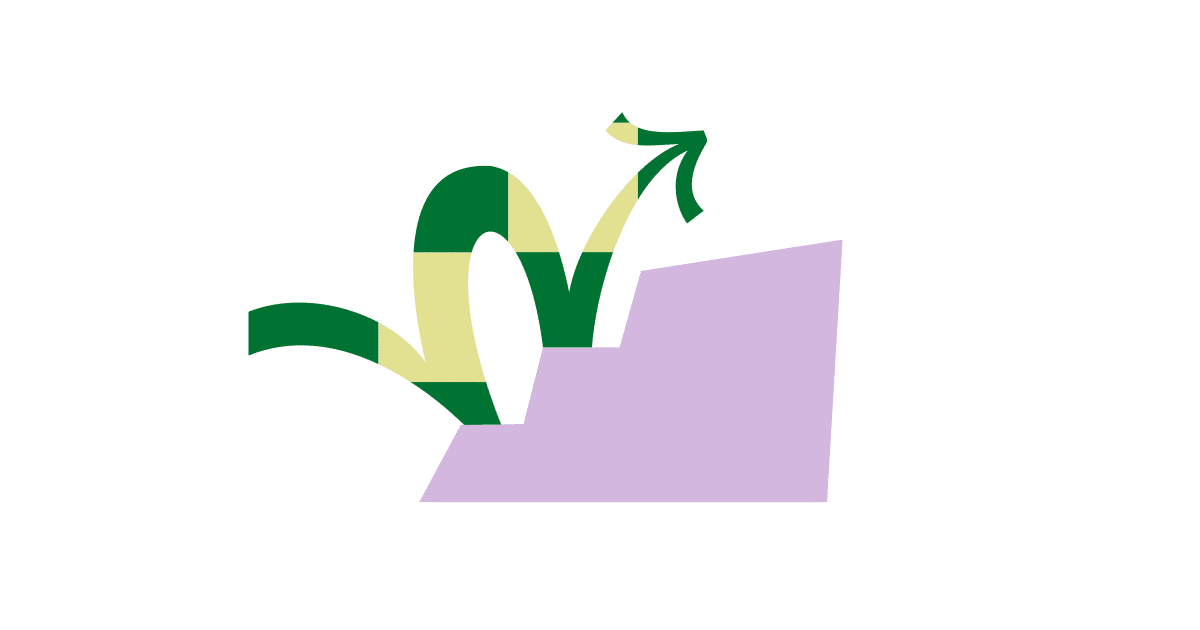 Is your Instagram inbox exploding with 1,000 messages asking the exact same question every day?
Are you struggling to reply to every comment, story mention and reaction, so your engagement rate is sinking each time you post?
Are you thinking of hiring a personal assistant to answer your messages, but you're afraid they just won't sound like you, and then you factor in their hourly rate…?
Then Instagram DM Automation is one low-cost tool you can use to help automate your FAQs, generate and qualify leads, and ignite your engagement.
Instagram DM Automation can be used every time you use Instagram, and works with every platform feature, including:
Story replies, reactions, and mentions
Feed posts
Reels
Instagram Live
Instagram Direct Ads
Instagram DM List (coming soon – currently in beta!)
Creators report that Manychat IG DM Automation drives up to 60% of Instagram sales. 🤑
So let's take a look at what IG DM Automation really is, and how to set it up with your Instagram account.
What is Manychat DM Automation?
Manychat is a leading Meta-approved platform that can build an entire sales funnel on Instagram, so you can generate sales, attract leads, and increase conversions, while automatically replying to every story, comment, and DM in a way that still sounds like you.

Why use Instagram DM Automation?
IG DM Automation is one option you can test out that will help you save time and answer your followers on time, every time.
You can use it to:
Answer your FAQs, even while you sleep: You don't need to manually respond to 1,000 of the same messages in your Instagram inbox. IG DM Automation responds for you, 24/7, and it costs less than a virtual assistant and never forgets to respond. Best of all, it can scale with you as your brand grows.
Build a contact list of qualified leads: You can build a contact list, generate and collect leads, and re-engage with prospects. Plus, you can also qualify leads in your DMs, segment them, and only speak with those who are actually interested in what you're selling.**
Automate your Instagram sales funnel: Shave down the time it takes to get a prospect on a consult or sales call, launch new collections, gather reviews, and add links to your online store.
Have more conversations that lead to sales: Launch special offers, and run giveaways, challenges and quizzes to increase revenue – all while you're asleep.
Build brand awareness: Cultivate your community, and add a personal touch to increase engagement, and drive higher conversions. Personalization is key here. IG Automation allows you to personalize every response so it really sounds like you.
Attract and convert more leads: If you're running ads, or even if you're sharing content organically, IG Automation can help you generate and qualify leads.
Content creator Kahlea Wade uses IG DM Automation to grow her email list:

"I created keywords to use as CTAs for my social content that promoted free resources and events I've recently hosted. By implementing those keywords in Manychat, I was about to grow my email list by over 2,500 subscribers in just a few weeks. I saw a massive increase in conversions and engagement within just a week of using the platform."
How to automate your Instagram account using Manychat
Manychat Instagram DM Automation gives you the tools to set up automated messages for your followers. Each time a follower comments on your post, Manychat delivers a personalized comment reply and DM to each follower on your behalf.
Building your first automation is easy and fun using our intuitive and visual Flow Builder. Plus, you can customize your messages so it matches your tone of voice.
Here's a step-by-step guide to automating your Instagram account with Manychat:
Create a Manychat account and connect it to your Instagram account. We have a video tutorial you can follow here.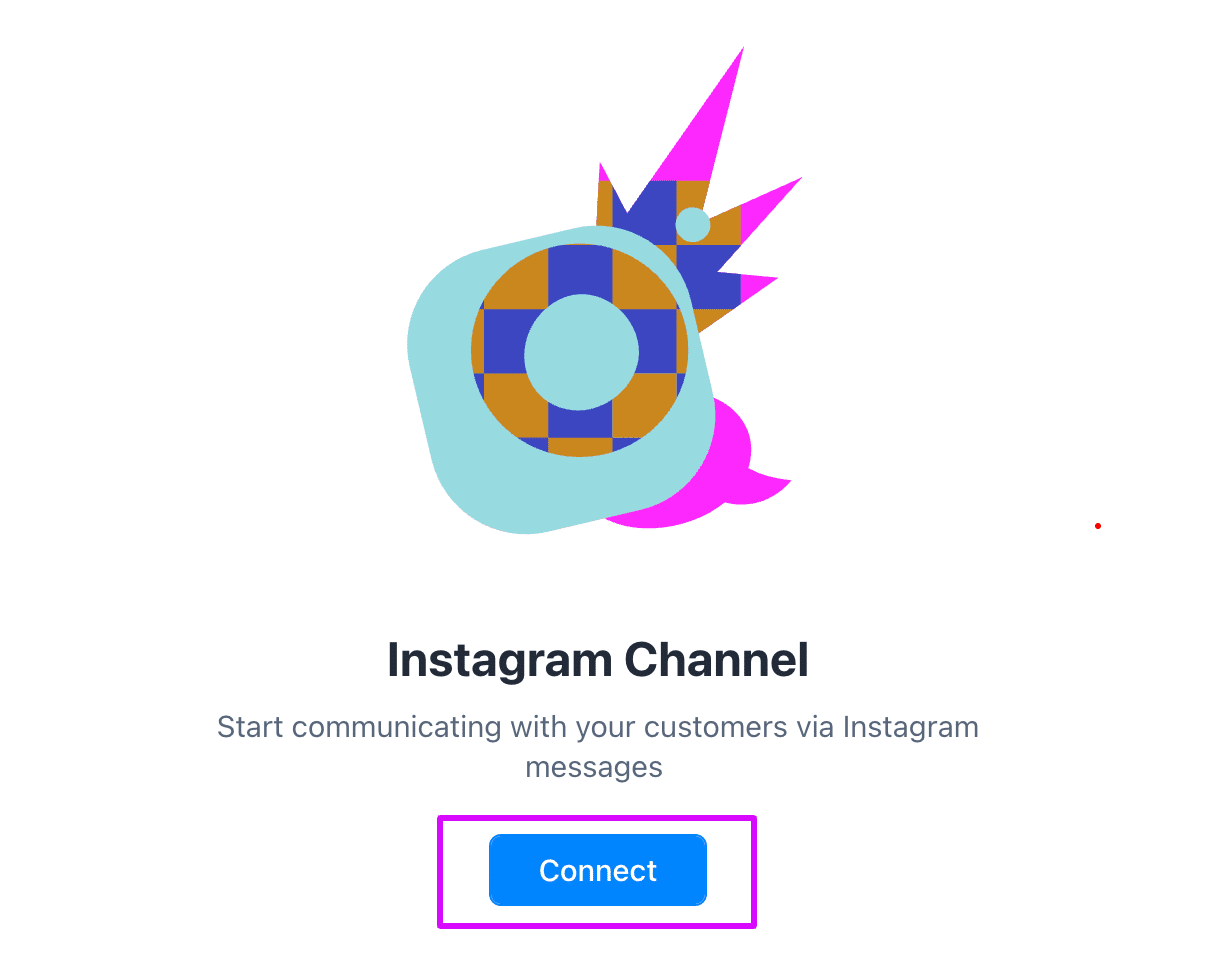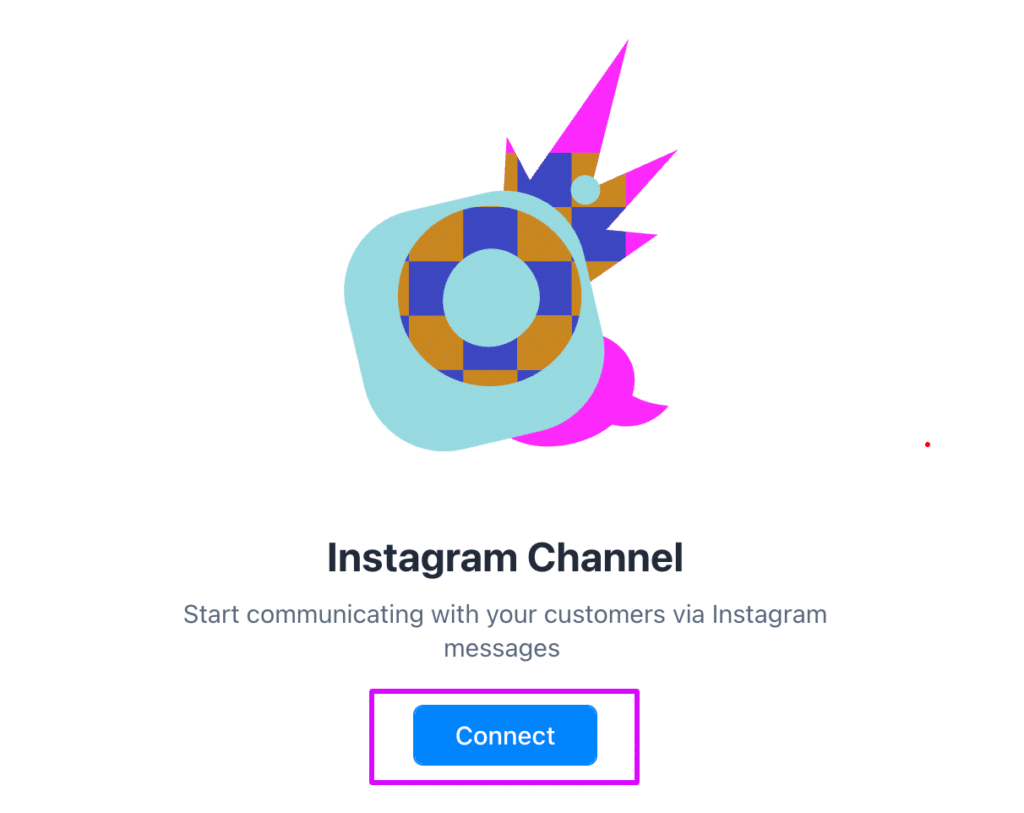 Next, create communication flows for your Instagram account by choosing one of our automation Flow Builders: visual or basic builders.
⚠️ In Manychat, messages in your automation are called "flows". We'll refer to them as flows for the remainder of this article.
◼ Use Keywords
To trigger your flow, you'll set a keyword. When someone types this keyword in your DMs, they'll be sent your automatic reply.
For example, say you're offering a free download. You could tell your followers to DM you the word "freebie" to receive the PDF. When your follower sends you the keyword in your DMs, your automation sends them a message with the PDF link.
For advanced flows, you can use specific conditions to qualify the keyword trigger.


◼ Set up your Story mention reply
Now, let's set up a Story mention reply. This will send each time someone mentions your Instagram account in their story.
For example, if someone mentions your @ username, like @Manychat.
⚠️ A Story mention reply can trigger a new flow, which you'll create, or you can select an existing flow in your Manychat account.


In this flow, you'll ask each follower's information, such as their name and email address. Manychat will store this information so you create a robust database.

◼ Re-engage your audience using Instagram DM Lists (BETA)
Broadcast with your Instagram account using Instagram DM Lists (currently in beta).
Instagram DM Lists are like email blasts for your Instagram inbox.
With your follower's permission, you can send newsletters, daily challenges, last-minute offers and more – it's so easy to schedule and send.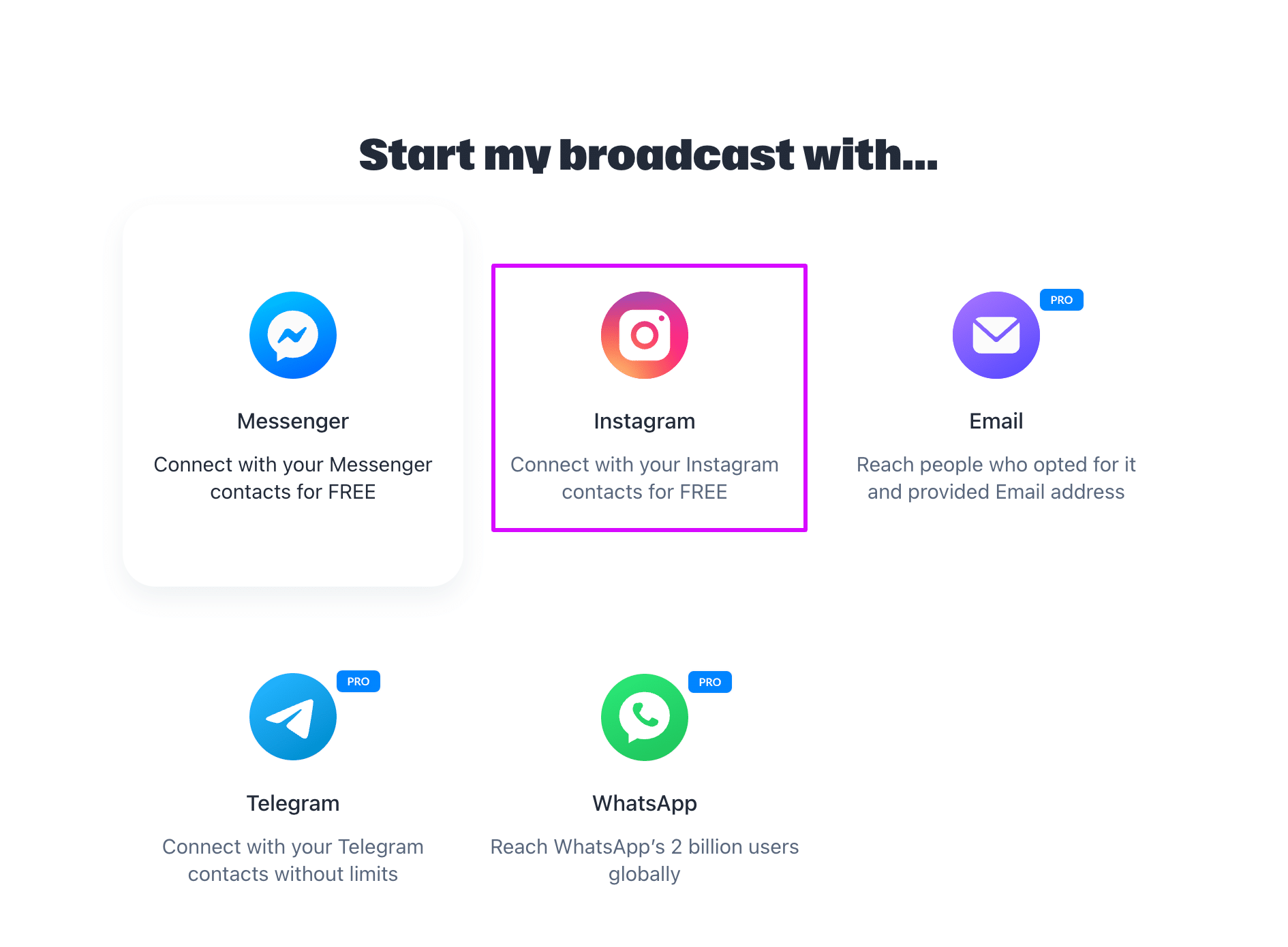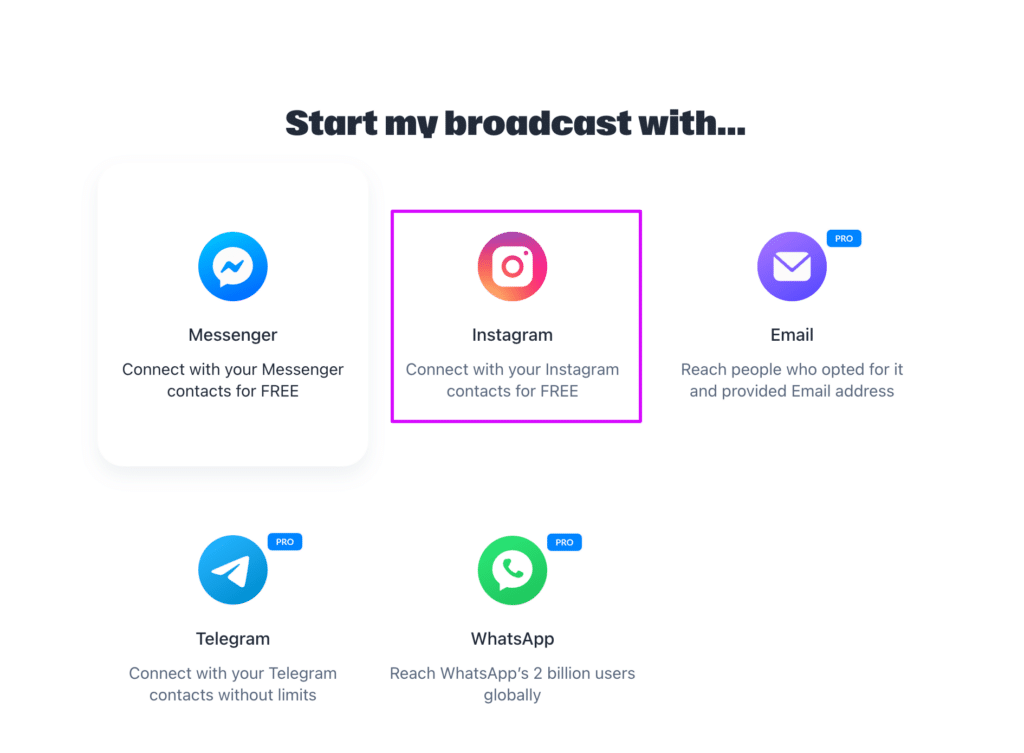 ◼ Turn your comments into conversions!
Manychat Instagram DM Automation allows you to automate responses to comments on posts and Reels.
Each follower gets a personalized, automated response in their DMs each time they comment on your post or Reel, so you build trust and create a bond with your community.


Final thoughts
So, you can see the untapped potential of your Instagram and how you can leverage Manychat Instagram DM Automation to drive more sales, qualify leads, and spark engagement. Start automating your Instagram account today using Manychat's intuitive Flow Builder, and transform how you launch, sell and do business on Instagram.
If you're ready to dive right in and learn the basics of Instagram Automation, check out our free Instagram Automation video course.
The contents of this blog were independently prepared and are for informational purposes only. The opinions expressed are those of the author and do not necessarily reflect the views of ManyChat or any other party. Individual results may vary.