How to Choose the Best Free Email Marketing Services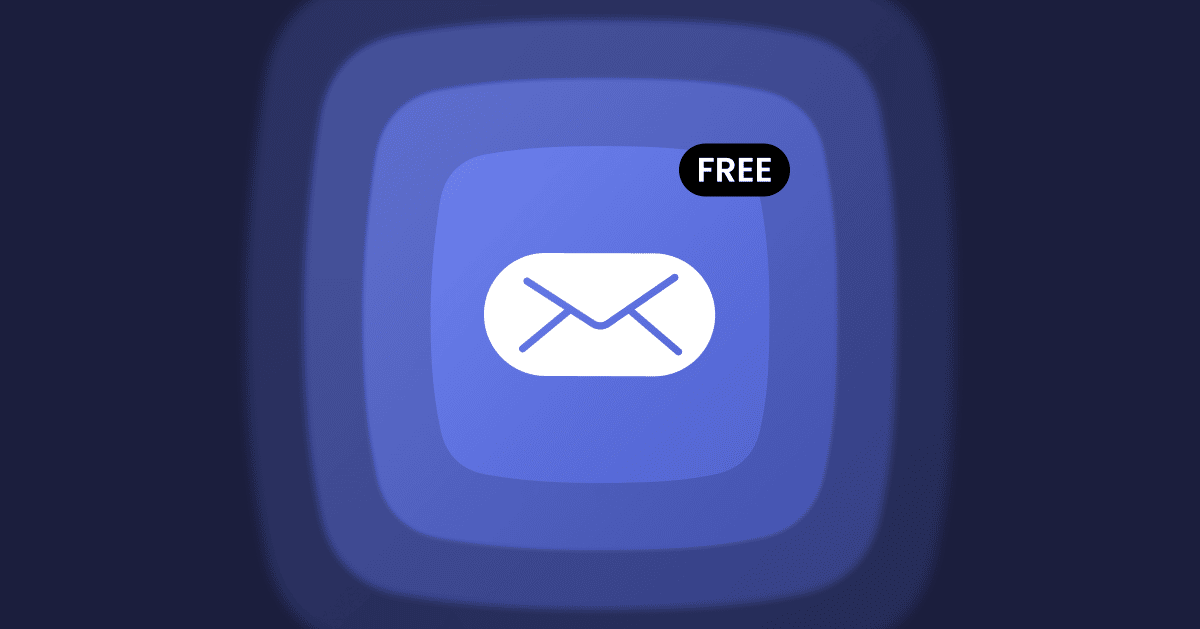 As digital marketing has rapidly evolved, one marketing trend has remained relatively constant: email marketing.
Email marketing remains, to this day, the most popular marketing strategy among B2B and B2C businesses, and choosing the right email marketing platform is critical for a growing business. Depending on budget, companies often use various marketing channels, like SMS, social media, and traditional media, simultaneously. Still, if you're looking for a high return on investment, you cannot leave out email marketing.
As a small business, you may not have a large enough budget to invest in a marketing campaign. But there's good news. Many email marketing tools offer free plans — some of which allow you to send unlimited emails to a certain number of contacts — in addition to paid subscriptions. This article highlights some of the best free email marketing services that can help you take your business to the next level.
When to use free email marketing services
It's not difficult to find free email marketing tools, but it's essential to know when to use one. Here are a few scenarios where using free email marketing software is the best option for your business.
You're just starting out
Using free email marketing software is a good option when your business is new. As a fledgling business, it's crucial to invest in quality resources that showcase your products and services without necessarily spending hundreds of dollars per month on email software.
First impressions are vital for start-ups, but a high-budget marketing campaign won't do you any good if you don't have an established customer base. Starting with free marketing solutions is a safe bet, and you'll still be able to access a lot of the same features paid marketing solutions have to offer.
Email is a new marketing channel
If you don't have experience in email marketing, it's not recommended to kick off your first campaign by buying a paid email marketing plan. Instead, start with a free plan that allows you to test different styles and templates and familiarize yourself with email campaign processes without having so much at stake. Choosing a free plan also makes it easier for you to switch from one email marketing software to another if the former doesn't suit your needs.
You're more reliant on SMS than other channels
SMS marketing is the new popular channel for marketing as it provides a higher click-through rate than emails. However, SMS marketing is not suitable for sending longer messages, for which email is still the best option. Some email marketing solutions, like ManyChat, also allow you to market through other communication channels simultaneously. Using such software enables you to reach more people on the channels they prefer to use.
The best free email marketing services available
There are dozens of free email marketing tools available today. To narrow it down for you, here are seven of the most popular email tools available.
ManyChat
ManyChat is one of the best email marketing solutions you can get your hands on. But more than just being an email marketing platform, ManyChat also allows you to connect with your customers through other channels like SMS and Messenger by Facebook. This omnichannel marketing approach can result in a much higher return on investment than focusing on a single marketing channel.
ManyChat's free plan lets you engage with up to 1,000 contacts, while the Pro plan (starting at $10 per month) allows for an unlimited number of contacts. Access to channels like email and SMS is available on a pay-as-you-go basis.
Features
Omnichannel marketing allows you to connect with customers through various touchpoints.
Native integration with Shopify makes it super simple to connect your Shopify store with ManyChat without using a third-party connector.
The Zapier integration makes integrating with other useful services available through Zapier hassle-free.
Segmenting audiences using tags makes targeting easier.
Access to basic and advanced growth tools makes it easier to grow audiences.
The ability to hide ManyChat branding can give your messages a more personalized and professional look.
Mailchimp
Mailchimp remains one of the most popular email marketing solutions, but users are considering other options with the recent price increases. Users have preferred to use Mailchimp for so long thanks to its simple and customizable interface, detailed analytics, and the number of features it allows in its free plan.
Mailchimp's free plan allows users to have up to 2,000 subscribers in a single audience. As your subscriber base and business grows, choose from the Essentials, Standard, or Premium plan based on your business needs. Prices for all these plans vary depending on the number of contacts you have. Use the price calculating widget on the Mailchimp site to get a quote for your business.
Features
Mailchimp provides its users with ready-to-use email campaign templates and offers an email designer to create customized emails.
It assesses user data to create personalized product recommendations for your customers.
Mailchimp's advanced segmentation feature allows business owners to create a more personalized experience for the customers.
Comparative data reports help businesses analyze different campaign performance to optimize their strategy better.
The campaign sharing feature on social media increases a business's reach and connect with customers through more touchpoints, thus increasing customer engagement.
MailerLite
MailerLite allows you to create, automate, personalize, optimize, and manage email marketing your way. Create great email campaigns through features like drag and drop editor, custom HTML editor, and rich text editor. Use the embedded forms and subscriber management features of MailerLite to attract new audiences and retain existing subscribers.
The RSS campaigns and the A/B split testing allow you to perfect your marketing strategy and optimize campaigns for better results. MailerLite's free plan lets you send 12,000 emails per month to up to 1,000 subscribers. The premium plans, however, come at different rates and allow you to send unlimited emails.
Features
The drag and drop editor makes designing email campaigns extremely simple.
Build landing pages to create a more targeted audience experience.
The embedded form feature makes customer engagement easier by turning your site visitors into email subscribers.
Create different automation workflows and make the email marketing process super-efficient.
The promotion pop-ups and push notifications feature can turn leads into customers.
Moosend
Moosend is an all-in-one email marketing platform suitable for both beginners and pros. The drag-and-drop email editor helps users build customized email campaigns without having to code, while the marketing automation tools help increase customer engagement by setting up smart workflows tied to website activity or actions taken in response to emails.
Moosend allows you to create unlimited email campaigns with its free plan but is limited to 1,000 subscribers. If your subscriber list has increased, upgrade to the Pro plan or the Enterprise plan, for which the rates are still very reasonable.
Features
Moosend makes email automation easy by allowing users to set up workflows using triggers, conditions, and actions.
Create copies of your automation workflows to replicate them in other email campaigns.
Accessible reporting lets you see the stats of any workflow step with a single click.
Set up product recommendation campaigns by suggesting other products to customers based on similarly viewed items.
Recover lost sales and retain your customers through cart abandonment email automation.
The subscription form WordPress plug-in allows Moosend users to add a subscription form to any WordPress site.
Sendinblue
Sendinblue lets you connect with potential or current customers through email and integrates with SMS marketing and live chat services. Unlike Mailchimp, Sendinblue lets you have an unlimited number of contacts in its free plan. You can also send transactional emails without incurring extra charges.
Additionally, Sendinblue makes marketing automation easy through multiple automation workflows and is one of the best email marketing services for small business owners who want to get more for less.
Features
Create Facebook Ads using your contact list and bring your customers back to your website.
Bring shoppers back to your site through the retargeting feature that shows ads to your customers when visiting other websites.
Build dedicated pages for each marketing campaign to create a more targeted experience for your customers.
Make custom sign-up forms and display them as pop-ups on your website to encourage people to sign up for your email list.
The email segmentation feature helps you send the right emails to the right audiences by customizing emails for each segment.
Mailgun
Mailjet, Mailgun's email marketing software, is an advanced drag and drop email builder. In addition to Mailjet, Mailgun also offers API-based email solutions and has partnered with leading brands such as Shopify, Lyft, and the NHL.
Features like optimal sending times, A/B testing, analytics, and technical assistance helps Mailgun users get a large return on investment, making it one of the best email marketing software.
Features
Mailgun provides deliverability services like an assigned Technical Account Manager who monitors your account's performance and offers optimization recommendations.
With Mailgun, you get IP and domain reputation tracking services.
Analytics helps improve email performance.
The time optimization feature allows you to target the right audience at the right time.
A/B testing lets you use different email templates to determine what works best for your brand and clients.
ConvertKit
ConvertKit is an email marketing tool and offers some robust features in its free account. The platform is especially great for beginners who have no idea how to make money through email marketing and not only arms you with traditional marketing features but also helps you automate your sales funnel.
With ConvertKit, you can create landing pages and add the "buy now" button to your page without any integrations. ConvertKit also emphasizes maintaining an ongoing relationship with your audience and has made the task easy by providing platform users simplified yet inviting email templates.
Features
Create free landing pages to share your products and ideas with your audience.
With ConvertKit's commercial tools, sell and deliver digital products with a single click.
The email designer lets you create beautiful and straightforward email formats in no time.
Along with creating free sign-up forms, ConvertKit also offers a great email marketing feature that lets you add freebies to your website as a reward for email sign-ups.
ConvertKit Pro offers advanced features like email editing after the email has been sent. If you sent the wrong link in the email, you can easily change it without sending a correction email.
Conclusion
There are several free and paid email marketing solutions available in the market. If you are new to email marketing or if your business is in its infancy, our advice is to start with a free plan and switch to a paid plan only after getting a grasp on email marketing.
When choosing a marketing solution, the best strategy is to see how well it serves your business goals.
To get started with a free trial of ManyChat's powerful email marketing platform, click the button below to create an account.
The contents of this blog were independently prepared and are for informational purposes only. The opinions expressed are those of the author and do not necessarily reflect the views of ManyChat or any other party. Individual results may vary.