The name of the creative game is media buying, and the rules are changing.
Over the last year, as ad costs rise, it's become apparent that ad optimization will no longer win out, and creative strategy is the secret to consistent results.
(Luckily for us marketers, ManyChat has become one of our staple execution tools when it comes to such strategy.)
My agency specializes in advertising for ecommerce brands, and we're well aware that to stand out amongst the crowd, you need to be able to think on your toes and really give people a reason to listen to what you're saying. That's what we do best, and I'm excited to share with you one case study that we knocked out of the park below!
What you'll be reading here is just the Messenger Marketing piece of a massively successful and creative campaign I recently ran for a fitness lifestyle brand grown primarily via influencers and completely based on Instagram.
In one day, we generated 254 orders and $23,987.64 in revenue based on the Facebook Messenger pieces of the puzzle — and made a lot of noise, too! (The actual campaign did $76,162 in sales in a single day. Needless to say, it made one happy client.)
How'd we do it?
Let's jump into the four steps we deployed here, after tackling one big problem…
A Brand Born & Raised on Instagram
The client was a fitness apparel company – a fitness lifestyle brand that has grown primarily via influencers on Instagram.
(Influencers are massively undervalued by the way. If you're selling physical products think about this strategy before they catch on.)
Good news: we already had an established brand and loyal following.
Bad news: the entire brand was built on Instagram. This was a serious issue for a number of reasons:
All the client's eggs were in one basket – what happens if they (for whatever reason) lose their account?
No direct contact with the customers. They only see what you post. And only when they're on Instagram.
With Facebook's algorithm change now barely showing business page's posts, it's only a matter of time before Instagram follows. That made me scared for the client. If IG's algorithm kills their reach, then that's the end of the business.
I knew we had to take them to Facebook… and fast.
We needed to build an audience and, sure, we could do this the normal way – cross promotion, ads, etc., but I didn't want to lose money on ads for my client. I wanted to make him a bunch of money in the process. (It's what we do.)
Here's how we got creative:
Step 1: Create ManyChat Growth Tool Link (RefURL).
This link, when clicked by the customer, opens up a messenger conversation and adds them to our list.
We needed a way to drive traffic to the link, so we decided to run a giveaway.
We gave away a full tracksuit and hoodie combo. To enter, all the customer had to do was click the link. Easy.
Here's what happens when clicking the link: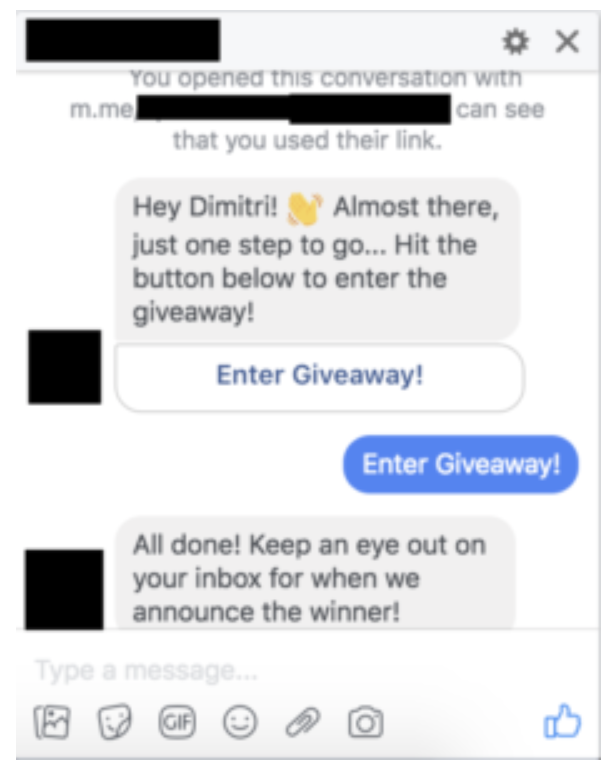 That's got to be the simplest giveaway entry you've seen, right?
People were sending us hundreds of messages responding to that after entering, saying how awesome the whole messenger giveaway opt-in was.
Step 2: Traffic and Sign-ups
Next was traffic.
We needed to figure out how to get thousands of people on the list. For us it was a no brainer – share it across other social platforms.
What worked extremely well was adding it to the clients Instagram story, and telling people to "swipe up to enter" (a feature brands can use once they pass 10k subscribers).
They swiped up. Messenger opened. Done.
It was the sleekest giveaway campaign I've ever run, and we were building a badass list in the process.
I know what you're thinking – "I don't have 100,000 followers on Instagram to send to the link."
That's okay! Just run an ad. Plenty of giveaways go viral simply from putting a little cash behind them.
And if you don't want to run ads, use influencers. The possibilities are endless if you open your mind and get creative!
So we were pretty much done, this generated about 6,000 opt-ins, and we had now moved a decent chunk of our audience over to Facebook Messenger.
But I wasn't done. We hadn't made any money yet, which leads me to…
Step 3: Monetize
I had built a list of people who were definitely interested in the product (since they wanted to win it), and were eager to find out whether or not they won.
This meant they were just waiting for that follow-up message.
What we did next was genius, and since then, I've run this campaign over and over again with many different clients, getting them huge wins.
We announced the winner.
But…
Everyone won.
Wait, what?
Yeah… So of course there was a winner of the joggers and hoodie, but we also hit everyone else on the list with a runner up prize.
It's important to note, before going on, that the reason why this worked so well was because people felt they had genuinely won a prize – a prize that if they did not claim, was going to waste.
I'm going to show you the message first, then we'll break it down.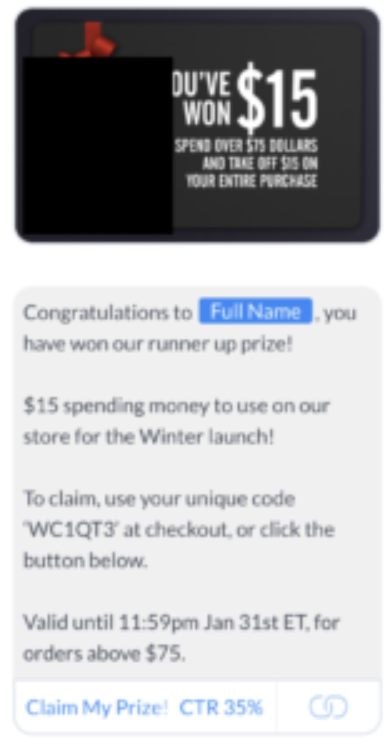 The goal with the message was to make it as personalized as possible.
As I mentioned, people needed to feel as though they had genuinely won something (despite sending this message to the entire list).
Firstly, we used the 'full name' tag and gave them $15 off orders over $75. Pretty much just a small discount. However, it's important that you specify a dollar amount, and present it as a 'store credit', not a discount.
That way the customer feels as though the prize is going to waste if they don't claim it. Like it's a genuine, tangible win.
Your customers deserve to feel special and you owe them that!
This is also why we had the photo of the voucher, too, and used the full name tag – so each and every person on the list felt as though they had been announced as the winner to everyone.
Note that we told them that the code was unique, again, personalizing the process.
Finally, we added urgency by setting a deadline to claim the code.
Of course, we sent a follow up broadcast just before the deadline to remind the customers.
Step 4: The Results
You already know the results were successful, but why matters.
I attribute this to how personalized the message was, and how much it actually resembled a prize, rather than a discount.
Before I go into the immediate results, I want to make this very clear…
The real win here was building a list of over 5,000 subscribers, on a platform new to the brand. Since then, we've used this list to broadcast many different offers, generating a heap more sales than we did with the giveaway. (We've driven multiple six-figures in sales from ManyChat since.) Building out the marketing asset is where the real value was.
On the day the runner up prize was announced, the discount code tracked 254 orders and $23,987 in sales.
Not bad.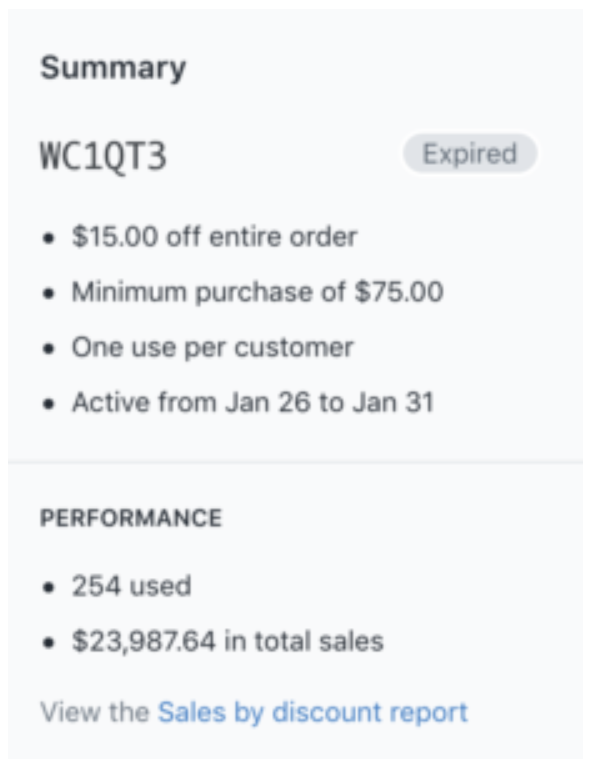 Conclusion: if you're selling physical products, you need to run a campaign like this yesterday!
Another conclusion: get creative with your Messenger Marketing strategy! If you don't adapt to the audience, and keep trying to press the buttons you've always pressed, you'll be left behind. Think out of the box and show everyone why your brand deserves to stand out.
Know how you're going to get creative in your next campaign? Post about it in the comments below, let's chat!
Or sign up for a free ManyChat account and build your bot today!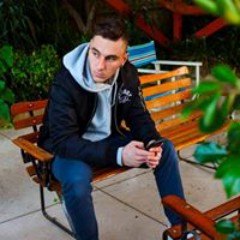 Dimitri Nikolakakis has been a digital marketer since he was 16, running multiple dropshipping stores, all fueled by media buying. His agency specializes in ecommerce brands, amongst other businesses, based both in Melbourne and internationally. Want to see how Dimitri's agency can  grow your brand in an out-of-the-box way? Fill out the form here to start a conversation!