10 Facebook Cover Photo Best Practices to Help You Stand Out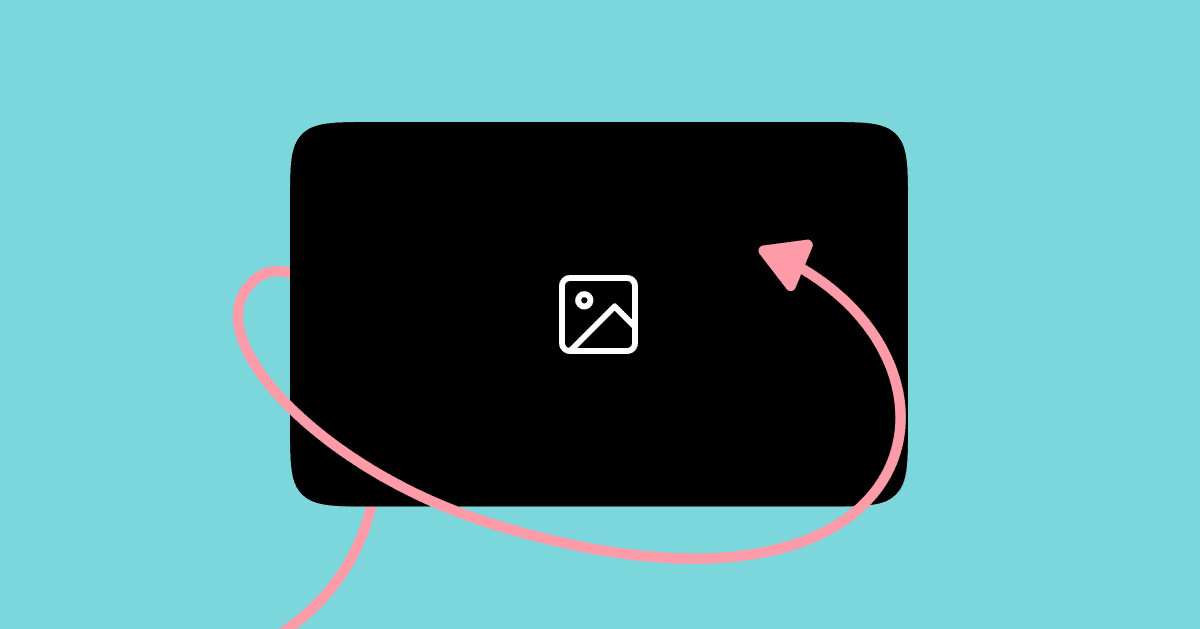 Want to capture the attention of people visiting your Facebook Page?
With around 2.8 billion monthly active users, who spend an average of 37 minutes on the social media platform every day, Facebook has a massive audience you could potentially introduce your brand to. But if you don't have a cover photo that makes a great first impression, potential customers will leave your Page and head back to their News Feed.
In this guide, we'll share:
What a cover photo is.
Why your cover photo is important.
How to best use a cover photo.
10 best practices for Facebook cover images.
What is a Facebook cover photo?
Your Facebook cover photo is at the very top of your Page and takes up some serious cyber real estate. Also known as a Facebook banner, cover photos appear on both desktop and mobile versions and are the first thing people see when they land on your Facebook Business Page. 
Unlike your profile picture, however, your banner takes up nearly the whole screen.
Why is my Facebook cover photo important?
Facebook currently has over 90 million small business Pages. Competition is tough and more businesses continue to join the platform each week, but many brands don't understand how to use their Pages to the fullest extent or engage audiences properly. 
Since your cover photo is one of the first things a visitor sees when they visit your Page, consequently it's where users form their first impression of your business. So you need to make it a good one, especially since people form their first impression of a brand within the first six seconds. 
A well-chosen Facebook cover photo will grab your audience's attention, and you can use it to meet other social media marketing goals, including:
Increase Page followers.
Boost engagement.
Direct traffic to your website.
5 great Facebook cover photo examples
There are endless ways to use the cover image space on your business's Facebook Page.
Let's take a look at five examples that make a great first impression:
1. Showcase a new product or service
Put your new product launch front and center by featuring it on your Facebook cover photo. Use a high-quality picture or styled image with some supporting text to introduce your product or service.
Buffer uses its Facebook cover photo to showcase products in use, and gives first-time visitors a solid understanding of what the business is all about.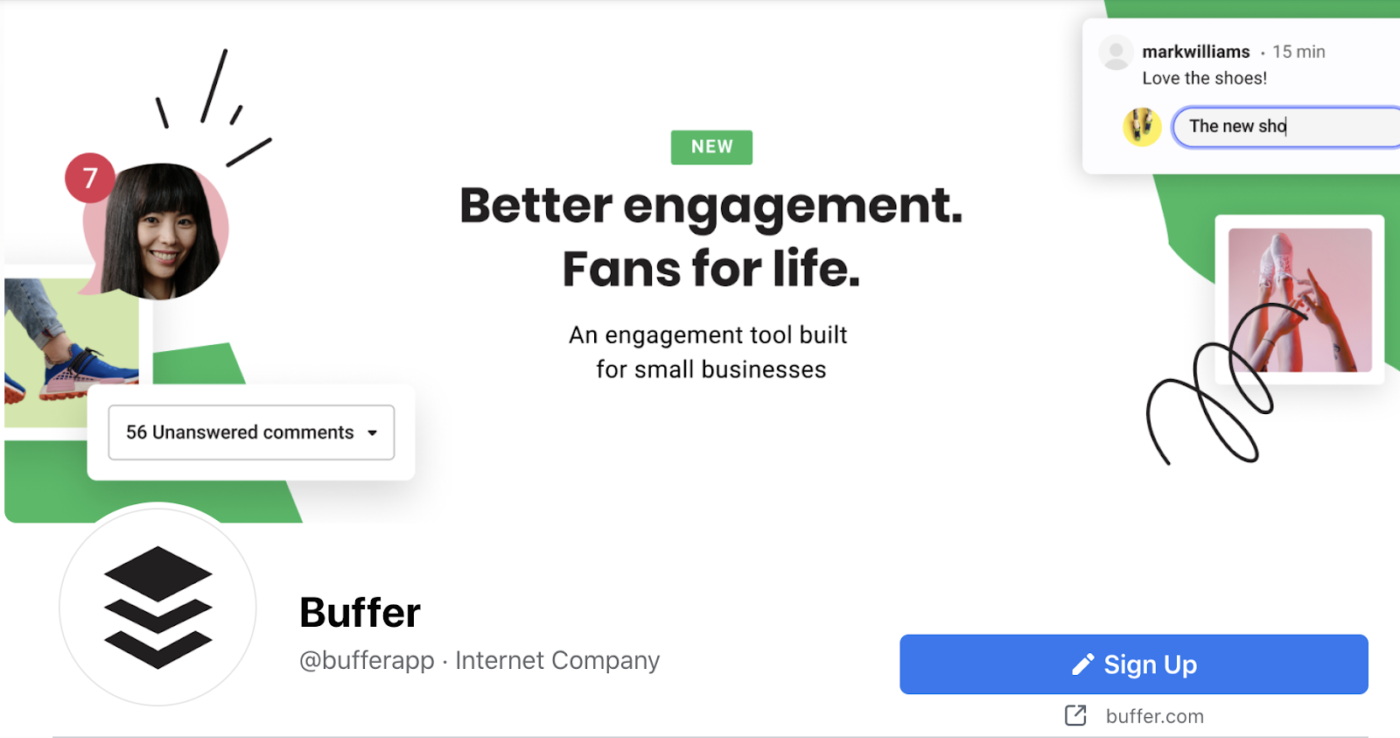 2. Highlight an offer
Are you running a promotion or seasonal offer? Let your Facebook followers know about it by transforming your cover photo into an on-page ad.
Highlight the discount or offer terms, and direct people to your website to take advantage of it.
Missguided, for example, uses its Facebook Page cover photo to promote its latest fashion collection.
3. Promote an event
Make your Facebook cover photo part of your promotional plans for an upcoming event.
Use an offer to entice your audience. Then, add the key details of your event (like the name, date, time, and location) with a call to action (CTA).
Project management software company Atlassian uses its banner to effectively promote an upcoming event. The image is clear and focused while communicating key details. To take it one step further, the brand could also provide more details in the caption section.
4. Introduce your team
Use your cover photo space to introduce your team with a team photo or a handful of individual photos. This is an excellent idea for service providers or brands that are heavily customer-focused.
Cloud software platform ServiceNow, for example, makes the business seem approachable and authentic by putting its team front and center on its Facebook Page.
5. Share your most impressive space
Do you work in or can offer your clients a fantastic room or space? Use your Facebook cover photo to share a snap of your workspace, hotel lobby, outdoor seating area, or VIP lounge.
(It's especially great if you're on a recruitment sprint. Make people think, I want to work there!)
Co-working space WeWork uses its banner to show off its inviting interiors.
101 Facebook cover photo best practices
Are you ready to create a cover photo for your Facebook Page?
To make a good impression and convince people to like your Page, stick to these 10 cover photo best practices:
Use the right size image.
Make sure it looks great on mobile.
Stick to the rules.
Make sure it's readable.
Keep it simple.
Match your company branding.
Avoid directional hints.
Add a caption and link.
Keep it personalized.
Create a cover video.
1. Use the right size image
Choosing the right Facebook cover photo size and dimensions will help ensure that your audience can see your image clearly.
As per Facebook's guidelines, your cover photo displays at 820 x 312px on desktop and 640 x 360px on mobile devices. 
Your image must be at least 400 pixels wide and 150 pixels tall. Facebook's recommended sizing is 851 x 315px, with a suggested file size no bigger than 100kb. The company also recommends using an sRGB, JPG, or PNG file format.
If you can, try to match this size exactly. You don't need to be a graphic design expert; tools like Canva have premade cover photo templates already at the correct size.
If not, you can crop or reposition the image while you're uploading it.
2. Make sure it looks just as great on mobile devices
Research shows that 98% of people access the social network through mobile devices, but 17% still access it on both desktop and mobile devices. 
A lot of brands end up with Facebook cover photos that crop out key elements on a desktop because they've only focused on mobile (or vice versa.)
Facebook is viewed in landscape orientation on desktop, but in portrait mode on mobile devices. You only get one Facebook cover photo though, so it's important to choose an image that will look great on both devices.
Try making your image taller by choosing the dimensions 820 x 462. This gives you a little more space to play with so that your image doesn't end up distorted on either device.
(It's worth having your colleagues check it on their devices too, just in case.)
So, what will your Facebook cover image look like in reality?
Take a look at this Facebook cover photo template to see which areas of the image would be visible on mobile and desktop devices. If your cover image is outside these dimensions, Facebook may stretch or smooth it, making it appear blurry or cropped.
While the whole image is visible on mobile devices, the (orange) section is cropped out on a desktop. It's best to focus your attention on the (green) section of the template since this is viewable from all devices.
Social media consultant Kate Bakken also recommends to "Make sure that you check how your cover image will look with your profile picture in front of it. Make sure that the meaning of your images won't be altered by your profile picture placement and that the text remains unobscured."
3. Stick to the rules
Facebook has a set of rules that you'll need to follow when using it as part of your business's social media strategy. While they may be boring, it's worth reading through them to avoid any unnecessary errors that might result in Facebook deleting your Page. 
These rules include:
Using a unique image representing your Page .
Making sure the image isn't misleading or deceptive.
Ensuring it doesn't infringe on someone else's copyright.
It also doesn't hurt to refresh yourself with Facebook's Page terms as you make changes to your Page. Again, boring, but it ensures your hard work doesn't go to waste. 
4. Make it readable
If you add text on your Facebook cover photo, make sure it's readable. Test out your design on both desktop and mobile devices to check your message isn't getting lost.
Research shows that font sizes between 18 and 26 offer the greatest readability. It's worth factoring this into your design while also testing that text doesn't get cut off when browsing on different devices.
Look at this example from the Databox. The text is bold, simple, and easy to read at just a glance, and the brand is careful to only include four words that clearly define their mission. 
5. Keep it simple
When designing your cover image, decide on one element as the focus point.
Treat it similar to a call to action. If you're pulling visitors' eyes all over the screen with too many things to look at, it'll take them longer to understand what it is your business does, and why they should follow your Page.
Strip away extra, unnecessary text and visual elements until you have something that feels focused and intentional. And choose a single image that has a clear focal point and draws your audience in.
Take a look at Shopify's ultra-simple and focused cover image for inspiration. The company keeps the spotlight on their brand's mission with a clutter-free background. 
6. Create a coherent look
Did you know that consistent branding can increase revenue by a third? This applies to Facebook, too.
Match your cover photo to your brand's look and feel, and make sure it fits with your brand style guide. This means using the same color palette, design style, font, and other elements (like hashtags) people associate with your brand.
Consistency in design and style not only makes your Page look better but also reassures people they've landed on the correct Page and not an unofficial or copycat account.
As Daniel Foley, SEO team manager at HomeTree explains:
"Being a business owner, one tip that I'd give out for creating a Facebook cover image is to use your branding wisely. Your Facebook cover images should match your company's overall branding. Use the same imagery, colors, and symbols in all of your other communications. 

All of the items should have the same look and feel, so that when your cover photo appears, whether as a result of a change in user feeds or a visit to your Facebook page, there's no question that it belongs there."
Take a look at the subscription management platform Recurly's homepage, for example. The company has a clear set of colors and branding that runs throughout its site. 
When you head to the brand's Facebook Page, the color scheme reflects the website branding and instantly shows users they're in the right place: 
7. Avoid directional hints
It's tempting to add a huge arrow directing people to click your Page's button. Granted, it might look great on a desktop, but it won't on mobile, and can cause confusion and look less polished. Remember: Facebook changes the cropping of your cover photo when browsing on mobile.
Instead, think about how Facebook's CTA button can guide your image choice and positioning. 
To create a well-balanced cover image, consider making the focal point on the right side of your image. This way, it strategically draws your viewer's eyes down the page to Facebook's CTA button.
This example from monday.com does just that. The image is well-balanced with a couple of lines of text, and a clear focus on the two people on the right, where your eye is automatically drawn right above the CTA.
8. Add a caption and link to your cover photo
People can click on your cover photo, and it'll open up like a regularly uploaded photo would. Not adding a caption here is wasted space and a missed opportunity to market your business more effectively.
Experiment with adding a call to action in your caption with a link to a specific landing page on your website.
If you run an eCommerce store, for instance, this is the perfect opportunity to link to any promotions or sales you might be showcasing in your cover image.
Alternatively, if you're promoting an event in your cover image, place a link to a booking form or event Page in the caption — just remember to update the caption once the event ends.
9. Keep it personalized and avoid stock photos
Facebook cover photos are generally not the right place for stock images. Using free stock images make your brand seem bland and generic.
Plus, pulling images off the internet you don't have the rights to can cause some issues, as John Ross of Test Prep Insight found out.
"When I was with a previous company, we used a photo for our Facebook cover image we found online that we fell in love with, but didn't necessarily have the rights to use," he recalled. "We actually ended up getting a cease and desist letter from the copyright owner of the image and had to quickly remove the cover image, worrying all along that we might get sued."
Rather than risk any potential legal troubles, hire a photographer or set up a DIY photoshoot that features something unique to your brand. This might be a styled product shoot, a team photo, or a scenic shot of the inside of your headquarters.
FreshBooks, for example, created a unique and personalized cover photo that's simple, on-brand, and appeals to its target audience. 
Can't cash out on a photoshoot? Try a design that features user-generated content from your fans (with permission) instead. User-generated content can be a great way to drive brand engagement among your customers, and people often love to see their content shared by businesses.
In the advertising world, advertisements featuring user-generated content got 73% more positive comments on social media channels than traditional ads.
Mailchimp's user-generated content banner does exactly this with its  collage of six customer photos. 
10. Swap out your cover photo for a cover video
Want to make an impact? Try a Facebook cover video instead of a photo.
Some 53% of people want to see more videos from brands, and your Facebook banner is the perfect space to implement more video content. 
Videos are often more engaging and attention-grabbing than images, and creating a compelling video is a great way to promote your brand or products.
Check out Facebook's guidelines for cover videos to create the perfect video. The social media giant recommends uploading a video that's 820 x 462px that's 20-90 seconds long. 
Remember, your Facebook cover video needs to look great on both desktop and mobile devices, and cover videos don't autoplay on mobile devices. They load as still thumbnails.
The audio in Facebook cover videos doesn't automatically load either, and viewers have to click on the video for any sound to play. For that reason, make sure your videos are engaging with or without sound.
Take a look at Vimeo's simple cover video. It's eye-catching and doesn't depend on audio.
Subscription management software Chargebee also uses a cover video — a loop of their top customer reviews and ratings — to build social proof.
If you like the idea of adding movement to your Facebook Page but don't want to spend time or money creating a video, add a GIF. Design tools like GIF Maker by Giphy and GIFs.com make this process easy.  
An eye-catching GIF is a great way to draw attention to your Facebook profile and bring your brand's personality to the cover.
Create the perfect Facebook cover image
Facebook cover photos are a great opportunity to make a solid first impression with people browsing your Page.
Try out some of these best practices when creating your perfect cover photo and see how you can improve engagement on your Page. Remember to have the right size image, make sure it's readable on all devices, and use the photo caption to your advantage.
The contents of this blog were independently prepared and are for informational purposes only. The opinions expressed are those of the author and do not necessarily reflect the views of ManyChat or any other party. Individual results may vary.