Guide to December 16th EU Privacy Changes to Messenger API and ManyChat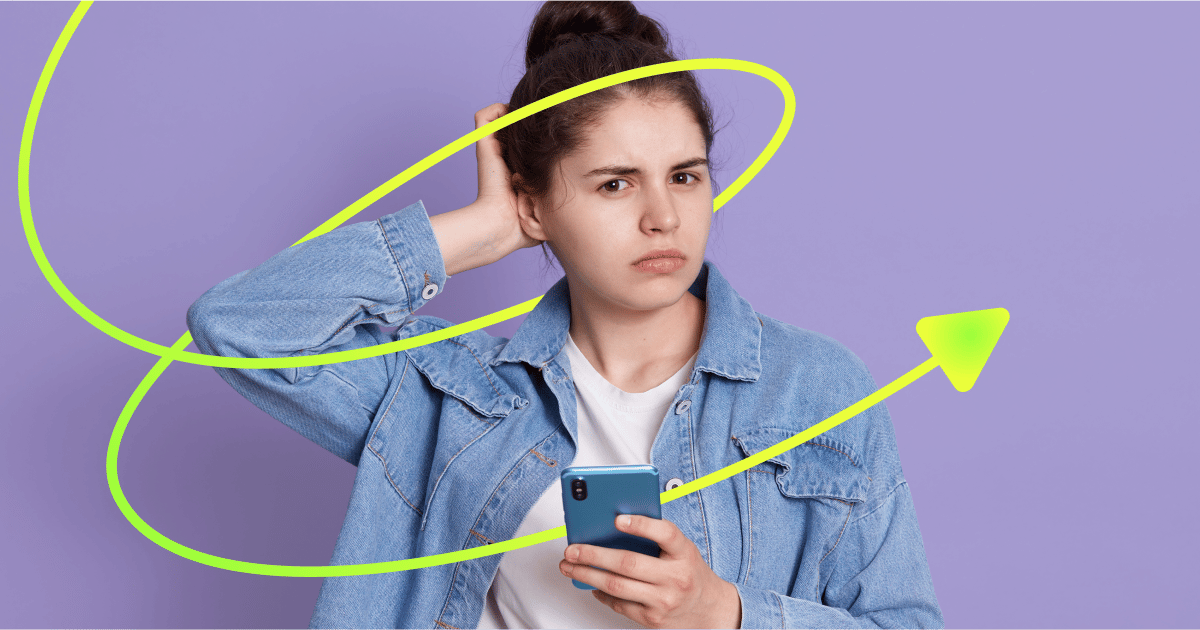 Starting on December 16th, 2020, Facebook will place restrictions on its usage of the Messenger API, due to its continued effort to comply with privacy guidelines from the European Union. The changes to the Messenger API ultimately means changes to your ability to use ManyChat
This post will describe who's affected, why this change is happening, what the limitations are, and what our immediate suggestions are for you.
Because there is a range of new changes, we broke up the changes into three sections:
ManyChat features with full limitations
features with some limitations
ManyChat features that will continue to operate normally
Please read the guide carefully, as determining your account's exact limitations and whether you're affected lies in the details.
Finally, these limitations and restrictions are evolving every day, so please continue to revisit this article as we announce additional changes and suggestions on workarounds. We will continue to communicate the latest developments with you as soon as we get the information.
Why are these changes happening?
Messenger functionality restrictions are happening because Facebook is complying with privacy guidelines dictated by the European Economic Area (EEA), which is made up of all 27 member states of the European Union, plus four other countries.
These changes come in addition to the Facebook Ad's restrictions that were announced on November 16th. You can read about it in this guide.
Facebook will be making changes to its Messenger API, which ManyChat uses to send and receive messages between businesses and subscribers.
Because there will be technical regulations placed on ManyChat's usage of the Messenger API, ManyChat has no choice but to comply with these constraints, which ultimately means limitations in your ability to use ManyChat in the way that you do today.
You can read the technical limitations in Facebook's documentation, but since the changes are indeed technical, use this guide to understand what they mean to you and your ManyChat account.
We at ManyChat sincerely empathize with any frustration you might have with these limitations. Because we rely on the usage of the Messenger API to create amazing chat experiences for you and your customers, we also have to comply with any limitations to the API.
Regarding any timeline on removing these restrictions, Facebook has communicated to not expect any changes before January 2021.
Again, we at ManyChat will communicate any additional changes to you as soon as we have that info.
Who's affected?
The December 16th changes will impact the entirety of the European Economic Area (EEA), which are the 27 European Union countries and Norway, Iceland, Liechtenstein, and the United Kingdom.
Note! Even if your Facebook page isn't located in the EEA, you might still be affected, so please continue to read.
Three groups of ManyChat users are affected by these changes.
Facebook Pages located in the EEA
Facebook Pages with admins located in the EEA
Any subscribers located in the EEA
Let's dive deeper into each group.
EEA Facebook Pages
This means that if your Facebook page is located within the EEA, your page will be impacted by the changes.
Your ManyChat account is connected to your Facebook page, so this change will affect your ManyChat account if your Facebook page is located in the affected countries.
Your page location is determined by multiple factors, and is not solely determined by the location you've set within your page's Business Manager profile. We do not recommend that you change your page's location listed in the Facebook Business Manager, in an attempt to avoid these changes.
Pages with admins in Europe
Your Facebook page, not your ManyChat account, has certain admins on it. If one of these admins is located within the EEA, your entire page will be affected.
For example, let's say you're located within the United States, 100% of your subscribers are located in the USA, but you have one single Facebook page admin located in Germany, then your entire page will be affected.
We have a list of suggestions at the end of this post. For this specific instance— if you have a Facebook page and subscribers that are outside of Europe, but you have an admin that is located in the EEA— it's recommended that you remove them before December 16th to keep your page fully functional.
A Facebook page admin is generally determined to be located in the EEA based on the admin's Facebook profile location. That said, we do not recommend that any Europe-based admins simply change the location on their profile to outside of Europe, as a way to avoid the changes, as we currently cannot guarantee that this will work.
We would also advise against changing an admin's role in a page to something different like Editor or Moderator. The documentation doesn't specify whether different types of Page Roles have different kinds of impact, so until we at ManyChat will test further, we would advise removing any kind of Facebook users with any kind of Page Roles that are located in the impacted countries.
Subscribers based in Europe
If your subscribers are in the EEA, your ManyChat account will continue to function normally, but the changes will impact your conversations with the European subscribers.
For example, suppose 50% of your subscribers are USA-based, and the other half are in Germany. Then ManyChat will function normally for the US subscribers but will be subject to the limitations for the German subscribers.
Note about Ad vs Page Accounts
You as a business can have administrators on your Facebook Business Page and on your Facebook Ad Account. If you have admins located within the EEA on either the Ad account or the Business Page, it will subject the page to both the November 16th ad restrictions and the December 16th Messenger limitations. Our recommendation is to remove, if possible, any EEA admins on both accounts.
ManyChat features with full limitations
These features listed below will not be functioning at all, starting December 16th.
#1: One-Time Notifications
One-time notifications (OTN's) will not function at all.
On December 16th, you won't be able to collect OTNs nor deliver the OTN message. This applies to both new OTNs that you'll send after December 16th, and even OTNs that you had collected prior to the 16th.
#2: Creating Custom Audiences of Subscribers in Facebook Ads Manager
You will not be able to create Custom Audiences in Ads Manager of your subscribers.
While this is an Ads related restriction, it's relevant to Messenger since one of the Custom Audiences you can create within Ads Manager are Facebook users who message your page, AKA your subscribers.
Recall that this restriction was already in effect November 16th for the EEA, but since this relates to Messenger, this restriction was recently cited again by Facebook.
#3: Your Profile in Live Chat
Subscribers won't be able to view a Live Agent's profile details in Live Chat, specifically the agent's name and profile picture. A subscriber will still be able to see the business profile and name during regular automation and conversations. Nevertheless, if a Live Agent takes over and if the Live Agent has set up a Persona in ManyChat, like "Jim," the subscriber won't be able to see Jim's name or profile picture.
#4: Web Plugins: Send to Messenger and Checkbox Plugin
In ManyChat, you can create links that appear on your website that drives website visitors to Messenger. These are called "Web Plugins" and they take several forms within ManyChat and can be found within ManyChat's Growth Tools section.
In ManyChat, the "Send to Messenger" Plugin appears in Growth Tools as the Overlay or Embeddable Widgets. The Checkbox Plugin is called Checkbox in ManyChat.
Starting on December 16th, if your page is in the affected countries, these Web Plugins will NOT render properly, meaning that they won't appear normally on website. This means that Send to Messenger or Checkbox plugins will NOT appear normally on your website.
Because of this, we recommend either removing them from your website, or using the Send to Messenger plugin, which we have developed a "fallback" solution for. See the product updates below.
#5: Sending and Receiving Media Attachments (except Images)
You as a business will not be able to send nor receive media attachments, specifically audio, media, and files. (Images will still function normally on all devices.)
Your subscribers are able to send media attachments, but will receive an error message letting them know the business may not have received the attachment.
#6: Persistent Menu (Default and Dynamic Menus)
Your subscribers will not be allowed to see the Persistent Menu within Messenger. This is the little menu of buttons that appears when subscribers click on the "hamburger" menu within Messenger itself. In ManyChat, these are called both Default and Dynamic menus.
Starting December 16th, neither of these menus will appear to your subscribers.
#7: Typing Indicator
Your subscribers won't be able to see that you're typing. Typing indicators appear in ManyChat in two areas. They can appear when you set a typing Delay in Flow Builder, making it appear as if your bot is typing out a response. They also appear in Live Chat when a Live Agent is typing a manual response. Typing indicators from either of these methods will no longer appear.
#8: Warning or Block Messages
Due to a technicality, ManyChat users will not be notified of Facebook warnings or blocks within ManyChat. You will still receive notifications of warnings or blocks in your Facebook Inbox.
ManyChat features with some limitations
#1 Sending and Receiving Messages with Text and Images
You can send and receive messages with your subscribers, with no limitations, across any devices, if the messages are text, images, or text plus images.
Recall that because of full limitation #5 above, you will not be able to include media like video, files, or media.
#2: Sending Messages with Buttons: Mobile Only
In ManyChat, you can include persistent Buttons attached to your message. These buttons are often used to trigger additional messages or actions that you've created in Flow Builder(see example below). These buttons rely on a Facebook Message Template called Generic or Button Templates.
After December 16th, these buttons will only work on iOS and Android only. In other words, Generic and Button (and Media Templates) will only work on mobile devices after the changes take effect.
If you do try to include buttons for non-mobile subscribers, they will receive an "Attachment Unavailable" error message. This means you will not be able to use buttons on the web client, desktop app, or Chat Plugin.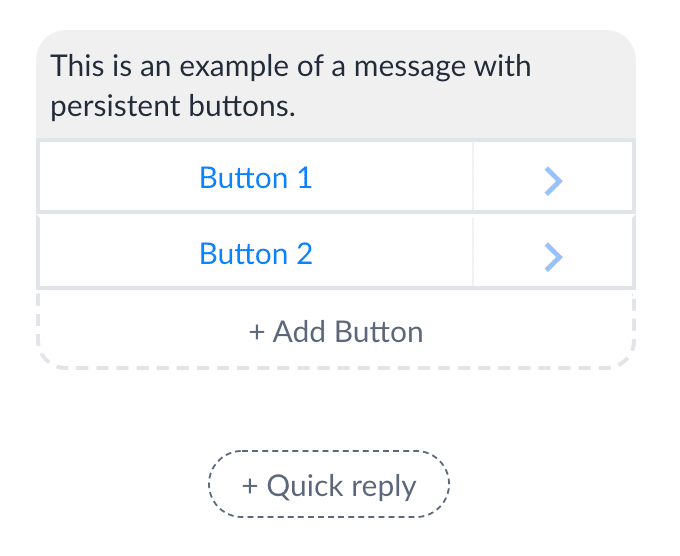 The URL Button and Call Button will also continue to be available on iOS and Android only, meaning your subscriber must be using a mobile device running iOS or Android.
If you do happen to use other Facebook Message Templates, like a Receipt, Airline, or a Facebook Shops Template, these will no longer render within Messenger, as in, they won't appear to your subscribers.
To summarize this section, you can use ManyChat to send messages with buttons, but only if your subscribers are on mobile devices, specifically Android or iOS.
#2.5: Triggering Automations with Buttons – Mobile Only
Like previously mentioned, persistent buttons are often used to trigger additional messages or actions. With these changes, you will be able to trigger further messages or actions if the subscriber is using an iOS or Android device.
#3: Some Growth Tool Automations
In ManyChat, our Growth Tools depend on something called a messaging_referral webhook, which means that we at ManyChat are able to tie together a subscriber's point of origin coming into Messenger with the exact Growth Tool that brought them there. Normally, this means we at ManyChat are able to trigger the right Flow that you've set up for that specific Growth Tool.
With these changes, the messaging_referral webhook won't work, ultimately meaning that your Growth Tools won't trigger the right Flow or any other kind of automation that you have set, rendering them functionally unusable. Technically, this change means that while you can still create the Growth Tool in ManyChat, like a Referral URL, it won't function normally.
Here's a list of common Growth Tools that will NOT trigger automations:
Referral URL and any .me links
QR Codes
Send to Messenger Plugins
Checkbox Plugins
While you still technically will be able to create the Growth Tools listed above, for example a Referral URL, it won't deliver the opt-in message, and therefore, will simply open to Messenger. New subscribers will be shown your Welcome Message or Conversations Starters. Existing subscribers will be "brought" to Messenger, but won't see any kind of opt-in message from your business.
All of your existing Growth Tools that you have out there on the web, like a Referral URL that was sent in an old email, will continue to be "shown" to subscribers, but after December 16th, won't trigger any automations.
There are two Growth Tools that will continue to fire automations:
Comments Growth Tools
JSON Ads (on mobile only)
Both the Comments Growth Tool and JSON Ads will continue to function. Keep reading for more details.
#4: JSON Ads (mobile only)
As of December 17th, we believe that it is possible to use the JSON Ads Growth Tool and to trigger automations from it.
But, because the JSON Ads Growth Tool relies on an opt-in message with persistent buttons to trigger additional automations, and because those buttons will only render on mobile devices, the JSON Growth Tool will therefore only function normally for subscribers on mobile.
Do also note that EEA Facebook Ad accounts are subject to the November 16th ad restrictions, which means that the Conversations or Leads ads optimizations won't be available.
Editor's note: As of December 17th, our current understanding is that using the JSON Ads Growth Tool should be possible with these changes. Of course, this recommendation is subject to change, according to Facebook's technical roll out of the limitations. Keep visiting this guide and our Facebook Community for additional updates.
#5: Chat Plugin (Customer Chat) and Guest Mode
Chat Plugins will still render normally on websites, meaning that they'll appear to website visitors normally. In ManyChat, this is called Customer Chat, which is a chatbox that you can install on your website.
The most important limitation is that the Chat Plugin will not deliver any kind of automation. Similar to other Growth Tools, normally, triggering automations via the Chat Plugin relies on delivering an initial "opt-in" message, which website visitors can click to trigger the Flow that you had set for it. Because of these EEA limitations, ManyChat won't be able to deliver this opt-in message.
Functionally speaking, this means that your Customer Chat Plugin will function as a Live Chat communication channel. New subscribers will see your Welcome Message or Conversation Starters. Existing subscribers won't receive any prompt message, but will receive your Default Reply if they type something. Keywords will continue to function normally, so you could trigger automations within Customer Chat using this method.
You will still be able to appear as a Live Agent within the Customer Chat box, but because of full limitation #3, your profile picture and name won't be visible to the subscriber/website visitor.
Additionally, any website visitor that does enter the Customer Chat will also be unable to upgrade to their Facebook profile. Normally, a website visitor can chat with your business/brand via the Customer Chat as an anonymous Facebook "guest," and then choose to log into their Facebook profile within Messenger itself. After December 16th, they will not have this option.
#6: Subscriber/Audience Picture
December 16th Update: Prior to Dec 16th, Facebook had cited that some subscriber information, like First or Last name, wouldn't be available to ManyChat users. On Dec 16th, all subscriber information that ManyChat gets from Facebook, including First and last name, Locale of the user on Facebook, Timezone, and Gender will all remain, except for the Profile Picture.
This means that you can still view and then this information, like a subscriber's first or last name, in ManyChat.
ManyChat features with no limitations
The below features have no limitations and will continue to function normally.
#1: Quick Replies
You will still be able to create and use Quick Replies, anywhere, across all devices.
#2: Message Tags
All Message Tags will still function normally. Keep in mind that even though Facebook understands that these new EU-specific restrictions are harsh, that the normal compliance rules around Message Tags still apply. If you haven't read the Updated Guide to Message Tags, you can read it here.
If you do get warned or blocked from Facebook, note that you will not receive any warnings within ManyChat, and will have to monitor your Facebook page for warnings.
#3: Welcome Message and Conversation Starters
You can still create, customize, and most importantly, automate responses for your Welcome Message and Conversation Starters, which Facebook refers to as Get Started and Icebreakers.
Remember that the limitations for buttons still apply to these automations you create from Welcome Messages and Conversation Starters.
#4: Comments Growth Tool
In ManyChat, the Comments Growth Tool (CGT) allows you to trigger certain actions based off of a subscriber's comment to your Facebook Page's post. Mostly, these actions are liking the comment and sending a message to the subscriber.
CGT will still be available after December 16th. Take note that while you will still be able to trigger messages to subscribers, the other restrictions on messages will still apply, i.e. no persistent buttons on non-mobile devices, no media attachments, etc.
#5: Keyword Automation
Keyword triggered automation will still apply, regardless of device type.
#6: Handover Protocol
Handover Protocol refers to Facebook's logic in determining which app, like ManyChat, takes priority in handling a conversation with a subscriber. If you're using a platform like ManyChat, in addition to another platform that integrates with Messenger, this logic will continue to function regularly.
#7: m.me Links
The m.me link is a link that, when clicked, sends subscribers to Facebook Messenger. While this link and Referral URL's will still technically work, meaning that they'll send subscribers to your business' Messenger, note that ManyChat will not be able serve up the right opt-in Message and automation for specific Referral URL's.
In other words, this means that all Referral URL's will open to Messenger, but will default to a Welcome Message, if the subscriber is new to your page, or will simply open up Messenger, if they're already a subscriber.
Next Step Recommendations
We'll be updating the list of suggestions, so please keep revisiting this post on next steps and potential workarounds.
We will also be announcing changes to ManyChat itself to help mitigate some of these limitations. Frequent this guide, check your email, and stay tuned to the Facebook community for additional news.
Learn if you're affected
Revisit the start of this guide and learn if you're affected. If you are, take the appropriate actions and follow the recommendations, as listed here.
Check your Facebook admins and remove any if necessary
If your Facebook page, not your ManyChat account, has an admin located in Europe, and you can afford to remove them from your Facebook page, then remove them.
You can find your full list of Facebook page admins by going to your Facebook Page → Page Settings → Page Roles.
Then, click on one of the Admins and click "Remove." See below.
We would not recommend that any admins in Europe use a VPN or other methods to hide their location from Facebook.
Create Visual JSON Ads in Ads Manager
Because using the JSON Growth Tool in ManyChat will only work on subscriber's mobile devices, you might want to ensure consider creating Visual JSON Ads, which use Quick Replies as a way to start automations, instead of persistent buttons. Quick Replies will continue to work across all devices.
You can check out this YouTube video with the exact steps on how to create them within Ads Manager and ManyChat. Note that this method relies on Quick Replies and ManyChat Keywords.
Because you will still be able to create automations based on Quick Replies and Keywords, you can create Visual JSON Ads, and use a subscriber's Quick Reply as a trigger to start additional automations or actions in ManyChat.
Consider using Quick Replies for all your important Flows
Since persistent Reply buttons will only function properly on subscriber's mobile devices, you might want to consider transferring all of your important Flow's buttons to Quick Replies.
You can add Quick Replies to traditional Messages by simply clicking the Quick reply button in Flow Builder. You can then trigger additional messages or ManyChat Actions, Conditions, and more based on these Replies.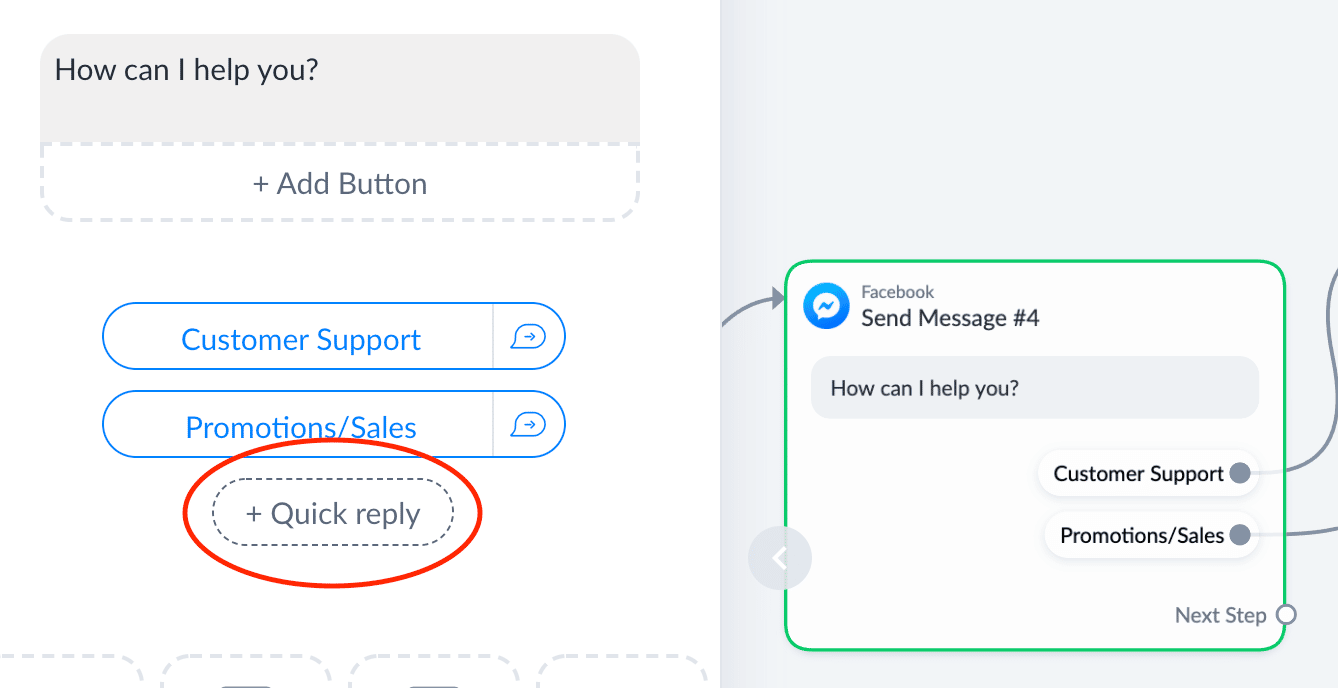 Create separate Flows for European subscribers and mobile users
If you don't want to use Quick Replies in all of your Flows, you could ask your subscribers if they're based in Europe and also ask if they're using a mobile device. Or, you could use our newly developed Condition, which automatically separates EEA subscribers from the non-EEA ones.
You can create different Flows based on a user's responses to these questions. While this solution allows you to leave some of your existing Flows as is for non-EU subscribers, this might mean you'll have to create entirely different Flows for mobile vs non-mobile subscribers.
On the other hand, the benefit of asking, and then saving, a user's location means that you'll be able to use that Tag or Custom Field as as Condition in other Flows. For example, if you want to send media or files to your subscribers, you can set a Condition to only send it to those outside of the EU + 4 countries.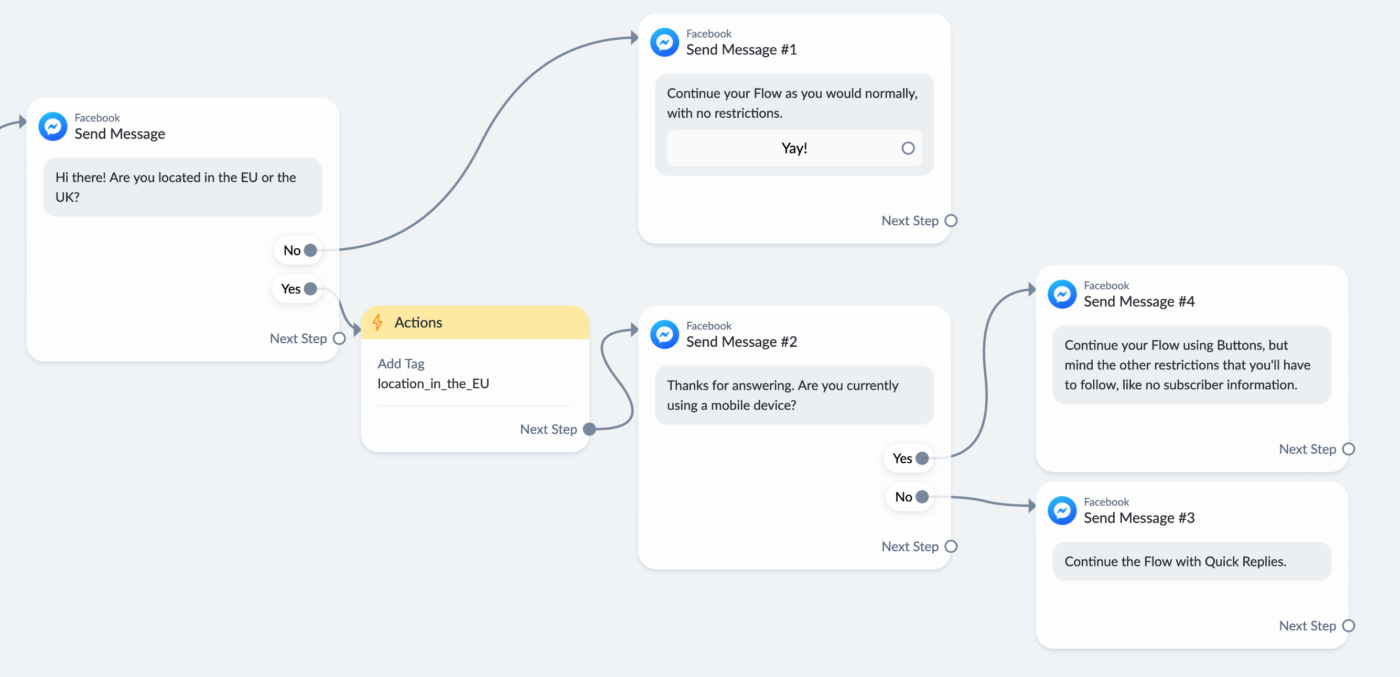 Check your Facebook Settings for Warning Notifications
Because ManyChat will not be able to pass on any warnings or blocks from Facebook, check your Facebook Inbox and Settings for any kind of notifications.
Go omni-channel: leverage email or SMS
These limitations mean that it'll be difficult to capture or run new automations from Growth Tools, but you can still leverage ManyChat's email and SMS features to its fullest extent with no limitations.
As of December 2nd, 2020, ManyChat has announced a range of additional email features that make it easier to:
Trigger emails based of subscriber actions, like an "email open"
Make mobile-friendly email designs
Customize your brand domain
One strategy you can try is to offer your subscribers an incentive in exchange for their emails if you don't have it already.
You can also use ManyChat's SMS capabilities. We understand that using ManyChat's native SMS solution isn't an option for all affected countries since it's currently available for a small group. Still, you can leverage ManyChat's App Store as a workaround.
Check it out here. Send SMS, MessageBird SMS, and Twilio Bridge are three apps that you can connect to ManyChat and leverage alternative SMS providers, allowing you to send SMS via ManyChat, no matter where you're located.
Maximize your Welcome Message
Barring any kind of automation that you've triggered for a subscriber, your Welcome Message is the first message that new subscribers see from your business, after they click the "Get Started" button within Messenger. Because of the Dec 16th changes, you won't be able to run Growth Tool automations, the Welcome Message will be the default message that new subscribers see if you do choose to use a Growth Tool like the Referral URL.
Put another way, let's say you've sent out an email on December 7th that includes a Referral URL and the customer clicks it on December 17th. They'll be brought to your Messenger profile, but will see the Welcome Message, instead of the automation you had previously set up for the Referral URL.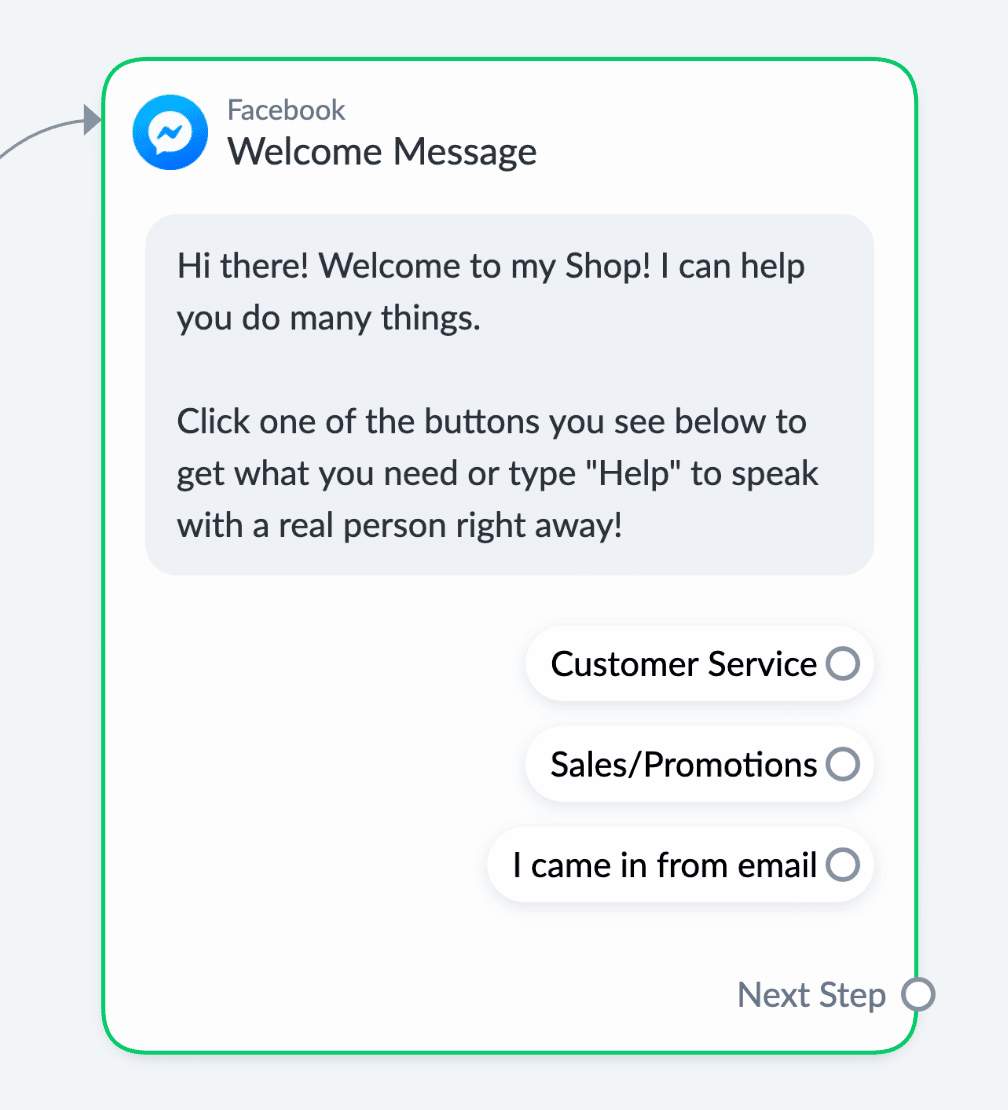 You can adjust your Welcome Message in ManyChat by going to Settings –> Messenger.
Or consider adding Conversation Starters
Conversation Starters are customizable buttons within Messenger that replace the "Get Started" button that is shown by default to new subscribers. You can customize a reply to each of these Messages or use them to trigger an automated Flow.
Note that if you've set up Conversation Starters, they'll appear instead of the Get Started Button, and therefore your Welcome Message, so choose to go with one or the other.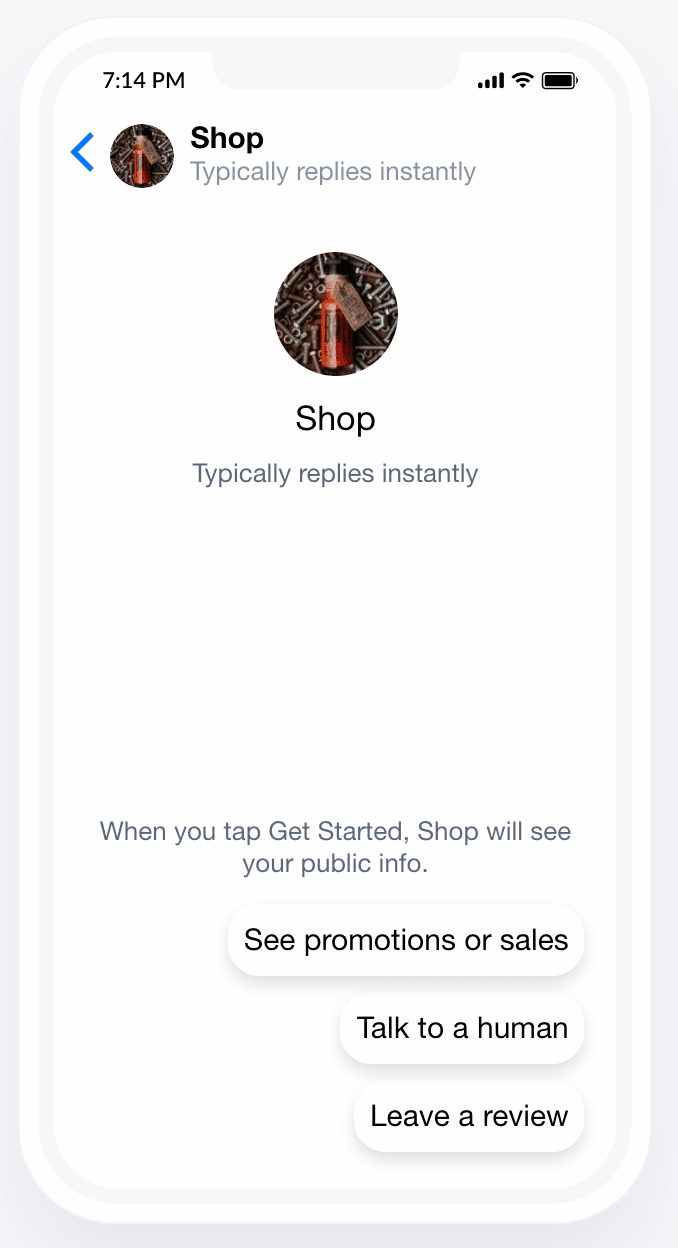 You can find Conversation Staters in your Settings –> Messenger –> Conversation Starters.
Leverage Keyword Automation, especially for the menu
Since the persistent Menu in Messenger won't show, your subscribers might want a method or option to trigger the chat experience that best suits them.
Consider setting up a "Keyword," which is a word that your subscribers can message to your bot anytime. This word can then trigger any message that you'd like. Keywords will remain functional after the December 16th changes. You can set up your Keywords in ManyChat, under the Automations tab.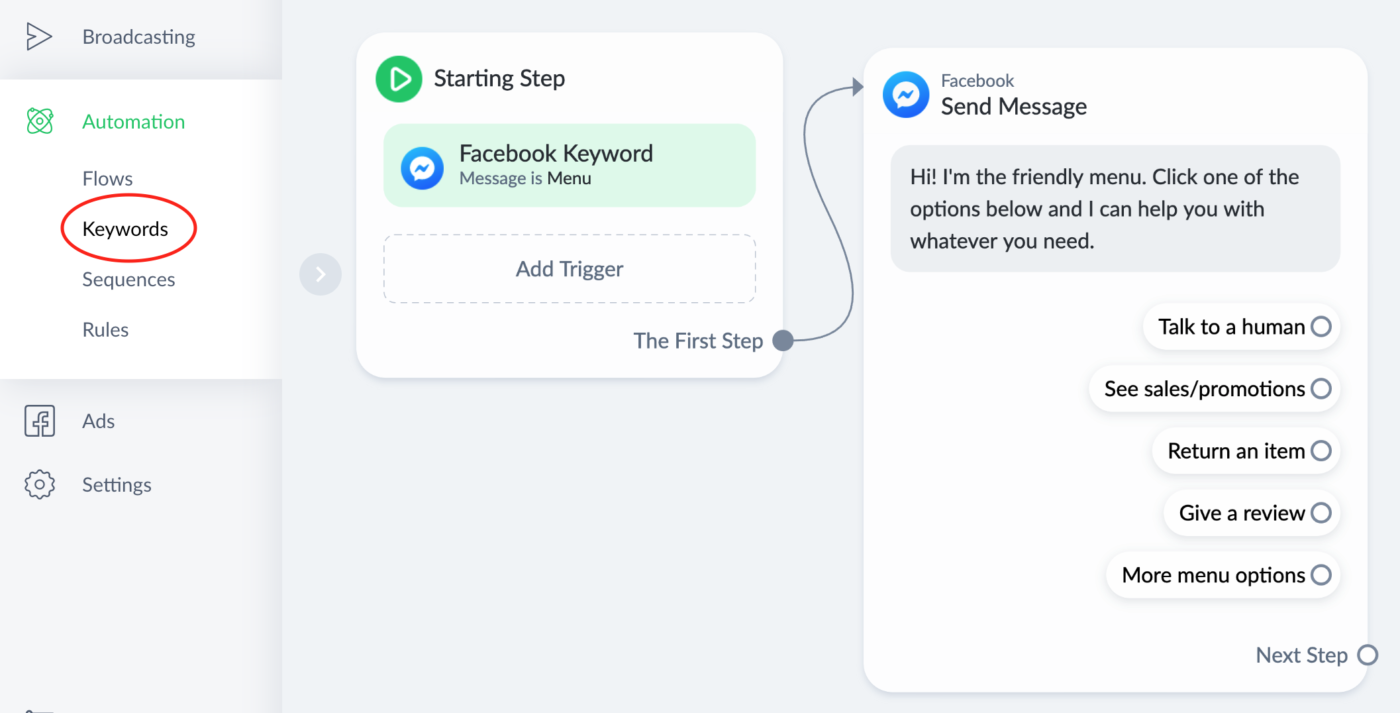 You can also consider using Keywords to replace the functionality of the Growth Tools and Web Plugins. For example, you can run a Facebook Ad, and in the ad copy, tell subscribers to message your bot with the word "promotion." You can then set up the Keyword "promotion" in ManyChat, which would trigger the right automation of your choosing.
In another example, if you include a Referral URL inside of an email, you can tell your subscribers, within the email, to click the link and to message with a bot with a predefined Keyword.
Check your Default Reply
It's always a good idea to check your default reply, which is the automated message that ManyChat sends if your subscriber types something to your bot that it doesn't understand.
Since you'll be considering using Quick Replies or using Keywords to automate your Flows instead of buttons, it's a good idea to double check your Default Reply and ensure it's set up to drive subscribers to the right destination. For example, your Default Reply could drive subscribers back to the "menu" that you had set up earlier.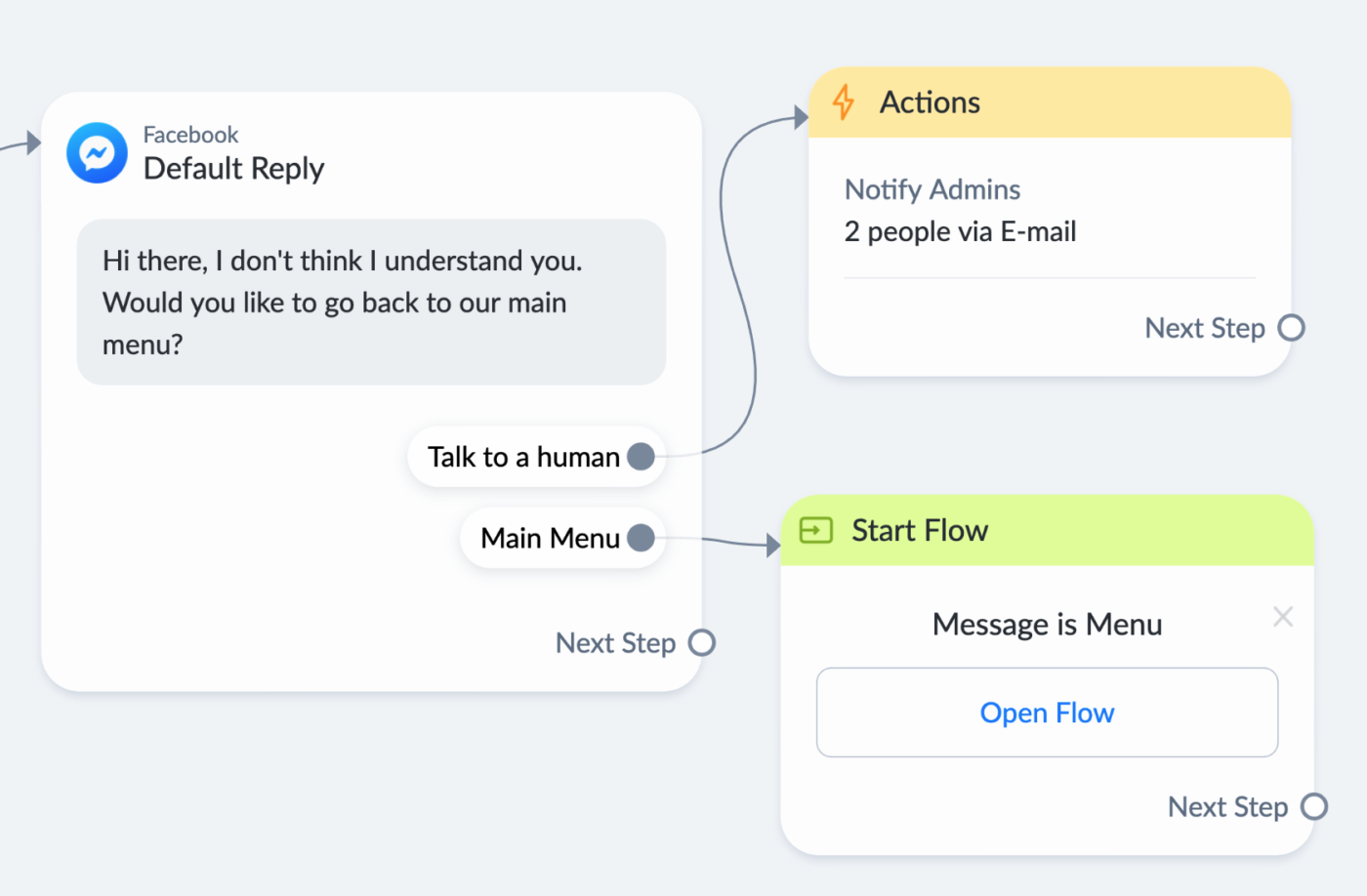 Consider driving traffic to your Facebook Page
After December 16th, there will still be multiple ways to drive Facebook users who visit your page into your Messenger bot, like your Welcome Message, Conversation Starters, and the Comments Growth Tool.
As an alternative to using other ManyChat Growth Tools, consider driving subscribers to your Facebook page, where you can more easily direct the source of automations from there.
Tell subscribers in Live Chat who you are and what your name is
Since your subscribers won't be able to view Live Agent's names or profile pictures in Live Chat, instruct your Live Agents to communicate who they are. For example, when taking over an automation, the Live Agent can say, "Hi there, this is Jim from Acme corporation. How can I help you?"
You've made it through the entire post, and are now informed of the updates. Again, we will communicate to you all the latest info to help you navigate the changes. In the meantime, check in with our community.
Consider using this workaround for Referral URLs placed within SMS and Email
Because using the Referral URL normally in ManyChat won't trigger the opt-in message that you had set for it, with these changes, it's impossible to trigger any automations using the Referral URL.
However, with this workaround, brought to you by Mackensie Liberman of Orca Marketology, you can use a ManyChat Action and a Rule to trigger any Flow or Message of your choosing.
This workaround is particularly useful for re-engaging existing subscribers on email and SMS, since without this workaround, Referral URL's simply open to Messenger with no prompt message from your business.
Feature release related to the EU changes
We at ManyChat are releasing a few features to help affected ManyChat accounts and users. We will release a separate blog post detailing these in changes in full, but are listing them here as well.
Condition for affected vs non-affected subscribers
Status: Live
In ManyChat, you'll be able to set a Condition within your Flows that can "separate" your subscribers between the affected and non-affected subscribers. In other words, you will be able to create different paths in Flow Builder for subscribers located in the EU+4 countries and for subscribers outside of those countries.
This will allow you to create entirely different branches and chat experiences for impacted subscribers, allowing you to keep your existing Flows (with buttons, media attachments, etc) intact.
Fallback for Send to Messenger and Checkbox Web Plugins
Status: Live
Because of these upcoming changes, the Send to Messenger button and Checkbox Web Plugins won't appear normally. Because of this, we're going to be changing the appearance of the Web Plugins, so that your subscribers know what to expect when they click on the buttons.
With this "fallback" feature, we will automatically turn any existing Send to Messenger or Checkbox plugins that is a) live and in-use and b) impacted by the changes into a "Go to Messenger" button.
Note that while this solution will help address the appearance of these buttons on websites, the new "Go to Messenger" button will not open any opt-in message, and therefore won't allow for subscribers to trigger any automations on their own.
If you would like to leave existing Send to Messenger or Checkbox plugins live, we would suggest telling subscribers to enter a Keyword that you will have previously set up to run any automation.
We will provide screenshots and previews of what this will look like soon.
Fallback for Media Attachments
Status: Live
The changes mean that you will not be able to include and send media attachments like video, audio, or files within your Messenger messages.
This fallback feature means that, after the December 16th changes, any messages that contain unsupported media files will be automatically turned into a text URL and included within your message.
It will look something like this.

Note that this fallback feature will happen automatically for unsupported media files after Dec 16th, and you will not have to take any action in your ManyChat account for this feature to take effect.
Also note that ManyChat will transform the attachment into a URL prior to delivering the message, meaning that subscribers will just see the URL, and won't see any error messages from unsupported media attachments.
Recall that while this solution will work for your messages, they will not work for your subscribers, meaning your subscribers will receive an error message if they try to send you and supported media type. We recommend that you ask subscribers to send you a URL link, or to bring the conversation over to email, where media attachments will continue to function normally.
Collecting First and Last Name via User Input
Status: Live
Even though you'll be able to view and use all of a subscriber's default information from Facebook, like their first and last name, ManyChat has built this feature as a response to our earlier understanding of the limitations, where you couldn't view/use the default information at all.
Regardless, you are able to collect a user's First and Last Name via User Input, and save that to ManyChat. Note that you can only collect one name at a time, meaning you can't ask a subscriber for their First and Last Name together, and then save it to ManyChat in separate fields.
Saving a subscriber's First and Last name to ManyChat keeps it safe from the upcoming December 16th changes, meaning you'll be able to view and utilize their name across the ManyChat platform.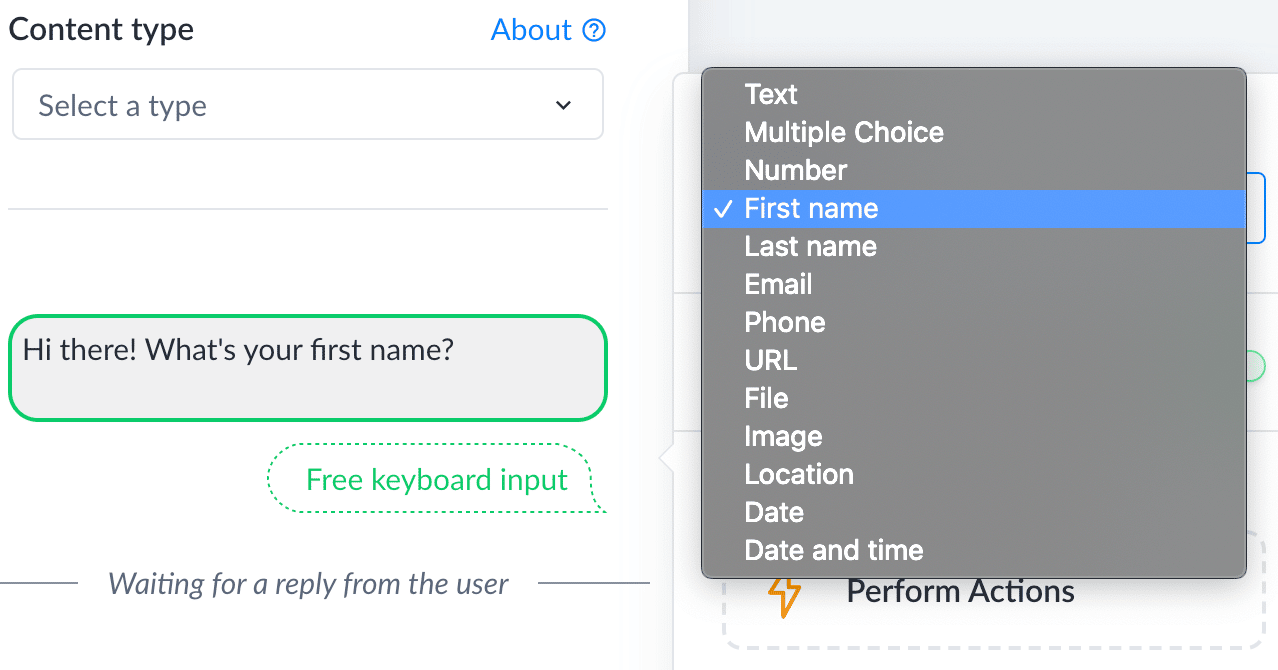 FAQ:
Will I be able to create Click-to-Messenger Ads after December 16th?
Yes, you will technically be able to create Ads, but you will not be able to run ManyChat automations like you normally would, with an opt-in message to your subscribers.
Note that the ability to optimize campaigns for Conversations or Leads will no longer be available. You will have the ability to optimize ads that click to Messenger and Instagram messaging for Link Clicks, which will optimize delivery for clicks of the "Send Message" CTA. These limitations to Ads Manager were initiated on November 16th.
Would you recommend that we use the JSON ads Growth Tool in ManyChat?
No, we would not recommend that you use the JSON Growth Tool. Instead, see above for our suggestion on how to automate some experiences for ads that click to Messenger.
What happens if I create an ad using ManyChat or continue to use the JSON Growth Tool?
Your ad will appear to Facebook users, but the opt-in message that usually appears will not render, meaning new subscribers will see your Welcome Message. Your existing subscribers will simply be sent to Messenger.
Will the Card template in ManyChat be affected by these changes? What about images with buttons?
The Card template will be affected by these changes, meaning you will only be able to use the Card template in ManyChat on mobile, after December 16th. Sending images will work across all devices, but if you add a button to the image, it will turn the image into a Button Template, rendering that image not workable on non-mobile devices.
I'm a ManyChat admin based in Europe, but I'm not an admin on a business' Facebook page. Will these changes affect this page?
No, in this situation, the page will not be affected.
Do the November 16th limitations to Ads Manager still apply?
Yes, the limits to some of the features and capabilities in Ads Manager that went live on November 16th still apply. Check this guide for full information.
Change log:
December 18th:
Updated the limitations under Customer Chat. Essentially Customer Chat plugins will function as Live Chat windows, and won't be able to trigger automations from the "opt-in" message that is normally delivered as part of the Customer Chat widget
December 17th:
The JSON Ads Growth Tool will be functional for subscribers on mobile devices
Clarified the Growth Tools section
SMS Disclaimer: This information is provided for educational purposes only and should not be relied upon as legal advice. Please always consult your own attorney before engaging in text marketing.