Conversations 2019: Meet the Speakers – Philippe LeCoutre & David Sambor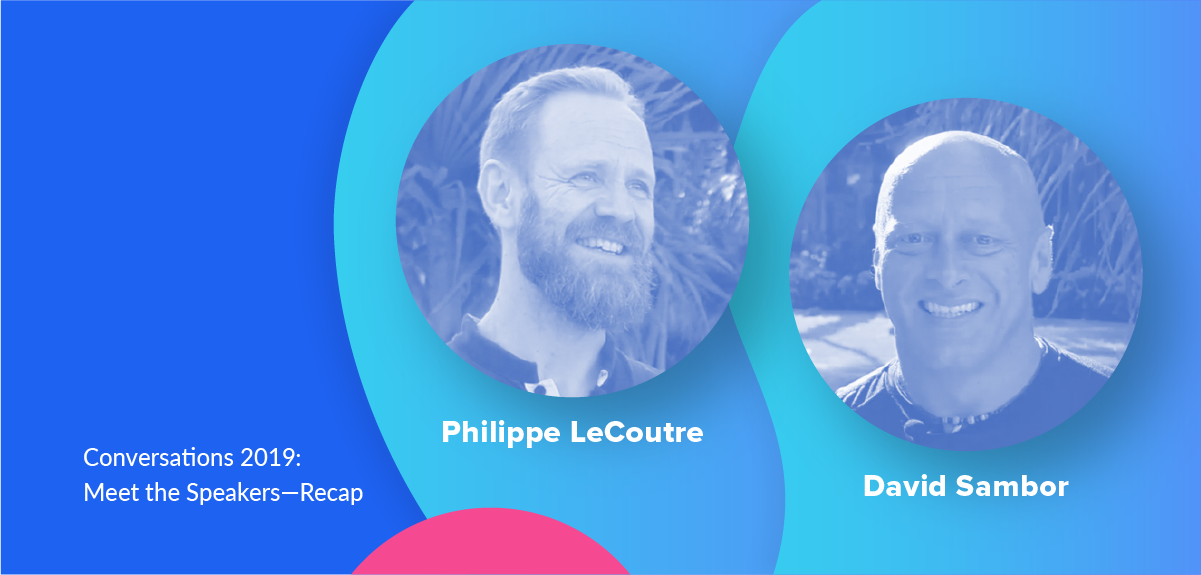 Between a busy work schedule and trying to actually have a life, things can get pretty crazy. We understand why you couldn't make it to our Facebook Live Meet the Speakers event. But don't worry! In case you missed our first Live series event featuring Philippe LeCoutre and David Sambor, co-founders of Messenger Marketing Experts, we have the whole compelling conversation right here!

Molly Mahoney, a Facebook live and Messenger marketing ninja, and founder of The Prepared Performer, dives into how Philippe and David made $3 million in under an hour using messenger marketing. It's not your boring sit-down-and-discuss-what-we-did-right type of interview. You'll get to know their personalities, story, and how they got to $3 million in under an hour!
Don't forget to register for Conversations 2019!
Show Notes
Molly: I am going to bring to you, two of the most amazing humans I have ever met today. And I am so stoked to be bringing to you the founders of Messenger Marketing Experts to you because they built a bot, that brought in $3 million dollars in one hour! Plus, the things that they have in their past, in their history, they've had over 30 years combined of expertise in this field. Philippe sold services and products to more than 6,000 mass-market distribution international brands, like Sephora, like Aldi. As I was reading his bio, I was like, "What the heck?" And David actually started in 2012, he focused a lot on Apple Wallet, which I think is really cool and digital loyalties.

So, there's a lot that we're going to learn from these two, and I am going to bring them on right now. So let's give them a big firework show!

How Philippe and David Got Started

Philippe: We met about three years ago, and we were friends on Facebook.

David: We were both absolutely intrigued with everything ManyChat. I was already doing a course on ManyChat, Philippe joined in and from there it just escalated and grew to where we are now, and we've just been continuously growing and growing and feeding off each other.

What Will You Be Speaking About at Conversations 2019?

D: We're going to speak about the $3 million dollar bot in less than one hour for Tony Robbin's, Dean Graziosi and Russell Branson.

How did you end up being the people that company to build the bot for Tony Robbins, Dean Graziozsi and Russell Brunson?

D: We were doing an evergreen webinar and then I think it was about a month before Dean's guy that runs all of the funnels contacted Philippe.

P: He asked me, "Can you help us with Tony Robbin's live event coming up?"

D: We were like, 'OK Tony Robbins, I think we could do that. Who else is involved? Oh Tony, Dean and Russell Brandon, OK yeah I think we can do that. But it was roughly 14 days before they were launching…so, we had 3 days to build them a bot.

So we had about five sleepless nights on the run-up to the event, when the bot ran into place. It was 8 AM in the morning in Bali. So yeah, it was a very hectic night before.

How Did You Balance This With Your Other Clients?

D: We reached out to Mikael and asked if ManyChat would be able to handle this.
I mean 60 to 100 thousand messages all firing out at once. So we were freaking out going, "Is this going to work?" And then eventually Mikael got back to us and we ended up having to pretty much spread it out over an hour's period. So that everybody got the reminder through randomizes and conditions.

What Did You Learn From This?

P: Say "Yes" and then figure out later. The thing is that the "later" was very short. Thanks to ManyChat, because I knew we should just template. And of course, that is what we're going to show you at the conference, Conversations 2019. The bot itself is made of 88 flows, so we are going to disclose that and reveal all the things at the conference, so you will see the core system and all the satellites flow and how everything is tied together.

To learn more about Philippe and David's $3 million success, come to their session: More Users, More Problems: How to Make $3 million in 1 Hour Without Crashing Facebook
About Our Facebook Live Meet the Speakers Series
Each week Molly Mahoney hosts a LIVE interview with one of our Conversations 2019 speakers to give you the opportunity to meet them and learn their secrets to successful messenger marketing. It's a way to ask questions that you might not be able to ask at the conference and discover more about what will be discussed at Conversations 2019.
Here are the details.
When: Thursday, 9 am PDT.
Go to our Facebook page: ManyChat
Click on the Live announcement
Watch, learn and ask questions.
And, if you haven't registered for Conversations 2019, do so before prices go up! Reserve your spot.
We'll see you LIVE! #Conversations2019

The contents of this blog were independently prepared and are for informational purposes only. The opinions expressed are those of the author and do not necessarily reflect the views of ManyChat or any other party. Individual results may vary.