7 Chatbot Trends to Keep on Your Radar for 2022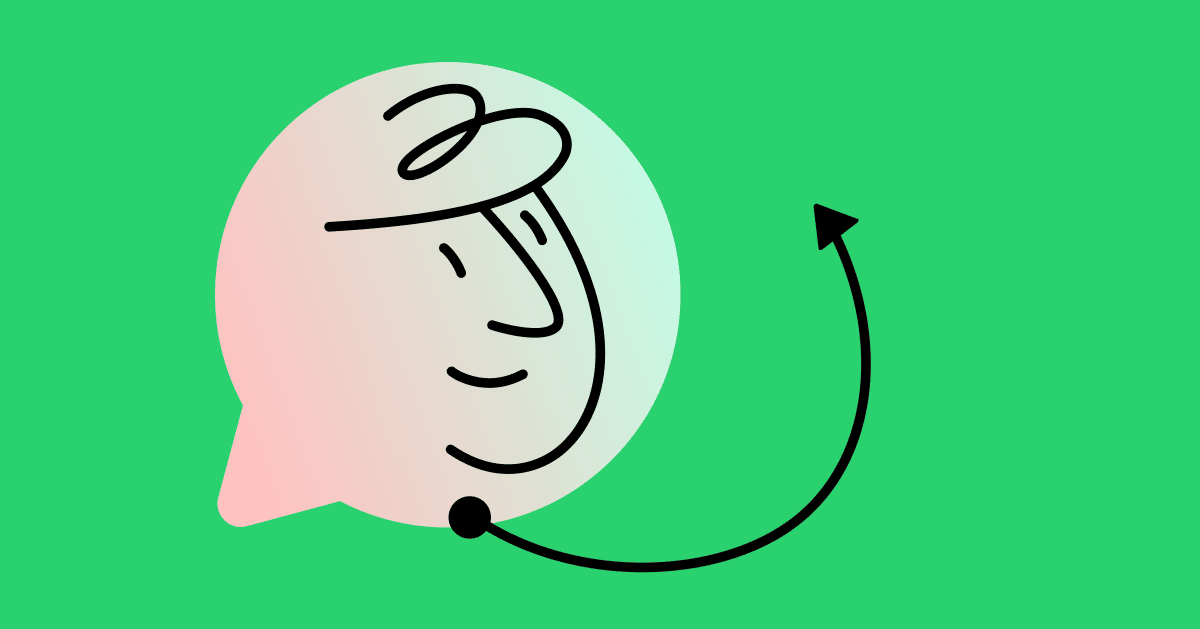 It's difficult to forecast what technology will be able to do in the near future. We're currently in the digital transformation era — a period of time that has brought significant and rapid growth and change. The turn of the century alone brought significant technological advances. Just a short while ago, social media, 3G, and electric cars didn't exist, and now we can't live without them.
The same thing is happening with chatbots — software apps that simulate and hold conversations with real people. More than ever before, businesses lean on chatbots for support, and customers expect to bump into one when buying goods or services online. In fact, 55% of people prefer to use a chatbot instead of waiting for a human agent to respond.
Considering using a chatbot? Already using one for your eCommerce or service-based business? We spoke with experts to uncover seven chatbot trends to keep on your radar as we head into 2022.
Chatbot market predictions
Before we get to the trends, it's worth taking a moment to understand the current chatbot market size and where it's predicted to head.
Experts estimate that by 2027, the worldwide chatbot market will make $454.8 million in revenue. Almost a quarter of small businesses are using the artificial intelligence and machine learning tools that power some chatbots to better communicate with customers.
Certain industries are more likely to lean on chatbots than others. The insurance and financial services chatbot market, for example, was worth $586 million in 2019. Fast forward to 2030 and that number is expected to hit $6.83 billion — a 1,000% increase.
Because of this, an increasing number of service-based and eCommerce businesses are planning to invest in chatbots. Data shows that 10% of eCommerce businesses are already using a chatbot, and almost a quarter are planning to invest in one.
The pandemic likely played a role in chatbot popularity. With more people working and shopping from home, an increasing number of customers needed help with their purchases online. Because of this, McKinsey reports 65% of customer interactions are now digital — up 58% pre-COVID.
"​​Since the advent of the pandemic, there has been a boom in the use of low-code chatbots. However, in 2022, it is expected to become even more intense. Companies will seek out more low-code chatbot platform services now that the urgent demand for chatbots has become the new normal.

Furthermore, it will reduce the load on non-tech employees because everyone will be able to use these futuristic developments that require little technical knowledge."

Steve Pogson, founder and eCommerce strategy lead at FirstPier
7 chatbot future trends to keep on your radar
With the advent of fully digital shoppers, and the need for convenient customer service options, chatbots are clearly becoming more and more popular.
"The upside of chatbots is that they can act as easy customer service go-tos for large corporations where the cost to operate human customer service staff may exceed the company's capacity to handle customer complaints," said David Cacik, head of marketing at CloudTalk. "Chatbot architecture allows these bots to engage in sophisticated conversations with customers versus resorting to canned, simple questions and responses."
Let's take a look at seven chatbot trends to have on your radar.
1. Conversational chatbot copy wins
It's easy to fall into the trap of thinking that your chatbot has to speak like a robot. However, one trend we're noticing is that conversational AI chatbot copy is the way to go. Don't remind the customer they're talking to a bot; instead, make the conversation feel so natural that they forget entirely.
Take this chatbot message from Carvana, for example. It points out the obvious — that the message comes from a chatbot — but has a personality that makes it fun to engage with. It's much more appealing than a "What can we help with?" message. It also makes it clear the customer can talk to a real person if they prefer.
2. Rich media chatbots
Speaking of human-like interactions, another chatbot trend is the use of rich, engaging media within the conversation. Michael Shearer, senior director of digital strategy and innovation at Claravine, said, rich media chatbots are a "better use of content in the experience vs. leading them to independent pages."
Shearer expects to see "live video chat triggered within the bot. If companies want to differentiate on customer support/success, and people are more acclimated to video chat, this could be an evolution as well."
The good news is you can implement this trend today. ManyChat allows you to build conversational chatbots that replicate natural discussions, while also using rich media like GIFs, images, and videos within the conversation. It's much more engaging than walls of text.
3. Payment-enabled chatbots
We already know that chatbots are popular with customer service agents. However, "chatbots for customer service will find options to include payment alternatives," said Gian Moore, partner and marketing director at Mellowpine. "It will be as simple as a customer texting 'I want to buy the latest iPhone' on an eCommerce site. The AI chatbot would guide them through the process of selection until the final payment."
Moore goes on and explains that "when a user submits a request, the bot will issue an API request and provide a payment link to complete the transaction."
(Spoiler alert: By connecting your ManyChat account with your Shopify store, you can pull product information directly from your eCommerce store's back end and take payment midway through the chat.)
"By connecting with the payment infrastructure, businesses can provide chatbots with enough data to encourage conversation-driven upselling to consumers," Moore continued. "The same may be utilized to offer updates on a user's transaction data, payment confirmation, expense records, and so on, resulting in a high level of user confidence and retention."
4. Deliver excellent post-purchase experiences
Chatbots have the ability to take payment from customers across platforms outside of your eCommerce website. But more businesses are using chatbot technology to handle the conversations happening after someone clicks purchase.
Acting as virtual assistants, these chatbots keep buyers informed throughout the order fulfillment process by using chatbots to give order updates. ManyChat imports data from your eCommerce back end and places every new customer into a new personalized Flow. They receive an SMS or social media message once their order is shipped, complete with a tracking number and link.
As part of your Flow, send a follow-up message to new customers asking them to rate their experience. The vast majority (95%) of people look to online reviews throughout the purchasing process; but despite their importance, eCommerce brands often forget to ask for them. This chatbot trend doesn't let that happen.
5. Click-to-Messenger chatbot ads
Chatbots and social media are a match made in heaven. But "social media is no longer merely for expressing one's own opinions; it has progressed much beyond that," said Sarah Jameson, marketing director of Green Building Elements. "To stay ahead of the competition, digital companies are implementing chatbot services to better understand customer needs and improve the ways in which the company can help them."
Facebook, in particular, is one network to focus your attention on. The social media platform has 1.3 billion people using its messaging tool, hence why Facebook Messenger ads see an 88% open rate and a 56% click-through rate (CTR). The average CTR for Facebook ads across all industries is 0.90% but can vary depending on your industry.
Make the most out of your advertising campaigns by running click-to-Messenger ads. It's the only ad format that appears in news feeds across Facebook and Instagram which points people towards the Messenger inbox associated with your business's account.
Take a look at this click-to-Messenger ad example by Nerdify. The call to action (CTA) of its Facebook ad is "Send Message."
Once clicked, it directs people to a chatbot that asks what they need help with. Each response is personalized based on the person's last input. If they want to learn more about how the service works, for example, they can answer those questions in real-time before pushing product-specific deals or information.
Because of this, Alex Birkett, co-founder of Omniscient Digital, predicts that chatbots "will be used as fodder for personalization, as you can easily test and scale messaging via chatbots in a way that you can't with website copy and messaging."
6. Omnichannel chatbot support
Speaking of Messenger ads, your business is likely active on a variety of social media platforms — Facebook Messenger, Instagram, and WhatsApp included. If you're using them for customer support, expectations are high. Some 35% of customers expect the ability to contact the same customer service representative on any channel.
Use omnichannel chatbot support to combine conversations you're having across each messaging app. With ManyChat, you can pool conversations a single person has among Instagram, Messenger, WhatsApp, SMS, and live chat all into the same platform. The built-in CRM shows customer data for each person, including which platforms they've communicated through. You can even label the agent who handled a previous request using tags or custom fields.
7. Fluent, personalized support for other languages
The beauty of eCommerce is the fact businesses can reach potential customers all over the world. You can produce items in Chicago, sell them from your headquarters in Germany, and ship the product to a customer in China. That's the power of the internet.
Personalization plays a huge role in your business's ability to sell globally, though. Just take languages for example. English might be your first language, but 1.1 billion people speak fluent Mandarin, another 527 million speak Spanish, and 422 million speak Arabic.
According to Eden Cheng, co-founder of PeopleFinderFree, "we can expect to see more companies start to adopt chatbots that utilize natural language processing. And the reason for that is despite the familiarity of the English language, there is still a distinct advantage of approaching clients in their preferred local dialect."
As part of your international marketing strategy, use chatbots with AI technology to detect which language your website visitor speaks — or give them the option to choose themselves.
"As such, multilingual chatbots effectively assess the intent of the user's input and using that information, quickly generate adequate responses to improve customer experience," Cheng continued. "And come 2022, we can expect to see more chatbot developers make use of NLP [natural language processing] to give context, based on user behavior and preferences."
The future of chatbots
If there's one thing to say for all of these chatbot trends, it's this: Chatbots will become an integral part of any sales or marketing campaign. Whether it's click-to-Messenger ads or post-purchase follow-ups, now's the time to invest in a chatbot strategy if you haven't already.
For more advice on building chatbots, or to learn more about the workflows you can use to automate customer conversations, read more on the ManyChat blog.
Join the chatbot revolution and create your first bot today.
The contents of this blog were independently prepared and are for informational purposes only. The opinions expressed are those of the author and do not necessarily reflect the views of ManyChat or any other party. Individual results may vary.