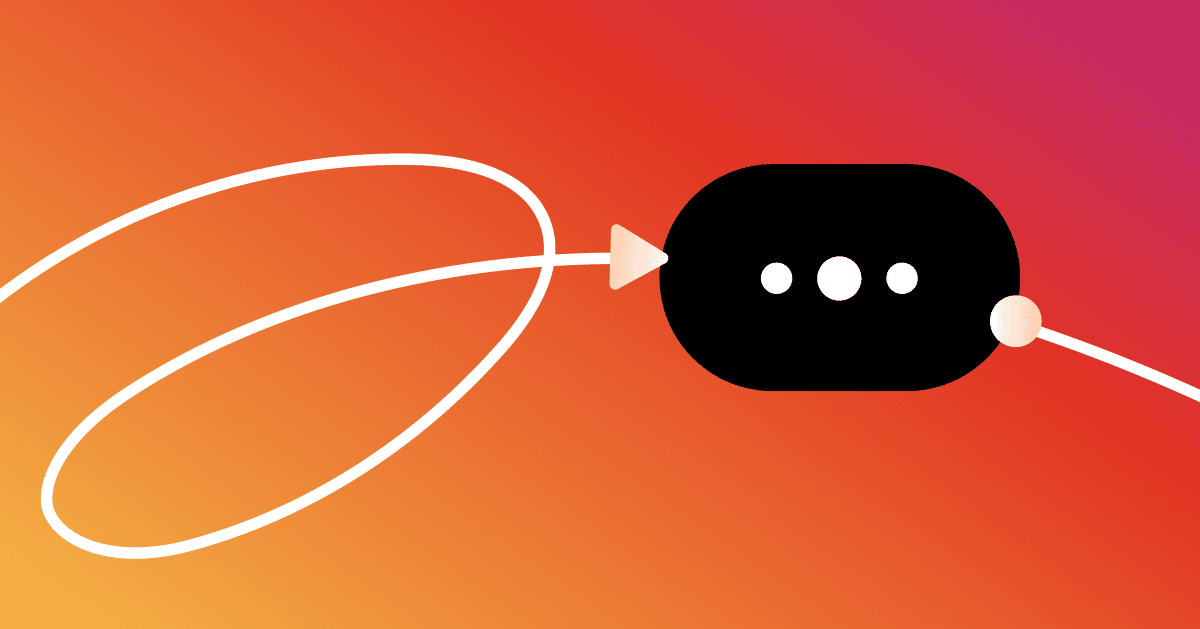 Here at ManyChat, our primary goal is to make business owners' lives easier. Our ManyFesto says it best: "We're here to make marketing and growth easier for business owners so they grow as big as their dreams." That's why we're dedicated to making sure our product is constantly growing with you too. Our team of innovators works behind the scenes, dreaming up new features and tools and finding ways to implement them.
Today, we're excited to introduce a brand new, shiny improvement for our recently-launched integration with Instagram.
Buttons for Instagram Automation
Now available on Instagram Automation by ManyChat is the ability to use buttons. If you've used buttons in Messenger automations for your Facebook page, this feature will probably seem familiar. Setting buttons up for your Instagram automations is just as simple, and you can use them in message blocks with text, cards, and galleries — all of which can be done easily in Flow Builder.
What can you do with buttons for Instagram Automation?
Buttons provide visitors to your Instagram page with new ways to interact with your business, keeping them engaged and interested. They also help streamline how people engage with your page through a more customized user experience, further increasing the benefits of using Instagram for your business. With ManyChat's Instagram Automation, buttons provide a more dynamic experience for your followers and page viewers.
Here are some things you can do with buttons to improve your Instagram page.
Build product catalogs using image galleries linking to different chat experiences.
Create as many as three call-to-action (CTA) buttons. (Learn more about the benefits of CTA buttons in this article.)
Increase website traffic by linking a button to send users directly to your website.
Create more engaging content by adding buttons to image galleries.
Like all things with ManyChat, the possibilities are nearly limitless. Try using some buttons and see what you can do. But first, keep reading for a quick walkthrough to get you started.
How to set up buttons for Instagram Automation
Learning to do something new can be challenging. Fortunately, setting up buttons for your Instagram automations is an entirely painless and straightforward process.
Adding buttons to message blocks
To add buttons to a message block in Flow Builder, start by entering some text. Next, simply click + Add Button below the text.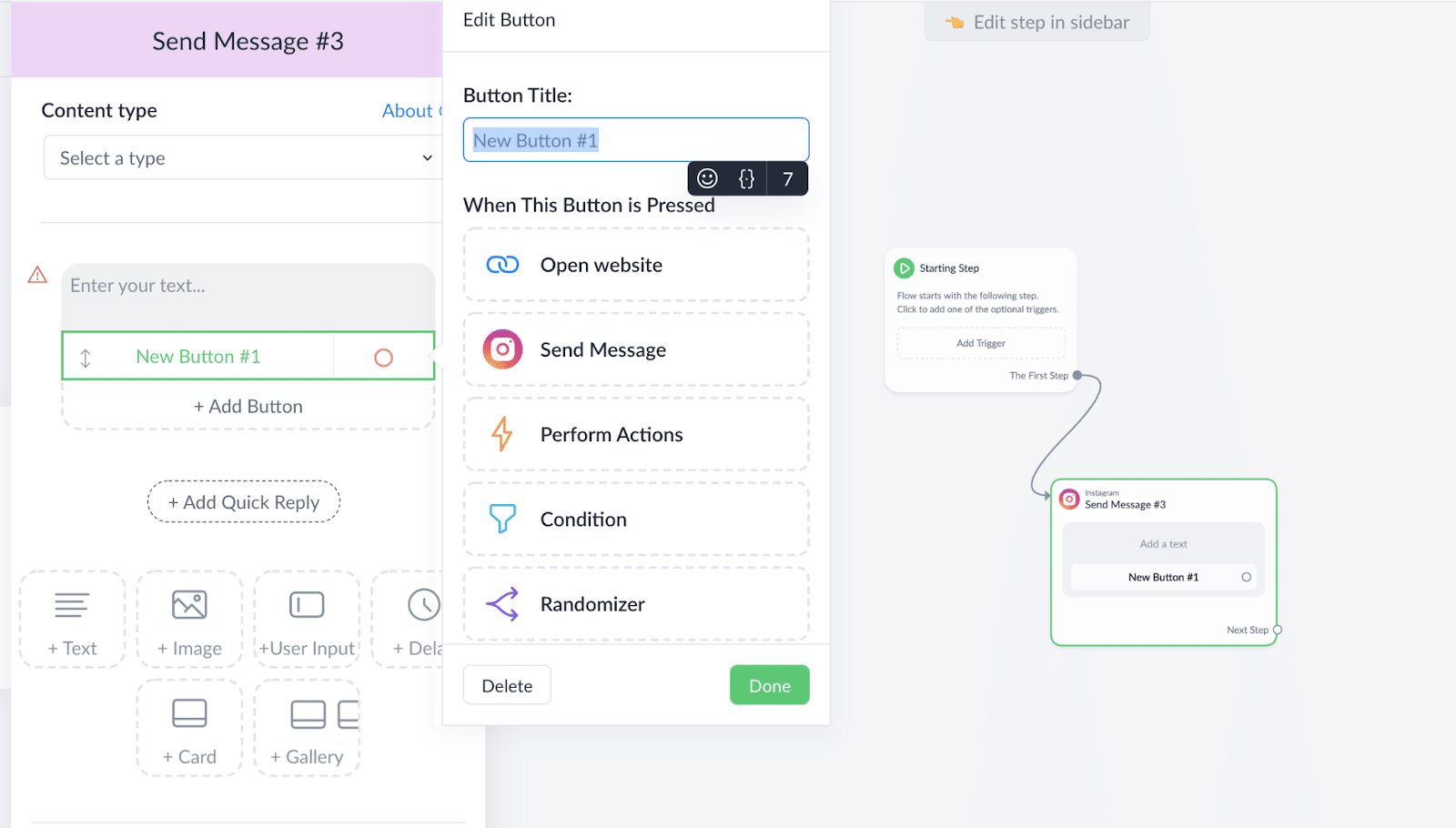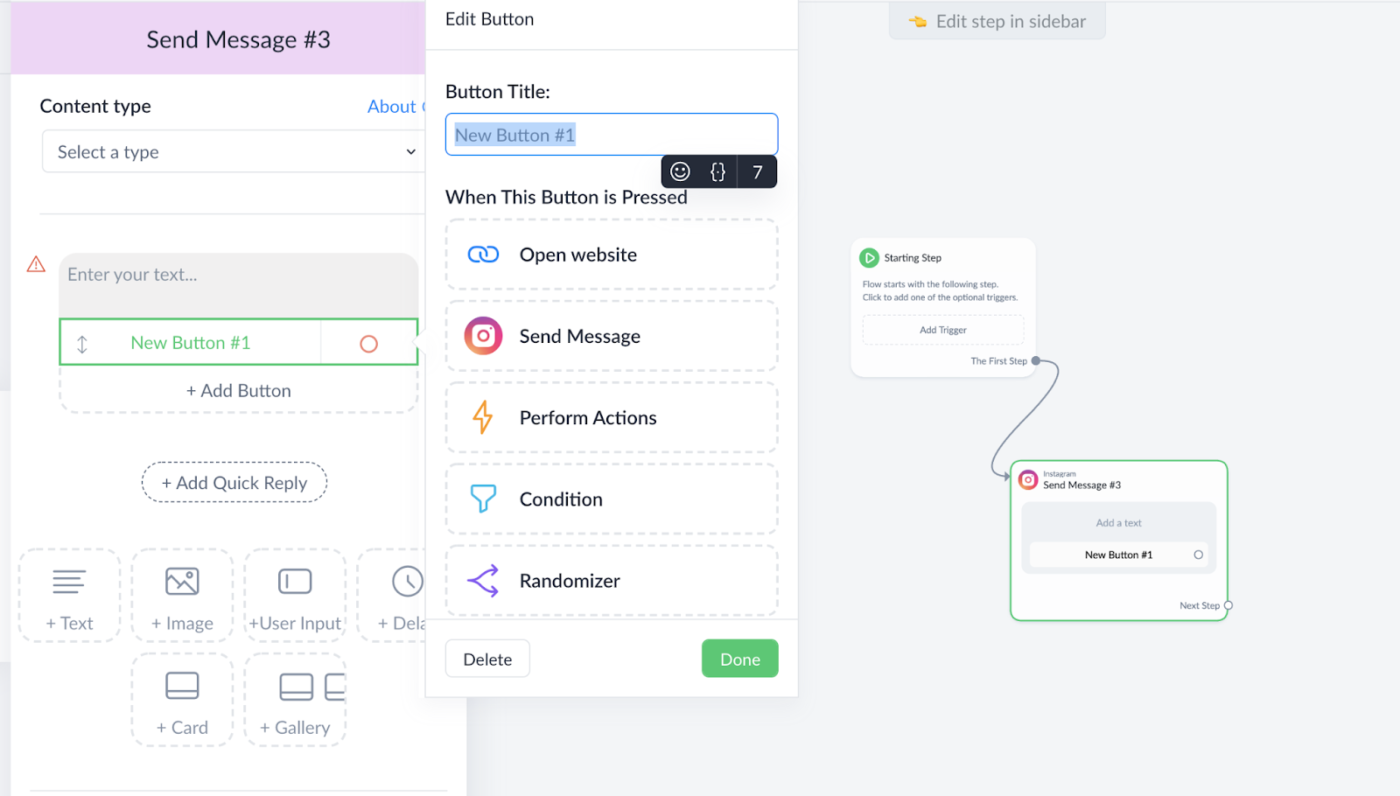 You can enter text to create up to three buttons.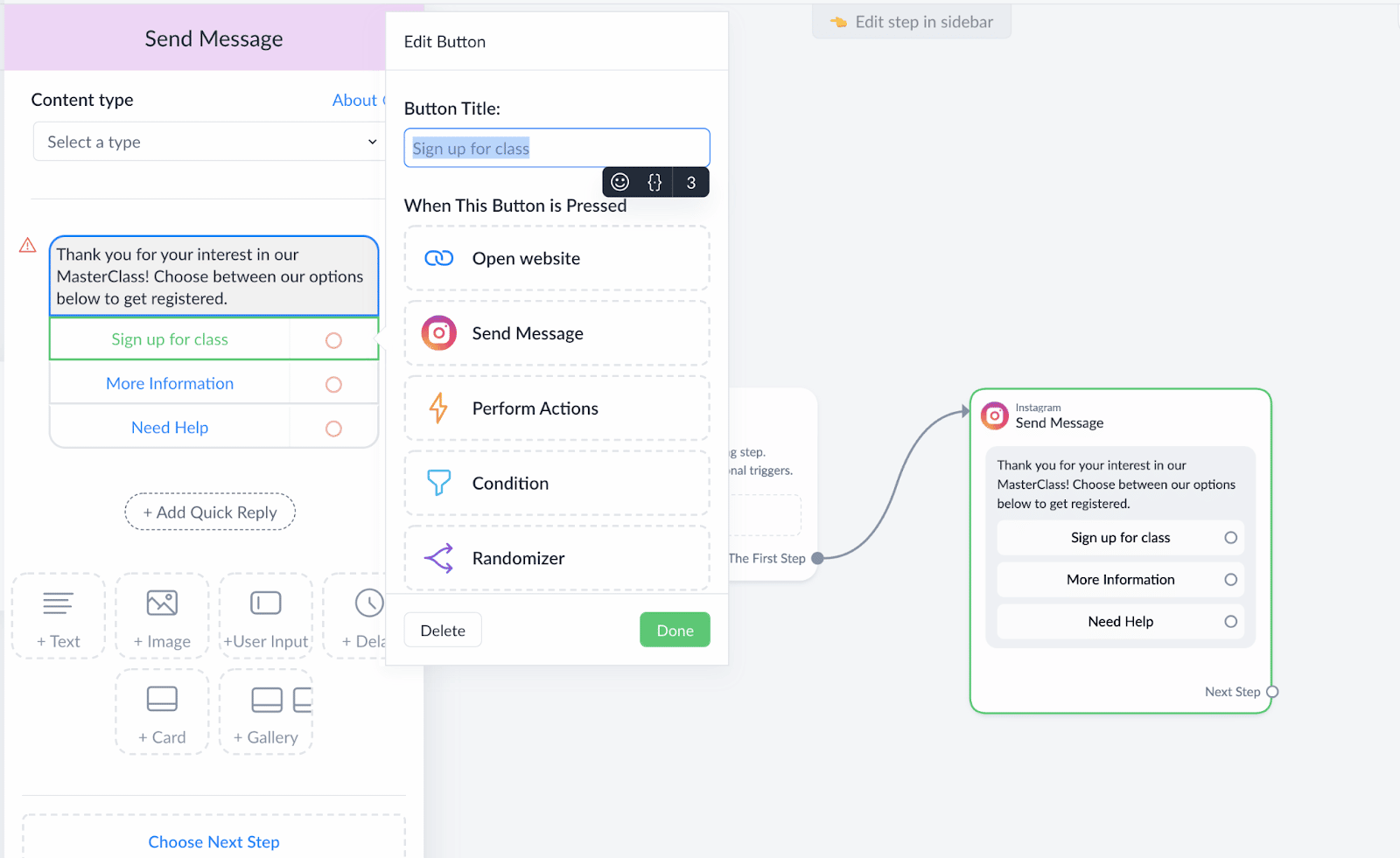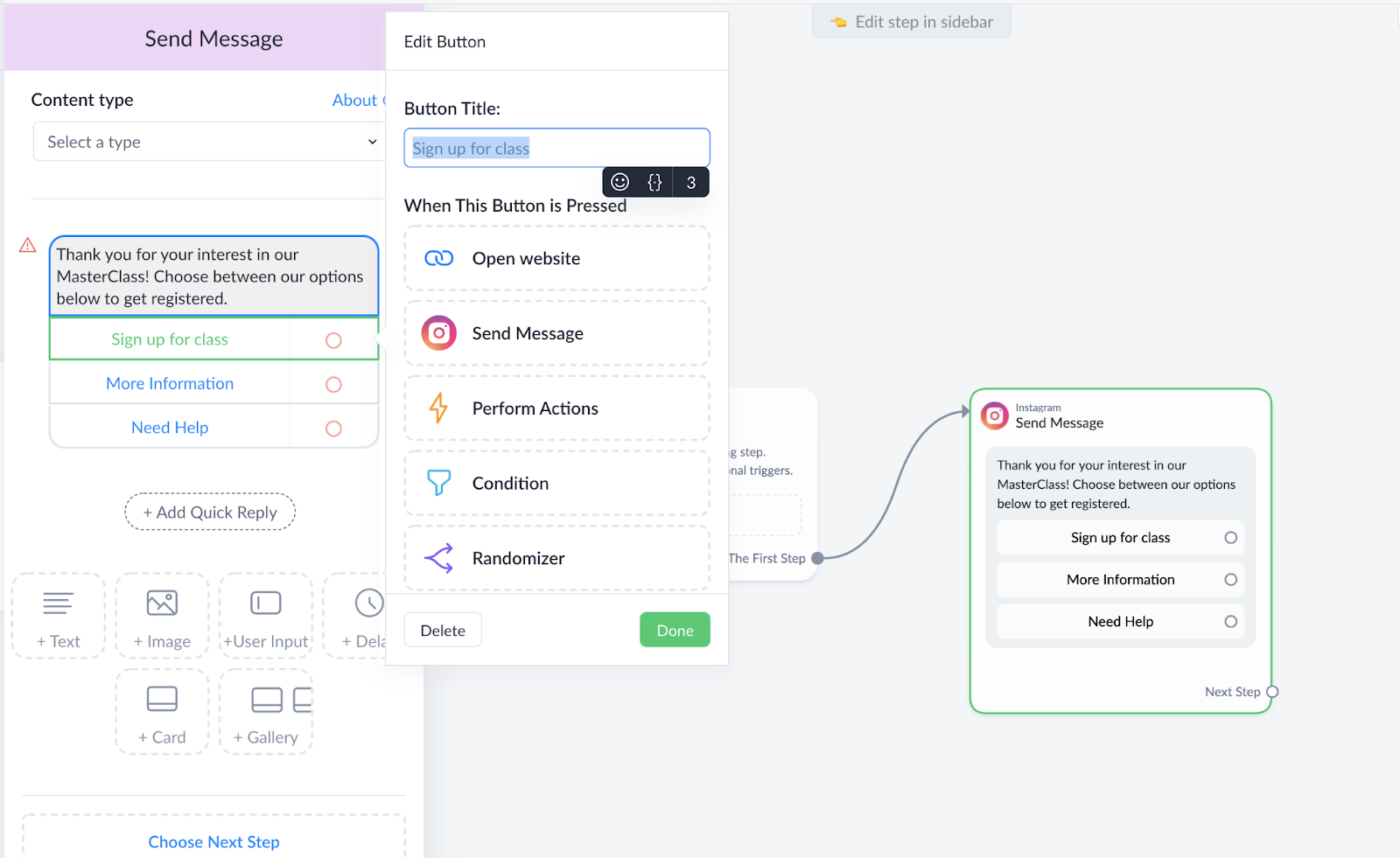 Buttons are a super useful tool and can:
Lead directly to a website.
Prompt another Instagram message.
Perform an action.
Go through a condition or randomizer.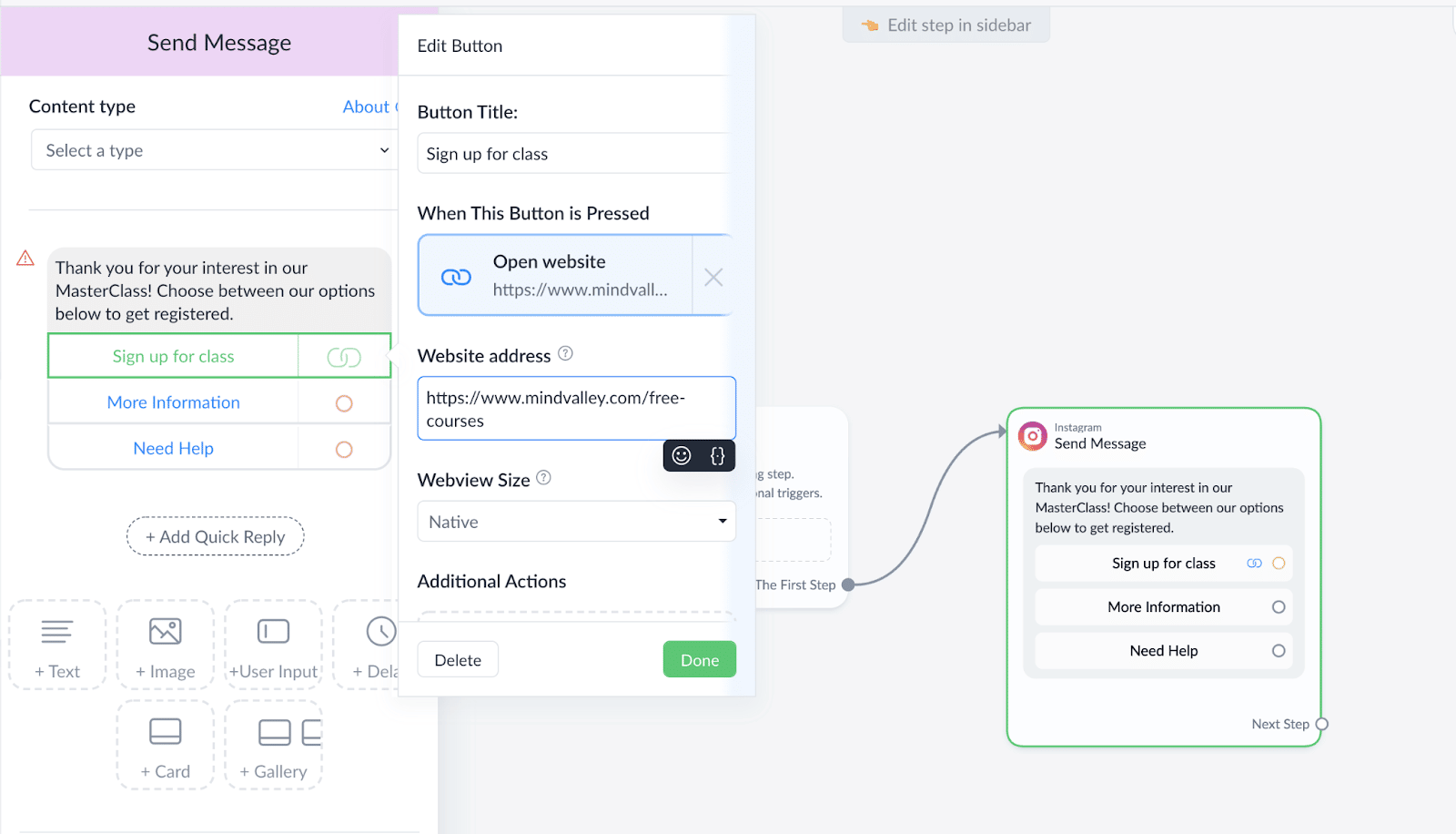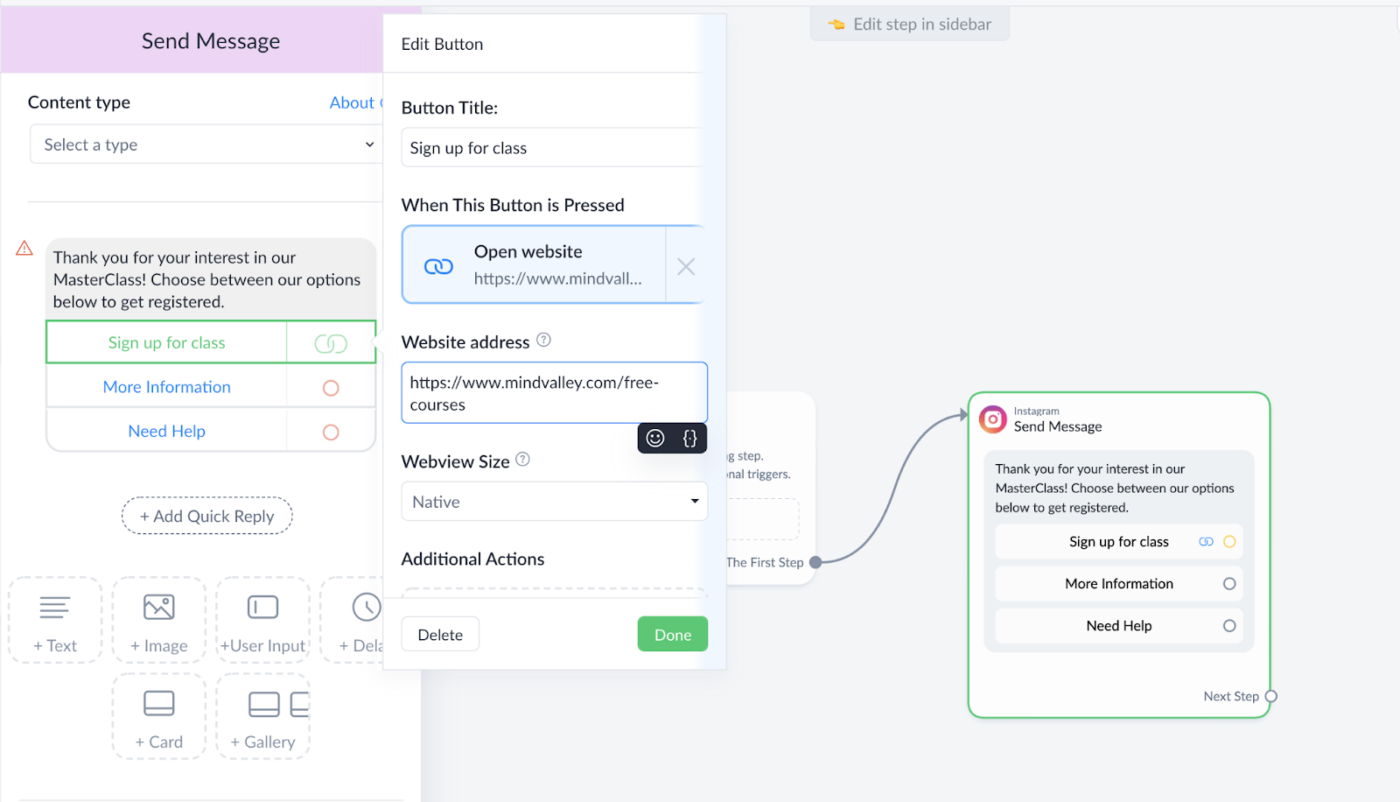 Here's what a message block with three buttons will look like on Instagram.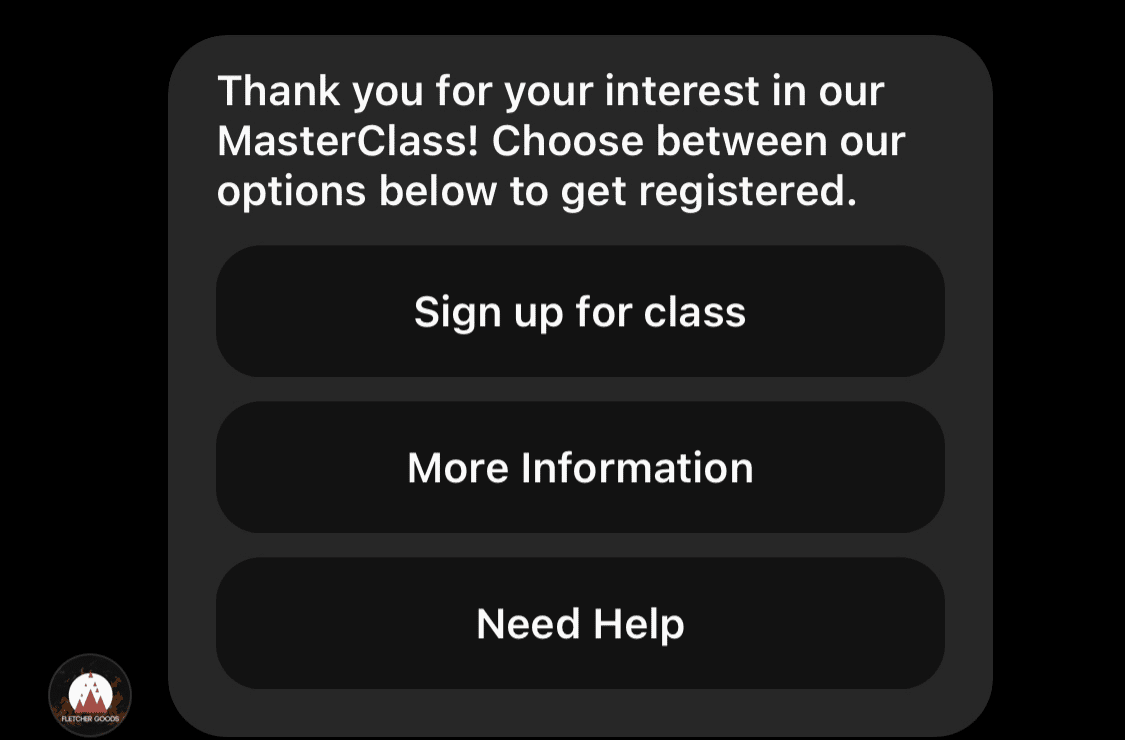 Adding buttons to image galleries and cards
In addition to message blocks, you can also attach buttons to image galleries and cards. You can even create different buttons for every card in your gallery, making each card unique.
To get started, create an Instagram block and select Gallery for the type of block. Your Flow Builder screen should look like this: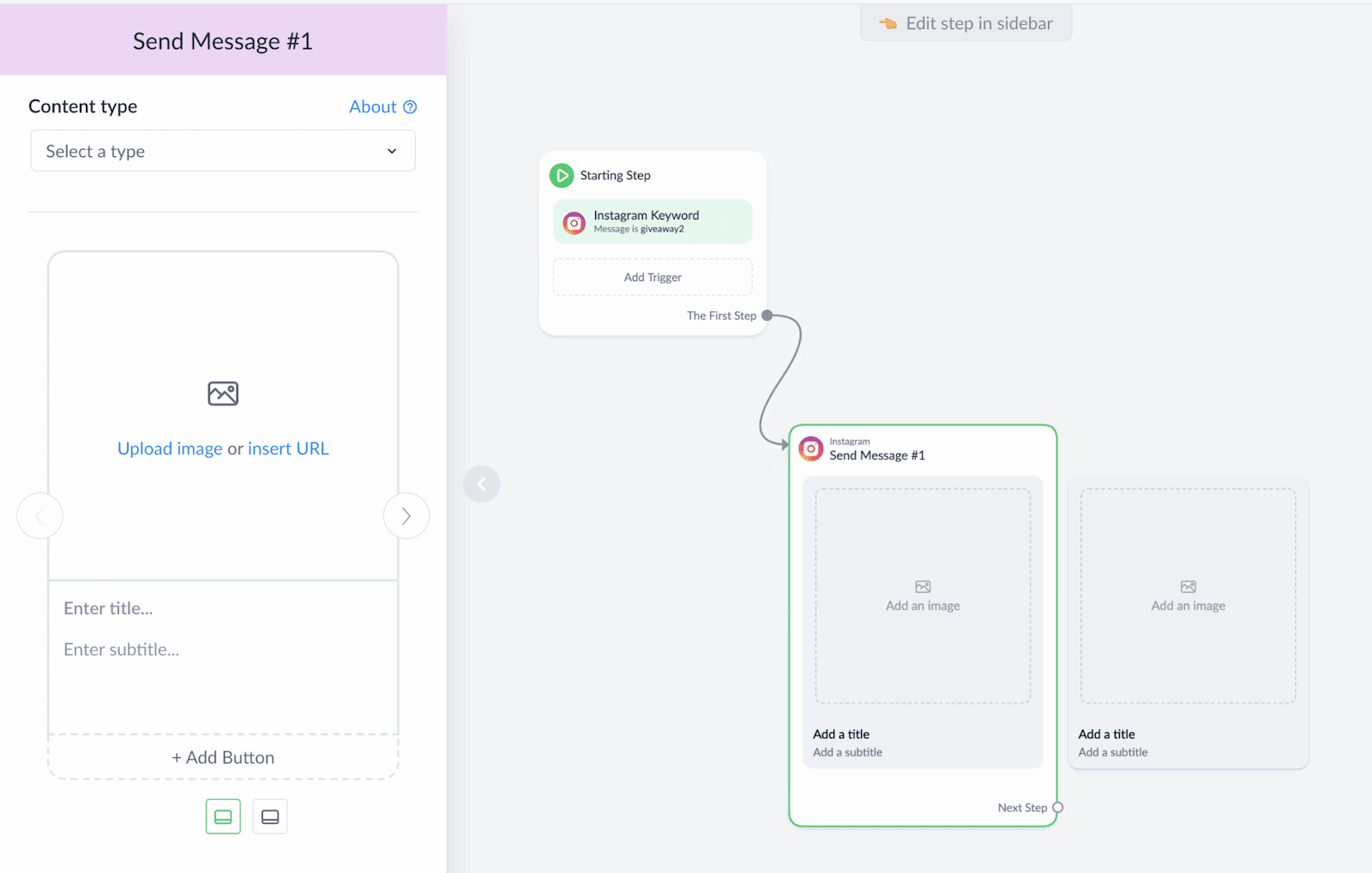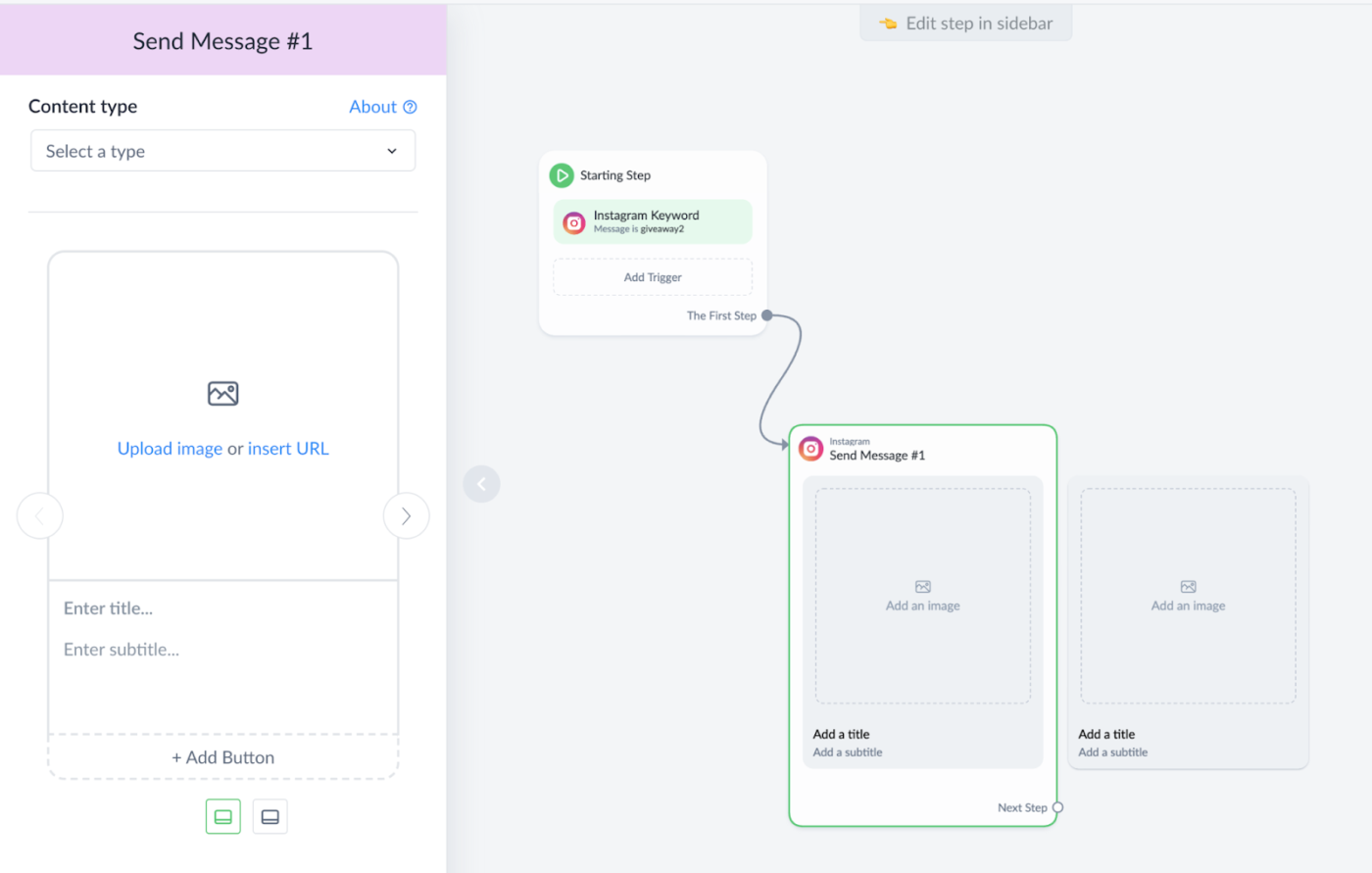 For each card in your gallery, upload your images and enter a title and subtitle as you normally would. To add buttons, click + Add Button below your subtitle text. As with message blocks, you can add up to three static buttons to each card in a gallery. Keep in mind that you have a limit of 10 cards per gallery.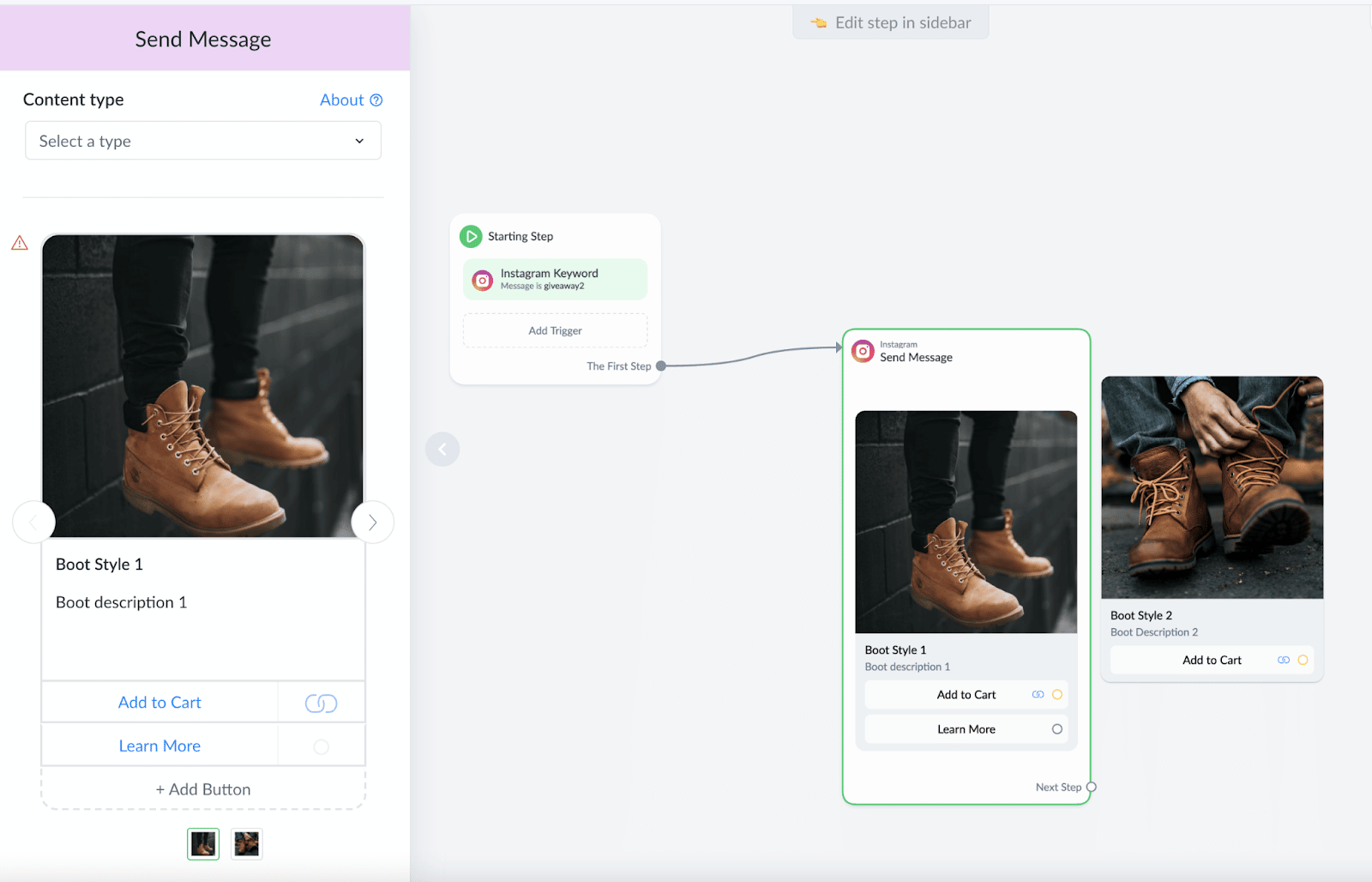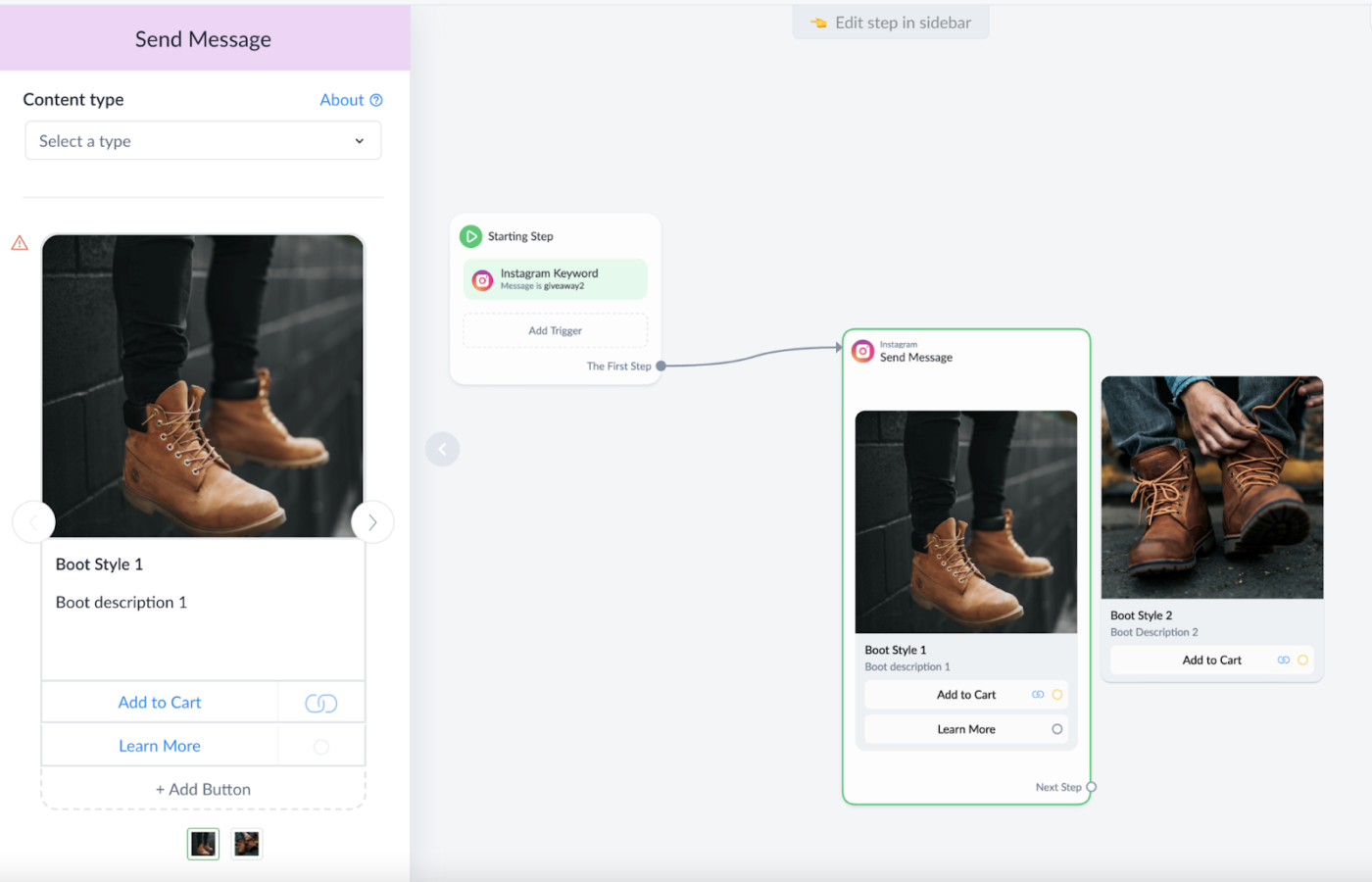 Here's what a gallery block with buttons looks like on Instagram: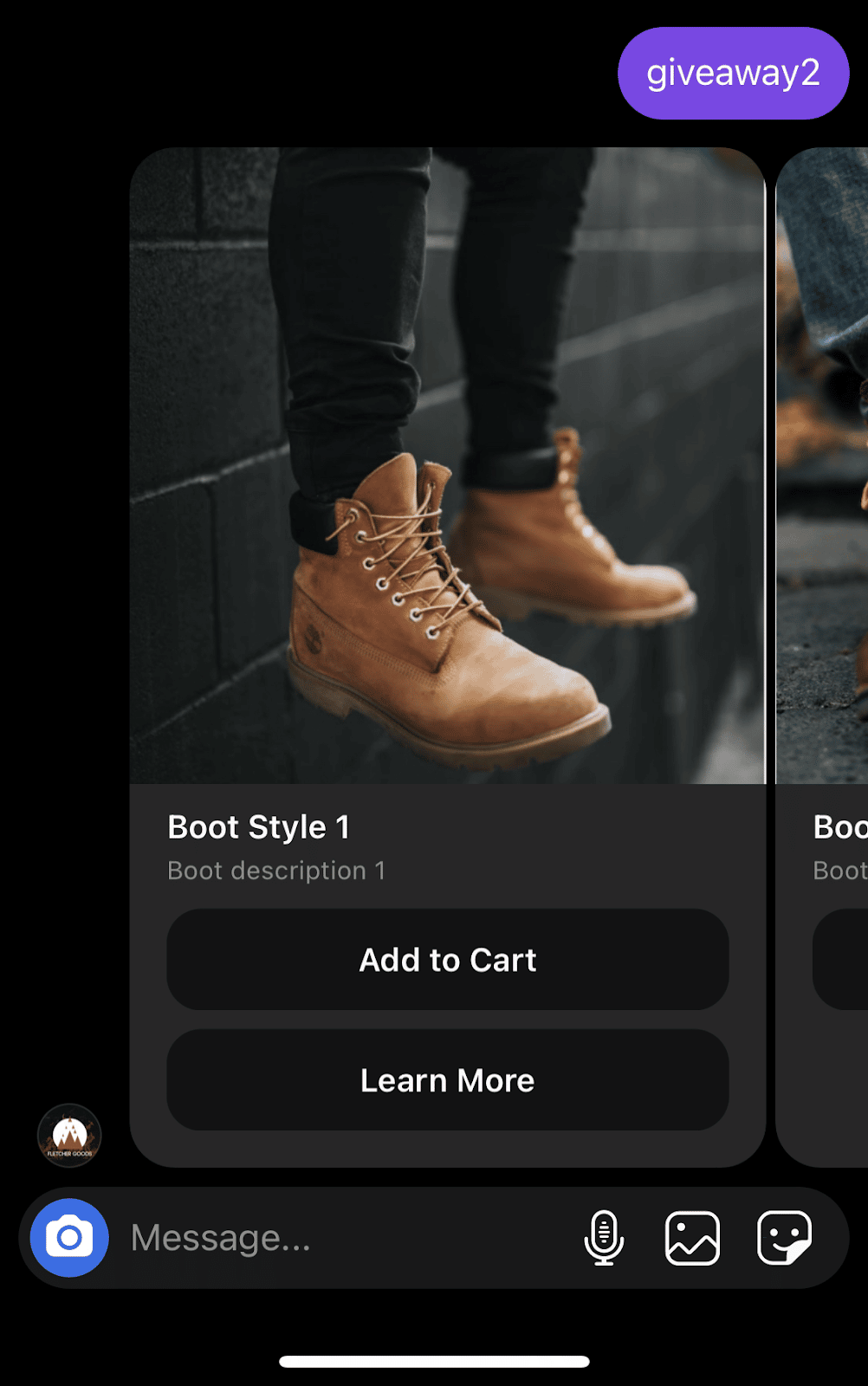 Using buttons allows you to create a smoother and more engaging automated Instagram experience for your audience. Whether you're trying to increase website traffic, online sales, or user engagement, adding buttons to your Instagram automations can help you achieve your goals.
The beauty of ManyChat is its versatility, and we've seen users dream up automations that left us awe-struck. With every new improvement and addition to the ManyChat platform, the world of possibilities gets bigger and bigger, and buttons for Instagram automations are no exception. So, get creative, unleash your potential, and see what you can build!
Create buttons and more by signing up for ManyChat's Instagram automation today!
The contents of this blog were independently prepared and are for informational purposes only. The opinions expressed are those of the author and do not necessarily reflect the views of ManyChat or any other party. Individual results may vary.