Best Appointment Scheduling Apps in 2020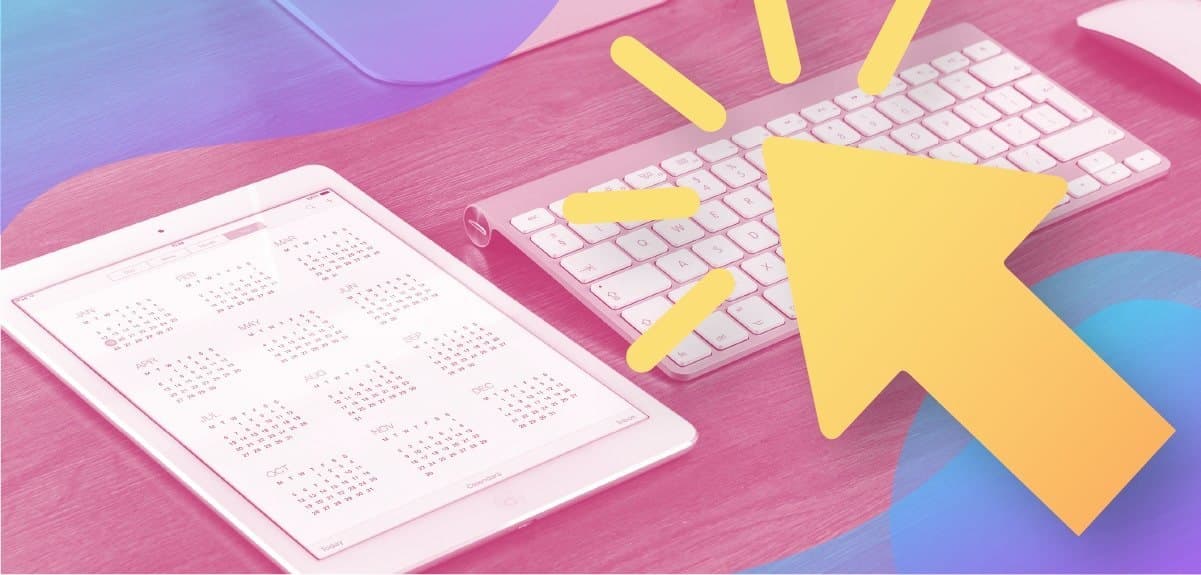 If you provide a service, then you're familiar with setting appointments with prospects.

If you're a B2B operation, then you're definitely familiar with setting appointments, consultations, and meetings with prospects.

Regardless of the reason you need to set schedules or appointments, there's one thing that remains the same… the need for an appointment scheduling app. It's nearly impossible to be successful in any field without a solid way to make and keep track of your schedule. It's nice to know that we no longer have to rely on paper and pencil for our scheduling, as there are apps that can set up appointments, schedule meetings, or block any chunk of time we need.
With that said, one thing to know about online scheduling apps is that they're not all the same. While most have a plethora of features and functions, others take it a step further and allow integrations along with automation.
What to look for in a quality appointment scheduling app
A good appointment scheduling app will:
1. Create personalized booking experiences
A great appointment scheduling app provides the flexibility you need to create a bespoke booking experience. You'll empower your customers with the ability to schedule or adjust appointments according to their exact needs.

For example, let's say you own a hairdressing business that allows customers to make appointments online. An app can present them with a menu of services to choose from, so they can select exactly what they need without having to pick up the phone, thanks to some simple options. Personalization is key to saving time, driving customer satisfaction and increasing loyalty.
2. Let people book from multiple channels
Using a booking app that can be accessed from different points gives customers the accessibility and expediency they need (and expect) to manage their appointments effortlessly and on-the-go.

For instance, certain apps let you embed code onto your website to include your appointment scheduler. They also have Messenger, Instagram and Google integrations so you can let customers book appointments through multiple channels. With these integrations, if a customer saw a click-to-Messenger ad for your service on Facebook, they wouldn't have to search for your business to book an appointment. They can do it in Messenger.
3. Let customers sync appointments to their calendar
Appointment scheduling apps that feature calendar syncing save you buckets of time. Without it, you'd have to write down all your appointments and cancellations and then manually create events in your calendar. You'd also have to manually check your records for just to view your appointment history!
4. Protect against no-shows
No-shows are bad for business. The best kind of appointment scheduling tools have features that protect you against this expensive problem.
For instance, some apps include the option to set-up prepayment requirements or cancellation fees. So, if customers fail to show up on the day or cancel outside of your time restrictions, you'll be compensated for your lost time.
But you don't need to spend hours searching for a mobile app with these capabilities — we've collected the best examples, in our opinion, for you.
Seven best appointment scheduling apps
1. Acuity
The best scheduling app for personalization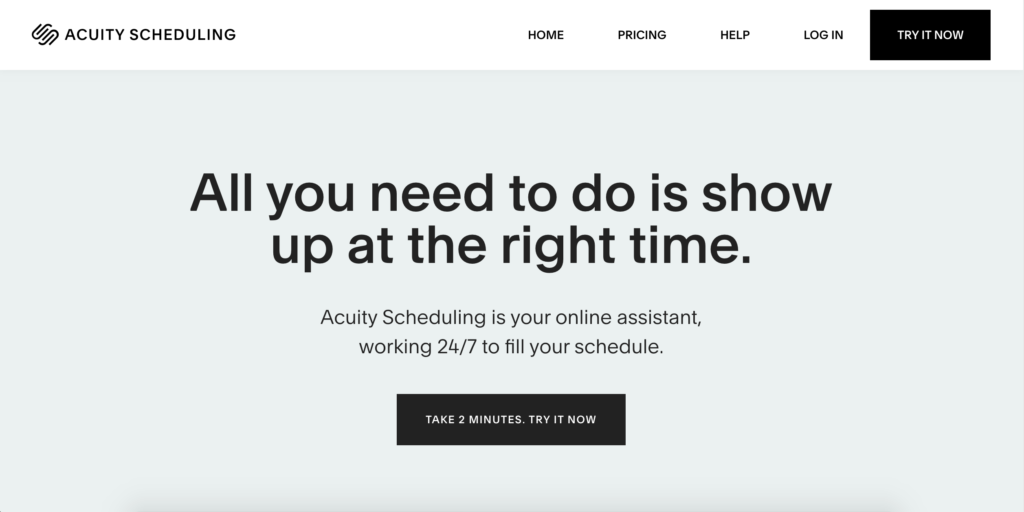 The level of detail for customization in Acuity Scheduling is phenomenal. You can edit your booking page in a plethora of ways, from adding a custom menu of services and coupon offers to a pay-in-advance option. This makes it a great choice for service-based businesses looking to make their bookings process easier without sacrificing the finer details.

There are plenty of customization options in the back-end too. For example, you can dictate the interval between appointments, limit how far in advance customers can book, and give them the ability to reschedule or cancel their appointments.

Pricing: Free; paid plans from $10 per month

G2 Rating: 4.7 out of 5 stars
2. Calendly
The best free scheduling app for time efficiency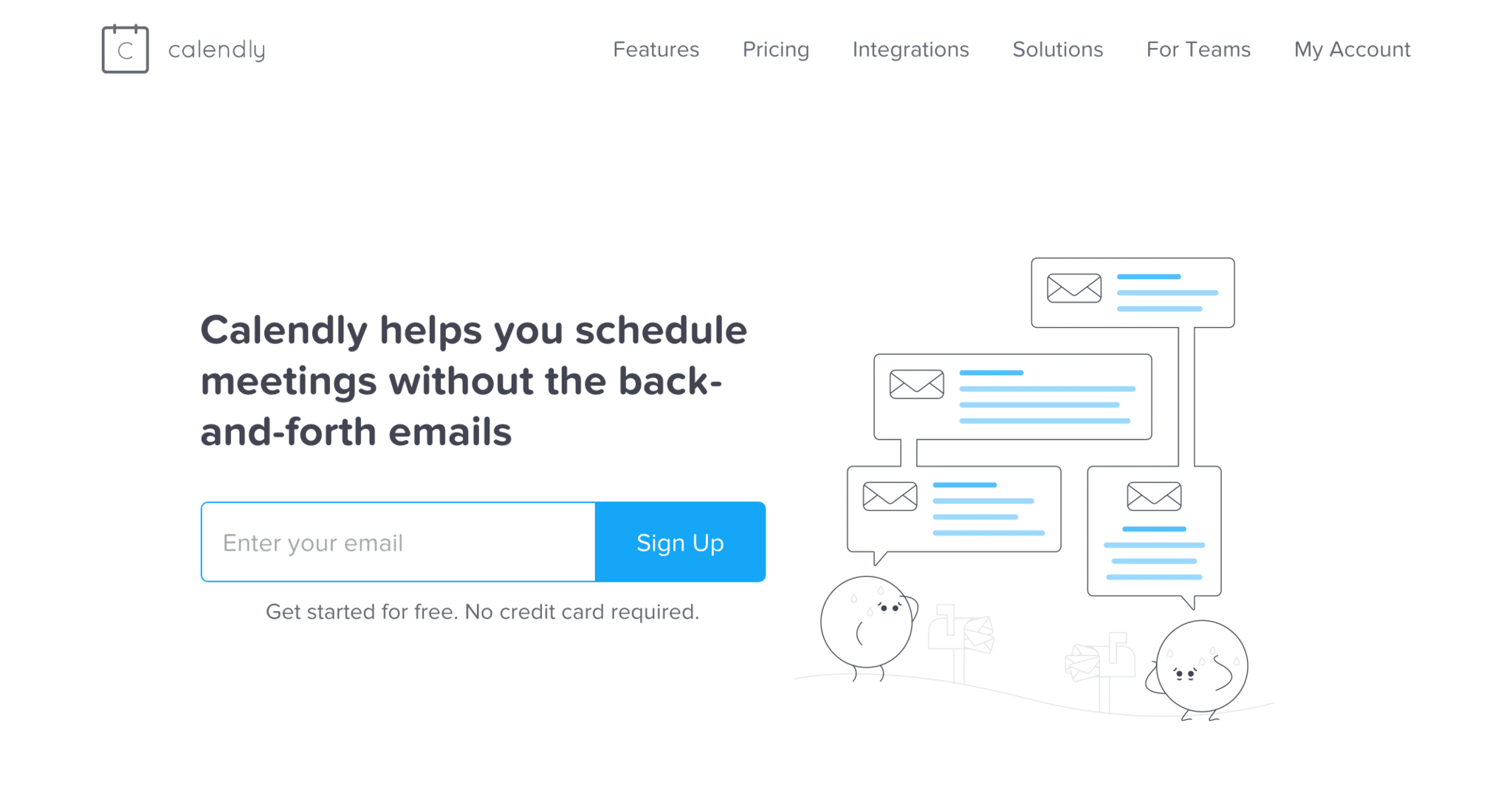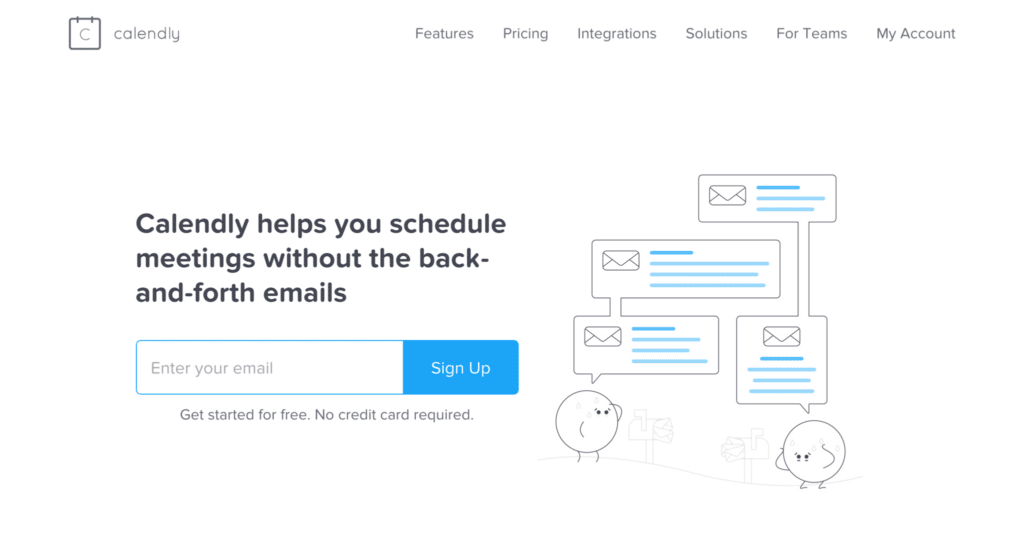 Making appointments (especially a client appointment) is a breeze with Calendly. First, you can give the app your availability preferences, like limiting last-minute meetings or daily time slots, and it will automatically embed these rules into your scheduler.

Then all you need to do is share your Calendly link, and your clients can access your whole calendar (within the app, not your personal one!) to create a booking that works best for you and them.
Bonus features include timezone detection (ideal if you have international clients), calendar integration, and existing services integrations like Salesforce and ManyChat.

Pricing: Free; $8 per month for some extra features (including removable Calendly branding); $12 per month for all available features.
G2 Rating: 4.6 out of 5 stars
Book appointments faster and easier with the ManyChat and Calendly integration.
3. Setmore
The best scheduling app for accessibility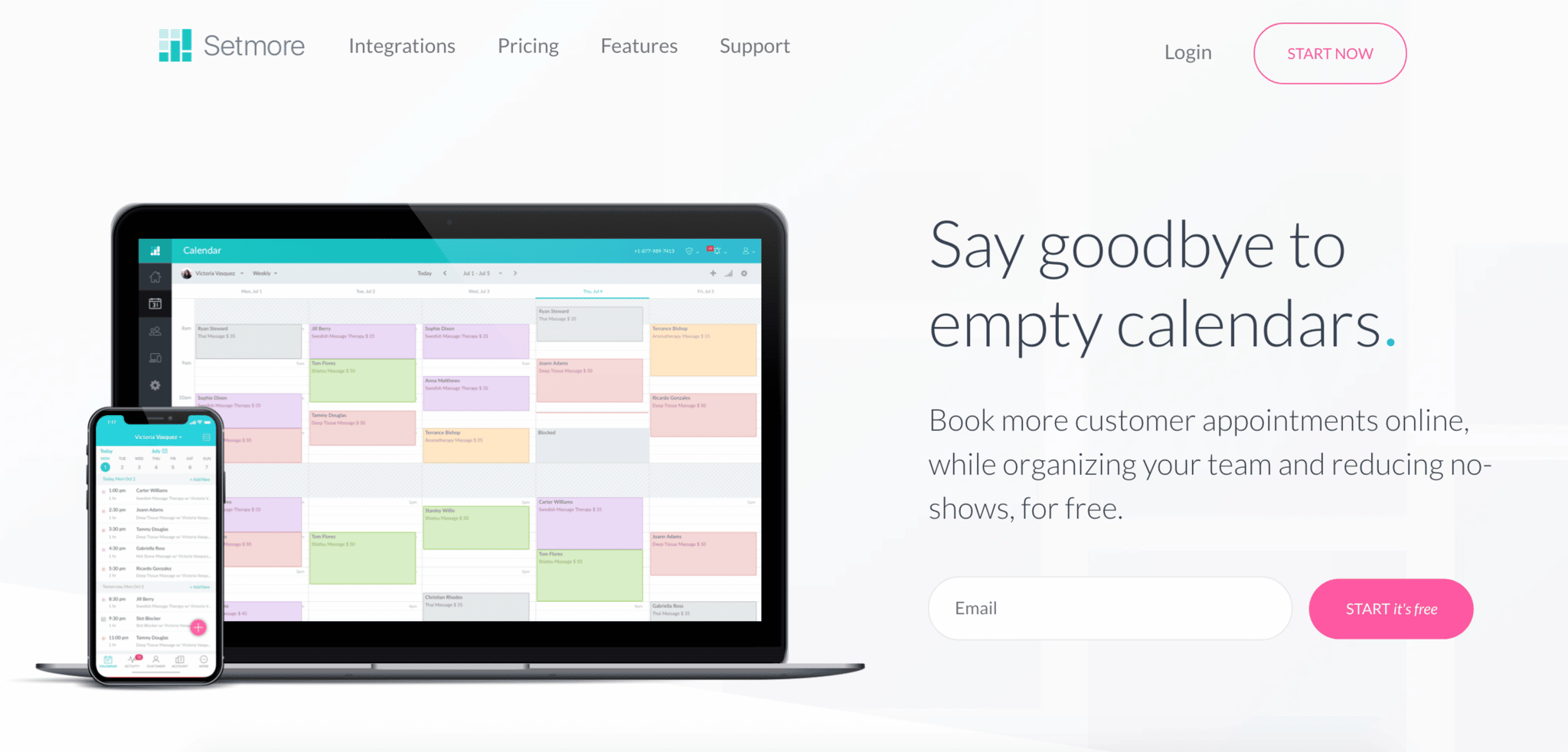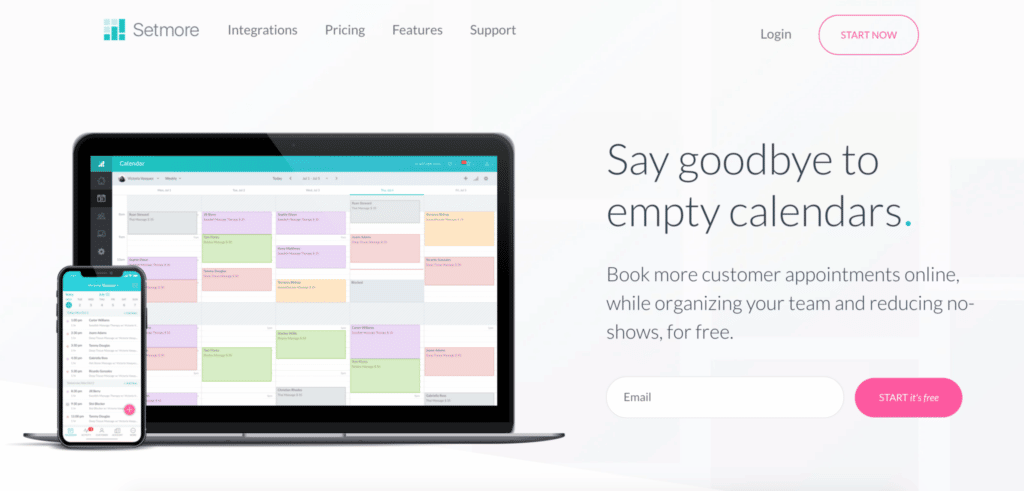 The free (forever) version comes with 1-4 logins, online payment options, email alerts, and a public Booking Page using the Setmore app. Not bad, right? All these features add up to a professional, easy, and efficient booking process that will only do good things for your reputation.

Setmore can also be accessed on multiple devices, so that you, your team or your customers can book their appointments on-the-go. The app also includes integration with Facebook, Instagram, Slack, WordPress, and many more platforms, allowing your customers to book with you from many different access points.

Pricing: $25 per month for 20 staff logins and text reminders; $89 per month for a personal Setmore Call Answerer.

G2 Rating: 4.2 out of 5 stars

4. HoneyBook
The best scheduling app for multiple business functions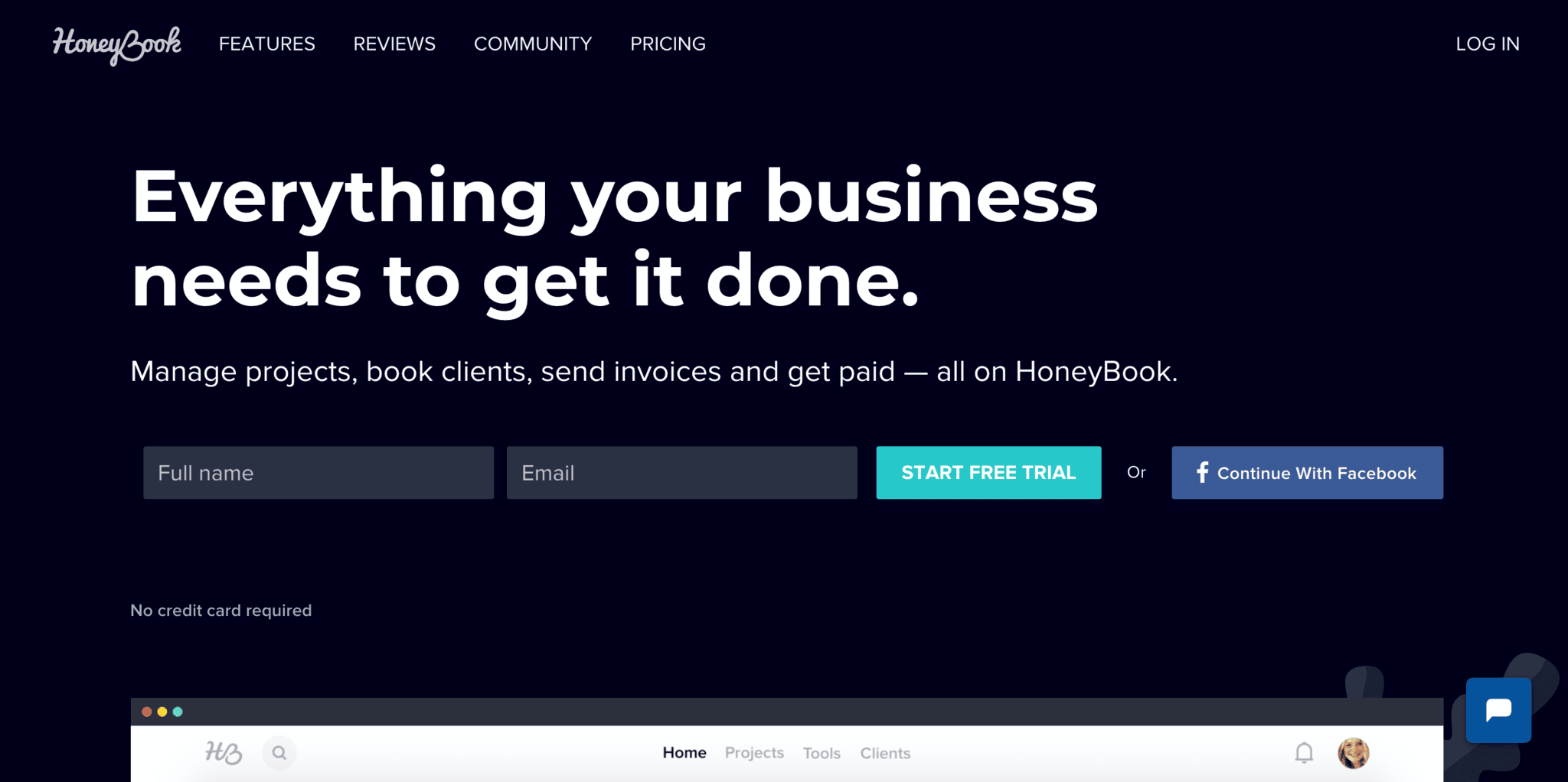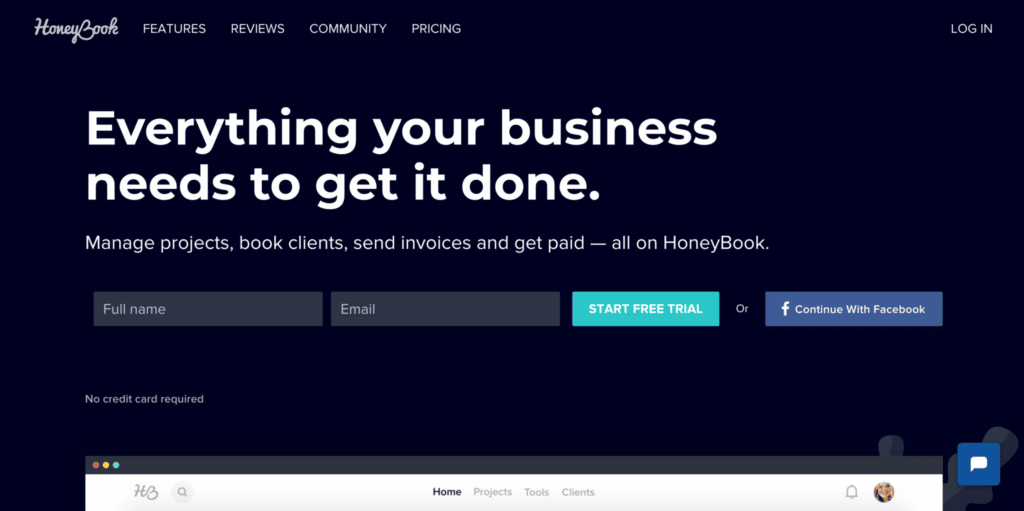 HoneyBook isn't just a savvy appointment scheduler. It includes everything you need to run a small business in one place. It allows you to track your leads from the moment they inquire to when they pay. Plus, for each client, you can send proposals, contracts, and invoices through the app. HoneyBook offers templates for these documents so you can personalize them according to your brand.

Clients can also sign agreements and make online payments using the scheduler. Moreover, if there's a client dispute regarding payments, HoneyBook will work directly with you to resolve them.

Pricing: $35 gives you access to all of HoneyBook's features including concierge customer support. This is billed annually at $400 and includes a free trial.

G2 Rating: 4.4 out of 5 stars
5. Square Appointments
The best scheduling app for protection against no-shows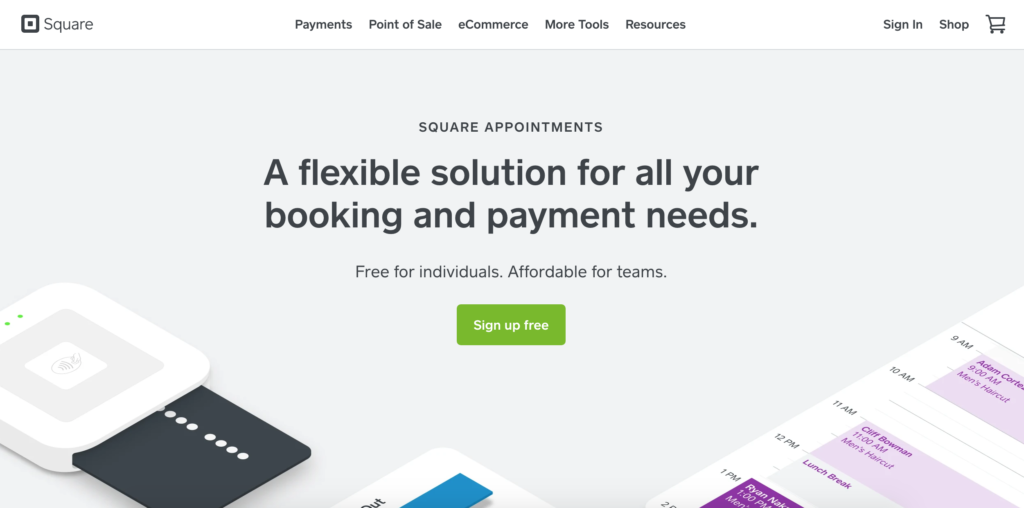 Square Appointments excels at creating seamless booking experiences while protecting your business from no-shows. It includes a free customer booking system website that can be linked to Instagram or Google for improved accessibility. Within your scheduler, you can set up prepayment requirements or cancellation fees to reduce no-shows and their impact on your business. 

Also included are automated text and email reminders to ensure your customers are on-the-ball with your appointments. Imagine how much time you can save when you eliminate manual follow-ups.

Pricing: Free for individuals; $50 per month for two to five employees; $90 per month for six to 10 employees.

G2 Rating: 4.3 out of 5
6. AddEvent
The best employee scheduling app for sharing calendars
AddEvent is a great way to share calendars with your customers. It's the outlier of the pack, but for any company that manages events like webinars, sales appointments, and even face-to-face events. Customers can easily add your event to their calendar and stay up to date on changes. The appointment scheduling software also lets you collect customer data such as name, email address, phone number, location, and more. Access to this level of scheduling software is invaluable for any small business.

Price: Free for personal or hobby use. $19 per month for small business owners, and $99 for professionals who need more account users and features.

G2 Rating: 4.5 out of 5
7. Google Calendar
The best free scheduling app for Google Suite users
You're most likely familiar with the all-too-popular Google Calendar app. Unsurprisingly, it takes a spot on our list of best appointment scheduling apps.
What's great about Google Calendar is that it works with all the key players of the G-Suite including Gmail, Drive, and a bevy of others. It also automatically adds a Google Meet link for easy video and voice chatting without having to go through any additional steps. No more "how are we connecting?"
Another great thing about Google Calendar is how super dynamic it is, allowing automation and integrations to be applied to its functions.
Price: Free
G2 Rating: 4.6 out of 5
Integrating your free scheduling tools with ManyChat
Speaking of scheduling app integrations, they'll be your best friend. Your ace-in-the-hole when it comes to making your work life a bit more automated.
ManyChat has an extensive line of integration capabilities, particularly in regard to scheduling apps. The first thing you should do when exploring integration capabilities is to visit the "Integrations" tab under "Settings" in your ManyChat dashboard.
Here, you'll see that there are integrations you can do without a third-party integration scheduling tool.
If you don't find your CRM or scheduling app here, don't worry. You still have a few options.
API
ManyChat allows you to set up an integration between your ManyChat features and virtually any app out there, including scheduling apps. Don't overlook this crucial feature in ManyChat, since taking advantage of this integration capability can save you a ton of headaches. You'll just want to make sure you set this up effectively, which might entail consulting a developer when needed.
Third-Party Integrations
Zapier is a third-party integration tool that allows a multitude of integrations between ManyChat and your scheduling app.
For example, Zapier allows you to set up an integration between ManyChat and Google Calendar. With this integration, there are a variety of ways you can connect your subscribers with your team, or nurture prospects towards engaging in a convo with your sales team.
If you've taken full advantage of the scheduling features in your CRM, Zapier allows you to set up a "Zap" between ManyChat and a multitude of CRMs including:
Hubspot
Keap
Salesforce
Magento
Shopify
The bottom line is that the best appointment scheduling app for you will be the one that's flexible and dynamic. Of course, it also needs to work in tandem with your prospect or customer management apps.
Making the most of your free scheduling tools
Any of these scheduling apps will transform the way you take an online booking for the better. Leverage these valuable tools to create a seamless experience for your customers that's bespoke to your business. And in the meantime, put the extra time, effort, and money saved back into improving other areas of your business.
Book appointments faster and easier with ManyChat. Get a free account today.
The contents of this blog were independently prepared and are for informational purposes only. The opinions expressed are those of the author and do not necessarily reflect the views of ManyChat or any other party. Individual results may vary.