A Brief Guide to SMS Compliance Laws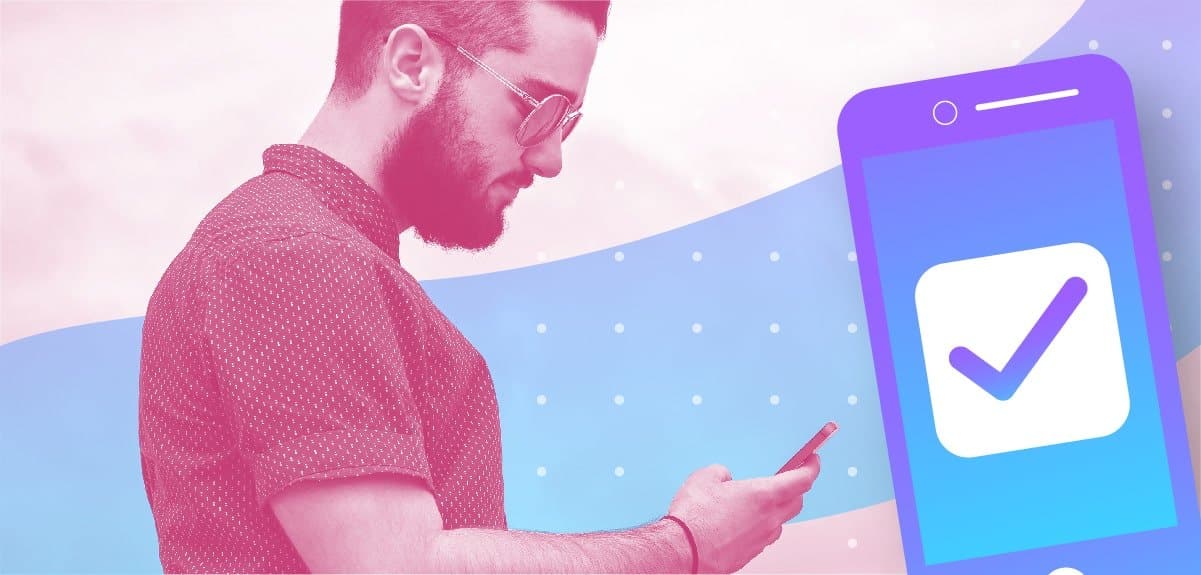 Perhaps the biggest barrier to building your SMS subscriber list is legally getting people to sign up. More so than spammy promotional messages, this often gets marketers into trouble as they go to launch their first text marketing campaign.
When subscribers give you consent to receive text messages, only then can your company send them without facing penalties.
Whether you're a marketing agency wanting to add text marketing as a new service, or a solopreneur trying to get into Chat Marketing, you need to get permission to send people text messages. 
Here's a quick and practical guide on how to stay compliant, plus tips on how to get your SMS subscriber list off the ground and running.
What is SMS compliance?
The purpose of SMS compliance is to ensure that people do not receive text messages they do not want to receive from a business.
In the U.S., businesses that want to get into SMS marketing need to familiarize themselves with the Mobile Marketing Association (MMA), Federal Communications Commission (FCC), and the Cellular Telecommunications Industry Association (CTIA).
Among these, the Federal Communications Commission (FCC) and Federal Trade Commission (FTC) are government bodies that monitor, regulate, and enforce rules for SMS marketing. It has enacted laws such as the Telephone Consumer Protection Act (TCPA) and Controlling the Assault of Non-Solicited Pornography and Marketing (CAN-SPAM ACT). Under TCPA, businesses need to get consent from customers to send text messages for any reason. 
Even if you already have a relationship with the customer, for example on Messenger or through email, they will have to express written consent in order for you to send them promotional text messages. The act also states that customers must receive clear expectations regarding what messages they can expect to receive.
But what could really go wrong?
Sending text messages is illegal unless the person who owns the number gives you consent to receive texts. For companies that don't comply with laws and regulations, the costs can be high. Here are a few landmark examples of lawsuits around unwanted text messaging:
Burger King: The company hired a third party to deliver a spam text advertising campaign. It cost them $250 per phone number after a class action settlement.
Papa John's Pizza: The company was sued in a $250 million class action for illegally sending customers unwanted text messages. They settled on $16 million.
Twentieth Century Fox: During the DVD release of the film "Robots," the American film studio sent out an SMS campaign that resulted in a $16 million class action settlement at $200 per phone number.
To summarize: Text message marketing is an effective and easy way to reach your customers, but you must get permission first. Don't rush the process. If you do, you may end up like the companies above who had to pay millions for illegal text messages. 
Now let's jump into the rules you need to know to get permission for text marketing.
Rules for getting SMS communications permission
Subscribers must express written consent 
Many marketers get confused when learning about the Telephone Consumer Protection Act (TCPA), especially around getting written consent before sending text messages to customers. While it seems complicated, the concept is pretty straightforward. 
Subscribers need to opt in before you can send a message. They need to know exactly what they are signing up for, and it needs to be clear.
Today, you don't need a pen and paper to get written consent. Here are a few ways to do it in the digital age:
Have customers enter a phone number in Messenger.
Get customer phone numbers in person.
Ask customers to enter a phone number in an online form.
Have customers send a text to your number.
Collecting phone numbers in a permission-based way results in better open and click-through rates, reduces spam complaints, and makes you more reputable as a company.
Make sure to keep complete records of each customer's opt-in and consent. This will help you prove compliance in case people file spam complaints.
Importing contacts
If you want to build a text messaging marketing list, your goal may be to import contacts from your other databases. However, federal law requires you to review each contact you import. You must make sure that every contact you import has given you permission to text them.
Send confirmation messages after opt-in
Subscribers must consent to all your recurring messages. Just giving their phone number is not a compliant opt-in. Make sure you send a double opt-in confirmation message before sending your first marketing message, making sure it contains these four things:
Who you are.
What you'll be sending.
The phrase, "Message and data rates may apply."
How to opt-out.
Here's an example of what this looks like in Flow Builder: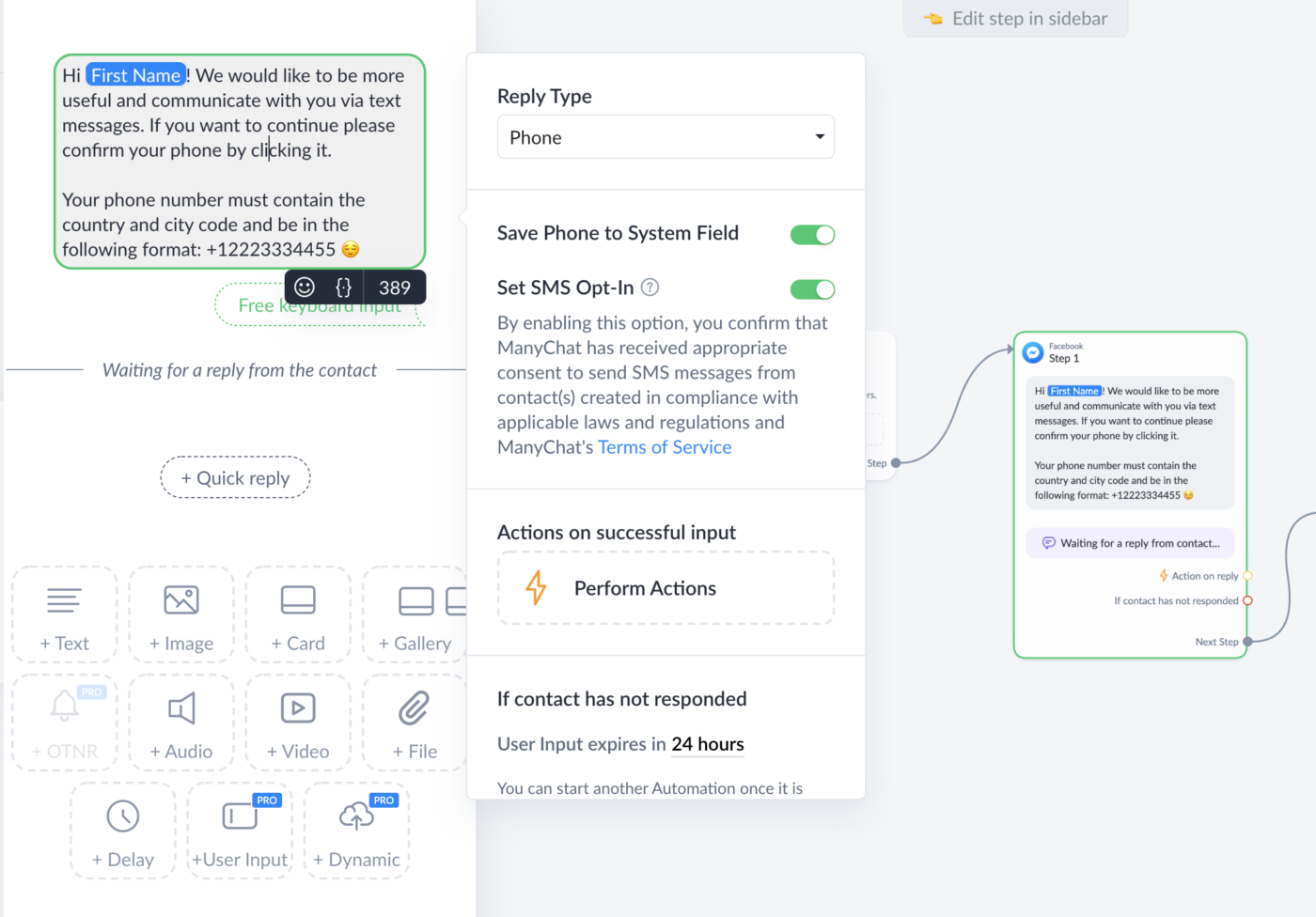 Download the template for your own bot via this link. It's completely free.
Make it easy to unsubscribe
Let subscribers know they can text STOP to opt out, and remove them from your list when received. Failure to honor opt-outs can mean legal trouble for your company. You must acknowledge all opt-outs and act accordingly.
Due to new SMS Carrier(s) Regulations, starting on June 7th, 2021, all initial SMS messages sent to your contacts via ManyChat will include a mandatory opt-out message.
These opt-out instructions were put in place by wireless carriers to fight against bad actors and protect the end user. You will see a slight increase in the cost of your initial message since this mandatory opt-out text will be counted against your character count.
To find this change within ManyChat, go to your ManyChat account and Settings then SMS under Channels. It will be listed as "Opt-out Text". If you are interested in getting this text change, please reach out to our support team.
Don't text about SHAFT
When messaging your customers, you cannot discuss topics that include sex, hate, alcohol, firearms, or tobacco, according to the Cellular Telephone and Internet Associate (CTIA) best messaging practices. Messages including these topics may result in an immediate ban from SMS communication.
Creating compliant SMS marketing campaigns
The text marketing space can seem confusing and overwhelming when it comes to compliance. Sending the wrong message to the wrong person can mean legal trouble for your business. That's why it's important to understand compliance laws in order to maximize your text message marketing strategy.
Note that there may be different regulatory or industry considerations depending on your use case. You should consult with your legal counsel to ensure your SMS marketing use case is compliant with all applicable laws and frameworks.
New to text message marketing? You can run fully compliant, engaging SMS campaigns with ManyChat. Try it today.
The contents of this blog were independently prepared and are for informational purposes only. The opinions expressed are those of the author and do not necessarily reflect the views of ManyChat or any other party. Individual results may vary.