5 little-known ways to use Instagram to promote your eCommerce brand 🛍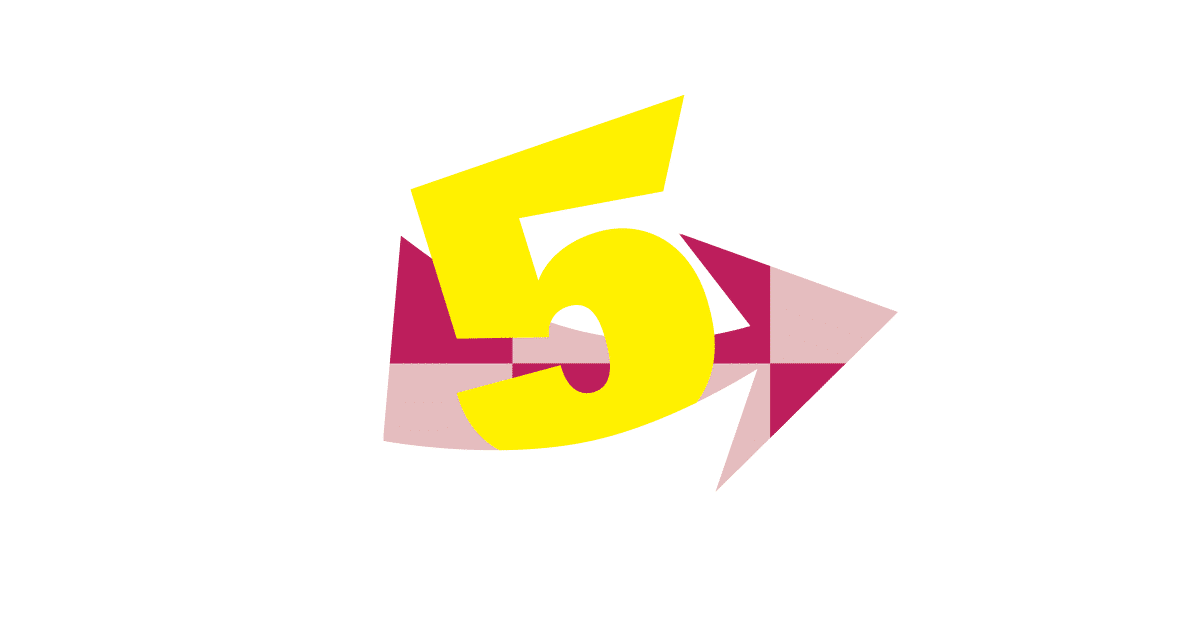 Right now on Instagram, you're competing for your customer's attention.
And losing. 😨
Sales are flatlining.
Engagement is low.
You are at the mercy of the algorithm.
But there is a silver lining to help you drive more leads and sales, recover abandoned carts, and answer FAQs on autopilot you probably haven't thought about…
Instagram chatbots.
Let's explore how you can leverage Instagram for eCommerce and pair your existing efforts with Manychat's Instagram Automation to build your first sales funnel.
Why use Instagram for eCommerce? 🛍
With more than 2 billion monthly active users, Instagram is marketed as the destination where people connect with friends, brands, and things they love.
In fact, 90% of people follow at least one business on the platform, and 70% of shoppers look to Instagram for their next purchase.
It's no secret that messages, like Instagram DMs, drive more people from discovery to purchase.
According to a Facebook-commissioned online study, two-thirds of consumers who use messaging apps to interact with a business have contacted them while in the process of shopping.In a 2020 Facebook Messaging Research study, 68% of international adults surveyed said: "I am more likely to do business with/purchase from a company that I can contact via messaging (e.g. via chat app, text) than one that I cannot."
The top ways eCommerce businesses leverage Instagram DM Automation 💬
Our Agency Partners and Educators (as well as a variety of top brands, like Nike and Four Reasons) use Instagram DM Automation, or Instagram chatbots, in a variety of clever ways, including:
Offer ways to seamlessly purchase in the DMs (including using product galleries)
Giveaways for lead generation and list-building
Recover abandoned cards
Drive sales with personalized chat experiences
Answer FAQs 24/7 without lifting a finger
Provide buttons to purchase triggered by keywords
Offer coupon codes
And many more!
There are also multiple ways to grow your contact list using Manychat, including native tools like:
Instagram keywords
Instagram comments
Instagram Story mention reply
Instagram Live comments
Ads that Click to Instagram Direct
DM link (For example: ig.me/m/your_username)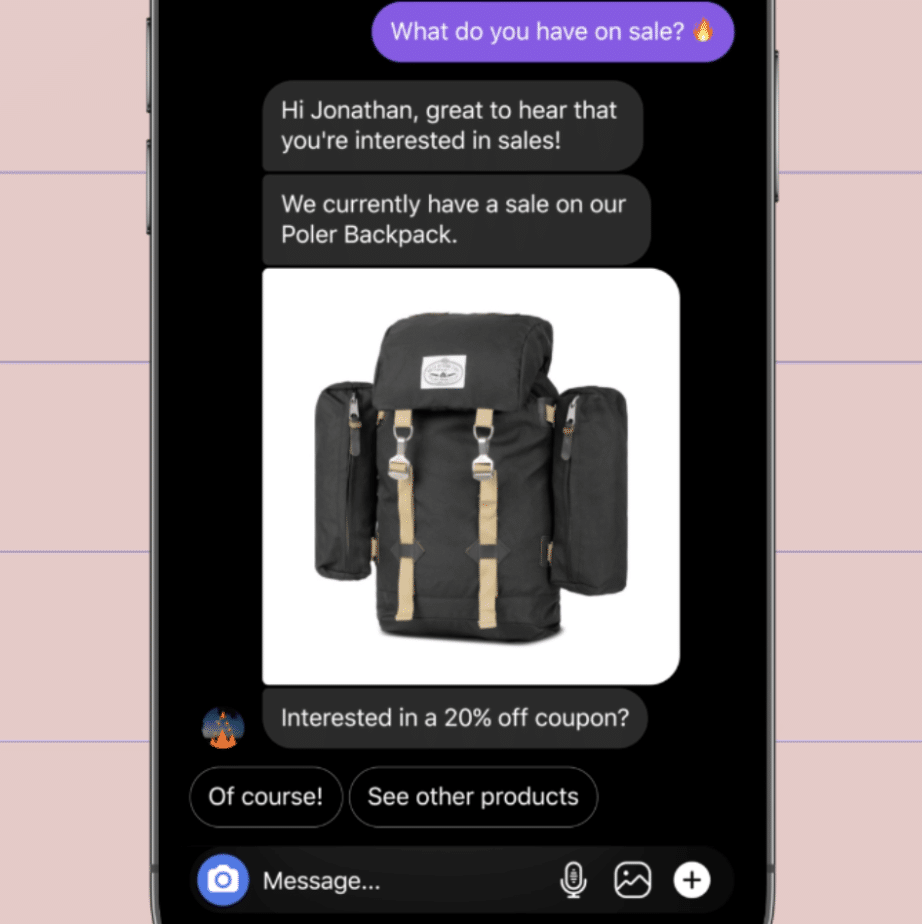 So, whether you're a new venture hoping to squeeze more revenue from Instagram or an established eCommerce juggernaut ready to smash those sales targets, this is one of the first funnels to build. 🤖
Let's guide your customers through the path to purchase, step-by-step.
1. Ditch the manual effort in replying to FAQs day and night
👀 Customer "path to purchase" stage: Awareness stage
Let's start with the basics…
Are you tired of answering hundreds of DMs manually?
Before your lead goes to a competitor, your Instagram chatbot can answer the most common questions instantly.
There's no need for a human to step in, dramatically reducing your customer service costs.
But if your customer requests a human, you can jump into live chat or Instagram DMs to answer them.
The most common way to set up your FAQs is using a keyword trigger, which fires off when your customer types in a keyword.
For example, let's say a customer likes a blue sweater you're selling but they want to find out what sizes are available.
They may send a message like "What size does this come in?"
And you can automate a response with a link to your sizing chart – all within the DMs.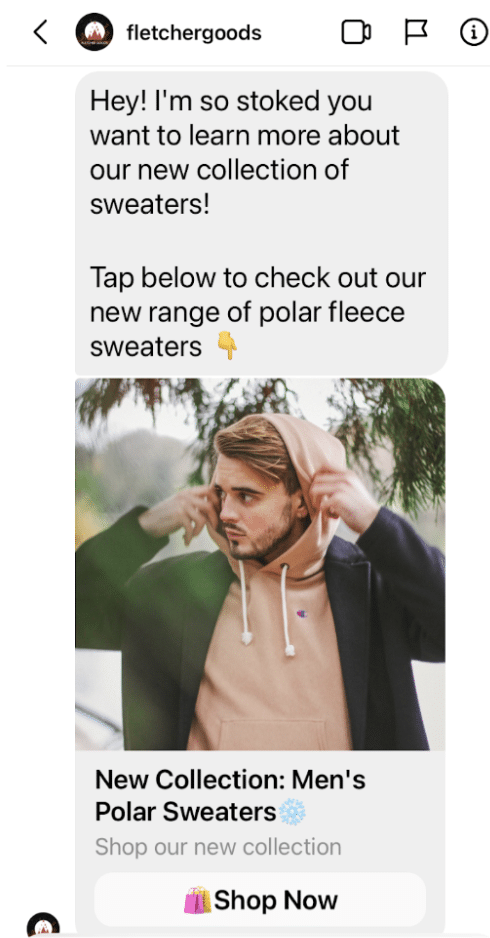 2. Grow your database – and build a list that you own
👀 Customer "path to purchase" stage: Awareness and consideration stages
If you're looking for a surefire way to turn randoms into raving fans, the best way to do that is through nurturing.
But first, you have to capture their details at the entry point.
With Instagram chatbots, you're able to create a chat experience that records your leads' details so you can market to them later.
By collecting first-party data, like phone numbers and email addresses of your leads, you're able to retarget your audience, recover abandoned carts, and grow a database that you own – regardless of any platform changes, like iOS14.
In fact, one of our agency partners was able to grow their client's database from zero to about 1,000 contacts from just 10 Facebook posts connected to Manychat's Comment Automation tool.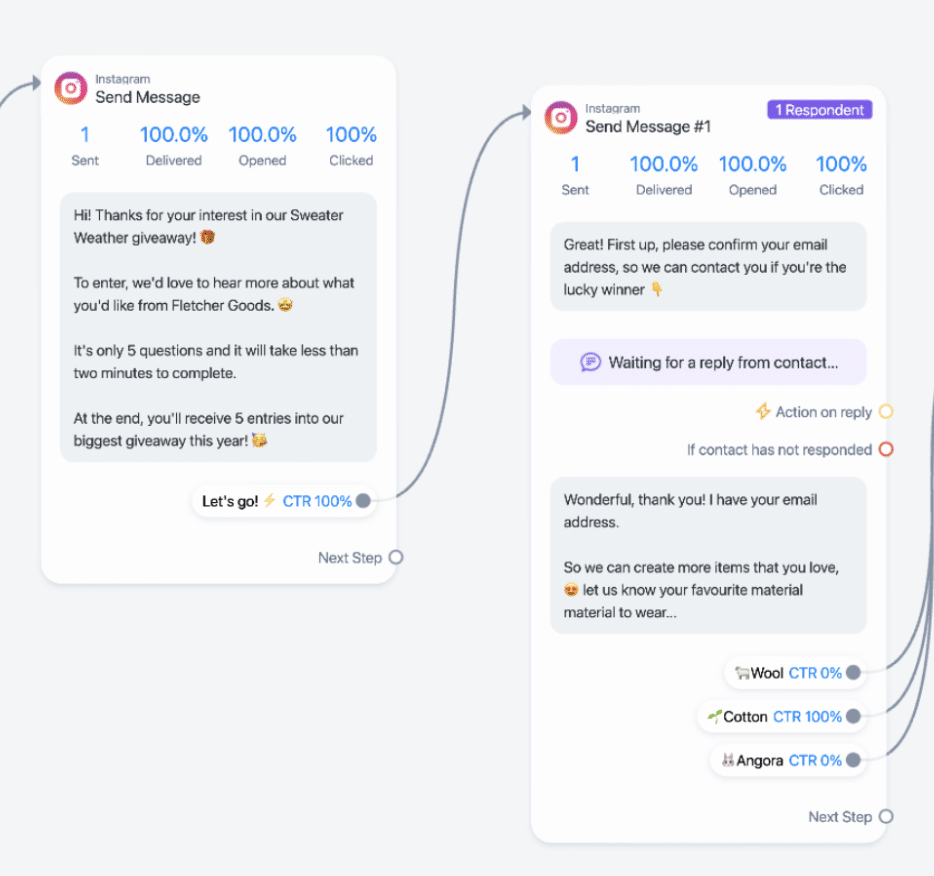 3. Generate more leads using ads that click to Instagram Direct for a personalized shopping experience
👀 Customer "path to purchase" stage: Awareness, consideration and purchase stages
Next, consider running ads that click to Instagram.
You can reach more ideal buyers, and on the flip side, you can retarget those who viewed your products but didn't buy.
Best of all, you can start conversations with your potential customers at the click of a button.
Here's how it works.
Once your prospect clicks on the ad, automated questions guide them to your most relevant products – all sent through Instagram DMs.
Plus, you can even ask your leads questions and record the answers to build a robust customer profile.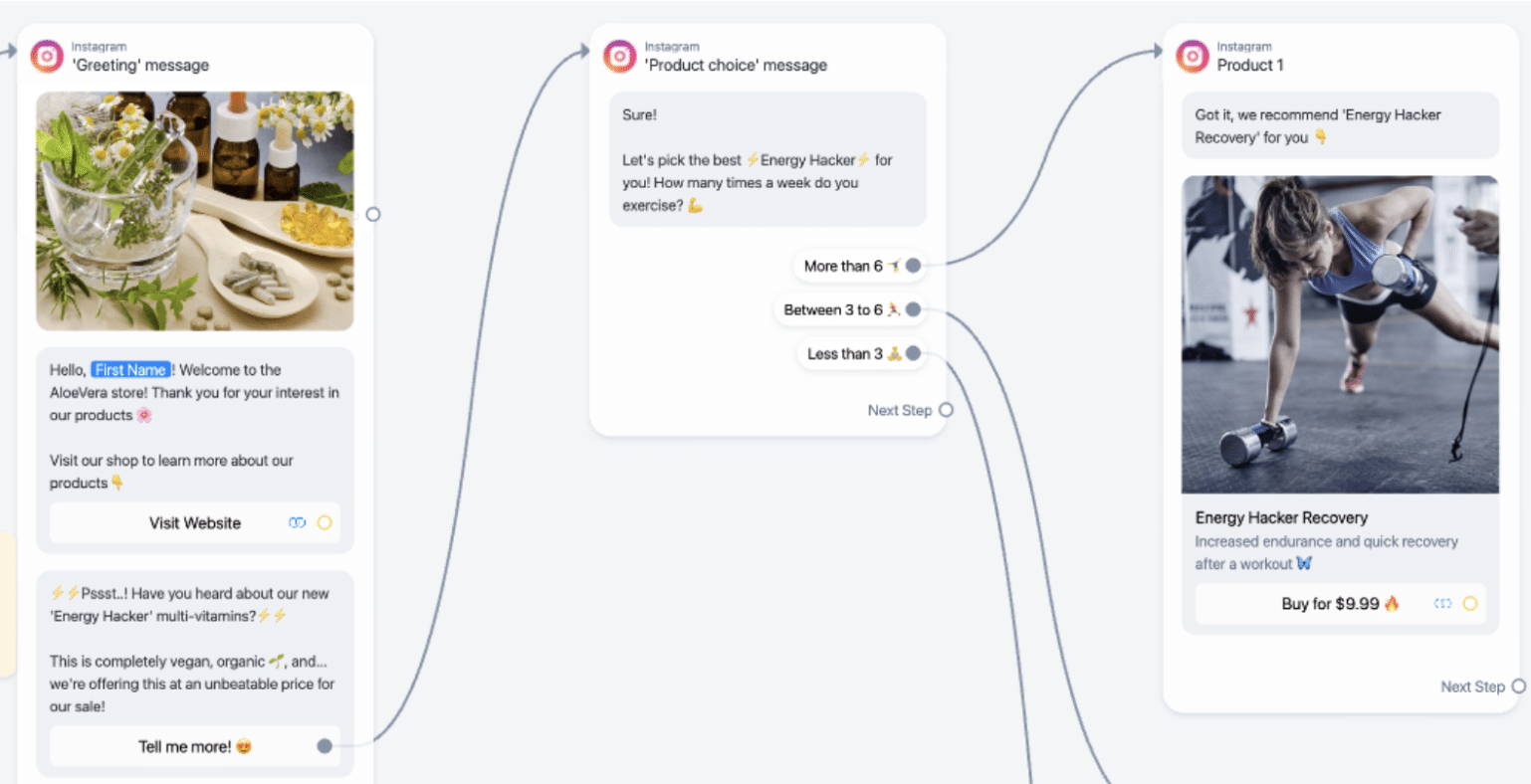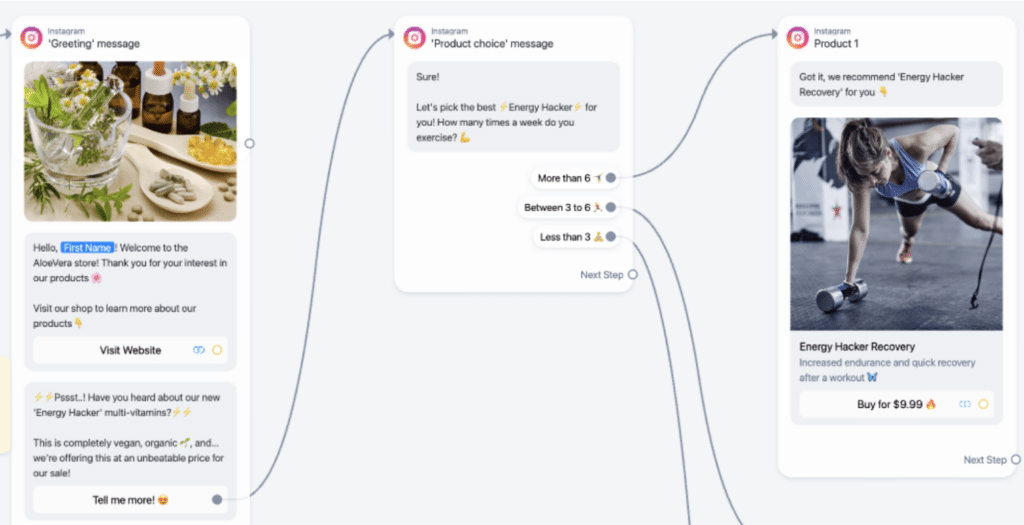 Once the customer clicks on their desired product, they're taken to your website to complete their order – all without leaving the Instagram app!


Using ads that click to Instagram Direct, you can boost sales with potentially lower ad costs compared to other channels.
4. Host a giveaway that ignites engagement… and ROI
👀 Customer "path to purchase" stage: Awareness and consideration stages
A giveaway is a smart way to leverage engagement to attract new and existing customers.
Best of all, with Instagram chatbots, you can bypass the dull "comment, like, share" prompt of regular Instagram giveaways.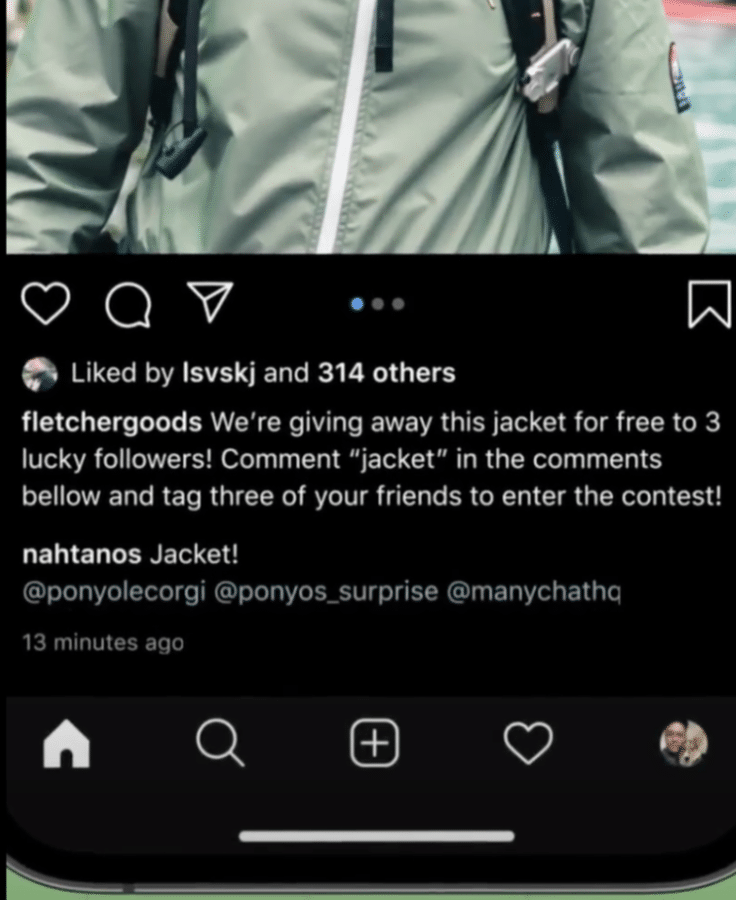 Using Manychat, you can capture the leads commenting on your giveaway post – and send them directly to your DMs to register their entry.
Try a mystery gift promotion, "12 days of" giveaway, or viral gamification giveaway.
At the end of your giveaway messages, you can send an upsell with a special offer just for participants to drive more sales.
In fact, Four Reasons haircare used an IG gamification giveaway with an upsell that resulted in 227.59% ROI and $19,000 in sales.
6ft6 Wine used a 12-day giveaway strategy to generate 1,295 leads in 12 days with zero ad spend.
In a similar fashion, GeForce Now powered by Pentanet also implemented a 12-day Instagram giveaway strategy, generating 491.88% ROI for the brand.
And don't forget the biggest sales event of the year: Black Friday and Cyber Monday!
Orca Marketology founder, Mackensie Liberman, developed a mystery gift framework using Manychat that helped her client pocket an extra $29,271.89 in revenue in just 7 days for their BFCM campaign. 🎁
5. Recover more abandoned carts
👀 Customer "path to purchase" stage: Purchase stage
Now your customers have added an item to their cart but haven't pulled the trigger…
Or your customer would like a product that's currently on waitlist or back order.
Your Instagram chatbot can send them a discount code to ensure they proceed to the checkout.
You can even include an expiry and send a reminder before the time is up (within the first 24 hours).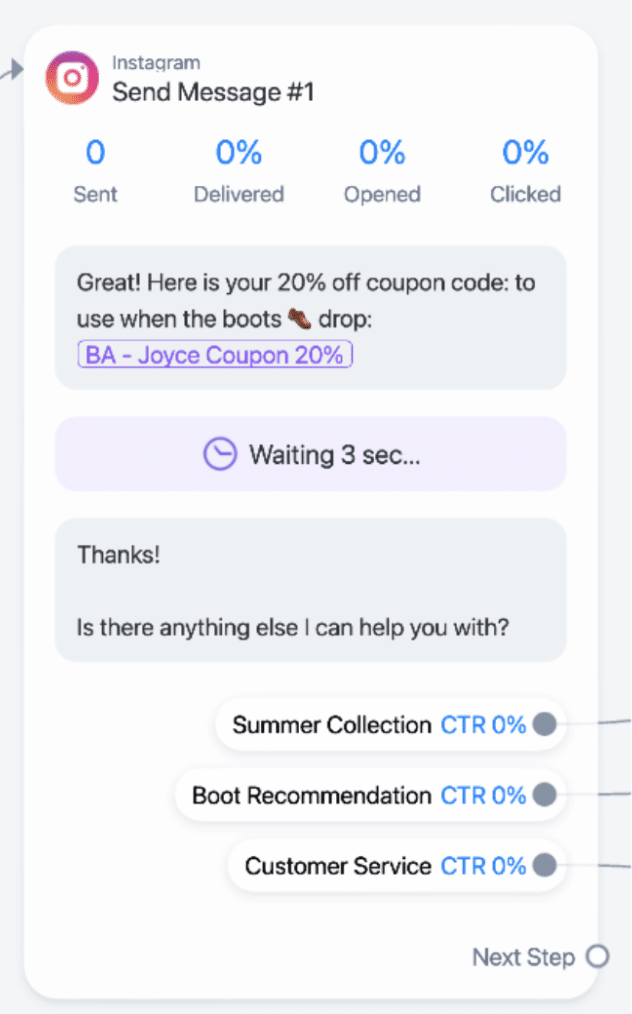 In fact, Manychat delivers a 58% lift in recovering abandoned carts vs. industry average. Plus, Manychat recovers an average of $154 per cart. 🛒
Final thoughts
Implementing this eCommerce strategy with the power of Instagram Automation can reduce your customer service time and costs, generate more revenue, and reach more customers.
If you're ready to dive right in and learn the basics of Instagram Automation, check out our free Instagram Automation video course.
The contents of this blog were independently prepared and are for informational purposes only. The opinions expressed are those of the author and do not necessarily reflect the views of ManyChat or any other party. Individual results may vary.