16 WhatsApp Tips From the Experts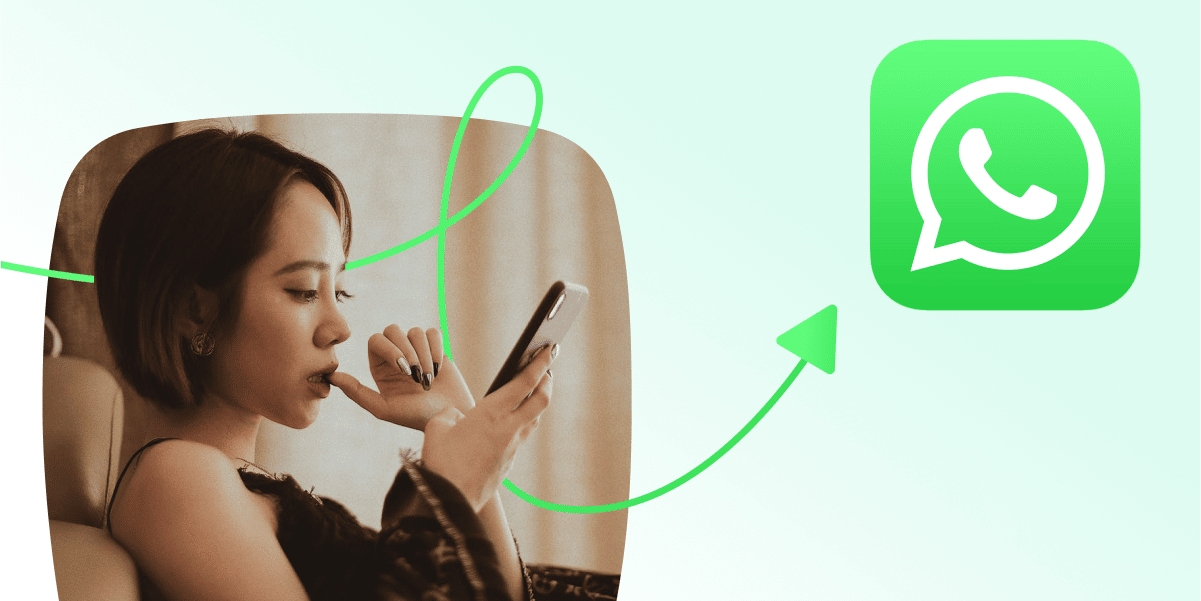 WhatsApp is a texting app that anyone can use to communicate with people worldwide for free. While it's widely known as an instant messaging app, WhatsApp is often overlooked as a powerful platform for communicating with customers.
The creators behind WhatsApp knew that their app would be great for small businesses, so they created the WhatsApp Business app. Businesses can use WhatsApp to quickly connect with shoppers and prospects to improve engagement, which can ultimately boost sales. 
Some businesses have already hopped aboard the WhatsApp train, with good reason. According to Statista, there were approximately 79 million WhatsApp users in the US in 2021. (That number is expected to reach 86 million by 2023.) Furthermore, like Messenger, WhatsApp can help speed up customer engagement and automate responses to common questions, facilitate sales, and more.
However, despite WhatsApp's obvious benefits, many businesses are still unsure how to use the platform without adding more work to their plate.
Never fear: We convinced sixteen WhatsApp experts to share their successes with the tool and offer their advice to help you maximize your marketing efforts.
Don't rely on text
Use multimedia messaging in favor of plain text.
Multimedia content can have a greater impact than simple text-based messages—especially in an industry where visuals are key. For things like new products, GIFs, tutorials, infographics, and more you can really pack a punch in one image in place of tons of text.
Let your customers use multimedia in their responses and queries as well. They can snap a picture of their issue or show you a deliverable that didn't quite live up to their expectations so you can effectively resolve their concerns.
The less friction and more intuitive experience you can provide through WhatsApp, the happier and more loyal your customers will be, helping to boost customer retention in a big way.
Camille Chulick, Co-Founder of Averr Aglow
Create a custom greeting
The great thing about WhatsApp Business is that it allows you to expand your customer communication channels. Since some prospects may prefer communicating via Whatsapp, WhatsApp Business can help diversify your customer communication channels and tap into a potential new market segment.
Start with a custom greeting message for a memorable entry touchpoint. Take your time when crafting this, as it's your first chance to make a warm impression. If you can make the customer feel welcomed and valued right from the start, they will want to continue to chat with you. After this initial introduction, you can set quick replies to keep multiple conversations going at once.
Grant Aldrich, CEO of Online Degree
Use the catalog function and automate responses
The catalog option is one of the best features of the Business app: It lets businesses feature the products they are selling or the services they offer. Customers can use the app to check out the products and services and contact the business when they find something they like.
Business owners should try to reply to messages as soon as possible to keep customers happy. If you need to, set up an automated message or a chatbot to deal with common questions. You should still have an actual human reply to as many messages as possible, though. After all, humans tend to like talking to other humans more than robots!
Tom Winter, co-founder of DevSkiller
Use click-to-WhatsApp in paid campaigns
With a click-to-WhatsApp functionality, prospects who click on your Facebook or Google ad will be directed to WhatsApp (rather than a static landing page) where a chatbot or human can engage them in conversation. This is a great way to improve conversions.
Matt Bertram, CEO & SEO Strategist at EWR Digital
Offer a stellar post-purchase experience
The WhatsApp Business API enables you to send order updates to customers so they can track their deliveries via WhatsApp. You can also use the API to send personalized product recommendations and collect customer feedback. Offering a great post-purchase experience will build customer trust and loyalty and improve customer retention. 
Gilad Rom, Founder of Huan
Keep the pricing in mind
When using WhatsApp for business communication, always remember that:
You pay for every message unless the customer has messaged you first, because it is considered a form of advertising if you are reaching out to potential customers.
If you don't respond to customers in under 24 hours, you will be charged for your response.
This pricing strategy keeps you super responsive and incentivizes you to avoid spamming your customers.
Ian Kelly, VP, Operations for NuLeaf Naturals
Sell with a personal touch
One of the biggest benefits of a Whatsapp business account is the ability to showcase products with the product page link and the price of the product in a message so customers can immediately find what they need on your website. This functionality makes it a lot easier to sell products straight from the platform.
David Adler, Founder & CEO of The Travel Secret
Send users directly to the chat
Always implement a wa.link code into your social media strategy. It's a code that, when clicked on, will open a chat within WhatsApp. You can even include a custom message for your customers to receive as they enter the chat.
This is a great option when implemented with tools such as Link Tree for Instagram because it gives customers options to visit your website or make a booking or inquiry over WhatsApp. Our clients love this free feature!
JoshPierce, Paid Search Executive at Blaze Media
Try automated video messaging
Using video on WhatsApp tends to get significantly more engagement than other formats, such as text or photos. If possible, be consistent with your video implementation. Test the results to see if there's a lift in engagement and referral traffic.
Kimberly Smith, Marketing Manager of Clarify Capital
Use it for content marketing
People commonly view WhatsApp Business only as a means of interactive communication. However, it is also an excellent tool for content marketing—it even allows you to send PDFs, pictures, and personalized audios.
Prepare your content as you would for other social media platforms, keeping the quality high. Unlike Facebook and Instagram (where you can't be certain if your target audience consumes your content), Whatsapp gets your content directly to the text recipients.
Jane Flanagan, Head of Marketing at Tacuna Systems
Use groups to market your products & services
You can create groups in WhatsApp you can invite your customers to and provide relevant, handy content for them.
You can also join groups that are related to the product or service you are promoting. When you join such groups and provide relevant video content and live support, users are more likely to share your assets with other individuals outside the group. This can be an effective marketing strategy for your business.
Allan Borch, Founder of Dotcom Dollar
Send exclusive offers and updates
PhoneLoops uses WhatsApp to update our customers on new cool Loop designs, limited collections, and items that are likely to go out of stock quickly. Customers can also complete orders and follow the delivery via messages.
PhoneLoops customers can even invite a personal Loop designer into a group conversation with their family and friends and discuss what kind of Loop they would like to design as a gift for their loved ones. Our team of designers answers each question manually, engages with each customer, and sends mock up design images via WhatsApp.
JP Brousseau, CEO of PhoneLoops
Offer personalized support
Foot Cardigan wants to inspire people to think of socks as a lifestyle attribute, not just a necessity. We invited website visitors to submit their phone numbers, pictures, and mood boards of sock design inspirations.
Foot Cardigan designers connected with them through WhatsApp to come up with custom socks designs for 100 selected clients with the best design ideas. Our stylists even taught the customers how to style the socks to look great in various outfits using pictures and videos on WhatsApp. The result? A total of 1500 participants spent an average of 30 minutes interacting with our brand, and 80% of them became loyal customers.
Daniel Seeff, CEO of Foot Cardigan
Use the Status feature
The Status feature allows you to create content—even promotional codes—that you can personally share with your network and clients for redemption with your business. Any content shared via Status disappears within 24 hours, but it's another way to share content to customers inside the app. This feature can be connected or interlinked with any of your social networks to help promote traffic and organic buzz on your website or business page.
Sandra Matthews, Marketing Specialist at The Product Analyst
Respond quickly
Always ensure someone is monitoring the responses to any comms you send out via WhatsApp for the first two hours after the send. WhatsApp is made for instant messaging; if people are willing to get back to you, they'll expect an immediate response
Text messaging customer support is not like email marketing where you can wait to send a response to (most) incoming emails for up to 24 hours without a problem. If you're going to use WhatsApp, you need to use it like a regular human being would use it. That means being accessible and responding quickly and concisely.
Rhiannon Moore, Marketing Associate at Evopure
Use automation for quick responses
Replying in under 24 hours to a customer may be challenging, but automation can help significantly. When a customer messages my Whatsapp Business account, they receive an automated response which lets them know that they can send in their query and someone will respond to them shortly.
This automated text saves me the hassle of being on my phone 24/7. Whenever I get a little bit of time, I just hop on to Whatsapp Web and reply to all the pending messages before the day ends. It's really important to implement the chatbot feature as it helps me reply to my customers on time!
Eduard Klein, Entrepreneur
ManyChat's partnership with WhatsApp began in October 2020 and has been beta testing Automation features ever since. 
ManyChat is working with the Business API so that by extension, ManyChat users can send messages to their subscribers on WhatsApp via ManyChat. 
Are you ready for ManyChat x WhatsApp?
The contents of this blog were independently prepared and are for informational purposes only. The opinions expressed are those of the author and do not necessarily reflect the views of ManyChat or any other party. Individual results may vary.