WhatsApp for Sales and Lead Gen: A New Way of Business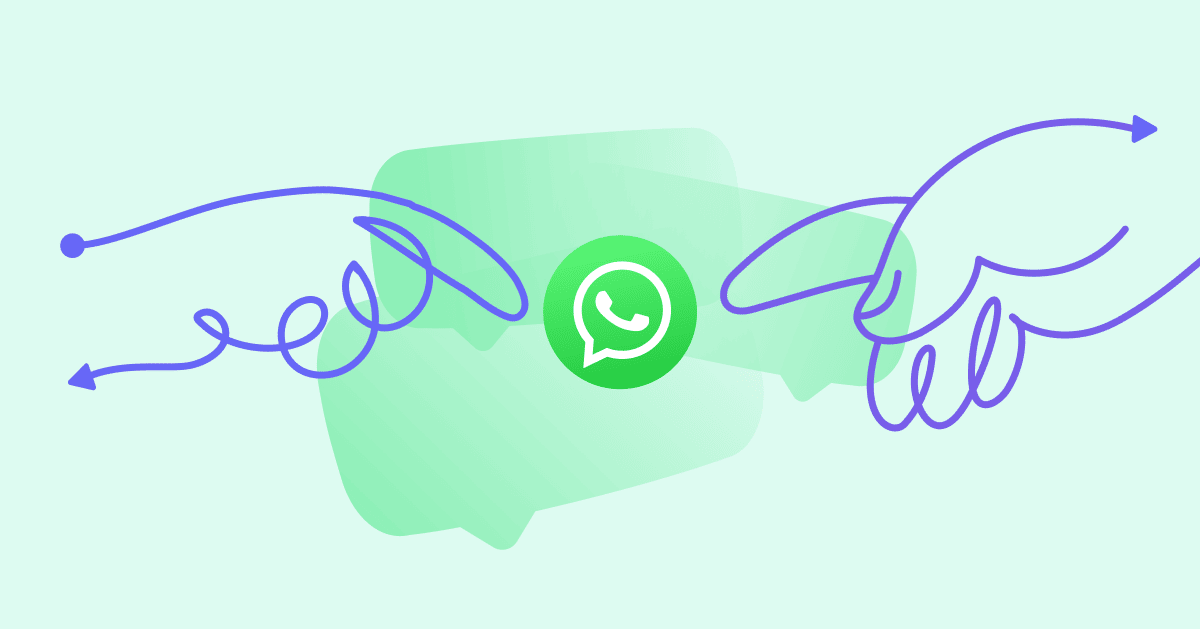 With more than 2 billion users worldwide in 180+ countries, WhatsApp is one of the world's most popular messaging apps. According to statistics, more than 65 billion messages are sent per day on it. That's over 750,000 messages per second — pretty impressive!
But WhatsApp is more than just a messaging platform, especially for businesses looking to connect with consumers. The WhatsApp Business app is equipped to help brands generate and capture leads to increase sales.
How to use WhatsApp to generate interest and leads
For successful lead generation, you want to identify and connect with individuals who might be interested in your brand. Guess what? WhatsApp can help you attract and convert those leads.
While instant messaging is at the core of WhatsApp's feature set, the platform has adopted other features that boost its appeal. For example, its capability to integrate with automated chatbots is immensely helpful for brands (more on this later).
If your brand isn't already using social media for messaging, you can leverage WhatsApp as a direct line of communication between you and potential (and current) followers. Moreover, if your business has a presence on other platforms, WhatsApp could help you reach a different segment of your target audience.
Business accounts on WhatsApp provide more opportunities for visibility. By posting a status — a feature similar to Instagram Stories — you can share timely updates with your contacts, which trigger interest and start the customer journey. You can also share relevant messages with segmented contacts to tailor your communication with them and encourage an ongoing relationship.
Finally, when you integrate WhatsApp with your CRM, you can easily manage your conversations and keep the data on record to better understand each customer and their needs. Integrating with a CRM also makes it easy for businesses to share content with their contacts through the app.
5 ways to use WhatsApp for business as a lead generator
So, how can you use WhatsApp to generate leads and boost sales? Here are a few ways:
Publicize your WhatsApp profile link
Once you have a verified WhatsApp Business account, share it on your website, online profiles, and other marketing materials.
If you're already sending marketing emails to prospective candidates, include a link to your WhatsApp Business bot in your email signature to give your email recipients a way to connect with you in a second location.
Position the bot link as a call to action (CTA) by using copy like "Connect with us on WhatsApp."
‍Use a WhatsApp QR code to capture leads
WhatsApp QR codes can help turn leads into sales. Start by generating your WhatsApp QR code. It needs to have proper commands to direct your prospects to the WhatsApp bot. A savvy marketer will use the QR code to send users directly to product listings.
In doing so, the QR code will direct users to your product landing page. You can also link ads to a QR code, and the WhatsApp bot takes care of the checkout process.
Keep dropping triggers
The WhatsApp chatbot can fire frequent triggers to prospects through automation to re-engage in the same conversation. It can also bring back customers right where they left a conversation, encouraging a sale.
Make use of automation
WhatsApp Business makes message automation easy. You can create various shortcuts to ensure your business messages are efficient, which creates an improved sentiment toward customer service and makes responding to messages within 24 hours a realistic target. Furthermore, sending consistent responses shows customers that your brand is professional.
You can choose from several tools that don't require coding to build your chatbot. Even better, they often include templates that you can customize accordingly.
Alternatively, check out the WhatsApp Business API, which allows medium and large businesses to communicate with customers at scale. Businesses can integrate the API with numerous backend systems, such as CRM and marketing platforms.
The best 5 tips to boost your sales on WhatsApp
Once you get leads on WhatsApp, it's time to turn them into sales—but how?
Use WhatsApp web
WhatsApp web is an extension of the app that you can access from a PC. To use it, connect your mobile app to your computer by scanning a QR code (provided by WhatsApp).
Once it's connected, you can send messages from your computer, which is often more accessible and more efficient than typing on the phone.
Promote your business on WhatsApp
WhatsApp Business has promotional features you won't find in the standard version of the app. For example, businesses can send customers promotional content using WhatsApp's broadcast list feature without breaching privacy regulations.
With the WhatsApp status feature, you can directly share details about sales and promotions.
An updated status is only available for 24 hours, which creates exclusivity. The status feature encourages followers to engage with you right away, which is an excellent method for getting engagement.
Earn user loyalty
WhatsApp has several different ways for a brand to communicate with its followers, including group chats, broadcast lists, and push notifications.
Publish and send interesting content
Be selective about the content you decide to share on WhatsApp to keep people interested. Here are some tips:
Create educational content related to your product.
Provide customer support through the app, which includes voice messages.
Send videos that will appeal to your target audience.
Use promotional messages that link to your WhatsApp profile.
It's also important to consider how many messages you send in a set amount of time. You don't want to overwhelm users or turn them off your brand.
Take customer support to a new level
You can use WhatsApp to support your customer service offering. It's a place where customers can reach your brand directly and get answers quickly.
Note: WhatsApp on desktop may be better suited for this activity, or you could consider using automation to help with the volume of customer support messages.
Conclusion
While WhatsApp is a highly effective tool to generate leads, it is critical to focus on nurturing leads (by engaging in long-term relationships via two-way conversations inside the app) and lead conversions. Use it to direct traffic to your site and boost sales with optimal customer service.
What are you waiting for? Unleash the many opportunities that WhatsApp presents for your business. It all begins with generating more interest in your brand.
ManyChat has partnered with WhatsApp to enable Automation.
Sign up to get the latest updates. 
The contents of this blog were independently prepared and are for informational purposes only. The opinions expressed are those of the author and do not necessarily reflect the views of ManyChat or any other party. Individual results may vary.