11 TikTok Video Ideas to Go Viral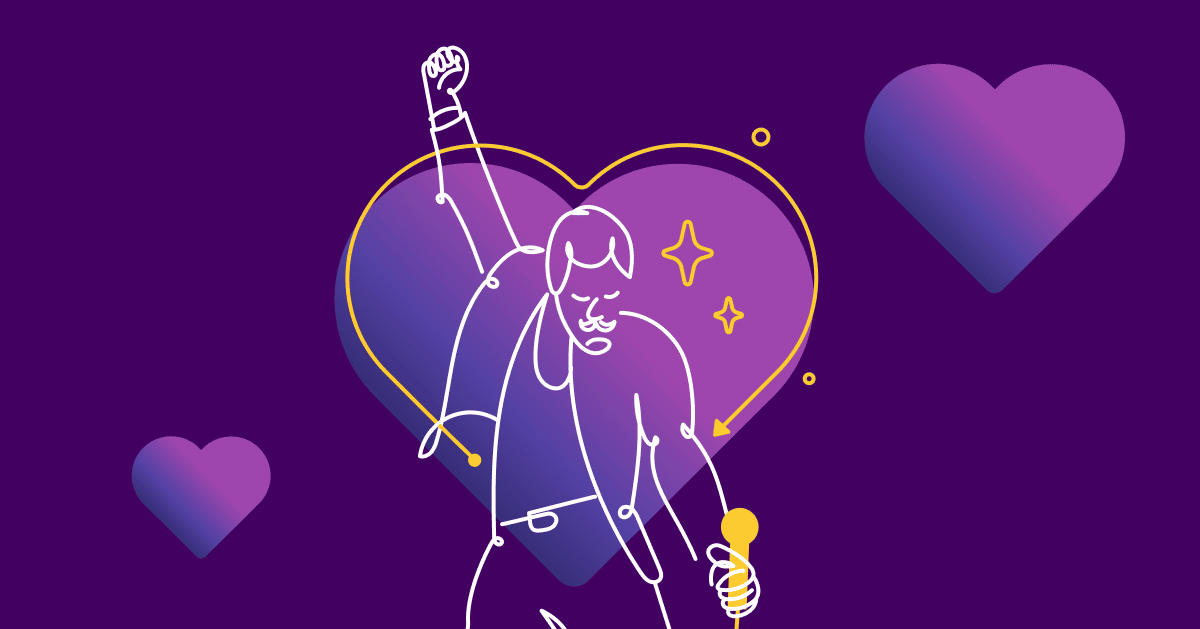 Here's a fun fact: TikTok recently surpassed Google and Facebook as the world's most visited domain. Wondering why this has happened? Some of of its incredible popularity can probably be attributed to the fact that content creators are going viral on the platform daily.
This is good news for brands. They can leverage TikTok's opportunties for virality and enjoy faster growth, clicks, and sales.
But there's more to consider: polished, Instagram-like content doesn't usually work on TikTok. (Note that more "polished" content on TikTok can be successful, it just needs to align with the brand and its audience.) Regardless, the more you can connect on a genuine level with your target audience by being authentic and "real," the better your content will do. But to do that you need fresh ideas.
Here's a handy list of different types of viral TikTok ideas that have worked before (with examples).
11 TikTok video ideas
Here's a walkthrough of a few genius TikTok video ideas to provide inspiration for your own content.
1. Show what goes on behind-the-scenes
No one does behind-the-scenes content better than It's August co-founder @Nadiaokamoto. As a DTC brand that sells sanitary period pads, Nadia's TikTok account posts several behind-the-scenes videos daily—each of which gets substantial likes, comments, and views.
Behind-the-scenes content on TikTok is more sticky when you create it with an off-the-cuff feel. It can be as easy as hitting that "+" button on your TikTok account and filming footage of what it's like to run your brand—no fancy montage or intros necessary!
Here is a great example that has amassed more than 15.4 million views and 1.3 million likes:
Makeup brand @mangopeopleofficial also does a fantastic job showcasing the story behind its product along with visuals on how it's made and applied. Its video has garnered more than 150k views and over 33k likes:
Experiment with different visuals and behind-the-scenes formats that will appeal to your target audience.
2. Use the Q & A format
The Q & A format is especially helpful if your audience is curious about how to do something. You can make a TikTok video answering the questions you get most frequently while adding visuals in the background.
Don't forget to be creative! Your footage doesn't have to be just you sitting there answering each question passively (though you can also try that). Try compiling attention-grabbing footage so your target audience doesn't just scroll past it.
Here's a perfect example from TikTok artist @tahliastanton that has received more than 16 million views and 3.5 million likes:
TikTok pro tip: Don't forget to use plenty of relevant hashtags so you have a better chance of being discovered on the FYP ("For you page").
3. Create edutainment content
"Edutainment," or educational entertainment, works great if you sell a service or product that teaches people valuable skills or knowledge. Edutainment comes in all shapes and sizes on TikTok.
You can either add fancy transitions to your videos or keep it simple and speak to the camera. Edutainment videos can be an avenue through which you share life hacks, science experiments, or answer questions. These fun and knowledge-based videos are algorithm-friendly and improve brand awareness.
Creator @maysiyoga_'s video has more than 2.3 million views:
Creator @kendalaney uses TikTok to grow her audience and teach them about improving a presence on social media. One of her most popular videos—which boasts more than 53k views—is an explainer on how she uses Pinterest to generate traffic to her website.
4. Vlog
Vlogging isn't dead! In fact, it's a great way to connect with your audience on a much deeper level, rather than just trying to sell them a product or show them highly polished content.
Vlogs can be what you make them. You can vlog your morning routine, your whole day in a "day in the life"-type video, or vlog what it's like to live a whole week in your shoes. Just make sure to showcase how you build your brand while you're at it.
Creator @thelauracroft used the vlog format to snag more than 6 million views with one video and build her personal brand. The video is about her journey to the office at Nike headquarters:
Here's another small business vlog example from @bossupcosmetics that has more than 700k likes!
5. Tutorials
You'll increase your chances of virality on TikTok if you can entertain, inform, or teach something useful. Tutorials are a great way to hit all three.
Fitness creator @jessicabickling managed to go viral after creating a video with plenty of visuals, pauses, and on-screen explainer text that showcased the right way to do Bulgarian squats.
While tutorials have higher production costs and might take longer to create, the payoffs can be massive. It's unlikely that this creator would have managed managed to generate 3.9 million views on her video if it was not in a tutorial format:
Another tutorial from verified TikTok educator @jera.bean with more than 510k views shows how to create a multiple walking shot video:
TikTok pro tip: Don't forget to use trending sounds to help give your content a better shot at virality. Sites like Tokboard can help you find out what's trending weekly with a quick search.
6. Use comedy
Are you naturally funny? Congrats! Your chances of hitting virality on TikTok have gone up substantially—comic content does great on TikTok. Bonus points if you're able to masterfully weave it into a brand partnership and make it feel native to the content you naturally create anyway.
Creator @delaneysayshello is a perfect example of this. Here's her brand partnership video with Sephora with more than 200k views:
Get creative and mix comedy with a relatable skit. @delaneysayshello has one the best examples of this in her video featuring a "gatekeeping" friend who refuses to tell her where she got her outfit. As a partnership with Abercrombie, it just works.
It has over 400k views!
7. Narrate candid moments
People love candid moments, especially when they can relate to them. The good news is that a lot of different candid moments can work here. Anything from a conversation you had with a friend to a business mistake you made that ended up costing you can work.
That's the beauty (and maybe curse) of TikTok. You just don't know what will go viral. Take this TikTok video from creator @tasselamor narrating a conversation she had about the product she makes.
It has more than 1.5 million views and over 100k likes:
Don't be afraid to experiment and be yourself. (Turns out Mom was right!) The more you can connect with your audience and be relatable, the better your content will perform.
@luxehomedecorltd uses this style to create a narrative video about a special customer order she received. The result? Over 4.5 million likes and a whopping 21 million views:
Get creative and experiment with lip-syncing, stickers, voiceovers, creating original sounds, or even participating in dance challenges. TikTok marketing is all about increasing visibility by expressing yourself. It doesn't matter if you do it through funny videos, hashtag challenges, or creating prank video content (there's a type of content for just about everyone on the platform!)
8. Host a challenge
A solid way to grow your brand presence and gain more followers is by creating sticky challenge creators can get behind, like the trending "drop challenge."
This challenge entails recording you and your friends squatting at specific beats of a Beyonce song. While it might sound silly, that's the whole point of TikTok. You're free to be expressive and create content that's 100% you.
Take this example (which has more than 891k likes and comments) from creator @jordanb123:
Creator @baochisjourney created a "scrunchie" challenge where she made scrunchies big enough to fit large items into. As her audience responded in the comments on what she should do next, she managed to create a series of videos that brought her more views and followers.
Here's an example:
9. Create a skit
Creator brands like @booboothafoocloset use skits to grow their profiles (@booboothafoocloset's currently boastsat more than 1.3 million followers). Skits like "When Teachers Say 'I'll Wait'" got more than 7.7 million views and thousands of likes.
Here is another great example of using the green screen tool to create a scenario.
Don't be afraid to use all the creator tools TikTok offers to create the most entertaining content possible. The more you experiment, the more you'll learn what your specific audience responds to.
10. Answer a comment
Once you start to get traction on TikTok, you'll start getting comments. Use those to your advantage! Comments are a goldmine for content ideas because users tend to be vocal about what they want to see more of or learn about as well as their likes and dislikes.
Creator @cryptobec used a comment left on a previous video to highlight the excitement over her crypto explainer videos. The new video has over 620k views:
11. Create a stitch/duet this video
"Stitching" videos is a feature that's unique to TikTok; it'sa way to react to a video from other creators as you "stitch" other video footage with your own.
Stitched TikTok videos can be great when you want to make a point. Does your product solve a problem the video you're stitching focuses on? Do you disagree with a video's opinion and know a better alternative (like your product or service)? Then stitch the video and show your audience how!
Here's how creator @benlabuzzeta stitched his art video to earn more than 110k views:
Creator @maizimmy created a stitch this video showcasing her best cleaning hacks. It has an impressive 4.4 million views so far!
Experiment to learn what works
Gone are the days when a perfectly curated online presence was your best bet for social media growth and sales. TikTok's short-form approach to video—along with its trending sounds and fun video effects—has made it substantially easier for creators and eCommerce brands to reach their audiences.
Now it's your turn to hop on the TikTok train and start building an engaged audience. Whether you do it through posting organic content or a paid TikTok ad strategy, the sky's the limit on the platform.
Try ManyChat for free today.
The contents of this blog were independently prepared and are for informational purposes only. The opinions expressed are those of the author and do not necessarily reflect the views of ManyChat or any other party. Individual results may vary.