[Case Study] How TEDxMileHigh Saw 5X ROAS by Using ManyChat to Assist in Ticket Sales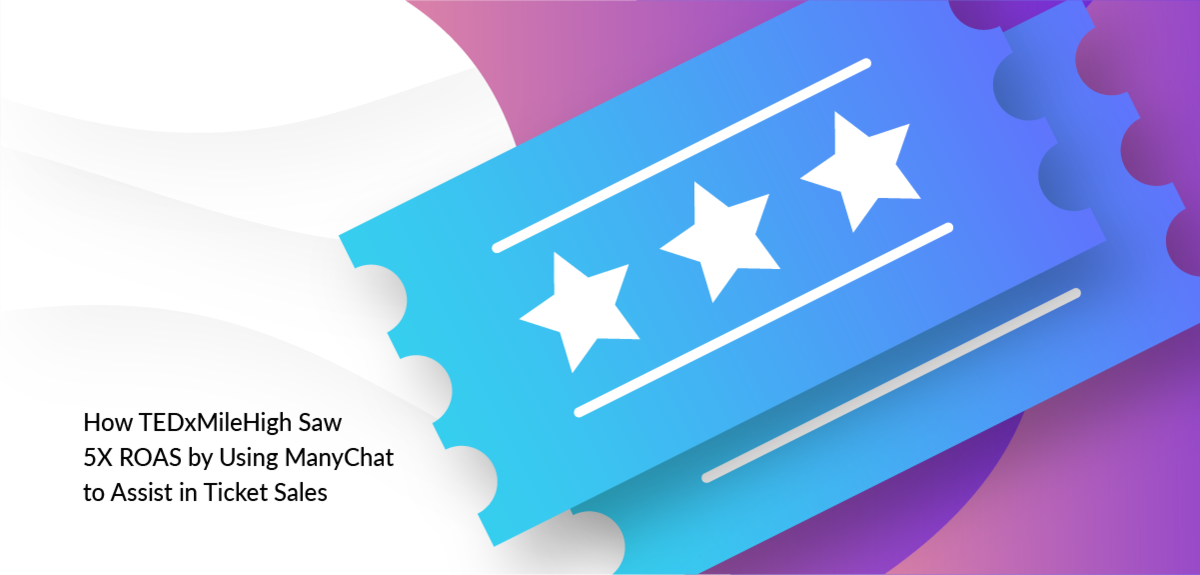 TEDx is a program of local events that bring people together to share ideas via video and speakers. For TEDxMileHigh 2017, the largest TEDx event to date, it heavily relied on Facebook advertising and email to engage attendees and sell tickets.
Fresh into chatbots, Carrie Gottschalk combined the ManyChat platform with an in-person QR code to improve organic opt-ins and assist ticket sales that led to 5X return on ad spend (ROAS), 12% organic subscriber growth rate, and a 34% click-through rate.
Creating a Memorable Experience for Attendees
For TEDxMileHigh, bot builder Carrie Gottschalk not only wanted to improve ticket sales, but also create a memorable experience for attendees. Many companies struggle with this type of event engagement and question why?

Traditional event marketing is outdated. TEDxMileHigh used the good ol' "early bird" lead gen technique prior to Carrie introducing the ManyChat bot. Although TEDx is tied to a popular name, people often lost touch with the company over time via email marketing.

Carrie tells us that "acquiring leads via landing page and email converts between $1.50 – $3.00. Compared to Messenger which come in between 40 cents and a dollar".
They knew better engagement would generate more interest, more future ticket sales, and reduce cost per lead.
Designing Conversations that Convert
Carrie was looking for a solution that would assist in ticket sales and organic subscriber growth. ManyChat was just the platform she was looking for. After testing out ChatFuel and MobileMonkey, she felt that ManyChat helped her think through problems and create more effective conversations for the TEDxMileHigh chatbot.

The TEDx MileHigh bot incited action into two ways:
First, it sent subscribers information before the event including speakers, cool things happening, and more. Plus an easy outlet to buy tickets. Sequences were informal and designed to feel like your best friend was texting you in Messenger.
Second, the ManyChat bot worked as an event guide for those who attended. It let subscribers know who was speaking and when, and acted as a customer service agent if someone had a question. During the event, people could opt-in using a Messenger QR code and subscribe to the ManyChat bot.
A Conversational Selling Strategy That Works
Unexpectedly, Carrie found that she was getting double the information for one price. For example, the event lead-up sequence prompted users to also give their email address. And in this case, they were happy to do so.

The TEDxMileHigh bot saw 566 new subscribers out of the 5,112 event attendees — a 12% organic opt-in rate. Ticket sales through Messenger came in at $7,740, averaging a 5.08X ROAS.

So what's TEDxMileHigh bot doing now? Well, connecting with attendees throughout the year by providing subscribers with social media tips, networking opportunities, and discount tickets for upcoming events.
Carrie's goal is to continue to provide value to subscribers and keep their interest sparked until the next TEDxMileHigh rolls around.

So once tickets go on sale the following year, they can turn an engaged audience into potential revenue with their new conversational selling strategy.

Carries describes her first ManyChat bot as:

"I love learning, and as a self-taught bot builder, I found ManyChat's community and resources available and easy to figure out. There are tons of creative ways to use the platform including custom fields and connecting sequences. The duplication feature is key. If you build a bot once, you can re-use it. It gave me the opportunity to build bots faster than starting from scratch so I can scale my business faster."
Want to get more reviews and increase sale? Create your free ManyChat account and build your bot today.
The contents of this blog were independently prepared and are for informational purposes only. The opinions expressed are those of the author and do not necessarily reflect the views of ManyChat or any other party. Individual results may vary.