3 Salon Marketing Ideas to Adapt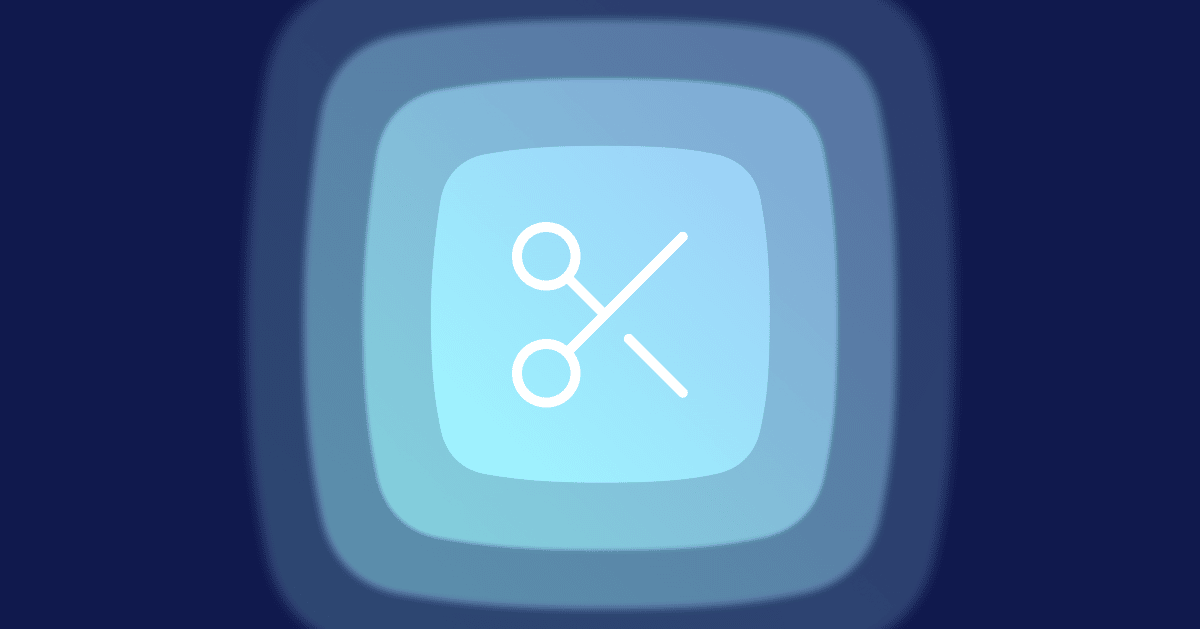 COVID-19 has given rise to new consumer behaviors, with many long-term and unexpected changes taking place. If you run a salon, one question you may be asking is how to adapt to these changes that are outside of your control.
As this piece from Allure magazine so accurately stated: "[T]he salon business model isn't built to withstand a pandemic." So how do you reinvent your salon business to stay relevant?
While so much is still uncertain, the process begins with a marketing strategy. Here are three ideas to help you adapt your business model to our new global reality.
1. Offer virtual tutorials and courses
Right now, and for the foreseeable future, people are making fewer trips to the salon due to safety concerns, and instead are self-styling, crafting their own beauty regimens, or skipping critical self-care altogether. This pattern means less revenue for your business.
Don't look at this shift as a setback, but rather focus on an area of opportunity to grow. Did you know, for instance, that the eLearning industry is blossoming?
If people are cutting their own hair, chances are they're open to learning new tips and tricks. Not to mention, almost everyone could use a recipe (i.e. face masks and body scrubs) for a soothing and relaxing spa treatment.
One way to expand your core business is to offer online courses. Your knowledge as a stylist is valuable information that can help everyday people. The last thing anyone wants during a pandemic is a hair fiasco or beauty mishap.
For example, offer short, bite-sized tutorials similar to what San Francisco's Edo Salon puts together. You could then work with influencers to share these tutorials, similar to the following YouTube video with Edo Salon owner Jayne Matthews and The Dress Up Mom:
Then, create more in-depth and substantive online courses using a platform like Thinkific or Teachable. As an example, take a look at Crown & Glory. High school cosmetology teacher Wrennetta Poles created these courses to make topics like barbering, safety, and skincare more accessible.
2. Sell your favorite products online
Did you know that prior to the pandemic the health and beauty industry was worth $4.2 trillion?
"We see more and more people looking for wellness options that fit seamlessly into the flow of their day-to-day work and personal lives," said Avi Yehiel, WeWork's head of wellness, in an interview with Well and Good.
If you want to reach customers who aren't visiting your salon, consider selling your products online and feature items on social media platforms, like Instagram, like Edo Salon does.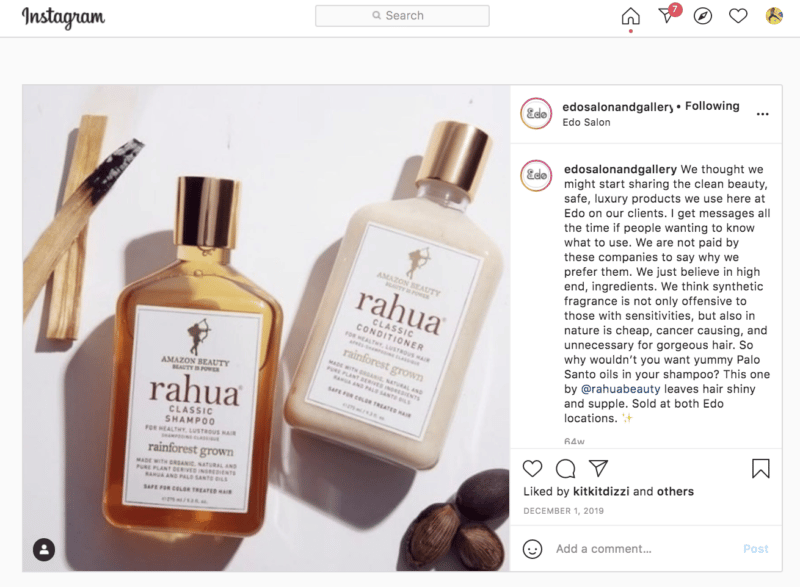 Another example to check out is Glasshouse Salon, which specializes in long-term hair health and sells eco-friendly, safe products. in London. Even while the salon is closed during lockdown, its online store remains open to customers globally allowing Glasshouse Salon to stay in business during the pandemic.
One resource to help you launch your eCommerce business is this guide to setting up your online storefront. In it, you'll learn:
Business model foundations.

Online platforms to help you sell your products.

Tips for launching your website.
And this guide to eCommerce logistics in 2021 will help you learn how to get your products from your online storefront into your customer's hands.
3. Communicate cleanliness protocols
During the pandemic, the topic of cleanliness is taking on a whole new meaning. When people visit a public place, they want to feel safe. To attract customers, your business will benefit from having a defined sanitation policy.
The first step is to create a documented COVID-19 policy, like this example from The Hive Salon in Minneapolis, Minnesota.
At a minimum, these policies should include:
Your company's policy on masks.

Steps that someone should take before an appointment.

Safety guidelines during an appointment.

Check-in policies.
The primary goal of your COVID policy is to keep salon employees and customers safe, with the secondary goal of instilling a sense of confidence that your business takes the pandemic seriously. If you can, it's a good idea to consult a health and safety expert for input.
With your policy in place and visible on your website, let your established clients know, proactively, that you're taking steps to keep them safe. One valuable step is to send out an email newsletter. Take a look at the following campaign from Airbnb that shares safety tips with Fourth of July vacationers in 2020: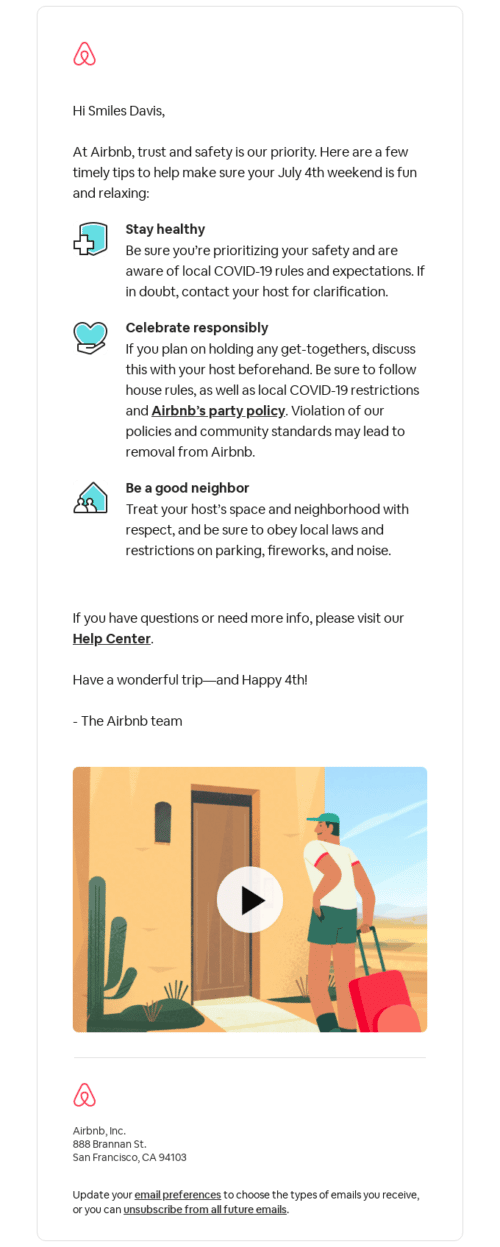 Use a chatbot to help manage logistics
As you adapt your business to our new economic reality, you may notice extra work piling up. With any business, there are many moving parts to juggle and manage, particularly when ensuring customers remain informed. But sometimes there aren't enough hours in the day for a single human to manage the complexities of keeping clients happy and convincing them to visit the salon.
One way to simplify your operations is to use a chatbot. Build Facebook Messenger bots to answer customer questions, provide quotes on services, respond to inquiries, and schedule socially-distanced appointments.
If you feel like trying out a chatbot to optimize your business, check out this ManyChat template for accepting customer reservations or this template for quoting customers.
You can get started with a ManyChat free trial.
The contents of this blog were independently prepared and are for informational purposes only. The opinions expressed are those of the author and do not necessarily reflect the views of ManyChat or any other party. Individual results may vary.