6 Reasons to Use WhatsApp for Business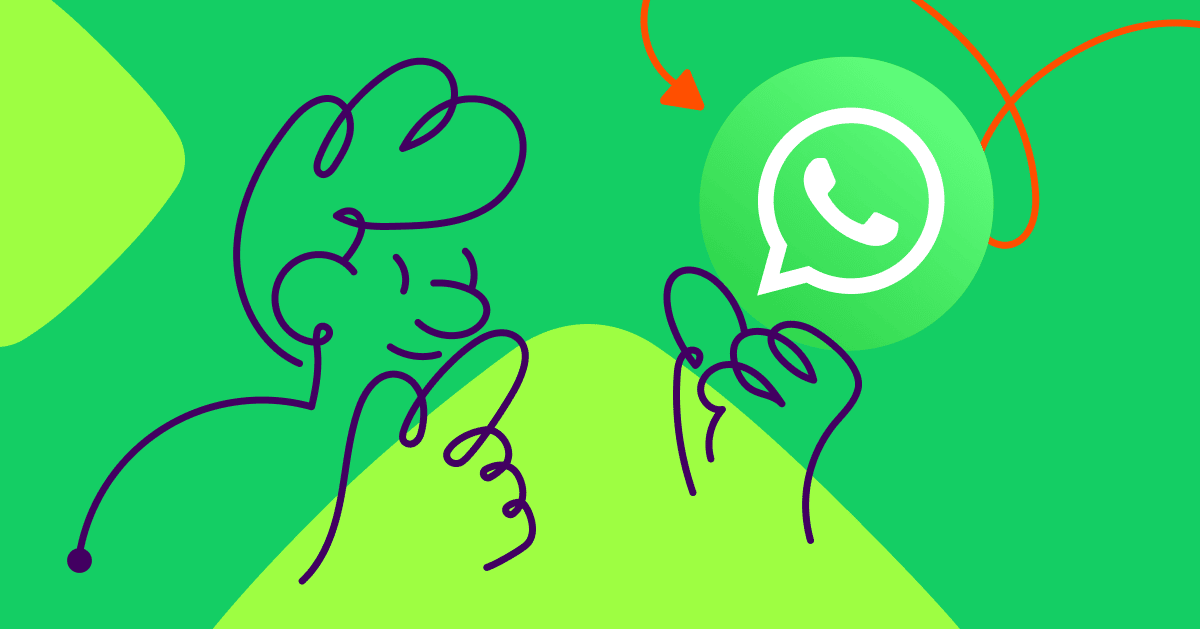 WhatsApp is more than a convenient way to message your friends and avoid SMS fees. It's time to start looking at what it can be for your business: a powerful marketing tool.
Today, customers want more convenience than ever before. As a result, businesses need to become savvier about generating sales and providing customer support. WhatsApp—the messaging app currently used by more than 2 billion people globally—can be a great way to bridge the gap between your business and customer demands.
But that's only one of the many ways WhatsApp can add value to your business strategy. If you've been on the fence about whether you should be using WhatsApp Business, this article is for you.
Read on for our top six reasons you should immediately embrace WhatsApp for your business today.
WhatsApp is the largest messaging app in the world
Sure, 69% of people that use the internet around the world use WhatsApp. But how can your business take advantage of WhatsApp's rapidly growing audience?
Let's set the foundation by explaining the WhatsApp ecosystem. For starters, the app launched WhatsApp Business in 2018 to cater specifically to small business owners. It's easy to onboard your business, verify ownership, and upload your business catalog within minutes.
In its quest to create a more streamlined shopper experience on its platform, WhatsApp recently enabled payment transactions in two of its biggest markets—Brazil and India.
Let's take things a bit further. When you're thinking about customer relationships and strategy, consider how WhatsApp can help you step up your marketing game, like by building improved relationships.
Foster better customer relationships
WhatsApp Business helps you stay as connected with your customers as you can get—any closer, and you'd be hand delivering products right into their arms. Whether they need faster customer support help or they want to look through your product catalog while messaging their friends, your customers will love that you're on WhatsApp. Plus, WhatsApp Business enables you to create a business profile with all your important business information so your customers will always know how to reach you, what you sell, and exactly how you help them.
Your business profile lets you create a branded business identity. It also includes a checkmark badge that lets customers know you're the real deal.
WhatsApp also allows users to share multimedia content through the app, just you would with friends. You can easily share:
Photos
SMS
GIFs
Documents
Stickers
Videos
Slideshares
And more
This enables brands to have creative freedom with conversations and engage customers with a more personalized approach. No need to limit yourself to plain text messages and risk missing out on better ways to improve customer engagement.
As you set up your business profile, you'll also receive a second phone number through which your customers can contact you. And yes, all these features are free for small businesses to use at any time—which means you can potentially set up a lucrative new sales channel with no additional costs.
Engage in two-way conversations
Connecting with customers and keeping them engaged is critical for achieving your business goals. WhatsApp enables businesses and customers to interact in real-time, like friends. Gone are the days when customers had to wait days to get a response back from a brand's customer support team through email—or worse, having to stay on hold on a phone call forever.
WhatsApp makes instant communication possible by treating your business messages like any other text conversation. Active WhatsApp users see any instant messaging or greeting message sent by you in their notifications.
You won't have to spend all your time on the app answering incoming customer messages either. The app allows you to create predetermined quick replies to act as answer templates to some of your customers' top frequently asked questions. This saves time and keeps your customer service operations more efficient.
If you have substantial customer support messages coming in, you don't have to worry about things getting messy. WhatsApp's tools let you organize your contacts with labels and use filters to find interactions faster. Much like an email list, WhatsApp Business lets you create distribution lists to which you can send broadcasts about new offers, discounts, or special holiday offers.
Consider that users open about 90% of text messages within three minutes of receiving them. For many businesses, that's way more than they can ever claim about their email marketing strategy.
You can sell inside of WhatsApp
Did you know you can sell natively within WhatsApp? Its Cart feature offers convenience for both you and your customers. With Cart, customers can access your store catalog, check out a new product, gauge pricing, order as many products as they need, and send in the order confirmation with a simple message in the same platform they use to message their friends. The days of customers wasting time navigating your website are long gone.
Once you acquire a WhatsApp business profile, you basically have the tools to create your own app (except without all the extra developer expenses).
Customers can message you to ask questions about your products, add items to their cart, and send in orders in real-time. This is convenient, whether you're a retail business or a local restaurant trying to keep up with rush hour orders
Provide omnichannel support
You may be wondering why you should even bother with omnichannel support. Wonder no more—the numbers say it all. Businesses that invest in omnichannel support strategies tend to keep an average of 89% of their customers. As if that figure wasn't enough, businesses with weak to no omnichannel support tend to only see a customer retention rate around the 33% mark.
Meeting your customers where they are and efficiently offering customer support is ROI positive in the long run. Offering WhatsApp as an additional avenue to customer support is a no-brainer.
The WhatsApp Business API integrations make it easy to onboard your business from your website and is a convenient way to establish yet another channel where you can offer customer care.
While the API isn't a feature that's publicly available to all businesses, you can find more information about it here and apply.
Do more with mobile-first marketing
If you leverage it the right way, WhatsApp's messaging platform can be a marketer's goldmine for potential customers. Use it to acquire new customers and keep your current ones happy by easily connecting with them where they're already hanging out.
Restaurants can take orders and message customers about unclear instructions or delivery preferences. Retailer and eCommerce businesses can create ads on Instagram that bring customers back to the messaging app for more direct access.
You can even create business ads for social media platforms like Facebook or Instagram with a one-click functionality that takes users directly into the app to shop. The opportunities are seemingly endless.
As you consider where you should invest your marketing efforts, keep in mind that WhatsApp:
Makes it extremely easy to reach new customers and stay connected with current ones
Offers native business tools to help you grow your bottom line, including a shopping feature
Mobile-first shopping is increasingly becoming popular, with over 5.22 billion mobile users buying more from their smartphones than ever before.
Mobile changes everything. It's why businesses must evolve with the constant changes to grow, retain a healthy customer base, and remain competitive within their industry. For your business, that might mean leveraging the customer experience tools WhatsApp offers.
Are you ready for ManyChat x WhatsApp?
The contents of this blog were independently prepared and are for informational purposes only. The opinions expressed are those of the author and do not necessarily reflect the views of ManyChat or any other party. Individual results may vary.