Where to Place QR Codes for Your Mobile Marketing Campaigns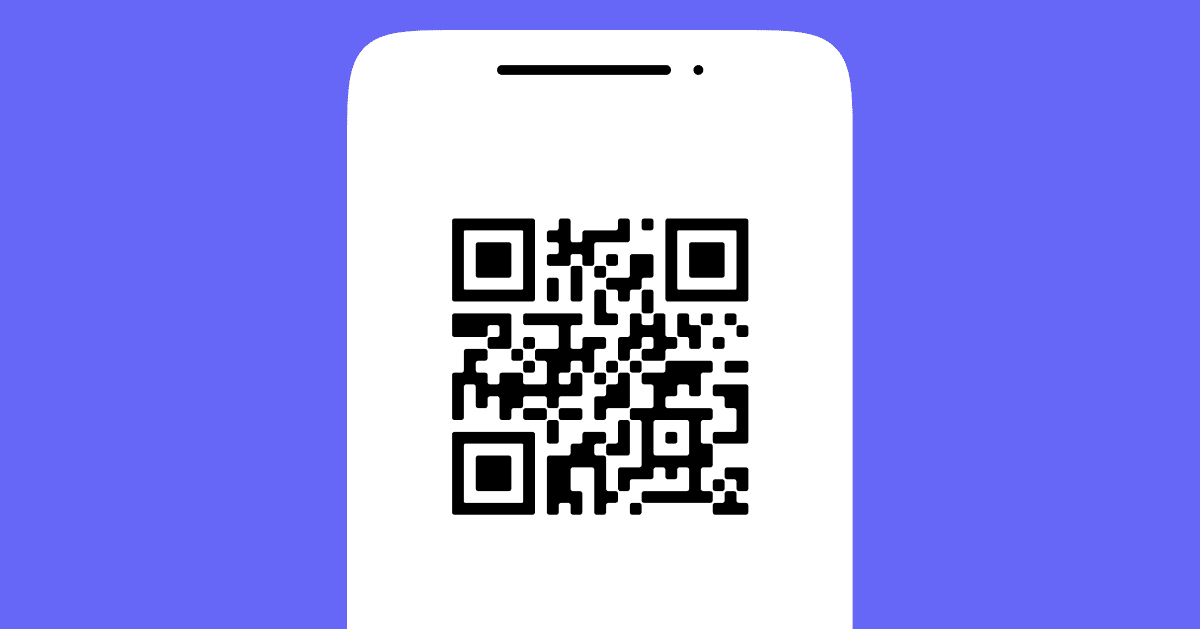 QR codes aren't dead. In fact, the opposite is true. We're about to enter a golden age of QR codes.
Blue Bite reports that QR code interactions grew by 94% from 2018 to 2020, and it's easy to see why. These codes make it effortless for people to acquire information from you, interact with your brand, and can create new sales opportunities that positively impact your bottom line.
Good news: You can find tools to create QR codes online. But where should you place them?
This guide will walk you through how to create a QR code and advise on different locations where you can place them to maximize your marketing and advertising effectiveness.
What is a QR code?
QR codes are barcodes that a QR code reader can read using a smartphone camera. Once read, these codes direct people to a web page or Messenger experience related to whatever prompted them to scan in the first place.
Technological advances have given QR codes a new lease on life. In the past, people needed QR code-reading software to be able to scan and access the destination. Today, most smartphones have the reader software already installed natively in its camera.
There's no learning curve or special equipment; people can just scan and immediately get the information they want.
Businesses use QR codes for many different reasons:
Collect customer feedback
Promote deals and specials
Offer customer support
Get loyalty program sign-ups
Give directions at events
QR codes give people quick people access to information and make campaigns easier to track and analyze. They also take five minutes to set up and can significantly impact the ROI of your marketing and advertising efforts.
Read more: How to Use QR Codes in Your Messenger Bot
How to create a QR code
If you're new to using QR codes, you'll want to learn how to create one for your business. The video below will show you how to create a static QR code to use on marketing assets.
Where to use QR codes
Now that you know how to create a QR code, here are a few ways to consider using a QR code as part of your marketing strategy.
Loyalty pass
No matter what you sell, you need a way to reward VIP customers to encourage repeat purchases. A QR code makes it easy for customers to join or manage their loyalty program on their own. They are a great tool for increasing a number of customer retention metrics, including:
Redemption rate (RR): how many people use their points and rewards
Participation Rate (PR): how many customers sign up for your rewards program
Repeat purchase rate (RPR): how many purchases your loyalty program generates over a period of time
Brick Oven Pizza Company used a QR code to acquire more loyalty program sign-ups with great success. Regardless of whether a customer ordered delivery, picked up takeout, or dined in the restaurant, they could scan a QR code to sign up for the program.
The campaign helped build a loyal customer database that drove over $600,000 in sales for the restaurant across all locations. Learn how they did it by reading How Misfit Media Drove $620,000 in Sales for Brick Oven Pizza Company.
Coupon redemption
The coupons you send can help you boost sales—if people redeem them. To increase free trial completions, Gold's Gym Costa Rica used a QR code to make redemption easier. Members simply brought their phones to the gym, and staff scanned the following coupon.
TBS Marketing, the agency behind the campaign, personalized the coupon with members' names. They also invested in a high-quality design to appeal to potential members.
The QR code campaign resulted in 280 free week trial redemptions and a total of 117 membership sign-ups from only $70 in ad spend. Read How Gold's Gym Achieved 11,428% ROI to learn step by step how the campaign worked.
Print ads
Another great location to place a lead-generating QR code is in print advertising. La Catrina, a local restaurant from St. Augustine, Florida, was already running ads in a local magazine before it started using a Messenger bot. However, the restaurant couldn't tell how many customers dined in as a result of the print ads, which meant it couldn't track the advertisement's return on investment (ROI).
Danny Monzon, founder of DM Digital, decided to test a QR code that connected viewers to a Messenger bot to see if it would generate high-quality leads for the restaurant. When viewers scanned the QR code below, they would enter a conversation with the business. From there, they could check out a menu, place an order, or join the restaurant's loyalty program.
The QR code to Messenger bot campaign proved to be a success, helping La Catrina obtain 240+ new members for its loyalty program and generate over $27,000 in online sales.
Read How La Catrina Drove $27,000 in Additional Sales with ManyChat to learn more about this campaign.
On products and packaging
Some of the most influential experiences a person can have come after they buy your products. If you're an eCommerce business, interacting with customers after they've received their order is an excellent way to build trust and loyalty.
You could place a QR code on your packaging to:
Provide people with extra product information, like tutorials or Messenger reviews
Encourage social sharing
Upsell to subscription products
Share recipes
Promote a contest
The possibilities are endless. Even better, both brick-and-mortar and online retailers can benefit from using QR codes on their packages.
The goal is to leverage the full potential of your packaging. You've invested in cool and creative designs; why not kick them up a notch with an interactive element like a QR code?
On tags
Retail tags don't offer much space to get your message across, but you can get around this by using a QR code.
Say your tags contain information on washing and maintenance, but you want to use them to promote a coupon or contest as well. You can always add a QR code that directs people to a Messenger experience for more information.
Once you get a customer into your Messenger experience, they'll automatically become contacts. From there, you can collect other information like a phone number or email address, provide customer support, obtain customer feedback, and guide people towards any information they need.
Window displays
One way to turn passersby into customers is by placing a QR code in your window display. Since the COVID-19 pandemic, a popular way for brick-and-mortar businesses to leverage QR codes is by taking orders from the street.
If someone is uncomfortable entering a store, they can scan the QR code on your door or window and place the order on their phones. As soon as you have the order, you can prepare it and contact the customer when it's ready for pickup.
Learn how to add this service to your business by reading How to Set Up Curbside Pickup with ManyChat.
Billboard ads
Billboard ads can be a big investment for small business owners. Want to get the most from your spend? Place a QR code on your ad and send customers into your Messenger experience.
You can customize QR codes to match your billboard ad design, and they also provide tracking data to help optimize your campaigns. Best of all, they'll enable you to interact with leads.
If you are setting up billboard ads in different cities, you can create location-based codes to see how much revenue each one generates. To take it a step further, create different Messenger experiences for each location to make the conversation more relevant to the user.
Stickers
QR codes work well as promotional stickers, too! Do you attend trade shows or conferences, sponsor events, or send gifts and incentives to customers or partners? Stickers with QR codes make it a breeze to share information because people can scan and find what they need in seconds.
Amanda Robinson, also known as "The Digital Gal," prints branded QR codes on 2" x 2" stickers that she can place anywhere.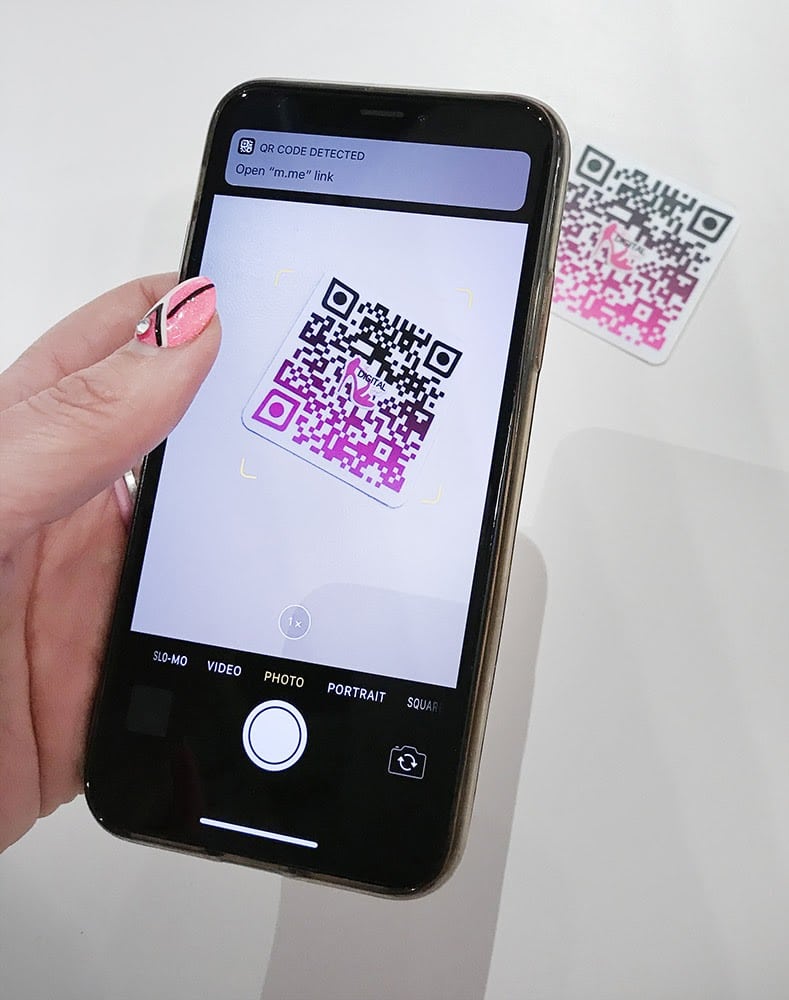 She sticks them on the back of conference badges, on her coffee mugs, and even uses them as part of a treasure hunt around a store. The possibilities are endless for engaging with customers through a QR code sticker!
Digital business card
Gone are the days of paper business cards. Instead, marketers are using QR codes as digital business cards at conferences and events.
Kelly Noble Mirabella, founder of Baby Got Bot, explains, "When I'm at events, I make this [the QR code below] my phone's wallpaper. When someone scans it, it goes to a digital business card in Messenger, which I customize depending on the event I'm at."
Your digital business card can provide information such as:
Email
Website
Phone number
Social profiles
Lead magnet offers
These codes are a great networking tool and conversation starter at events. And since they lead people into Messenger, the user becomes a contact you can connect with later.
Show higher ROI with QR codes
Are you ready to start using QR codes in your marketing campaigns?
Whether you're running a billboard ad or redesigning your product packaging, it's clear QR codes can significantly boost ROI.
Take the next step and automate your campaigns by investing in a marketing platform like ManyChat. With ManyChat, you can create QR codes in minutes and track metrics in real-time, so you know exactly how much revenue and leads you're earning from your efforts.
Connect with customers and grow your business with ManyChat's marketing automation. Start free today.
The contents of this blog were independently prepared and are for informational purposes only. The opinions expressed are those of the author and do not necessarily reflect the views of ManyChat or any other party. Individual results may vary.