Write a Networking Email that Contacts Enjoy Reading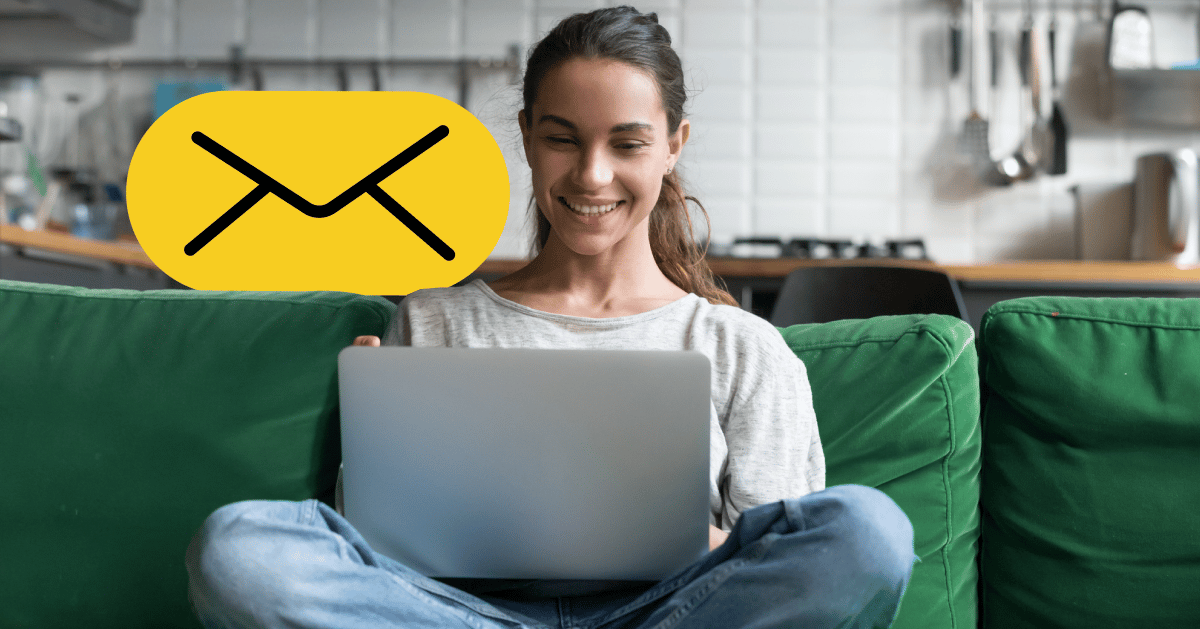 Relationships are at the heart of any business, and is why building on those connections through networking is so important. And when we expand our network, we are better able to communicate and collaborate; which is when  our best ideas emerge. 
The beauty of the digital-first economy we live in is that people around the world can connect and converse with minimal effort. So why not reach out to someone to spark a conversation and further your networking efforts?
One of the challenges of networking, however, is that the process can feel awkward, and it isn't always easy to strike up fun and engaging conversations with strangers. Nowadays, every interaction requires careful thought, kindness, and consideration, especially when communicating through a screen. 
The goal of this article, therefore, is to make that virtual conversation a little less awkward through effective networking emails. We'll start with a general overview on  the importance of networking, and why it's worth your time, as well as  overcoming any preconceived notions about networking and how to "meet" people virtually. We've also put together a few networking email templates for you to test out. 
Why networking is important
Discussion
At all stages of our careers, it's valuable to maintain a growth mindset. Whether we're navigating a job search or starting a business, a willingness to learn allows us to open new doors.
Professional networking is all about asking questions, comparing notes, and seeking information. Through these conversations, we open our eyes to new opportunities and possibilities, and even challenge our own perspectives that may be holding us back from pursuing our dreams.
It's also important to think of our networks as investments. As we level up our skills, we navigate new twists and turns and there's nothing wrong with reaching out to a broader network for help or advice. The Beatles perhaps  made the point best that we "get by with a little help from [our] friends." 
Our networks are essentially an extra eyes and ears that create an amplification effect  on our professional journeys. Over time, our contacts, connections, and colleagues help us grow. In this way, the time we spend networking is an investment in our career development.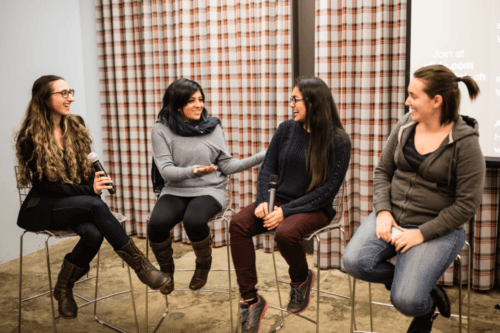 More resources
If you're interested in learning more about the importance of networking as part of your career, here are some resources to guide you in your exploration:
Having the right networking skills is important, especially if you're an aspiring business owner. The key is to put yourself out there in an authentic, honest, and true-to-life way. 
What stops people from networking 
Discussion
In short, networking can feel awkward. After all, almost no one likes to  approach and talk to a stranger? Not to mention, a rejection can be tough on your confidence. And no matter how interested we may be in speaking with someone, that person may be too busy to spend time with us.
More resources
If the thought of networking makes you feel uncomfortable, just know that you're not alone. Here are a few more discussions that examine what stops people from networking, and why so many of us feel hesitant to connect with others.
The bottom line from all of these resources is to not let your fears get in the way of striking mutually beneficial conversations. Who knows where a first discussion may lead? Friendships and working relationships all start somewhere.
How to network online 
The pandemic has pushed people to spend more time at home, and it's unclear when life will return to normal. As a result, people are finding creative ways to network online. There are a number of interesting pathways to meet people:
Online networking. Membership websites are springing up in every industry, allowing people to connect over common interests. Whether you're an experienced entrepreneur, established professional searching for a job, or a student starting out on your career journey, there are likely to be communities out there that you'll find beneficial.

Virtual events and conferences. A number of professional associations have moved their in-person events online. If you're looking to find one of these networking opportunities, check out Eventbrite or Hopin, where organizers list their meetups publicly.

Social media. Social platforms like Facebook, Twitter, and LinkedIn make it possible to discover interesting people and conversations. On Facebook, you can join groups of professionals with similar goals; and on Twitter, you can monitor trending topics and feed-style discussions with interesting people. Social media can lead you to valuable conversations and offers a springboard for a follow-up and deeper discussion.



After participating in an interview for an acquaintance's blog, a wonderful woman reached out to say hello. She and I got coffee together in San Francisco, in 2017.

Job search boards.

Just as you may be looking for a job, companies are seeking to hire talented people. For this reason, job search boards have become popular hangout spots online. These platforms also publish helpful content and host virtual events, like career fairs, for deeper levels of engagement.

Virtual coffees.

Interested in getting to know someone? Grab a virtual coffee together. Reach out to someone and ask if they might be free for a conversation. Remember, networking is a great way to build human connection. 

Membership groups.

One way to branch out socially is to join a group of people who share and value your interests. The conversations in these circles can be of value in the future.

Online classes.

Classrooms are great places to meet interesting people. Seek out opportunities to learn about topics that interest you. You might even find yourself earning certifications (like through Coursera) or earning a formal degree (like University of the People).

Speaking.

Reach out to a group and offer to speak on a panel or host an educational workshop in circles where you're likely to make a valuable impact. 
The key to networking online is to explore new spaces, discover information, and to engage with interesting people. The only way to  build meaningful connections is to put yourself out there.
How to send a networking email 
Make your point clear
If you come across someone you want to meet, reach out. Be friendly. We are human, after all and we thrive on social interaction for our mental and physical health.
One networking tip is to be very clear in your ask because your email recipient is likely busy. And thanks to the schedules can be unpredictable. Be respectful of people's time, and get your point across.
A crucial first step is to research the person you're emailing. Pay attention to what the other person might care about or want to talk about.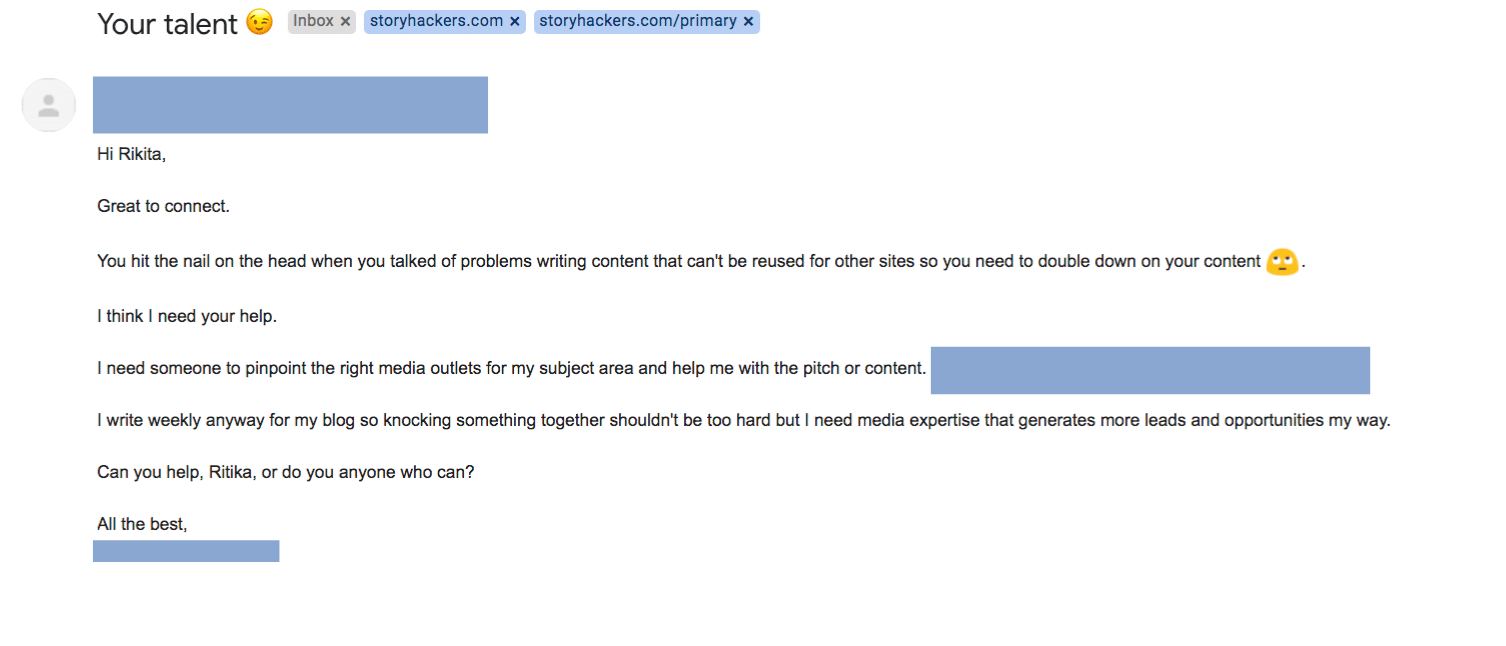 The example email above is strong for a few reasons:
The sender introduces themself and shares an offer to connect over a common interest.

It's impressive and attention grabbing.

The author is clear in their request.
Do your research 
Show the other person that you value their time and do your research before you reach out. Browse through what your recipient is publishing, discussing on social media, or expressing an interest in learning. Come to the conversation prepared with a list of some shared interests. Take a look at the following networking email below, as an example.
This networking email is effective because it comes from a place of kindness and respect. The person who wrote it took their time to learn about the individual they want to connect with. Beyond setting yourself up for a networking opportunity, the ability to establish this type of rapport is critical for career development.
Don't be afraid to ask for help
Right now, a lot of people are looking for a new job. The best way to navigate this process is to reach out for help. Whether you need career advice or an introduction to a hiring manager, be sure to learn how to send a networking email that a person will enjoy receiving. Here's an example you can tweak for your own communications:
Hi Jill,
I'm a digital marketing manager with a deep eCommerce background. Earlier this year, my employer, [NAME], shut down due to the pandemic, and I'm looking for new roles.
I noticed that [COMPANY X] is hiring. They have a great reputation. It looks like we share a common connection at the company, [NAME].
Would she be open to connecting with me for an informational interview? I would love to garner some career advice and generally get to know her. Thank you so much.
Even if you're not looking for a new job, use this networking email template to establish a professional relationship with someone whose career inspires you. 
Final thoughts
As human beings, we are hardwired to want to help one another (research shows that altruism and sharing have been important in evolution). Impressive networking emails are empathetic, helpful, and thoughtful. Everyone has networking skills and are capable of using them for career development.
Level up your marketing messaging with a chatbot for your brand. Sign up for a free trial with ManyChat.
The contents of this blog were independently prepared and are for informational purposes only. The opinions expressed are those of the author and do not necessarily reflect the views of ManyChat or any other party. Individual results may vary.