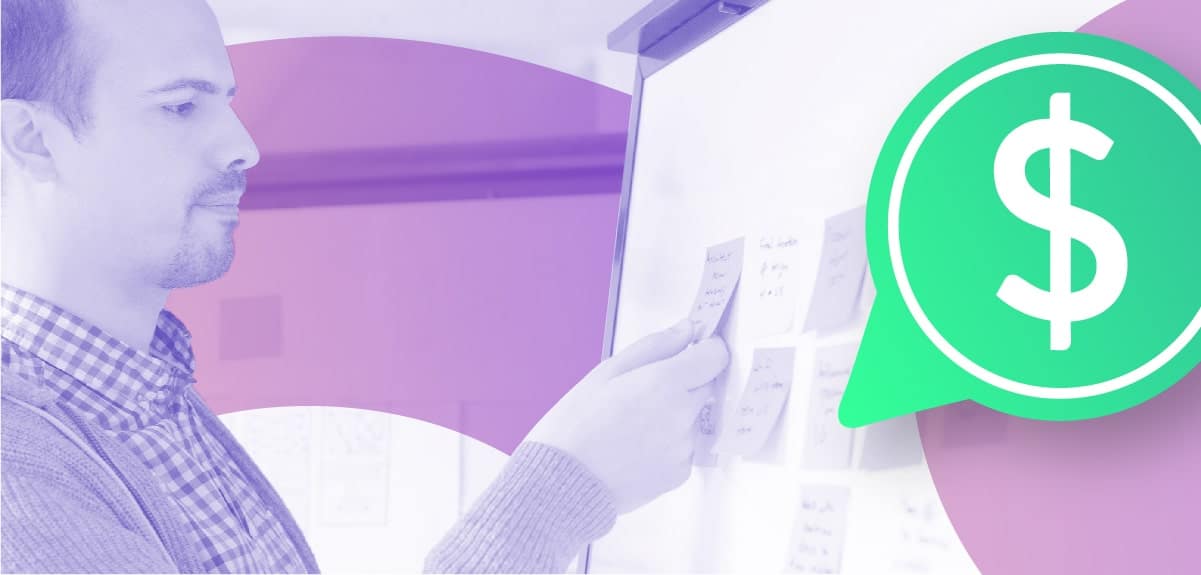 No matter your business, Chat Marketing will be a key player in 2020 for creating a steady stream of customers or leads.
And soon you'll see an emergence of platforms that can take your Chat Marketing to the next level by using revolutionary growth tools and automation. Though it might sound costly, getting the most out of your Chat Marketing budget in 2020 will be easier than you think.
Examine the ROI
The first thing you should know is that enabling a live chat is said to have a 300 percent return on investment. Therefore, any budget you put toward leveling up your Chat Marketing is low risk and high reward.
This is because, through live chat, you can nurture customers and assist them in their buying journey. Plus, it gives reps the opportunity to upsell certain products or services. Don't be afraid to invest in "Premium" or "Pro" services — the ROI is in your favor, especially when paired with an effective strategy.
Create an adaptable strategy
A good strategy is almost always the difference between campaign success and failure. The same rings true with Chat Marketing. Diving in without a clear strategy can produce campaign holes or an underwhelming customer journey. A good strategy usually has a main objective and a road map or action plan.
A visual builder is an ideal tool when it comes to creating a strategy. Not only does it give you a big-picture look at the customer experience, but you can easily save, edit, and formulate chat flows to maximize effectiveness. The ManyChat Flow Builder presents a blank canvas where you can drag and drop features, make notes, and start from a template. When you think your strategy is sound, you can publish it.
Use ads
Advertising will continue to be a key strategy in 2020 when it comes to Chat Marketing, especially considering how effective Facebook Ads are at reaching your target audience. In fact, direct-response ads are ideal for encouraging your audience to take immediate action.
Your ManyChat dashboard now has an Ads beta feature as part of your growth tools. This new feature is a pay-per-result way of growing your bot subscriber base through your Facebook Ads. Sending subscribers who engage with your Facebook Ads to your Flows via the Ads feature is a sure-fire way to maximize your budget.
Take advantage of templates
We all know that time is money. One of the most time-consuming aspects of Chat Marketing is writing copy and building customer flows.
If you're looking to maximize your Chat Marketing budget, time allocation should never be overlooked. Fortunately, your ManyChat Dashboard has dozens of pre-formulated flows with copywriting. All you have to do is give them your own flavor by tweaking them to match your campaign objectives. 
Analyze your audience
One of the great things about Chat Marketing is that you have insight into every single subscriber. Because they opted into your Messenger through their Facebook profile, you have access to a plethora of information about your target customer that you can use to maximize your Chat Marketing, as well as virtually every marketing initiative.
Don't be afraid to go into your "Audience" list in your ManyChat dashboard and examine a few profiles. Do you notice any trends in demographics? Interests? How well is your Chat Marketing hitting the mark in terms of communicating with these people? You can even use the information you uncover to create target personas.
Test, test, test
A prominent part of maximizing your Chat Marketing budget is doing more of what's working, and less of what's not. The only way to discover what goes in each of these categories is by testing. What you say and how you say it matters, and it could be the difference between a 20 percent conversion rate and a 25 percent conversion rate.
The ManyChat "Randomizer" feature allows you to set up various A/B tests inside your Flow so you can test what works best. In doing so, you can maximize the effectiveness of your Flows on your audience.
Key takeaways to maximize your 2020 Chat Marketing budget
Know that the more you spend on marketing, the higher the ROI potential — especially when paired with an effective strategy!
With anything, go in with a clear strategy. The ManyChat Flow Builder is a great tool to help you visualize and formulate your Chat Marketing strategies.
Pair your direct-response Facebook Ads with your Flows to maximize immediate action and engagement.
Time is money, so feel free to use pre-existing templates and tweak as needed.
You have access to tons of information about your audience. Use it.
The only way to know what works and what doesn't is by testing. Use the various ManyChat features to maximize your Chat Marketing efforts.
The contents of this blog were independently prepared and are for informational purposes only. The opinions expressed are those of the author and do not necessarily reflect the views of ManyChat or any other party. Individual results may vary.