Drive Traffic from ANY Channel to your Instagram DMs by using the IG Referral Url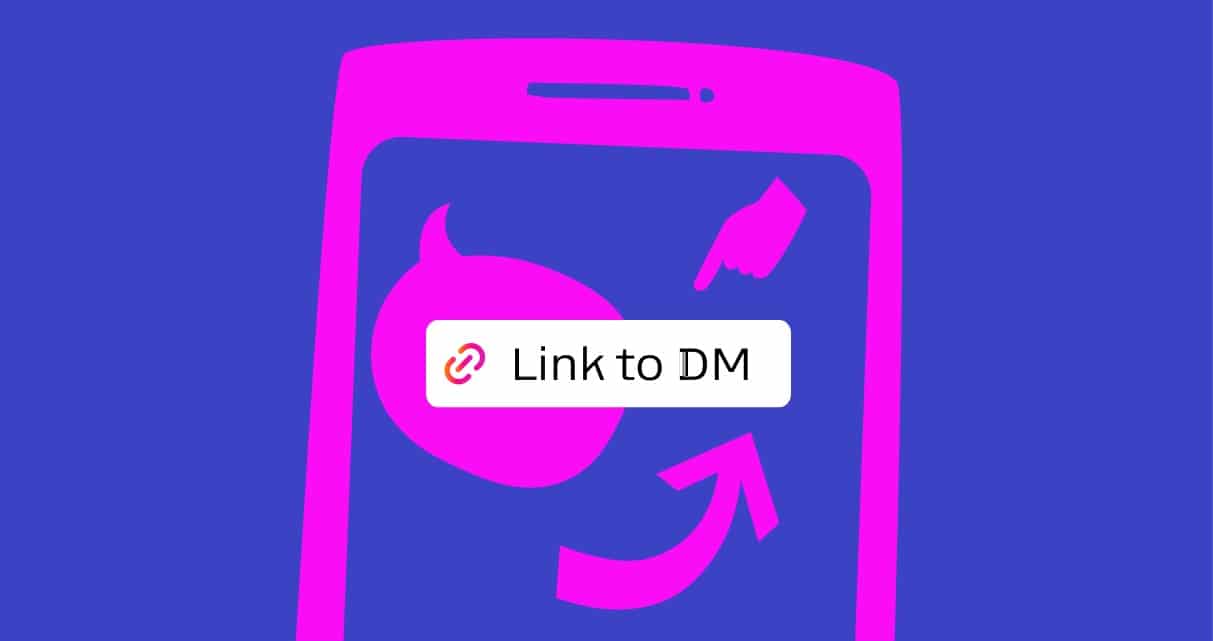 Manychat is the world's leading chat marketing platform that enables you to save time and increase conversion using your favorite marketing channels like Instagram, Facebook, WhatsApp, Telegram, and Email (just to name a few 😉 ).

But what if you have an engaged following on a platform like Youtube, TikTok, or LinkedIn? These platforms don't support chat marketing, but your customers are still there!
That's where the Instagram Referral Url comes in!
With the Instagram Ref Url, you can use a special url to drive your audience directly into a conversation within your Instagram DMs. Now instead of sending them to a sales page and just crossing your fingers, you can turn your passive followers into active consumers who get to have a personalized conversation with your business.
By sending your traffic to a Ref Url, you can qualify them as leads, add them as contacts to your Manychat account, convert them into pay customers, and gain Instagram followers in the process!
Click this Ref Url below to experience it for yourself!
https://ig.me/m/manychat?ref=instagramreferralurl
Note!
At the moment, Ref URL works only for Instagram mobile app. Meta doesn't support this functionality for the desktop version of Instagram.
You need to set up Conversation Starters for new users who have not communicated with your Instagram account before. If a user who hasn't chatted with your business before clicks your Ref Url, they will have to click on your Conversation Starter to start the flow.
Why should I use a Ref Url?
Referral Urls have so many benefits, especially if your Instagram is vital to your business. You can find a list of benefits below.
Engage your customers personally using Instagram Chat Marketing

Deliver content and conversion opportunities within your Instagram DMs

Earn the ability to follow up with your customers automatically within Instagram

Access a higher response rate and click through rate than other more popular marketing channels like email.

Drive more followers and engagement from other channels to your Instagram

Gain subscribers for your Instagram DM List.
Adding a trigger
You can follow these instructions to add your own Ref Url to your account.
Open a New Flow and click "New Trigger." Choose "User clicks a referral link" in the open modal.
Publish changes in the flow's content and copy Instagram Ref URL. You can find the referral link by clicking the green box in the trigger section.
Customization of the URL address
Customization of the URL allows you to make the link look more attractive and identify your Ref URL link among your other links. To customize your URL, you can fill in the field, then Save changes.
Saving data to a Custom User Field
This option allows you to save data such as names and affiliate IDs in Custom User Fields.
Choose the existing Custom User Field where you want to store the information.
After you copied Ref Url, add data at the end of the link after the '–' symbols (as a result, you'll have something like this: https://ig.me/m/AccName?ref=loyalty_program--DATA).
That's it! Now Instagram users will receive your message every time they click on the link.
Where can I post a Ref Url?
In short, you can post this url anywhere where you can paste a link! You can read a few examples below:
1. Email
You can drive subscribers from your email list into a conversation through Instagram DMs!
2. YouTube
When you create a YouTube video, include your Instagram Ref URL. You can introduce it at the beginning and mention it again at the end of your video. You can also do this by pinning your Instagram Ref URL in a comment on each video. If you're feeling ambitious, you could even include it in your About page (even though no one really goes there—you have nothing to lose).
Caveat: People will only click through in large numbers if you're giving away something of value for free, so be sure you have a "hook" to incentivize them.
3. Ads
This can be one of the most powerful ways to use your Ref URL. Whether you run ads through Google, Facebook, YouTube, Messenger, or other platforms, make sure you include your link. This way, whenever someone clicks on your lead magnet from the ad, they'll end up in your Instagram flow.
4. LinkedIn
LinkedIn is the world's largest professional network, with upwards of 650 million users in over 200 countries. You probably even have a profile yourself. If you do, you can nudge your connections into your ManyChat bot in just a few steps.
5. SMS
If you already have an SMS subscriber list with a third-party service, you can bring them over to Instagram as well. Instagram lets you send longer (and more) messages than SMS does and for a extremely low cost.
Turning SMS subscribers into Instagram contacts is as simple as including your link in a text. As we've mentioned before, don't forget to provide an immediate incentive for them to click over. Flash sales, special discounts, free webinars, and free quotes are one of many ways to create urgency and encourage clicks.
The contents of this blog were independently prepared and are for informational purposes only. The opinions expressed are those of the author and do not necessarily reflect the views of ManyChat or any other party. Individual results may vary.