5 Tips for Increasing and Automating Sales on WhatsApp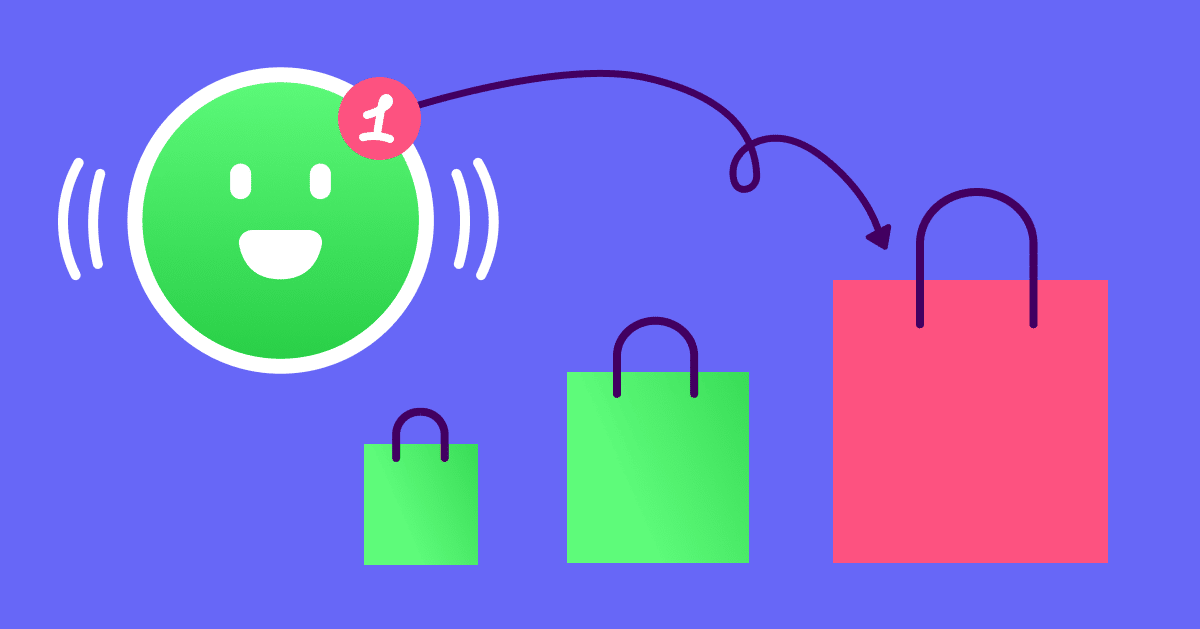 WhatsApp is a great channel to directly engage with customers. Its end-to-end encrypted chat, voice, and video call functions allow brands to virtually partake in two-way conversations that would usually occur in a real-life location like a physical store.
Because there are no cellular services involved, WhatsApp is a reliable channel businesses can use to send delivery alerts and purchase confirmations as well as offer customer support worldwide.
The standard WhatsApp platform doesn't have native automation features (at least not yet), but you can integrate WhatsApp with automation software, such as ManyChat (coming soon!). Adding automation to an already popular messaging platform will make WhatsApp even more beneficial to your business.
Here's what you need to do to best leverage this oft-ignored business communications platform:
Create a WhatsApp presence
Before you start automating anything on WhatsApp, consider your branding and communication strategy. After all, you don't want to start sending lots of random messages to potential customers without rhyme or reason (which may result in the opposite effect you want). Here are some suggestions for boosting your online presence and engaging with customers:
Maintain status updates
You should regularly update your WhatsApp status with business-related quotes, events, promos, and even video links to your profile on other social media sites. Your WhatsApp status disappears after 24 hours, so you can keep users coming back for your updates if you regularly post content there. Users can also reply to your status, so it's a useful tactic for encouraging engagement.
Keep the status text short and catchy for your audience. You know your audience best, but consider mixing up your content so you post fun, educational, and informative messaging in regular intervals.
Create a publishing cadence that works for you and your audience; finding a balance where you're not publishing too often or too little will make it more enjoyable for both parties.
Experiment to find the perfect timing
Use trial and error to determine when your target audience is most active on WhatsApp. Doing so increases the chance of a user opening your message or seeing your status.
Link to your website
Short WhatsApp messages that include a website link often enjoy an increased click-through rate. However, don't overload your customers with the same repetitive messages. Instead, always strive to provide valuable information.
Use teasers
Boost customer engagement in a fun and exciting way by creating a teaser for an upcoming campaign, sharing videos of a flash mob, or posting a behind-the-scenes peek at your office location. The idea here is to leave your audience wanting more and looking forward to your next post.
Use CRM applications with WhatsApp
Once you've mapped out your WhatsApp sales strategy, you may want to consider using customer relationship management (CRM) software that will help you manage conversations and leads.
For example, you can integrate WhatsApp to a CRM such as Hubspot or Salesforce (or whichever one you currently use). From there, you'll be able to create robust customer profiles and get a better idea of how and when each person is interacting with your brand.
Did they enter your sales funnel via WhatsApp? Did they convert after signing up for your email newsletter? How long were they a paying customer? You'll be able to answer these questions and more by linking WhatsApp (and other communication channels) to your CRM.
By integrating WhatsApp with a CRM, you can also:
Streamline the sales process to help boost sales.
Provide effortless after-sale assistance.
Implement marketing automation to attract and retain your customers.
While there are several CRM software options, look for one that makes WhatsApp more convenient to use. For example, cloud-friendly CRM software makes it easier to use WhatsApp across teams. Without a CRM, you have to use the WhatsApp phone app to log in via desktop, which may get complicated if multiple staff members are trying to log in to the same account.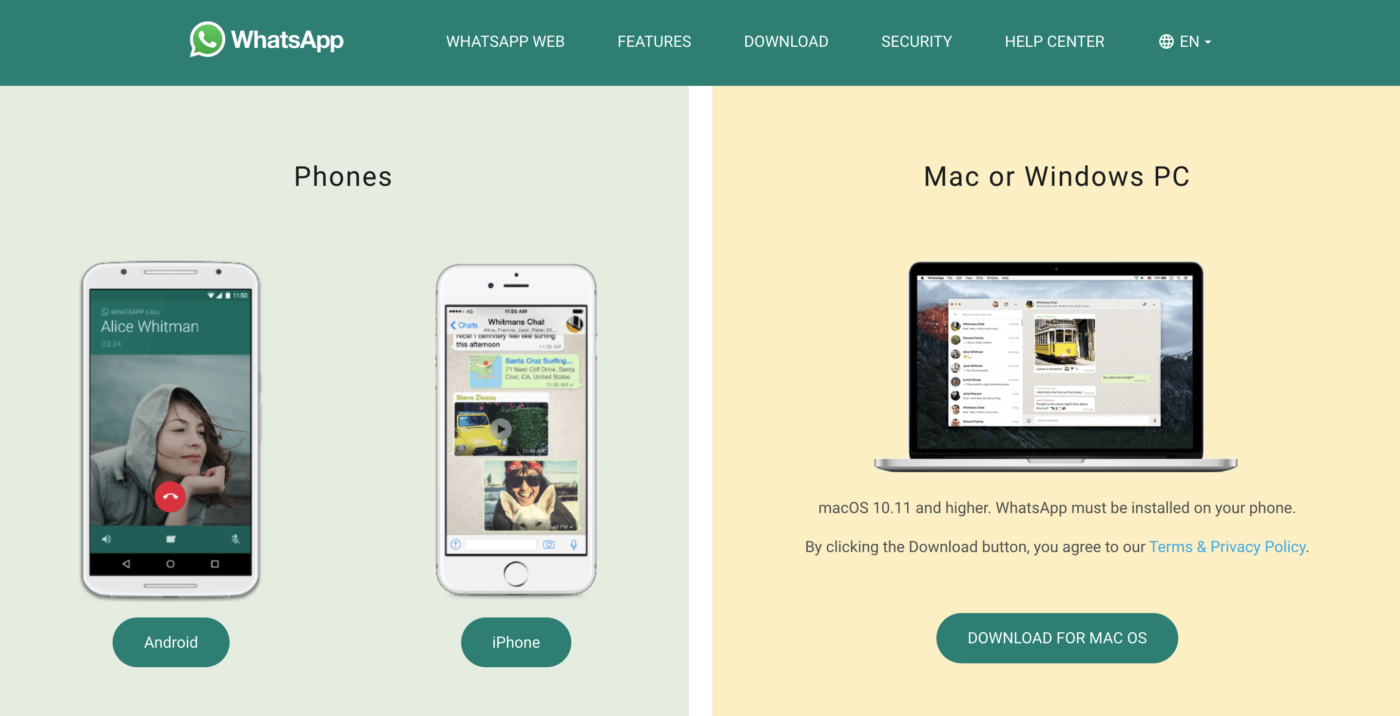 If you want to integrate with a CRM, you'll have to apply for the WhatsApp Business API, which adds some (but not all) available automation features to the WhatsApp Business app. But let's talk more about automation.
Integrate with automation
Some of the marketing automation features available with WhatsApp include:
Automated message flows: With the WhatsApp API, you can create a custom message flow for any size conversation. Some use cases include: auto-replies for FAQs, customer service hours, or a custom response that sends the customer related information that may answer their question). Auto-replies can often reduce the time a customer needs to wait to get the answers they need.
Automated sales process: A WhatsApp chatbot can help you automate your sales cycle. The bot can ask about the customer's intent, display the product catalog, offer assistance in choosing a product, and even enable instant checkout.
Proactive messaging: Create proactive message templates using the WhatsApp API so customers who have opted to receive updates related to an order, appointment, service request, or payments will remain informed without any extra effort on your part
Interactive Voice Response (IVR) call deflection: Use this feature to send phone calls to WhatsApp. You can assign a number in your IVR system that asks users to continue their conversation on WhatsApp. If they accept, they are automatically taken to WhatsApp to continue with either an agent or a chatbot.
Read more about the WhatsApp API and the WhatsApp Business app.
ManyChat's partnership with WhatsApp began in October 2020; we've been beta testing Automation features ever since. For example, ManyChat is working with the Business API so that, by extension, ManyChat users can send automated messages to their subscribers on WhatsApp via ManyChat.
Sell within WhatsApp
WhatsApp's Cart feature provides convenience for you and your customers. With Cart, customers can access your store catalog, check out a new product, see pricing, order as many products as they want, and confirm the order using the same platform they use to message friends.
Customers can chat with brands to ask questions about products, add items to their cart, and send orders in real time. This is convenient, whether you're a retail business or a local restaurant trying to keep up with rush hour orders.
Drive traffic to WhatsApp
Your WhatsApp Business link is unique to your account, so you can add it to social media accounts, emails, or websites. These short links have a high click-through rate and send the customer to your WhatsApp Business profile.
Some typical places marketers use a wa.me link include:
YouTube video descriptions
Facebook groups
Blogs
QR codes
Website CTA button
It's easy to see WhatsApp as just another messaging app, but there are all sorts of features (including automation) that can transform it into a sales machine. Be strategic about your WhatsApp marketing efforts, pay attention to your audience, integrate with a CRM, and automate what you can to reap the best results.
Sign up to get the latest updates on ManyChat's partnership with WhatsApp.
The contents of this blog were independently prepared and are for informational purposes only. The opinions expressed are those of the author and do not necessarily reflect the views of ManyChat or any other party. Individual results may vary.