Important Announcement from Mike Yan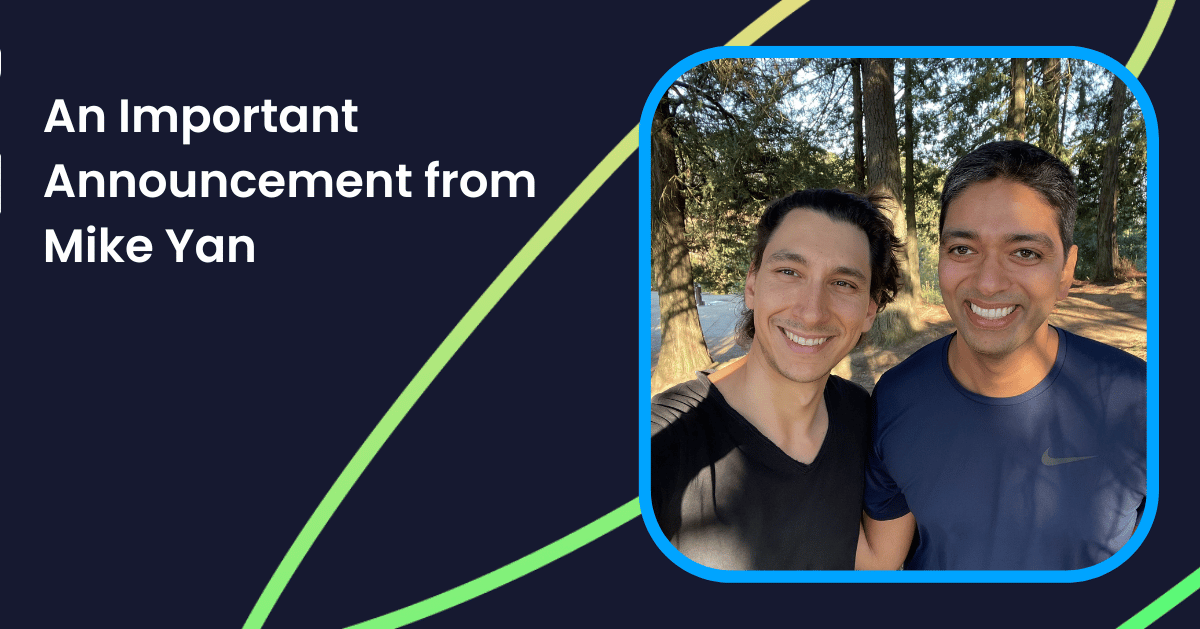 Back in the summer of 2015, Antony Gorin and I co-founded ManyChat with a vision to transform how businesses communicate with their customers. We believed that messaging apps created an opportunity to connect customers and businesses in a radically new way and bring the speed, convenience, and interactivity of chat not only to our personal conversations but also to our conversations with brands.
Seven years and billions of messages later, I'm happy to share that this vision came to life. Our journey has led us from a bare bones product on Telegram – a chatbot for building chatbots without an app or a website – to integrating with Facebook Messenger, Instagram, WhatsApp, SMS and building the leading and most powerful chat marketing platform in the world. From being rejected by 40 investors while trying to raise our seed round to raising an $18M Series A from Bessemer Venture Partners. From two co-founders with $0 revenue to a growing business with 150+ amazing, talented people across the US, UK, and Armenia.
All the credit for ManyChat's accomplishments goes to the ManyChat dream team that has made this possible. Our team are the real heroes that put their blood, sweat, and tears to pioneer Messenger Marketing, Flow Builder, Hybrid Communication Model, Instagram DM Automation, WhatsApp Marketing, Unified Customer Profile, and other products/inventions, many of which have become industry standards.
I want to take a moment to thank the ManyChat team and the broader ManyChat community for their resilience, strength, and creativity that allowed them to adapt to a constantly changing environment and thrive over the years.
Today, with ManyChat being break-even, well-funded, and with our newest channels like Instagram and WhatsApp quickly growing, I want to take this opportunity to make a bigger announcement.
After 7 years of running the show, I've decided to pass the torch to Sunny Manivannan, who joins ManyChat as CEO to drive the future of our impact and success.
Sunny is the perfect leader for ManyChat given his 10+ years of B2B SaaS leadership experience, during which he has been a part of two IPOs, first at Coupa and more recently at Braze. Sunny has a proven track record of building high-performing, cohesive teams, and I know that he has the skills and experience necessary to accelerate ManyChat's mission to transform how businesses and customers communicate around the world.
Here are a few words from Sunny:
"From the first time I met Mike, I knew that he and the team had built a special company. I am delighted to have the opportunity to help ManyChat achieve its full potential in the coming years, and I am excited for the work ahead".
As for myself, I will continue to guide ManyChat both strategically as the Chairman of the Board and operationally as the Head of Product in order to ensure the success of this transition.
With the growing popularity and depth of usage of chat applications, our vision is stronger than ever and now is the perfect time to seize the next frontier of this opportunity. With our incredible team and Sunny leading the company, we will bring the power of chat not only to the next million SMBs but also to the biggest international brands making billions of customer conversations more interactive, engaging, and fun.
I raise this glass to ManyChat's success! 🥂
Thank you,
Mike Yan
The contents of this blog were independently prepared and are for informational purposes only. The opinions expressed are those of the author and do not necessarily reflect the views of ManyChat or any other party. Individual results may vary.