How to Use SMS for Customer Engagement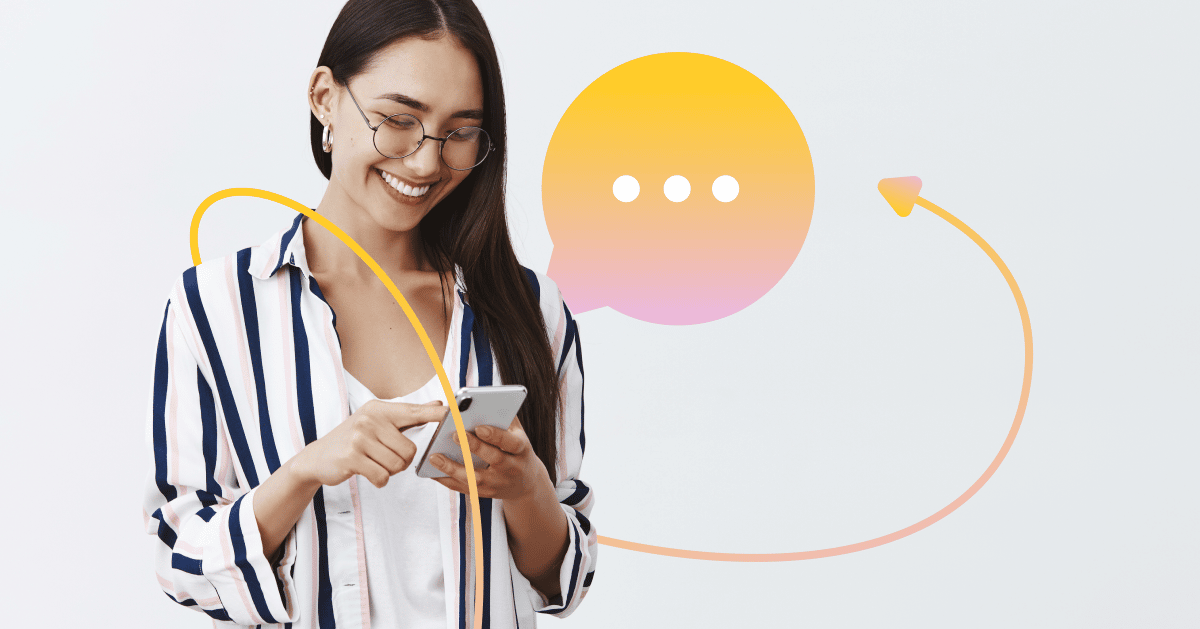 Improving customer engagement should be a critical focus for any growing business. Leading brands launch email campaigns, utilize social media advertising, and run all types of digital advertising promotions in an attempt to encourage engagement. However, it might surprise you to learn that short message service (SMS) messages are one of the most reliable ways to improve customer engagement.
Sending a text message through SMS is one of the "oldest" (read: from the late 20th century) forms of digital communication, accessible even to mobile phone users who don't have smartphones. In the US, around 81% of the general population has access to a smartphone; as many as 96% own a cellphone.
SMS offers one of the greatest opportunities for consumer-brand communication. In this guide, we'll take a look at how SMS messages can improve your customer engagement and how to utilize the medium most effectively.
Why should you use SMS for customer engagement?
SMS stands out as a marketing channel because it's so new. With customers receiving dozens of emails a day, emails can often go unseen. Even worse, popular email services like Gmail filter messages into a Promotions tab to hide your emails. Say it ain't so!
Meanwhile, most consumers are constantly texting and using messaging apps and are primed for your clever promotions. An SMS marketing campaign can be a great way to increase engagement with your target audience, and your messages have a much greater chance of being seen.
SMS has higher open rates & click-through rates
The open rates for SMS are reportedly as high as 98%, whereas email's open rate hovers around 20%. Moreover, SMS has shown to get a 209% higher response rate compared with phone calls or email. With an average response rate of around 45%, SMS is also one of the most reliable mediums for provoking action from your customers.
Immediately capturing their attention is essential to get your customers involved in your promotions and campaigns. When consumers receive a notification (be it via email, social media, or another channel), if they are not motivated to open it or respond right then and there, it's unlikely that they'll remember to go back to it later on.
Your finely crafted message will go into the proverbial junk drawer, never to be seen again. This is why SMS is such a key player: it has proven to elicit quick responses (with an average response time of around 90 seconds) and offers higher response rates than other channels.
SMS engagement is growing
As customers become more comfortable using SMS messages to communicate with businesses, they have also become more accustomed to being the recipient of SMS campaigns. In this environment, your brand can develop and execute a successful customer engagement strategy without worrying about turning customers off.
It's easy to track results
Many powerful SMS marketing solutions offer tracking capabilities for your SMS campaigns. Using data and analytics tools, you can track click-through, redemption, and open rates for your promotions and offers, making it easy for you to see which campaigns are working well and which ones need to be modified.
Tracking your results is crucial for determining how to enhance your marketing campaign, improve your customer experience, and boost customer satisfaction. Are your recipients redeeming the coupons you've sent out? Have your promotional discounts increased the sales of a new product? Are you reaching your ROI goals? These are all questions that the tools that offer SMS metrics tracking can help you answer.
SMS focuses on immediate communication
SMS mobile marketing is very "in your face," as it's hard for most people to ignore an unread message. You can send shoppers quick alerts about limited product availability or information on a 24-hour flash sale that consumers can gain access to on your website. In these situations, SMS campaigns shine; sending out an email notification or promoting these notifications through ads is unlikely to inform all of your customers in time.
As part of their SMS marketing strategy, many businesses also utilize some automation, such as SMS chatbots. Users can instantly acquire even more information about specific promotions or offers from your business by following text prompts.
You can respond to customer texts quickly
In the digital era, consumers have come to expect quick service—and SMS lets you accomplish exactly that. Text message marketing provides businesses with a medium that enables them to immediately respond to customer queries, improving their customer service overall.
SMS customer engagement best practices
While it's clear that SMS marketing can do wonders for your business, it's critical to employ the right practices to get the best results from a campaign. Here are some tried-and-true ways to improve your SMS customer engagement:
Run segmented campaigns
Let's face it: it's highly unlikely that a single message promotion will interest a brand's entire customer base. Regardless of the channel, segmented campaigns ensure that you only send relevant promotions and incentives to the right audience.
There are many ways to segment a text message campaign. For example, you could use geographic locations (by sending coupons that are valid for given store locations), gender, age groups, or a variety of other demographics.
Even better, if you use the right SMS marketing solutions to gather stats and data on your customers, you can send targeted promotions based on a consumer's average spending and purchase history.
In short, segmented campaigns ensure that your customers receive promotions and offers that will actually interest them, increasing the likelihood of engagement and sales.
Use images and emojis to pique customer interest
It's no secret that visual appeal helps campaigns succeed, and SMS marketing campaigns are no exception. While most businesses know to use catchy product images and ads for Facebook marketing, many forget to include them in SMS messages.
Something as simple as adding a couple of emojis to your SMS promotional messages can improve message recognition and retention. You can even take things a step further and include an appealing product image with a message promoting a particular item as part of an MMS message. Be creative, but don't overdo it! Images are meant to enhance a message, not be the entire message.
Don't overdo fear of missing out (FOMO) promotions
Brands love to send out urgent promotional messages about a particular offer. Such communication can make you feel like you'll miss out on something huge if you don't buy the championed product during the 24-hour flash sale.
While this tactic can be great for promoting something big and fresh, or for even rare seasonal sales (like Black Friday), using FOMO as your go-to SMS strategy is a rookie mistake. Unless FOMO is part of your business strategy (think sample sales or bidding platforms), abusing this tactic may diminish the effect that FOMO has on your customers. The WOW factor no longer wows people after you've hit them with it one too many times.
Make it easy for shoppers to take action
When guiding your customers through their buyer journey, it's important to make the process quick and easy for them. Otherwise, they may become frustrated or lose motivation to continue. (If you've ever shaken your fist at your computer or phone, shouting "take my money!" you know exactly how this feels.)
For example, if you send a message about a particular product, include a clickable CTA to the web page where they can purchase said product. If you're attempting to have a simple SMS conversation with a shopper, use automated response options (e.g., ask a user to respond with a number, such as 0 or 1, to confirm or cancel a request).
Ask for feedback
Just as consumers are more likely to respond to an SMS message than a message from other platforms, they are also more likely to submit feedback via text message (especially if the process is effortless).
You can keep this simple for your customers by asking them to respond with a number corresponding to different levels—e.g., 0 for neutral, 1 for good, 2 for great, etc. You can ask users to supply any detailed feedback that they may have about your product or service, but as this is a more significant lift for a customer, you may need to incentivize them in some way. Customer feedback is crucial for developing your campaign and improving your products and services on the whole, and SMS communication can be a great way to gather it.
Re-engage inactive customers
Some brands send inactive customers special offers such as "welcome back" coupons and promotions with great success. Retaining your existing customer base is vital for successful businesses. If you aren't able to do that, you may have to rethink your products, business model, or marketing strategy.
Out of those three options, changing up your marketing is probably the easiest, so start thinking up creative ways to remind your customers that you care about them and value their business!
SMS customer engagement FAQs
SMS customer engagement campaigns are highly beneficial if executed properly, but not everyone is familiar enough to run them without a little guidance. Here are the most frequently asked questions on the topic:
How do we improve customer engagement with SMS?
Brands can improve customer engagement with SMS by sending relevant messages to segmented target audiences. Such messages will encourage shoppers to redeem offers or guide them through their buyer journey.
What is an SMS engagement strategy?
An SMS engagement strategy is a structured plan for attracting customers and encouraging them to take action; it is executed through an SMS campaign employing targeted messages.
Conclusion
SMS marketing is one of the most promising ways to promote your business. Now's the time for you to swoop in and use SMS marketing to supercharge your business and increase revenue! As appealing as it may sound, SMS marketing can seem daunting for businesses trying it for the first time. So this is where platforms like ManyChat come into play.
Used by over 1 million businesses and 200,000 marketing agencies around the world, ManyChat helps businesses like yours engage with millions of new customers through Facebook Messenger and SMS.
Start using ManyChat's SMS technology today by clicking the button below.
SMS Disclaimer
This information is provided for educational purposes only and should not be relied upon as legal advice. Please always consult your own attorney before engaging in text marketing.
The contents of this blog were independently prepared and are for informational purposes only. The opinions expressed are those of the author and do not necessarily reflect the views of ManyChat or any other party. Individual results may vary.