How to Build an Instagram Bot with No Code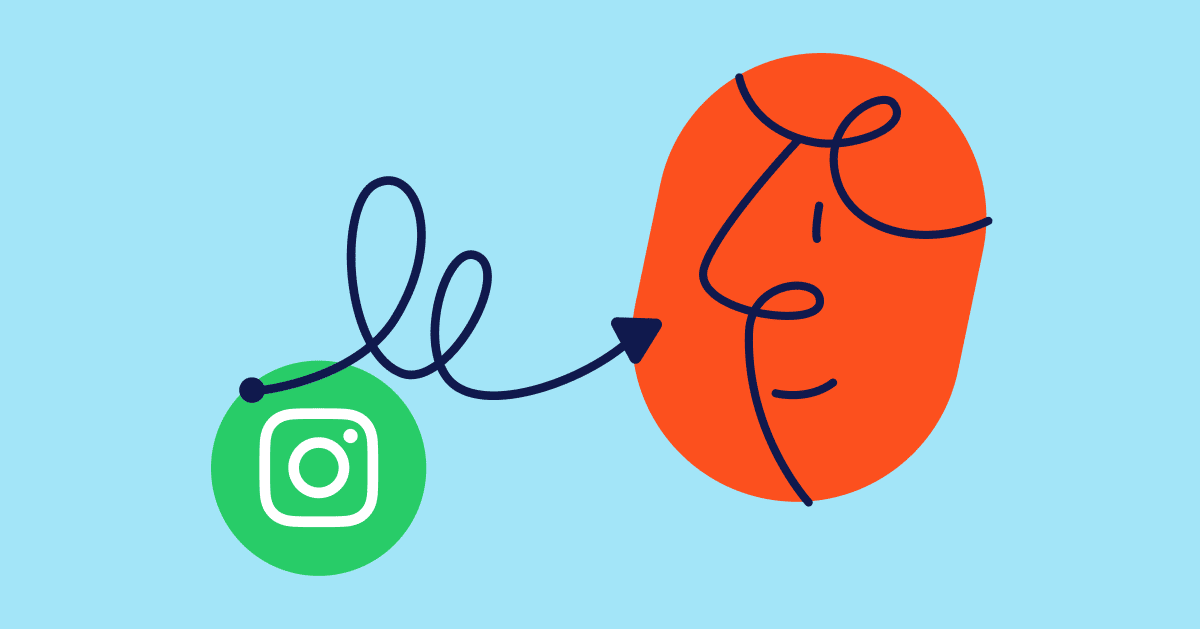 With over 1 billion monthly active users, Instagram (IG) is one of the largest social media platforms around today. Experts predict the platform will add another 103 million users in the next two years and invest heavily in eCommerce features like IG Shops and creator enablement to continue its dominance in the social media category.
Given that Instagram users spend an average of 53 minutes every day on the platform, it's no surprise that marketers want to leverage it to increase their sales and earn Instagram growth.
But providing optimal customer service poses a challenge: Manually replying to hundreds—or thousands!—of direct Instagram Messages isn't feasible for most businesses. (Note that this isn't a concern for brands selling on Facebook because Facebook Messenger makes it easy to automate and scale marketing using Messenger Marketing.)
So, what's a business to do when they want to embrace Messenger Marketing on Instagram? Sign up for ManyChat! Facebook now allows select platforms like ManyChat to offer Messenger Marketing features on Instagram. We're working hard on the release, and we'll have more news to share soon.
Are Instagram bots legal?
Instagram bots are legal when they comply with the Instagram Platform Policy. Particular types of Instagram bots (like follow bots and like/comment bots) violate Instagram's terms and can be shut down because they result in fake Instagram followers, fake likes, and sporadic bot activity.
That said, ManyChat Instagram bots are 100% legal. Our partnership with Facebook has allowed us to create fully compliant Instagram bots you can use for your marketing campaigns. ManyChat is an automation tool that helps you connect with real people, gain real followers or Instagram follower growth, and build meaningful Instagram relationships. There's nothing fake about it.
How to make Instagram bots worth your while
Like Messenger Marketing, Instagram bots will support business-to-customer conversations with Instagram followers by automating conversations and business processes. The goal is to answer customer questions, grow your follower count, and generate sales through Instagram's Messenger feature—all on autopilot. Here's how you can fully take advantage of Instagram's chatbot capabilities for Instagram follower growth once the feature is live.
Send marketing campaigns via Instagram Messenger
Instagram becomes an ideal platform for digital marketing and follower growth when combined with other social automation tools. Throw Instagram chatbots in the mix with the automation tool, and you've got yourself a perfect solution to increase your business's brand awareness and boost conversions.
You can implement default welcome Instagram Messages through direct message automation to make an excellent first impression. Offering a thoughtful welcome response means that you'll leave a good impression, no matter what time a customer, or an Instagram follower, messages you. You can even throw in an emoji or two for a bright, engaging welcome message.
Try creating specific messages to share deals and discounts with customers. You could even "train" your Instagram chatbot to provide customer support by having it follow a predetermined conversation sequence.
Use bots to respond to repetitive customer questions
Automated direct messages are ideal for responding to potential customers if you have a growing business. Depending on the volume, it could be virtually impossible for you or your team to manually answer every single query. Providing a script your chatbot can follow to answer customer questions will save you from having to personally answer the same question 50+ times.
Run Instagram Ads that send customers to Instagram Messenger
Facebook, Instagram, and Messenger Inbox ads send users into a Messenger conversation with your business after the recipient clicks to open the communication. You can use Facebook's growth tools to find potential customers, then transform Instagram Messages into mass direct messages to these new customers by leveraging Instagram's chatbot integration.
A common practice in Messenger Marketing is to create Facebook or Instagram Ads that, when clicked, open up to a Messenger conversation. Similarly, on Instagram, you can create IG ads, like Stories or posts, that start a dialogue between your chatbot and customers.
Drive sales by automating a promotion or coupon giveaway with an Instagram automation bot
Marketers and merchants can promote products and boost sales at scale by automating the coupon delivery process or simply by directing customers to a destination, like a website.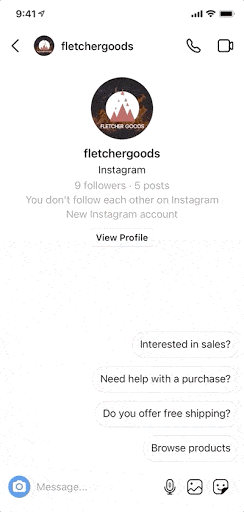 Brands can use IG Stories or directly ask customers to message them a keyword, and then your chatbot will send those individuals the coupon and more product information.
How to build an Instagram bot (once available)
Before you start making your own Instagram automation bot,, you'll need a few things:
A Facebook Business Page for which you are the administrator
An Instagram Business account
A ManyChat Pro account
To create an Instagram bot, follow these steps.
1. Connect your Facebook Business Page to ManyChat
2. Once connected, click Settings in your dashboard.
3. Under Channels, click Instagram.
4. Click the Add Instagram Account button. Then follow the prompts to add your account.
Note: Your Facebook Business Page and Instagram Business Account must be connected to activate the Instagram for ManyChat channel.
5. Once you've added your IG account, you should see the following screen if your ManyChat account is ready to build your Instagram bot.
Now you can take advantage of incredible Instagram marketing features for follower growth, like:
Live chat with a real person through Instagram
Instagram Story mentions to help acquire new contacts
Conversation automation features like keyword triggers and default replies
Conversations starters
Instagram ads for lead generation and brand awareness campaigns
Fast customer support
… and more to come!
From our research, brands that set up IG bots to send default replies, provide Conversation Starters, and respond to keywords generate the most engagement and drive the best marketing outcomes.
Using Instagram and ManyChat to grow your business
There's a lot of hype surrounding chatbots on Instagram—we can't blame you for being excited! (We are too.) Make sure you sign up for ManyChat or join the IG Waitlist so we can notify you once the Instagram Automation by ManyChat is officially live. This new integration will help you grow your Instagram account, acquire new followers, improve engagement, and generate additional sales.
Grow your Instagram following and make sales with Instagram Automation by ManyChat.
The contents of this blog were independently prepared and are for informational purposes only. The opinions expressed are those of the author and do not necessarily reflect the views of ManyChat or any other party. Individual results may vary.