Announcement: The Messenger Bot Pause is Over – Begin Building Bots Today!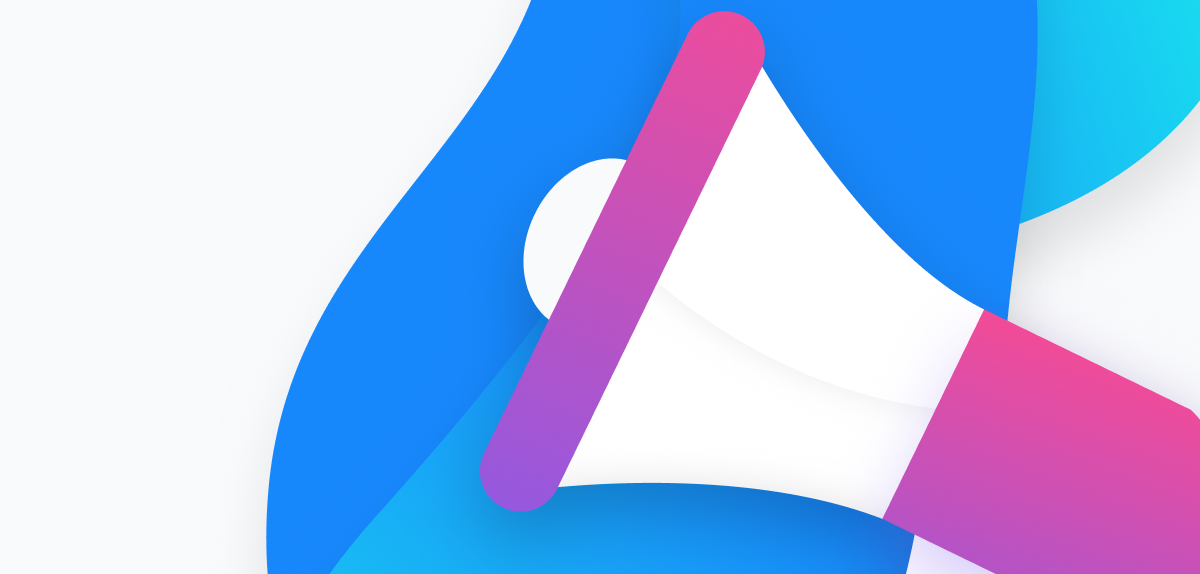 Today is the day, everyone! 
The platform pause is over and you can begin building bots again!
Here's the announcement from Facebook: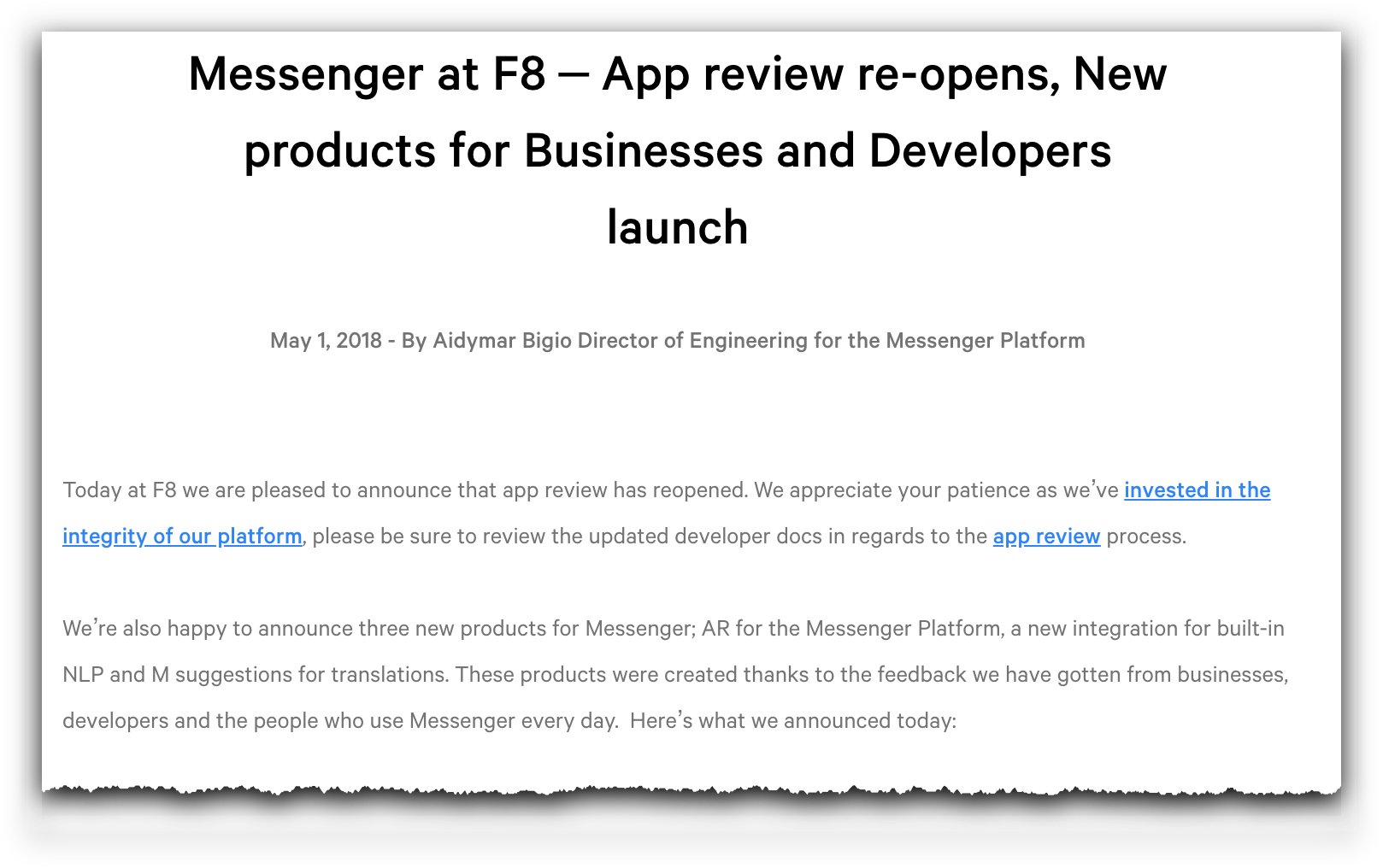 Read the full post here. 
The Goal of the App Review Pause
As we shared when the original announcement started, Facebook performed this audit in an effort to make sure their platform provides the best experience for all users.
They aimed to use the duration of the pause to (from Facebook's post)…
Conduct an in-depth review of the platform.

Inform people if an app is removed for data misuse.

Encourage people to manage the apps they use.

Require heightened terms for business-to-business applications.

Reward people who find vulnerabilities.
In the coming weeks, bot builders can be sure to see the results of this audit (check out the newly updated App Review documentation for developers), as it will be even more imperative to create bots that truly enhance the customer experience and follow Facebook's Terms of Service.
This project was no easy feat, but was incredibly necessary! With 8 billion messages per month and over 300,000 monthly active bots, businesses and customers need to be set up for the most success. Facebook's David Marcus reiterated and committed once again to continue developing the Messenger platform to the best of its ability.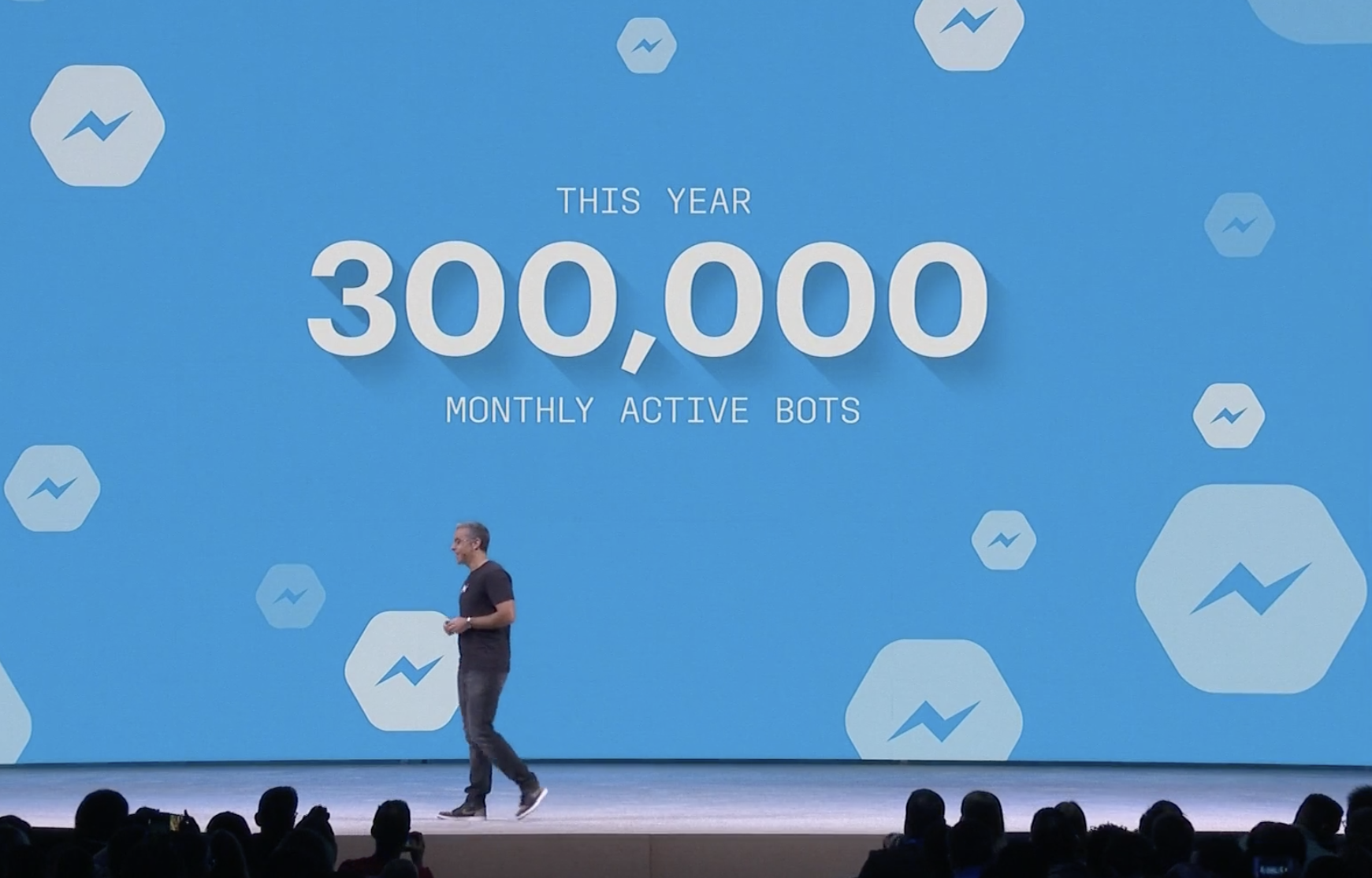 What This Means for ManyChat Users
Get your bot on!
Starting today, you should experience no interruptions or obstacles in connecting new pages to ManyChat and beginning to build bots that further conversations and business, and do their part to change the world in positive ways.
We take pride in our strong partnership with Facebook, and want to empower business owners to create better products, build better relationships, and grow their businesses.
ManyChat will do this through providing the best tools, best messenger bot training, and best community in the world.
Our tool will continue to evolve and improve, with our development team working tirelessly to deliver the features that deliver on the ManyChat mission — to help businesses build meaningful relationships with their customers.
Earlier this year, Molly Pittman and Dan Gamito produced the Messenger Marketing Mastery course, providing 10+ hours of training and 15 plug-and-play blueprints, ready to be tailored to your customer's needs and business' voice. We'll continue to update the training as new strategies are developed and more experts join us to share their methods!
The ManyChat Facebook community has flourished as a way to provide better support and advice while giving our most avid users the opportunity to help shape ManyChat itself—by making feature requests, letting us know of any bugs or issues, and so on.
In short order, this community has also become a place where more advanced ManyChat users can answer questions and give advice. It's a place for the best minds in Messenger marketing to share their latest tactics, strategies, and results, helping everyone to achieve better success with their chatbots.
There's no longer a reason for customers to experience lackluster communication or marketing — and customers are no longer standing for it. In order for businesses to succeed in this age, they'll have to be willing to adapt to a new standard, or be forgotten as their competition takes strides ahead.
Luckily, ManyChat is committed to facilitating that change and will educate all those diving into the Messenger Marketing pool
Where Should You Start?
The best way to use this platform is the right way; the honest way; the way that provides the best user experience possible for your prospects and customers.
Use the Messenger Marketing Mastery course to create thoughtful bots and experiences, the Facebook Terms of Service to ensure your interactions are always compliant, and the ManyChat community to share your ideas, get feedback, and, best yet, get answers.
The contents of this blog were independently prepared and are for informational purposes only. The opinions expressed are those of the author and do not necessarily reflect the views of ManyChat or any other party. Individual results may vary.