From Lead Ads to Facebook Live, Here's How to Generate Leads for Your Business on Facebook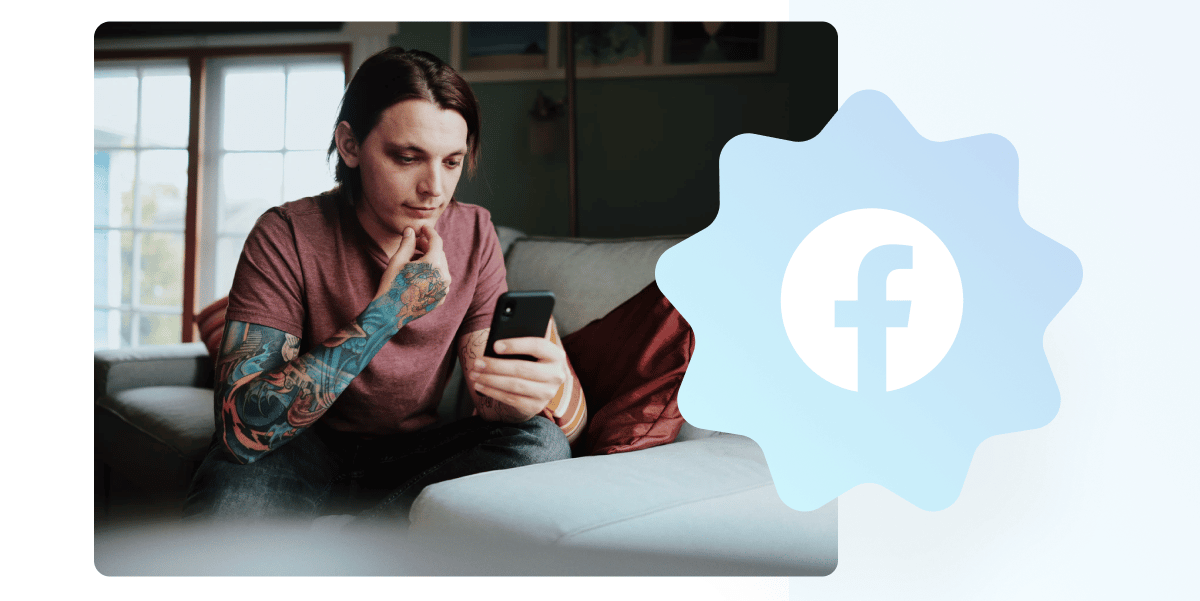 Anyone can post on Facebook. But generating leads, and doing it well, is a different story.
There are seemingly infinite ways you can spend time growing your audience on Facebook. Some are a waste of time, wildly expensive, or require technical understanding.
For marketers, trying to tackle all of them at once isn't the best way to drive growth on social media. Not only will you spend too much time shooting in the dark, but you'll also produce less than desirable results.
The better approach is to start with a few simple wins that'll boost your Facebook lead generation. Perfect them, see what's working, then improve on the tactics driving leads and sales.
For some quick wins to boost your lead generation efforts today, use one or all of the following six ways to reach your target audience and get more leads.
Run click-to-Messenger ads
If you want to boost lead generation on Facebook, consider running click-to-Messenger ads. These can help you reach a target audience faster through different custom audiences you create. 
Some examples of high-value audiences you can use for your campaign are:
A Lookalike Audience based on your top revenue generating customers
A Custom Audience of people who view products, but don't add to cart.
A Custom Audience based on people who added products to cart, but didn't buy
Take 5 Napkin Burger for example. The burger chain based out of Manhattan wanted to attract new local customers to its restaurants, generate a database of interested customers for future marketing. 
Rather than run traditional News Feed ads to a landing page to get new leads, they ran click-to-Messenger ads to connect with a potential customer in real-time.
5 Napkin Burger's campaign, which ran from December 11, 2018–January 31, 2019, helped it connect with an entirely new target audience and maximize their Facebook lead generation spend. Results included:
477 in-store offer redemptions
20% increase in average sale amount
10X return on ad spend
2,500 new Messenger and email list subscribers
You can send a Facebook Messenger lead ad for multiple reasons; to increase brand awareness for a new target audience, promote a deal, sell off dead stock — whatever your lead generation goals include. 
To make your Facebook lead generation easier, you can install this click-to-Messenger ad template. It's based off of The Pearl Source case study where the online retailer achieved a 47% conversion rate and sold $64,000 in additional revenue over six weeks.
Check out the flow via this link. Then download it as a template for your own click-to-Messenger ads! When you create your ad, check out these tips on how to write Facebook ad copy to boost conversions and sales. 
Read more: How to Set Up Conversion Tracking (And Use The Facebook Pixel)
Launch Facebook lead ads
If you want to swap your landing page and lead form for something more user-friendly, try running a lead ad on Facebook. Lead ads are basically forms you pay to promote. You can use them to capture information and preferences from a target audience, such as a newsletter sign-up, demo request, or schedule an appointment. 
When people click on a lead ad, they form pop-ups already pre-populated with contact information from their Facebook profile. In just a few taps, you can create a qualified lead for your business.
Another advantage these Facebook lead generation ads offer is that new leads can be synced with your customer-relationship management software or downloaded as a .CSV file and uploaded to ManyChat. This lets marketers follow-up faster and help close the deal.
Attach a Comment Growth Tool to Facebook posts
ManyChat's Facebook Comments Growth Tool is an easy way to start generating leads on Facebook. When someone comments on your Facebook post, they automatically get a message in Messenger. 
If they respond to your message, they'll be added to your Facebook Messenger contact list. You can enter them into an automated lead generation process, or follow-up in live chat if they have a more immediate need. 
The best part? All you have to do is create a flow relevant to the post, then connect the Facebook Comments Growth Tool to a post.
For example, in the flow below, when a potential Facebook lead commented on the post, they received a follow-up message with an eBook offer inside Messenger.
You can also attach the Comment Growth Tool to a Facebook ad. It can help you send anyone who comments into your bot flow and reduce the amount it costs to acquire a Facebook lead. 
For more on how to use this tool, check out Eight Actionable Things You Can Do With ManyChat's Comment Growth Tool.
Go Live
Facebook Live is getting a lot of attention for its ability to boost lead generation for businesses. And for a good reason — Facebook live videos are viewed 3x longer than non-live videos and are ten times more likely to get comments, which makes Facebook Live a powerful way to deliver interactive content.
For example, the Facebook Live below from Molly Mahoney reached over 1 million people organically. Resulting in more reactions, shares, comments, and post clicks that made for a successful lead generation campaign.
You can use Facebook Live to stream:
Product or service demos
Q & A sessions
New product launches
Live trainings
Flash sales
The choice is yours.
Facebook Live opens up a handful of doors for your Facebook marketing strategy, especially when you combine it with paid advertising and Messenger. For a full walkthrough on how to run a Facebook Live marketing campaign, check out How One Facebook Live Turned Into $90,000 in Sales. 
Grow your Messenger contact list
The Messenger Ref URL works for any marketer who wants to build an audience in Facebook Messenger. It's a link you can place anywhere — social media profiles, marketing emails, guest posts, presentations — that sends people into a Messenger conversation after they click the link.
For example, John Bellamy, a LinkedIn Marketing and Lead Generation Expert, runs a lead magnet campaign to turn LinkedIn Connects into subscribers. 
Notice how the call-to-action is a Messenger Ref URL. When a person clicks it, they'll enter a bot flow and automatically become a subscriber on Facebook.
For more on how to get started with this effective growth tool, check out 6 Easy Ways to Get Your First ManyChat Subscribers. 
Connect Messenger to your Facebook Business Page
With more shoppers looking to get a more personal brand experience via chat, it makes sense to consider your call-to-action (CTA) options on your Facebook page.
If you want to engage with a potential Facebook lead on your Page, add the "Send Message" CTA. With more shoppers looking to get a more personal experience via chat, it makes sense to give them the option to contact your business in Messenger
When someone clicks the CTA, they can easily send your business a private message rather than call you or send an email. You can send someone down an automated flow, or jump into a Live Chat to help answer a visitors question, delight them, and turn them into a qualified lead.
Improving your Facebook lead generation
As you go about connecting with your audience and generating leads on Facebook — don't forget to check out this lead generation guide to get more ideas for your next campaign. With these six easy wins in hand, you'll be well on your way to generating Facebook leads at an affordable price and driving growth for your business on social media. 
Boost your Facebook lead generation today with ManyChat. It's free to get started.
Los contenidos de este blog han sido elaborados de forma independiente y sólo tienen fines informativos. Las opiniones expresadas son las del autor y no reflejan necesariamente los puntos de vista de ManyChat o de cualquier otra parte. Los resultados individuales pueden variar.