Chat Marketing & QR Codes: A Match Made In Heaven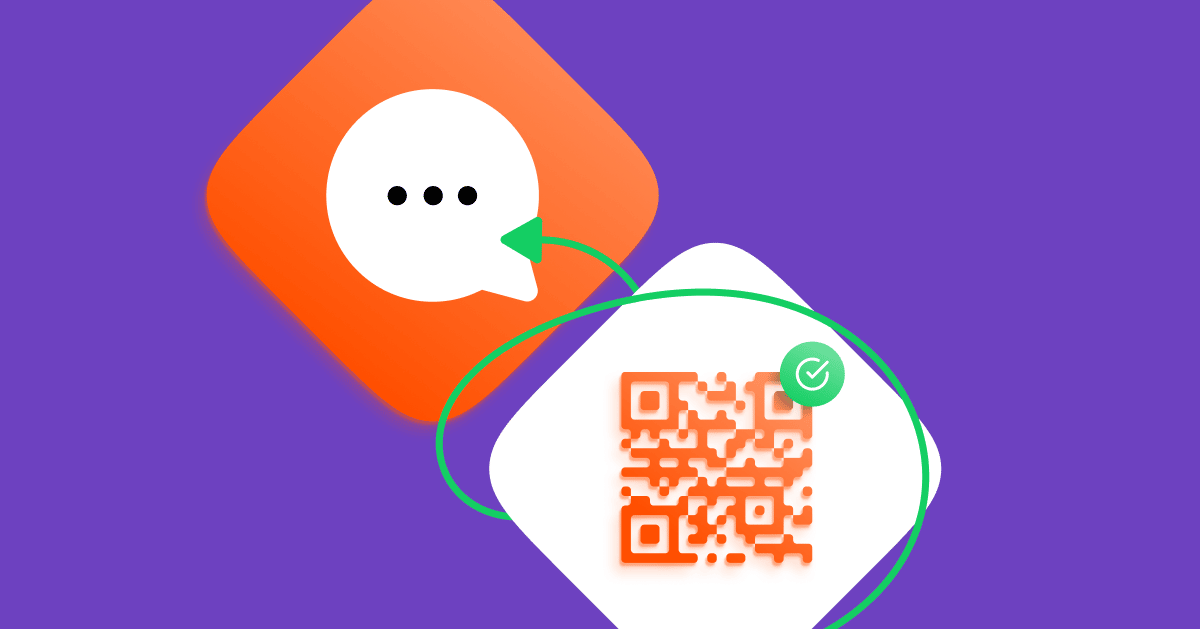 The QR code. A somewhat controversial piece of technology that's experienced its fair share of ups and downs over the last several years. While the process of redirecting users to a different website using these uniquely, scannable codes seemed like a frivolous and even frustrating bit of tech, the QR code has undoubtedly made a comeback.
At the start of the pandemic QR codes were propelled back into the spotlight, transforming the nearly-forgotten technical appendage into a critical business tool that, when done right, has many practical business use cases.
In the era of instant gratification, consumers expect to be able to find and access the information they're looking for quickly and easily. And when a business can't provide that type of experience, they can become frustrated. Luckily, a lot has changed since QR codes were first introduced, and most mobile phones now come with built-in QR code scanners making the tech more user-friendly. It's fair to say the QR code has officially been ingrained in our daily lives.
So, what's the best way to utilize the QR code? And can you integrate it with your Chat Marketing efforts? Let's find out.
The perfect entry point
Messaging chatbots make it easy for consumers to get answers and complete actions on platforms they already use every day without having to download any new apps. People can interact with your bot in a variety of ways including through your business's social media pages; and anyone who sends a message to your Facebook, WhatsApp, or Instagram page will automatically become a contact.
In order to draw potential customers into your chatbot flow (and secure them as a contact), however, you'll need a convenient entry point that makes it easy for people to connect with your business in an instant.
QR codes can be that entry point, acting as a physical or virtual scannable link to your conversational flow. Use a QR code to direct individuals to a specific section of your sales flow, and have many great use cases. For example, QR codes can be placed on products to provide additional information on the item or brand, or added to restaurant menus so patrons can place orders or leave reviews. However you use them, QR codes and chatbots go hand in hand like Disney movies and happily ever after.
QR codes for CPG brands
Many consumer packaging goods (CPG) brands are creatively using QR codes in their marketing campaigns to provide product information, increase consumer engagement, or boost brand loyalty.World-renowned cheese producer and importer Cello Cheese hired ManyChat agency partner Chit Chat Agency to create an AI-powered Messenger bot to help customers "cheese confidently." The virtual cheese connoisseur provides recommendations based on complex questions such as: "What cheese pairs well with chardonnay?", "Where is mascarpone cheese from?", and "Can you recommend a nutty and vegetarian cheese from France?"
The Messenger bot also features store location search, downloadable coupons, product updates, newsletter subscription, customer service live chat rerouting, and an interactive cheese quiz.
To boost accessibility, Cello Cheese created shelf talkers with QR codes that when scanned opened a conversation in Facebook Messenger that allowed people instant access to the virtual cheese connoisseur, as well as all the other helpful bot features.
Just like Cello Cheese, many CPG brands using QR codes have been able to improve customer experience. CPG brands not only provide nutritional information but also use QR codes for creative marketing campaigns, advertisements, social media engagement, and tracking.
Brands are beginning to realize the marketing potential of messaging apps in shaping consumer decisions and engagement, and how QR codes can act as the perfect gateway to these purchasing experiences.
Learn how you can set up ManyChat's QR Code Growth Tool to bring contacts into your chatbot.
Ready to get started with ManyChat?
The contents of this blog were independently prepared and are for informational purposes only. The opinions expressed are those of the author and do not necessarily reflect the views of ManyChat or any other party. Individual results may vary.