16 Powerful Marketing Tools You Haven't Yet Considered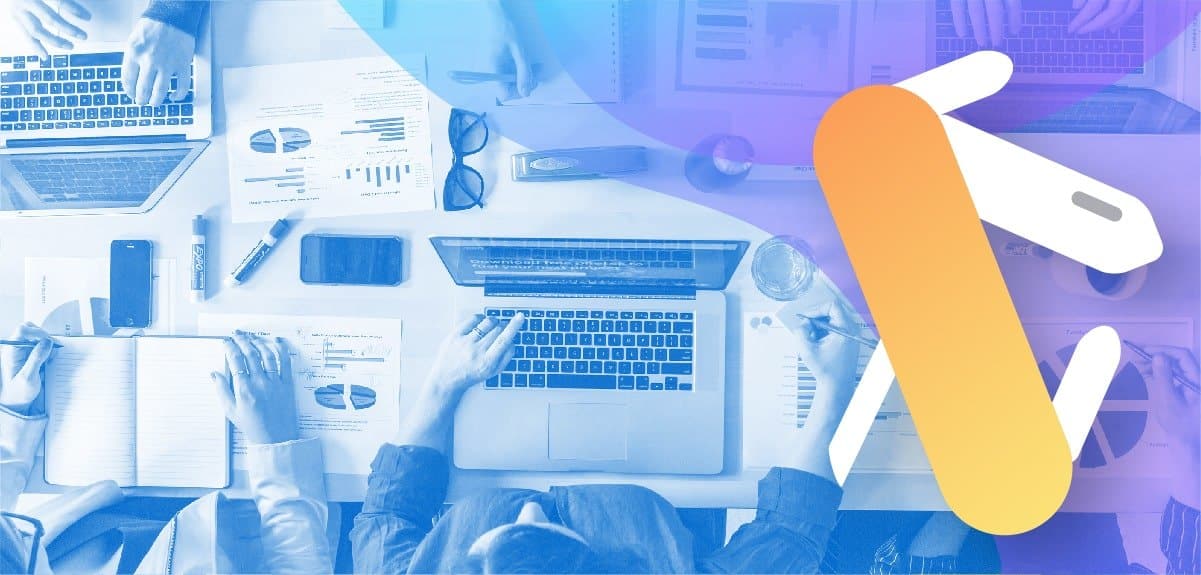 If you want to learn about the most powerful marketing tools, then you're in the right place.
Marketing has changed for everyone. It doesn't matter if you use Messenger bots, SMS, email, or paid ads. But your goal remains the same: streamline processes and improve productivity.
In a world with one too many marketing tools, the best ones are easy to use and give insight into your campaigns. These are the best marketing tools, proven to help any business or agency create better workflows and make more revenue.
1. Google Search Console
Google Search Console is a great tool for marketers to see how people find a business on Google. You can see the exact keywords and your most popular pages, check backlinks, submit sitemaps, track clicks, and more. Best of all, it's free! All you have to do is verify that you are the owner of the website to get started. 
2. Notion
Need an all-in-one workspace to write, plan, and collaborate with your team? Notion is a great way to stay organized. It lets you take notes, manage projects, and create tasks so everyone can stay on the same page.
3. Revive by Animalz
Revive is a free content tool that finds stale content on your blog and recommends what should be refreshed. It's the first of its kind and built to help you turn your old blogs into traffic drivers once again. Oh, and it's free.

4. Hubspot
What marketing tools list would be complete without Hubspot? Whether you're a growing agency or small business owner, Hubspot is one of the best softwares to host your sales and marketing material. You can start free, then upgrade when you need it.
5. Zapier
Zapier is a great option for marketing automation. It's easy-to-use and involves no-coding, saving you hours per week on repetitive tasks. It currently has over 1,500 apps with new ones popping up every week, and integrates with apps such as Slack, Google Sheets, ManyChat, and Facebook Lead Ads. They have a Free Forever plan and affordable pricing after that.
6. Asana
Asana is another project management tool that keeps everyone organized and on-point. You can easily manage and prioritize multiple projects, tasks, and sub-tasks in a slick dashboard. It's free for up to 15 people.
7. ManyChat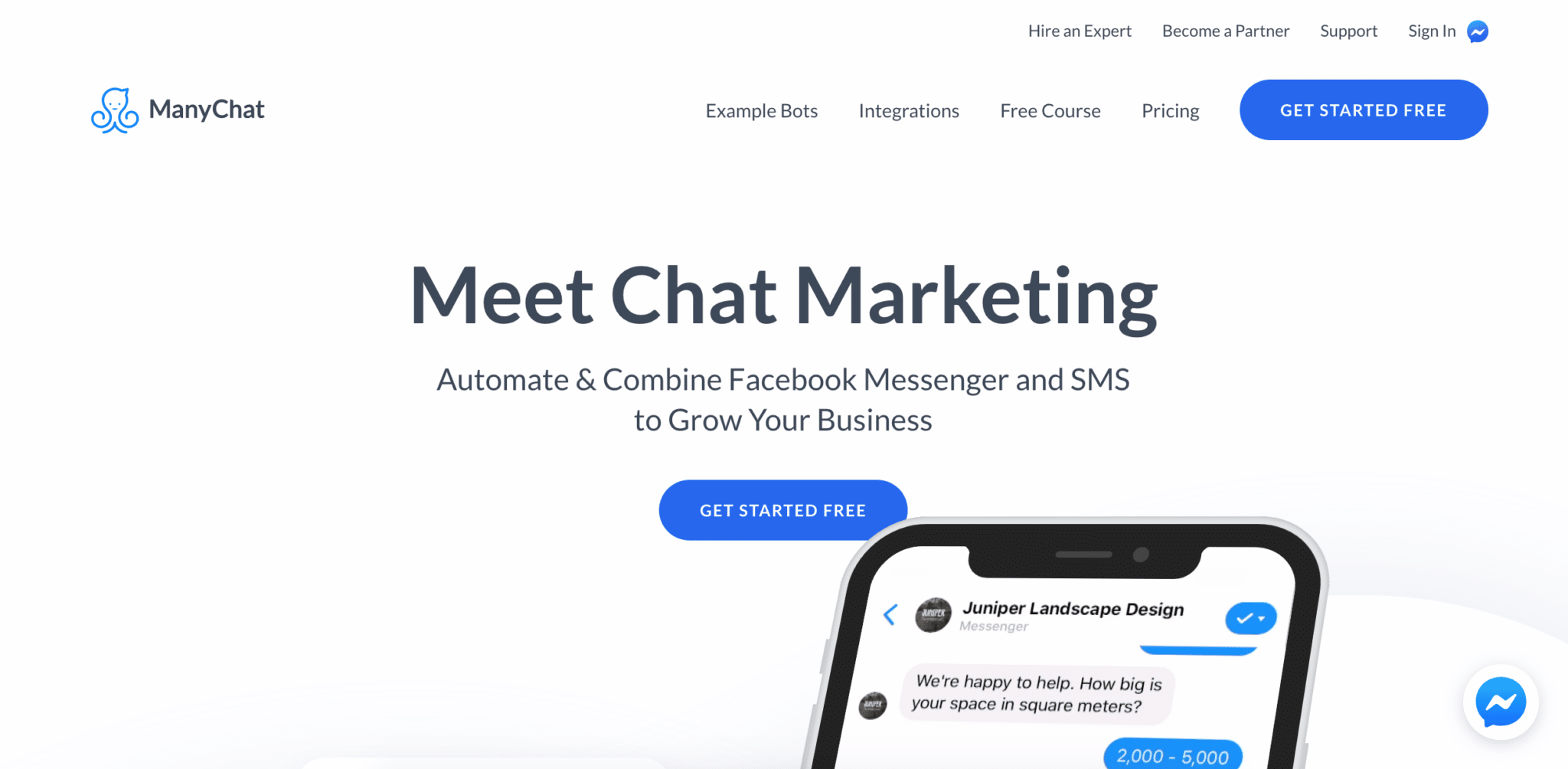 We're a little biased on this one, but ManyChat is a marketing tool to get excited about. You can manage SMS, email, and Messenger campaigns all in one place. With drag-n-drop features like FlowBuilder, creating user flows from paid ads to conversion is done in one clean and simple interface. It's built to keep the conversation alive with customers throughout their journey, as well as drive down acquisition costs and show better ROI.
Ready for a marketing tool that'll maximize sales while reducing costs? Get a ManyChat account today.
8. Databox
Databox is arguably one of the best data visualization tools on the market. Connect all your tools and set KPIs to better track performance in real-time. You can build your own dashboards (no code or design skills needed) or choose from one of their hundreds of vetted templates so you can pull the metrics you need, whenever you need them.
9. Agorapulse
Agorapulse is a fantastic social community and moderation tool that helps you manage all your social network profiles. It consolidates messages from different sites, manages publishing, and monitors your standing on top social networks — all in one user-friendly dashboard. This helps you maintain good relationships with your following, and makes sure you never skip a beat (or message).
10. Canva
Not everyone is a designer. That's why Canva is a budget-friendly marketing tool to help create awesome graphics. You can design everything from animated social media graphics to Instagram stories and Facebook posts. It's really easy to get started and completely free.
11. Morningfa.me
Morningfa.me is an invite-only YouTube Analytics platform. You can see which videos worked and which didn't so you can make more successful ones. It also offers data-driven recommendations on how you can grow your channel. Give it a test run with this invite code — it's free for a month.
12. Rebrandly
Rebrandly is an awesome link shortener tool. It gives you exactly what you need to manage links: a slick and user-friendly interface, workspaces, customer domains and UTM templates, and even the ability to edit destination URL — and yes, that's all for FREE.
13. Ahrefs
Want an effective SEO tool? Ahrefs is your go-to. You can easily find and track keywords, backlinks, organic search traffic, and more. Plus, always know where you stand against competition with the Content Gap tool and precise analytics. It also has a handful of technical audits to help improve your site's SEO health and more. It's not free, but you can start a 7-day trial for $7 with zero set-up.
14. Janis.AI
If you are a chat marketer, you want to check out Janis.AI. It helps make your Messenger bots faster and smarter with a trained AI. But that's not all. It also monitors customer conversations to identify issues and help fix problems — fast.
15. ActiveCampaign
ActiveCampaign is a fantastic option for CRMs. In one user-friendly platform, you can create engaging emails, do social media marketing, discover who your contacts are, and add automation to your workflows. It has over 150 integrations, including one with ManyChat, and more than 100,000 users who trust the software.
16. ClickFunnels
ClickFunnels is one of the leading ways to build high-converting, beautiful sales funnels. It's built for people who have no clue how to code, so anyone can create an effective sales pipeline quickly and easy. If you want all the tools and strategies you need to market and sell your products, check out ClickFunnels to get started.
Improving on your marketing tool kit
There are hundreds of different marketing tools out there, and it can be hard to decide which to use. The list above is vetted to help you become a better marketer, whether you're an agency or a small business owner. Plus, some can be used alongside your ManyChat bot.
Want to take your marketing to the next level? Get a ManyChat account today to get started.
The contents of this blog were independently prepared and are for informational purposes only. The opinions expressed are those of the author and do not necessarily reflect the views of ManyChat or any other party. Individual results may vary.