How to Become a TikTok Influencer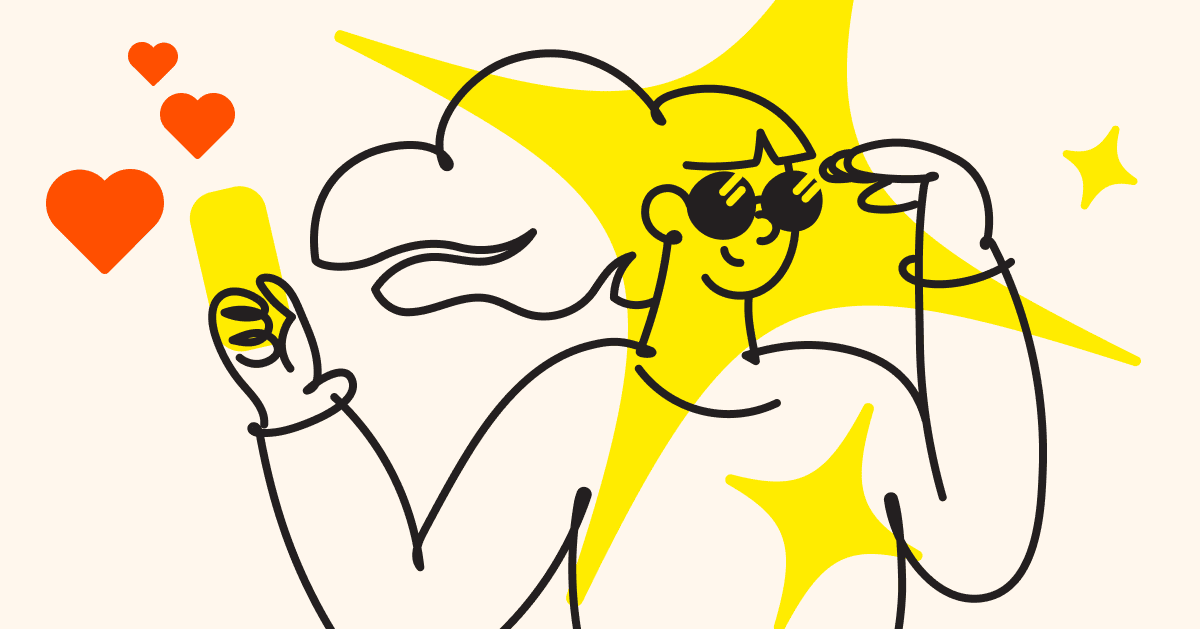 Move over Instagram influencers—TikTok creators are the hot new thing. OK, that might be a bit of an over-the-top statement. But the numbers don't lie.
TikTok boasts over one billion active users (yes, billion with a "b"). Users are spending more than 800 minutes per month on the app. And that number is only trending upward. This makes it fertile ground for a new kind of influencer marketing, as millennials and Gen Z flock to the app.
This guide will cover everything brands and influencers need to know about becoming a TikTok influencer, including actionable tips for finding brands to partner with.
Why is TikTok good for influencer marketing?
People connect with people, and a personal TikTok account is a great way to grow that "know, like, and trust" factor that's crucial for the growth of a business. As a platform that thrives on short-form video, TikTok makes it easy for influencers with both large and small followings to create a strong relationship with their audience.
As influencers build and maintain that trust, endorsing products and incorporating product mentions in their videos feels more "organic" and relatable. Consider the following stats about the effects of social media on influencer marketing and the results marketers are getting with TikTok:
If your ultimate metric for success is sales, consider TikTok's engagement rates as a key indicator of the platform's influencer marketing power. According to CreatorIQ, TikTok's smaller influencer accounts get about a 9% engagement rate while the huge influencers on the platform manage to get about a 5% engagement rate.
While those numbers might seem small, they're huge compared to the engagement rates on other social platforms. Instagram's biggest accounts—for example—are only getting about a 0.7% engagement rate.
TikTok's growth potential is so strong, startup founders are leveraging it to grow their audience and launch their businesses to a pool of potential customers by becoming influencers themselves. Take @mangopeopleofficial founder Sravya Adusumilli, who regularly appears on her makeup brand's TikTok account to showcase its latest launch.
Amori app founder Alex Weitzman uses her TikTok profile to talk about all things dating, incorporating her app in the process and getting users to sign up organically. There's no shortage of ways to build a brand and make sales on TikTok, whether you're the influencer or the brand trying to build relationships with them.
How much do influencers make on TikTok?
Influencer brand deal payouts can range widely—anything from a few hundred dollars a post to thousands of dollars per deal can be realistic. But a lot of it depends on the quality of your audience, your niche, and your creative output. As an extreme example, the highest-paid influencer on TikTok—Charlie D'Amelio—earned $17.5 million in 2021 through a series of brand partnerships.
How to become a TikTok influencer
There isn't a playbook for becoming a TikTok influencer. But there are specific strategies you can use to grow faster and build an audience that's genuinely interested in your content—and by extension your brand endorsements.
The journey to becoming a TikTok influencer can be broken down into three fundamental steps:
Open a TikTok account and fill in your bio.
Learn how to create short-form videos on the platform.
Start posting every day (and as much as possible).
Easy, isn't it? Except, there are a few additional pointers you can incorporate into your overall strategy as you build your presence on the platform that can increase your chances of success. Let's walk through some of the most important ones:
Always aim for authenticity
Show that you're human! Unlike Instagram's perfectly curated feed of posts and intentionally staged moments, TikTok wants to see the real you. The stuff that happens behind the scenes that's the most relatable to a large number of people is what tends to go viral on TikTok.
The importance of being authentic on the platform is two-fold:
You'll grow an audience that genuinely likes your content because it directly relates to their own life.
You don't have to spend so much time staging perfect videos, which quickens your content creation process.
Engage in the comments
Who doesn't love getting a reply to their comment? It works the same way on TikTok. Take the time to engage with and reply to users that leave a comment on your content. At the very least, give their comment a like to let them know you saw it.
Plus, engaging in the comments section is a great way to find additional content ideas. Some creators go as far as responding to comments with another TikTok video within the comments section. It's a smart way to create more relatable content by directly answering questions or crafting responses to opinions that the rest of your audience is likely highly interested in as well.
Here's an example from social media manager and creator @themrspedersen.
Use TikTok's filters and sounds
TikTok wants you to use its filters and sounds. Getting creative and incorporating them into your videos is a great way to increase your engagement. To make content creation easier, TikTok's bookmark icon allows you to save sounds and effects so you can use them later.
Post often
Like other social media channels, the more you post the more likely you are to see your profile grow. TikTok content thrives off high engagement. Posting more increases the chances of accumulating that engagement.
TikTok recommends posting anywhere from one to four times a day.
Use TikTok hashtags
Similar to Instagram, TikTok uses hashtags to help new audiences find your content—either through the For You page or the Explore page. The TikTok algorithm is a bit of a mystery. This means that, while you might want to do things like participate in branded hashtag challenges and use hashtags in your video descriptions, they won't necessarily guarantee success.
TikTok users often can find themselves scoring virality by simply trying out TikTok trends—regardless of whether their videos include hashtags or not. The keyword here is "experiment" until you see what resonates with the right audience.
If you're having trouble finding hashtag ideas:
Once in the app, navigate to your search icon in the top left corner.
Check out the suggested searches OR type in a basic keyword.
Click on Hashtag to get a long list of related hashtags you can use in your video descriptions.
Experiment with format and themes
Don't be afraid to experiment with different formats and themes on the platform to see what works for you. While a sound or effect might work well for another creator, it might not be the best fit for your type of content.
This is where experimenting is key. As TikTok comes out with new filters, effects, and sounds, remember to mix it up with other content ideas.
Film content outside or with friends, or film a behind-the-scenes mini-vlog, etc. The more creative you can be with how you grab your audience's attention, the more memorable they'll find your presence as an influencer.
Tips for finding brands to work with as an influencer
Brands want to work with influencers that create the type of content that appeals to their target audience. However, finding the right influencers that will lead to brand awareness and conversions often can be just as challenging for brands as it is for influencers.
It's because of this that it can pay to be proactive about seeking brand collaborations yourself. These tips should help you score some TikTok influencer marketing campaigns.
Check out the TikTok Creator Marketplace
TikTok's Creator Marketplace is the platform's built-in brand and influencer collaboration space. It's where brands connect with influencers and TikTok provides additional data and analytics tools so brands don't need to look for alternative ways to measure campaign success.
At this point, creators can join by invite only. Once in, creators can either wait for direct invites from brands to possible collaborations, or they can answer open application campaigns. Once you've connected with a brand, reading the contracts, getting the invite notifications, and setting the campaign details all happen within the app.
Cold email brands
As an influencer, a great marketing strategy is to cold call email brands about the possibility of creating sponsored content for them. Finding contacts for a particular brand's marketing department might take some time, but could be well worth it. Make sure you use platforms like LinkedIn to your advantage to find emails and build connections with influencer marketing managers.
Now, landing a sponsorship won't be as easy as sending one email. But as you refine your marketing strategy, as well as your influencer content, it'll be easier to get brands to notice you.
While influencers need to refine their cold outreach strategies, brands also need to get better at reaching out to influencers. In the end, it's a two-way street that requires collaboration from both ends.
Sign up for influencer marketing hubs
There are plenty of influencer marketing platforms you can sign up for to look for brand partnerships yourself. Once you sign up and create a profile with all your information you can respond to brand sponsorship ads looking for influencer collaborations.
Often, these ads will include pay ranges as well as the specifics of what type of content brands are looking for, which can be helpful if you're just starting out. Consider signing up for platforms like:
Make your contact information easy to find
Your contact information should always be easy to find if your goal is to work with brands and find partnerships. There are several ways to do this.
You can add your email to your TikTok profile bio. You can also add a link that leads to a landing page with more information about you. The easier you make it for brands to reach out, the higher the chances that they will.
Creator @myhealthydish makes sure her contact information is front and center once you click on her profile bio.
Do more on social media with ManyChat
With enough consistency and a little bit of luck, it's easier to become a TikTok influencer now more than ever. And you don't have to be part of Gen Z to succeed on the platform either.
As a video app, TikTok thrives on viral videos, trends, algorithms, and content creators. Because of this, much like growing an audience on social media platforms like Instagram, TikTok requires long-term thinking.But the most important first step is to get started creating TikTok content and make sure your authenticity shines through. Whether you're an influencer or an ecommerce brand, the same rules apply.
Try ManyChat for free today.
The contents of this blog were independently prepared and are for informational purposes only. The opinions expressed are those of the author and do not necessarily reflect the views of ManyChat or any other party. Individual results may vary.